By Renee Schwartz
Renne, a transgendered surfer from South Australia wrote the true story of her own surfing life.
She would love to go surfing again with her new identity…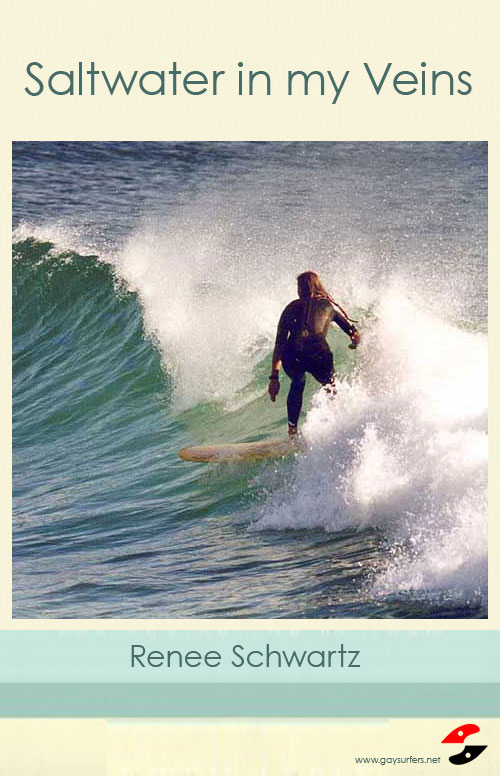 Content
Growing up in Adelaide
1959 – What a year it was. I'll never forget it!
Those lazy, crazy Summer Days
Surfing with the Postie
The Trip to Noosa – June 1966
The Ship Wreck Coast
Loch Ard Gorge
Bells on my Mind
The trip to Lorne
Cactus – A near Disaster
Respect – Yes!
Self indulgent at Middleton
A glassy Wednesday
Surf, Tea and Sympathy
Wednesday, 25 August 1999 13:32 – The Heart Attack
Tuesday, 7 September 1999 17:45 – The Scene of the Crime
Tuesday, 21 September 1999 2:22 – The Treadmill
Thursday, 23 September 1999 18:53 – A real Surfer Again!
Wednesday, 29 September 1999 13:01 – No Stranger to Pain
Tuesday, 7 December 1999 – Just an average Surfer
Friday, 7 April 2000 13:25 – The Ride to Exhilaration
Saturday, 8 April 2000 – More than half a Gazillion Miles (Part 1)
Sunday, 9 April 2000 – More than half a gazillion miles (Part 2)
Wednesday, 3 May 2000 – Bullies
Wednesday, 24 May 2000 5:57 – The Good, the Bad and the Ugly
Tuesday, 13 June 2000 4:48 – A little boring
June 2000 – The Freight Train
Monday, 9 October 2000 5:48 – The Mind Barrier
Thursday, 19 October 2000 1:39 – Myponga
Friday, 20 October 2000 4:15 – Goodbye Alt.Surfers & Arseholes
Tuesday, 31 October 2000 – Kiwi's Middleton Session
Thursday, 1 February 2001 20:03 – If I get only one Ride
Saturday, 17 February 2001 – Frustration
Tuesday, 20 March 2001 – The Senior Citizen's Surf Session
Friday, 27 April 2001 – Bad Day at Anzacs
Saturday, 28 April 2001 – Bullies 2
Monday, 21 May 2001 – Ready for the 4/3 soon
Friday, 1 June 2001 – The End of Autumn
Sunday 1, July 2001 – Winter
Monday 2, July 2001 – Surfing with a Pom
Friday, 3 August 2001 – Kook Day
Monday, 13 August 2001 – Surfing in the Fog
Tuesday, 14 August 2001 – Dinged Again
Saturday, 8 September 2001 – Visitors from Germany
Thursday, 13 September 2001 – Locked in & locked out
Friday, 22 March 2002 – A Bit Fishy
April 2002 – Autumn Predictions
April 2003 – Easter Surf
Friday, 25 April 2003 – Anzac Day Surf with Sixties Relic
Thursday, 8 May 2003 – Family Waves
Friday, 9 May 2003 – A Session with The Towelling
Thursday, 22 May 2003 – All Stoked Up
Friday, 20 June 2003 – A day at the Dump
Sunday, 13 July 2003 – The Swim
Tuesday, 16 December 2003 – Summer Surf
III. Travel and Surfing Trips
October 1999, To Noosa and back – Getting There
October 1999, To Noosa and back – Sandon Point
October 1999, To Noosa and back – The Coast Road Home
March 2000, Crescent Head – Meeting the Mountain Man
March 2000 – Big Hill
April 2000 – Point Impossible
April 2000 – The Bells Beach Rip Curl Pro/Sunsmart Classic,
July 2000 – Oz Crew at Crescent Head
July 2000 – In Awe of the Bay
July 2000 – Waiting for the Crew
July 2000 – Oz Crew: on the other Side of the Hill
March 2001 – Crescent Head Floods
August 2002 – East Coast Superb Surfari
October 2003 – Crescent Head
November 2003 – Crescent Head
---
I was born with salt water running through my veins and the sound of the ocean in my ears. My childhood years between birth and the age of twelve were spent living in the seaside suburb of Glenelg. There was no surf, but I jumped at every opportunity to go down the beach with my folks. I found the deepest love of my life, the ocean, at a very early age.
I have a strong feeling that my father loved the sea as much as I do, and although he was born in a small outback country town, he spent most of his life living within earshot of where the tide comes in. He was not a tall man like his brothers, due mainly to the fact that he had poliomyelitis in both of his legs as a child. His feet looked tortured and horribly twisted as a result of this disease, but I never heard him complain ever about his pain, or anything else for that matter. His feet were heavily callused from the contortions and he seemed to get some sort of relief from the pain he suffered by walking in the shallows of our local beach.
He was an extraordinary fisherman and could catch fish when and where no others could, using his special home-made bait, a mixture of mince, garlic and curry powder. It was such a good concoction that more often than not he would have to keep a close eye on me as every now and then I used to sample a bit. In time I became a reasonably competent fisherman and on the first occasion when I caught my initial double header, I'll never forget how pleased my dad was, but never was I as good as him.
On occasions, when waiting for the tide to turn and the fish to start biting, he would wander off down the beach with his head down, as if looking for some buried treasure. Quite often something would catch his eye; he'd reach down and pick up some shiny object, which turned out to be a coin or an item of someone's lost jewellery. Every time he went down to the sea I went with him and observed and listened as he quietly educated me about the ocean and everything around me. On one of those walks I remember I joined him when the tide was just going out. I found small deposits of shells, some so tiny that I had to really scrutinise them to appreciate their beauty and perfection. I guess that even at this young age I started to become aware of all the small things around me that have such a gigantic influence on our world as a whole.
I learned to swim in the estuary of the Patawalonga river, which my parents always considered a treacherous piece of water. Due to the rapid tidal movement there were plenty of quicksand traps with the swirling currents. When my parents discovered that I was swimming there, they were horrified, but nothing they could say or do could ever stop. On a rare occasion, when one of the biggest storms to ever hit the Gulf Saint Vincent, I wanted to hang around the beach to watch the oncoming tempest.
If I wasn't swimming in the 'Pat' as it was affectionately called, I was diving off some long unused pylons down where the replica of the old 'Buffalo' sits today. Or better still, borrowing a fisherman's rowboat to paddle around the Pat in. At the age of ten we moved out of Glenelg and nearer to Brighton Beach where I discovered that jumping off the end of the jetty was fun. My friends and I used to spend the long hot summer days either playing rough type tactics games, or jumping from the jetty and swimming into shore.
On a rare occasion, when I was by myself, walking out to the end of the jetty, I had my first glimpse of a real live shark. I had reached about midway and instead of leaping from the end I decided I would jump from there. All of a sudden I could hear a commotion, coming from people who where looking over the other side. I hesitated, climbed down from the railing and walked over to investigate what all the noise was about. And then I saw it: a large black shadow, which looked like a mass of seaweed, gliding under the jetty and in the direction that I was about to jump into.
My first encounter with big surf was when my family went down to Victor Harbor and stayed in a holiday shack at Chiton Rocks one Easter. In the mornings my brother and I were sent down to the local milkman's to pick up the daily supply. We were precisely told not to walk along the beach, as it was an extremely dangerous one with undertows that would sneak up on us and drag us out, to be lost to our loving family forever. On every possible occasion we left and made a beeline straight for it, thinking, 'Bugger the consequences'. Our dad took the family out to fish on nearby Granite Island where he had not only great success in catching leather jackets but also the eye of a young lady who was there with her folks. My mother caught a glimpse of the come-on-looks that she was giving my dad and threw a fit, stormed off and stomped back down the jetty towards the town. I'll never forget the three of us sitting in the back seat of the car and my dad slowly crawling up the main street, calling out to my mum to get back in the car and to come home with us. This all happened the best part of fifty years ago, and even to this day that dilapidated shack is still standing.
The other day I spent a quiet moment or two going through some snaps of my old boards. Unfortunately I don't have any pics of the homemade balsa ones, thank goodness. They were horrible boards and how any of us, who were learning this new sport of surfing, didn't end up with a broken bone or two is beyond me. Rock'n' Roll music was raging out of the radio just as much as the hormones were racing around my body. I was young, naive and craved for more excitement than my participation in the local football team could provide me with. During the summer of that year I was fortunate enough to be knocking around with some of the guys from my footy club, such as Graham Isaacs, Des Rudd and a few others whose names have escaped my memory. We spent the early days of that summer at our local beach, Brighton, honing our ball skills and generally trying to keep fit. And although there was no surf in Gulf St. Vincent, we had fun riding some homemade skimboards in the small shorebreak.
One night we went down to the Brighton Town Hall Civic Centre and saw a movie on surfing that would change my life forever. We were stunned to see blokes actually riding these huge waves on the North Shore of Oahu in Hawaii. The banter between all of us after watching this spectacle was that we've got to get into this sport, and there was no argument at all. Without a doubt Graham Isaacs and Des Rudd were the guys that initially got the ball rolling as far as building our first two surfboards was concerned. During the process of making them I was an innocent bystander; I was and still am amazed at the way they made these boards.
The actual expert on fibreglass in those days was a bloke named of Rick Sutton. He had a great deal to do with the making of those boards but for some unknown reason never actually got involved with the sport at all. Even today I remember as clear as crystal how these guys glued the 4' x 4' lengths of balsa together, which they had bought from J.B. Boats, cut, shaped and fibreglassed the two old logs until they looked like surfboards, primitive ones that they were. The next problem was: where were we going to launch these two huge vessels and start surfing? We were all on Christmas holidays, and it was decided that we would put up a tent at the Port Elliott Caravan Park.
From past experience we knew it was a great location for bodysurfing, but after an hour or so we discovered that these huge logs were almost lethal in the shorebreak. I believe it might have been Des Rudd who suggested, 'Let's have a look around the corner at a place called New Surfers.' And so the next day we trundled around there; I still remember quite well that it was huge as I saw the real South Coast surf for the first time in all its offshore glory. So much to our delight, and may I add to the locals of Port Elliott relief, we found the conditions ideal and more importantly safer for our green young bodies. How well I remember that summer, it was a stinking hot one and to get some relief from the blistering heat we made small tents out of our towels, using driftwood for posts. Then, taking turns, we'd leave our makeshift shelters and wade out as far as we could and ride the whitewater of the leftovers from the huge surf that always seemed to start miles out and roll incessantly in. The surf at New Surfers as I recall always appeared to be huge and at no time did we ever consider there was a chance of making it out the back. Such a feat was beyond our fledgling talents. In those days only a sandy track led to mountains of sandhills, which stretched forever and which we had to climb over to even see the beach. And do you know what? We all agreed that this was the perfect spot to learn how to surf, even today it still is!
One evening I was strolling along the beach by myself, just taking in the last rays of a setting sun with occasional glances at those wonderful waves rolling in. As if on call, there I sighted my first ever shark in the surf. At first I was transfixed, as I watched it glide so effortlessly between the sets, and then it struck me like a thunderbolt: there were some nasty bities in the area. Quite often we would step on the occasional skate, but we were lucky that none of us ever stepped on one of the huge stingrays which are abundant in this area.
We had a rough idea that there were other surfers around but in the first year or so we only just saw them in passing, as such was the solitude of surfing in South Australia those days. When it got cold during winter we'd wear our footy jumpers with the sleeves cut off, and after a session there was always a fire going on the beach. Try that these days!
As we progressed in our abilities and conditions down south were not suitable, we surfed the Mid Coast at Southport, and our old boards came in handy as barges for crossing the Onkaparinga River. Instead of trying to lug them across the bridge and over the sandhills we floated them across the river, carrying all the necessary supplies like beach tents, eskies, towels, knitting baskets and make-up kits for the occasional girlfriend who didn't really want to be at the beach anyway. I often wonder what ever happened to those old boards, I shudder to think that one of them is still around and some poor kid is getting maimed by one of those old Titanics.
Despite having to share those old boards with my mates I really wanted a board of my own. Where I was working at the time was a carpenter who I pestered for months to make me a hollow plywood thing. Even though I bothered him for ages he never made it. The next new board I rode was one that I had custom-made by Rod Bedford of JB Boats. Based on my vast surf knowledge of two and a bit year's of surfing I had it made up, drafted by my own design. It was a new foam board, nine foot six inches long, narrow in the nose, wide at the back and about two and one-quarter inches thick in the guts of it. It had two diagonal stringers starting from the nose and ending almost at the rear. Despite Rod's protestations he made it and what a happy young chappy I was when he did. The night I brought it home I slept with it in the lounge room, because my mum wouldn't let me take it to bed. And when man was flying into space, I was listening to it all happen on the radio, while painting my own little logo on the nose of it, on the lounge room floor.
Looking back in hindsight, I should've listened to Rod, because it was a terrible board to ride in the finish. On a positive note, it made me work a lot harder to overcome the deficiencies, my own belligerences and helped to make me a better surfer. When one of my mates used to say, 'I feel like going for a wave!' and I'd say, 'Take my board!' they were quite courteous in replying to my offer, 'No, thanks Ron, I think I might do a bit of bodysurfing.' I might be wrong but it must have been one of the first boards made by Rod but upon seeing it everyone else wanted a custom built board. Some blokes even had big gun boards made and I thought even then how ridiculous they were, as there was no surf anywhere nearby that you could ride such a board on.
In those early days of surfing, most blokes changed their boards more than they did their underwear. Everybody wanted to have the latest board orbit of surfing gear available, and that included board shorts. I remember my mum making me a pair of boardies from leftover material from the rumpus room curtains and I felt really stoked wearing them. I can't remember the year I traded my old board in but I do recall falling in love with a red 'Gordon Woods' translucent creation at John Arnold's surf shop in the city. Now, I wasn't like the other surfers of my day, but this board seemed to whisper to me, 'Buy me and I'll give you the rides of a lifetime'. So I bought it and I would have to say that it was an absolute screamer of a 'good' board. I rode it on almost every break, on every coastline that was within the reach of my meagre salary; I rode some of the biggest and best waves of my life on that board.
The first year I took it over to Bells and rode it, and all the local blokes couldn't resist checking this strange looking board out. Besides being an unusual translucent red colour, it also had a right hand hook on the end, which prompted numerous questions from the Vicco surfers. When they asked the obvious questions, 'How does it go on your turns, is there any noticeable difference, is it better, does it hang in better?', with my tongue fully implanted in my cheek I answered, 'Yeah! Ya gotta get one of these, it's improved my surfing outa sight!' Besides riding it at one if the biggest days at Bells, I think I'll always remember it as my lifeline on a small and crumbly day near Trigs #2, where I wiped out and got a severe stomach cramp; I thought I was a goner because I could hardly move with the pain. Luckily enough my old board wasn't far away and I managed to drag myself back on to it and somehow made my way back to shore.
It's strange how the tides of memory flow in and out. That old red translucent board was a terrific board but for the life of me I don't have any good reason why I ever got rid if it. Eventually realising the hook served no purpose I hacked it off and went with the trend and put a laminated block on the end. Not that it made any difference to my surfing but it looked more like an up to date board.
My next board was a 9-foot plain and simple 'Don Burford'. I knew that Don rather I never asked him to make a board for me because he knew I was an ex-con, but I gave him good, hard, honest money for it and he did an excellent job. I paid Don $100 for that board and he made it to my specifications, which were none. This board I would call my 'West Coast' board, because like myself in those days it saw more of Eyre and Yorke Peninsula than any other waters. Don Burford was a pretty good shaper and I suppose that's why he's now living up on the Gold Coast making foam blanks and a fortune. I surfed that board at Pondie, Daly Heads, Cactus and all the breaks inbetween.
The first time I took that board out at Cactus it was done with a fair amount of trepidation. I cannot recall the exact reasons why I felt that way then, but I guess I must have heard some scary stories about the local wildlife from some of the other blokes that had surfed it before me. A major put off was probably seeing two big dead sharks hanging from the jetty, around the corner at Port Le Hunte the day before I went out at Cactus. Nevertheless I entered the water and made the long walk across that pitted limestone reef, which is covered in a strange type of brownish-coloured, bubble-like seaweed. Once I got to the stage where I could start paddling, I hesitated and took the gold ring off my finger and put it in my mouth, just in case the glint of it might attract some undesired denizen of those dark waters.
After making it out the back without a problem, my next worry was how to approach this lefthand, barrelling wave I'd heard so much about. The next wave coming through took care of all my worries, I picked it up and almost straight away it started threatening me. As I bottom-turned on my backhand the lip started to envelop me. I bit the bullet, walked a few steps down the nose, grabbed a rail and went for it. To my delight the wave held true to the rumours I'd heard and for a few glorious seconds in time it held me in the hollow of its watery green curtain. I don't remember how many sessions I had that week but it was consistently good every day we were there and I made a real pig of myself.
When I eventually got married and started moving around the country with my various jobs, I took my Burford with me. And even though I didn't ride it so much during those years due to family and work commitments I never ever thought about getting rid of it. I guess I always had this one thought in the back of my mind, I was always going to be a surfer, even if I was one who thought he was over the hill; an old aging surfer needs a board in the spare bedroom to prove it to himself. Sure, I used to take it down the beach from time to time but I was never able to rekindle that special stoke from earlier years. Every now and again I'd sneak down to a local beach and take it out to re-ignite my love affair with my true love, the sea. I got that board in 1970, and it was just a few years ago, during a low period in my life that I sold it to a collector of old Mals for a very cheap price. I considered my surfing days over I had no regrets doing so.
Over, until I met the girl who got me more interested in an extreme sporting life again. I have made some very bad decisions in my life, but meeting her and persisting through some awkward and painful moments have paid huge dividends for me. Early in our relationship I took her down south, one hot summers day, to Chiton Rocks for a bit of bodysurfing. I walked over to the life saving clubhouse to see if we could borrow a board to give her an idea of what real surfing was all about. One of the crew there lent us a shortboard. We took it out and when we got to the right position where she was lying prone on the board, I pushed her forward onto a nice looking wave. She loved it! The power of heading shoreward on this wave was the beginning of her surfing life. All my surfing life I've been a bit of a loner but I must say that surfing with the girl is different. For the first time I have someone who is close to me that I can share the stoke with and that's special.
Don't you just love them; those lazy, crazy days of summer! Endless days of heat, flies and south easterly breezes that turn up just as the swell pattern is looking promising. I've seen 65 so far in my life and surfed more than I care to remember of them, I just wonder now how many more I have left to surf. If I strain the old grey matter hard enough I can remember some classic summer days, like that day at Seaford when the wind was offshores all day and the swell was big and consistent. It seemed as though places like Surfers and Middleton always had northerlies blowing in those good old days but perhaps that's just my memory being kind to me. If the truth be known there were more days spent in Kelly's Billiard Parlour or on the cliff tops at Seaford, flicking bottle tops over the edge and onto the roofs of the shacks below, than there were surfing.
In my early days of surfing, the blokes that I surfed with were older than I and used to put a tent up in the Moana Caravan Park. We'd use it for a home base when surfing the Mid, amongst other things. I'd leave home with my mates on a Friday night and spend all weekend down the coast, coming home late on Sunday. I reckon my parents thought this was good, as it didn't seem likely that I'd get into any trouble down there and they considered surfing as such a healthy, worthwhile sport for me to be involved in. Little did they know about the things that went on and which would have made them shudder had they known about them.
In those days there were a lot of sheilas hanging around the coast, as I guess surfing was the biggest craze going and every girl wanted to meet a bushy, blonde headed surfer boy. I didn't have a lot of time for sheilas then, not in the day time anyway! I was far too busy trying to get a wave and hardly even noticed them at all. But once the sun went down my attitude changed completely, especially when some of my mates had spent most of Saturday afternoon trying to round up a few to come to our tent that night. One particular night they managed to talk about a half a dozen girls into coming to our tent, with a couple them being sisters. Before the night was over I had most of them trying to score with me, while my mates were sitting back there missing out. I must admit I knew how to spin a yarn and with the aid of a cheap bottle of rum and coke I had no problems doing that, and I guess the girls liked the bullshit I was spraying. Just thinking about it now brings a cheeky grin to my face when I think of all the 'I love you's' and 'will you marry me's' I must have put forward, knowing full well the next day I'd be out in the surf with a very convenient, bad memory loss. Eventually one of the sisters I took a bit of a liking to more than all the other sheilas and saw her occasionally, when I was down the Mid and when it suited me, but it wasn't anything really serious and I virtually remained a free agent.
As time went on and I got to know quite a few of the regular surfers, we'd have a fire on the beach at Seaford and party on something fierce, with some of my mates going crazy and trying stunts like fire walking. One particular night when the moon was very full and bright we went out at Threepoles for a midnight surf. It wasn't that big, perhaps three foot but it was something different and one of those things you'd do once just to see what it was like. Mind you I was completely sober when I tried that, as I always thought that salt water and alcohol don't mix, and I maintain that attitude to this day.
As the sixties progressed things changed, blokes started bringing their girlfriends down the beach to sit in their cars and look pretty for them after they came in from a session. One chap had his girl in the back of his panel van on a day when the surf was really crash hot. His mates kept on coming up and banging on the van to come out and go for a surf, as he was going to miss out. His reply was, 'I ain't ever gonna get a lovely sort like this again, being as ugly as I am, so I'm gonna make the most of it, bugger off!'
So, some of us who were around in that time period might reflect and say out loud, those were the 'good old days' but in reality they weren't really. There were more summer days without surf than there were of actually surfing. And when there was surf it used to get as crowded as hell, especially back in the mid-sixties when the surfing fad really took off. I think I was extremely lucky to have those few short years before the craze began because we all know that that those days will never come again.
The old Bedford Ute
In the early sixties, driving to Victor Harbor some 77 kilometres away, was a much different drive than it is today. The road now is much wider and shorter, due to the changing times and needs of the modern day traveller. Where once it was a two-hour trip, it's been narrowed to forty minutes. We'd leave on a Friday night after work, make the trip and arrive at Mount Compass to find it drizzling as usual, then onto Middleton, Surfers or wherever down south, just as the sun was trying to set.
The horror stretch was that part up the old Willunga Hill, which used to wind, like a corkscrew, almost never ending. Many a vehicle came to grief on that stretch, either due to overheating or just plain bad driving, causing many a long hold up. It was a hill of great frustration. Most of us that made that trip didn't have cars, so we relied on our friends to take us down, while we contributed to the petrol costs by putting in.
With the roads being so bad down south and the continual wear and tear on their own cars, the three other guys I was hanging out with at the time decided to purchase an old 30's model Bedford Ute for a very meagre sum of money. This vehicle was ideal as a surf chaser, as we could just slide the boards in the tray, which at night became our bed with a piece of tarpaulin pulled over us, to keep the weather out. Prior to this, our sleeping arrangements were either sleeping in the sand hills or in and under the cars when it was wet, depending on how many people were in the vehicle.
Surfing those days was even more archaic, with none of the modern day surfing equipment that the guys have today. There were no wetsuits, so we used to wear old footy jumpers, with the sleeves cut out, making long swims after leashless boards at places like Middleton even longer and colder.
To get some relief when it was cold we lit a fire on the beach, something that is illegal today. When you look around today, you can see houses and holiday shacks going up everywhere, whereas in those days there wasn't a building in sight. The nearest place to get anything to eat or fill the car with petrol was back in the town of Middleton at the local store, where a slab of cheese became a meal.
Waking up at Surfers or Middleton in those days to see the morning sun trying to peer through the overnight sea mist was a real treat, with paddling out for a surf a few minutes later a glorious experience. I distinctly remember paddling out early one summer morning, the sunlight hitting the spray on the waves, caused by the slight offshore wind, making it look like lemonade fizzing.
After an early morning session, breakfast was no problem as we used to take cans of Rosella baked beans or spaghetti with us, just open the can and place it on the coals of the fire to heat it up. On a Saturday night, we'd make the long trip into Victor Harbor for, perhaps a decent cooked meal and some evening entertainment, like watching the locals roll up the footpaths. Victor Harbor, in those days of winter was not the tourist destination it is today and in some ways I regret the advance on civilisation on the place, as it seems to have lost some of its charm.
I can't quite remember, just how many trips we did down there in that old Bedford Ute, but I do remember quite vividly the last one. We had left the South Coast to come home after a weekend of surfing when just outside Victor one of the back wheels started to wobble. Mind you, this vehicle was no speedster and if it was doing thirty miles per hour it was going flat out, down hill.
When we checked the wheel we noticed that the nuts on it were sheared almost smooth. So to keep going, we had to take it in turns jumping out of this vehicle, with a wheel brace in hand, tightening the nuts up while still moving. You can imagine that it was a murderously long trip home, especially coming back down Willunga Hill and I don't think we travelled any faster than jogging speed. Eventually we made it home after several hours, and a few days later, a thorough mechanical inspection discovered that there were more problems than just the wheel.
We retired the old bomb to a friends backyard. There it spent a number of years gathering rust until it was finally taken away to the wreckers where it received a decent christian burial.
My mind wanders back to days of long ago when I was much younger, and so were my friends who I first started surfing with, but they are either departed or doing something else now. In my early surfing days I was a bit of a drifter, always on the lookout to hook up with someone who wanted to surf as much as I did. So when I began surfing, the guys I started with were older, and eventually they became more interested in sheilas than surfing. I used to get annoyed hanging around, waiting for them to come and pick me up as I was still very young and had no means of transport. They on the other hand were quite content to wait around while their girlfriends got themselves all tizzied up to go to the beach. By the time the next winter came around I gave up footy and took up surfing full on, with a couple of blokes that I'd met during the summer. Ron Smith, Des Rudd, his brother Mick and a number of others who seemed more serious about their surfing became my constant companions for the next year or so.
On one particular occasion at 'The Dump' there were four of us surfing, Des Rudd, John Creighton, Peter Ulstrup and myself. It wasn't that big, perhaps about head high but breaking fairly nicely for a change. Peter and myself quite enjoyed the session and stayed out until it was nearly dark, while the other two went in rather early. When we eventually came in the other two were quite animated about their session, saying, 'This is too dangerous a spot for anybody to surf at' and 'I'm never going to surf this hell hole of a place again'. Peter and I just looked at each other dumbfounded, that these two blokes could say such things about this break. We never even bothered to argue the point, realising that there was no way we could change their opinion. Instead we decided that this would be the last time we would ever surf with them and that was the end of that. From then on Peter Ulstrup and myself started surfing with two other guys who had the same surfing appetite as us, Craig Thompson and Bob Parman. Bob and I had plenty in common, seeing both of us were postmen and loved our surfing with the same passion, so we started to hang around together.
Imagine a summer morning when the surfing conditions are just ideal. You've been sleeping by a fire all night with the sounds of the sea sending you to sleep, with blissfulness that only the few of us who are fortunate and in tune with their environment can appreciate. You awake and have an early morning session and although you cannot remember how good that session was, you can remember the finest details of the surrounding atmosphere. You've got your mates, some canned tucker and the promise of another good wave before the heat of the day delivers the persistent summer south easterlies that put an end to any more surfing until a similar morning.
Without being reminded someone always stoked the fire up just right to put a can of spaghetti and snags on the fire for that early morning intake of sustenance before venturing out for another session. It was on one of these days that I had just come out of the water after an early morning session and was drying myself off while my mate Bob was fiddling around like an old chook, cooking himself some fine cuisine over the fire. All of a sudden he started with his ridiculous chortling. I looked at him and thought to my self and even said as much, 'Now what the hell are you carrying on about now?'
It took me quite some time to get some sense out of him, as he couldn't stop laughing. I kept on repeating. 'What the hell are you laughing about Bob?' and all he could do was bend over and show me what had happened. I looked, and right in the middle of his soon to be balding patch was a white and grey splatter of seagull shit. At the time I didn't think it was very funny, as he was in no hurry to get rid of the offending substance, which was enough to make me spew. Looking back now it was more than the fact that some local creature had shat on him and he didn't lose his cool, but saw the whole episode as something quite funny. You see Bob at times had a fearsome temper and for him to have that sort of reaction to something like that I found more remarkable than funny at the time.
On another occasion, Bob and I went down to Seaford on a Monday afternoon to hopefully find a wave after a weekend of six foot surf in the Midcoast. Unfortunately there was no surf but we were approached by a police patrol car. Apparently a person had gone missing in the surf at Moana on the previous Sunday and they were patrolling the coast, trying to locate the body.
With the aid of binoculars they could see something bobbing up and down in the water out past the Seaford reef to the right. They asked us to paddle out with a length of rope and attach it to the mystery object and tow it in. Bob, being a little bit more heroic than myself, agreed and with a great deal of trepidation paddled out towards the object. Meanwhile the remaining trio watched and waited as Bob paddled out, tied the rope around the object and made his way back to shore.
Finally, when the object was pulled up onto the beach, it was found to be just an empty fruit crate. The police seemed to be a little bit disappointed but to be sure, we were relieved. To this day it remains a mystery exactly what happened to the unfortunate swimmer, as the body was never recovered.
It was June 1963 when Bob and I did our first trip up the East Coast together and I only remember that because it was the same year the 'Beatles' toured Australia. Of course we went in Bob's car, as I was only seventeen and too young to own one, in fact I had my birthday while we were away. How could I ever forget that car: It was an early model Holden, and Bob was forever talking about getting a new 'short' motor for it. He talked about that subject incessantly to each and everyone who came within earshot, and it nearly drove me nuts. One summer night we had parked at the top of the hill at Moana to sleep. He was in the back with a blanket, while I was in the front with just a damp towel to cover me. It came in very cold that evening and we were dive-bombed by mosquitos all night. I remember his final words before he went to sleep, 'Do you think I should get a short motor for the car?' which was the last thing I wanted to hear.
The trip to Sydney would normally take about twenty hours non-stop, but with Bob's old bomb it took about a day and a half. You see, it used more oil than petrol and every time we pulled into a garage it was a matter of saying to the attendant, 'Top up the gas and fill up the oil'. It was running so bad that we carried a large container of sump oil just in case it ran out, and it did. Just outside of Wagga Wagga on an extremely cold and frosty morning it gave up the ghost and after a bit of swearing and cursing, along with a bit of early morning sun the thing started running again. God only knows how! We took turns in driving and when it was mine Bob said, 'Keep the speedo on 50 miles per hour'. I thought at this rate it would take us a week to get to Sydney, so while he was lying in the back having a rest, I'd press my foot down on the accelerator. Just about every time I did this he'd lean over the seat and tap me on the shoulder and say, 'Hey mister! Keep the speed down!'
We arrived on the outskirts of Sydney late in the day to find it pouring with rain, and wouldn't you know it, the car packed it in again. We got out and opened the bonnet and stood there with screwdrivers and spanners in hand, staring at the motor and hoping that this would fix the problem. I'm afraid I knew more about motors than Bob did and I knew nothing. If the air wasn't full of tension and electricity enough from the storm that was raging around us then it was growing from the tension within. It was then that Bob asked a silly question, 'Do you know where we are?'
I exploded with, 'How the fuck do I know where we are, Bob, I've never been to Sydney before'. He came right back at me with something I can't remember, and then it was screwdrivers and spanners at two paces. Somehow common sense took over and we continued our journey. The place we were going to stay at was a house in Guildford, in the western suburbs. Bob had a way with people; he made friends with just about everyone he met, so it came as no surprise to me that he knew a friend of a friend who knew a friend's place we could stay at while in Sydney. We eventually found this friend's place, late that night and were offered the garage to sleep in. This was ok, until it came time to go surfing each day, as we had to travel quite a few kilometres through peak hour traffic, each way, to and from the surf.
It rained nearly every day for the three weeks we were in Sydney. As anyone will tell you who's done a surf trip of any length of time it's always better to have more than two people on the trip. With only the two of us there was bound to be some friction and every little annoying habit that we both had was magnified tenfold. But I'm pleased to say there were no more violent episodes between us.
The next day I believe was a Saturday, as it was the first time both of us had ever seen the East Coast. The only way we could have found it was with this friend's aid and one of his companions. We must have travelled to a number of the northern beaches to find the surf fairly small at most of them and finally found a small wave at Palm Beach. I was completely surprised how much warmer the water was compared to it at home in Adelaide. This was the smallest we ever saw the surf on the whole trip, as it got bigger from that day on and was just as consistent as the never-ending rain.
The following day, Sunday, we went down to Manly where it was huge. Only a handful of guys were out surfing the Fairy Bower. Right throughout the next week we made the long pilgrimage from Guildford to the coast, where we wandered from beach to beach, riding all the breaks that looked good even if we never knew their names.
The next weekend, the young bloke whose house we were staying at planned to take us to one of his favourite surfing spots called Seal Rocks, which was somewhere up the North Coast. We left the city on Friday night, arriving there late and spent the night sleeping in the back of our two vehicles. In the morning we were greeted by a glorious sunrise over the sea and a near perfect six-foot wave breaking out from what was almost a point. We paddled out and for a short while we had it to ourselves, until another group of surfers joined us. I got the distinct impression that these newcomers thought some of us were just another bunch of South Australian eggs with very little surfing ability. It wasn't until we got some pretty good rides that showed them what we were made of and earned their respect.
I really loved Seal Rocks, for years afterwards I would daydream about those crystal clear waters where the waves peeled in perfectly, to finally break on a pristine sandy beach. The backdrop scenery was also pleasant with the mountains and forest that went on forever, with the grassy dunes over to the right that looked like they had been groomed regularly by the almighty gardener. Another lasting memory of that trip was the huge amount of floodwater lying on each side of the road, it seems that this area really took most of the heaviest rains that hit NSW during this period.
All during the next week the rain continued and so did the quality of the surf. I was fascinated by the way the surf worked here. If the wind wasn't quite right at one break, you'd travel a mile or two and find a spot where it was working just perfect. On one particular day we were driving along a road that ran parallel with Long Reef when we spotted a righthander that looked good, so Bob went out first while I decided to shoot some film of him surfing. At first he was surfing by himself but it wasn't too much later that he was joined by two other surfers. I remember this day and break so clearly because I got really annoyed with the way Bob was surfing. He looked just like a cop giving a signal for a traffic stop with his hand upraised so often on his rides that I just had to turn the camera away in my petulance.
The week progressed with us touring all the way up and down the main Sydney city beaches, from places like the Bare Island Bombora at La Perouse to the cold and bitter looking breaks around the infamous Pentridge Prison. The memories might be a little dim with the passing of so much time, but how could I ever forget that single surfer, paddling out into some huge surf at Manly Beach on a wintry Monday as if he'd been doing it all his life. He probably had.
The people we stayed with were extremely hospitable and even to this day the attitude of the New South Welsh people has left an indelible impression on me. We had been staying in their back shed, which was quite comfortable and adequate for us. But I guess they felt a bit sorry for us, having to put up with the atrocious weather conditions and such, by their standards but not by ours. So one night they invited us in for the family meal. Bob ate just about everything that was put down in front of him, including the pattern on the plates, while I just ate the meat and a few roast spuds, not caring about the green vegies too much. After the main course was over, the lady of the house said, 'Who wants dessert?' without the need for another request I stuck my hand up and said, 'Me!' Within an instant of my approval she fired back at me. 'How the devil could you be hungry now when you couldn't finish the main meal with the vegies?' Smart woman! Had me worked out to a tee!
On the 19th of June that year I celebrated my seventeenth birthday, and for that occasion the young bloke we were staying with decided to take us for a big night out. First we hit the old 'Manly Pacific Hotel' where I had about 1000 free beers; seeing Bob was a teetotaller, someone had to make up for his lack of support. After making a total mess of my current standing as a fine young South Aussie gentleman, the boys decided to throw me off the wrong side of the Manly pier. These blokes had no consideration for the local wildlife, given that this side of the pier was shark infested. After getting me out of the drink, some smart bastard decided to change all the clocks around for the arrivals and departures of the Manly Ferries. About all I can remember of this little episode is some bloke wearing an official uniform, chasing after us and uttering obscenities, while Bob was walking along quite causally with his annoying little guffaw. My memory after that is a little bit vague, as we seemed to hit just about every going show in town. And at some stage I believe we even crashed a church social somewhere up on the Hawkesbury River, where Bob danced with some sheila and promised to be faithful to her forever.
The next day all of us were feeling quite sickly except for Bob, as he was the only one of us who remained sober. You see, Bob never drank and got his jollies by going to the old 'Wonderland' Ballroom in Adelaide and loved spending Saturday nights dancing and chatting up the ladies. What a smart bloke he was!
Like all trips, good and bad, this one came to an end and on the evening before our departure for home the local crew organised a farewell party. One has to remember that interstate travel was not an everyday occurrence as it is today and our hosts were very much aware of all the many miles we had travelled and were about to again. During the course of this goodbye evening someone presented Bob with a gift of a large container filled with sump oil, as they found out that it almost cost us more in filling his old bomb with oil than petrol. I'll never forget that and laughed so hard I was nearly violently ill.
We left early the next morning and if I thought the trip over was long, then getting home was going to take forever. Bob's car was really starting to get tired and at one stage when I was driving he leaned over the seat and said, 'You can go a little faster than that!'
I replied, 'I've got my foot flat to the floor and that's about as fast as we're ever going to go!' So we limped home at the speedy rate of 35 miles per hour and it took us nearly two full days. What made that trip home even longer was one of Bob's habits that really started to get to me. He had a way of sort of sucking on his teeth all the time, which nearly drove me nuts.
I never went on a surf trip again with Bob, but not because of any unpleasant events or anything else that happened on this trip. Later that year something else happened which caused the parting of our ways for many years, and the next time I saw Bob was in 1993. Out of all the blokes I surfed with, Bob was the most genuine and giving person I've ever had the pleasure to know. He was always there when a young bloke like myself was in need of a friend, and I mean that sincerely. Just in closing I would like to inform the reader that Bob died from what I believe was a Melanoma skin cancer on April 17th 1999. He was about 62. I often think about Bob, how much he loved the ocean and talking about surfing and I still find it hard to come to terms with the fact that I can't talk to him again. I miss you, mate!
?INCLUDEPICTURE \d "noosabanner.jpg"??
It was strange, but when I look back now, most guys from South Australia did the surf trips up to the north-east coast to places like Byron Bay, Noosa, Crescent Head and so on in the middle of our winter down south (June-October). And even stranger still was that on every trip I did in those early years, we never missed out on a reasonable wave or two. The northern coast of Oz was the surfing goldmine in those days and us southern blokes weren't going to miss out on any of the diggings. Why do I say strange, well we have the most consistent surf on the whole continent right down here in South Australia but we were lured by these strange surf movies that promised us more magic than we could handle.
?INCLUDEPICTURE \d "noosa.gif"??
One of my trips to Noosa was in the winter of June 1966 with two other guys by the names of Phil Nicholas and Craig Thompson. In those days most of us drove up there non-stop and it usually took us about twenty hours to get to where we wanted to be. We weren't interested in scenery or anything like that as our only interest was surfing, so it was a fairly long and boring trek. What made this trip unbearable for me was the type of vehicle we were travelling in and the seating arrangements. Being the owner, Craig wanted to do most of the driving, while Phil was quite tall and there was no way he could sit in the back. You see this car was a tiny four-cylinder Morris Mini Minor and definitely not a long range surf trip vehicle. So for most of the trip I was cramped up in the back seat and at times I could feel my knees screaming for my legs to be straightened out.
Our first surfing stop was Crescent Head, and I guess we arrived there at about 10 o'clock at night. Since I had been asleep I can recall waking up to find I was alone in the car, and after peering out through the windows I thought I could hear the sounds of someone having a friendly squabble a few metres in front of the car. Thinking it was my two companions, I reached over the back seat and turned the headlights on. Didn't I get a surprise when I discovered two lovers engaged in some moonlit sexual delight, and so I very quickly turned the lights off. A short while later my two friends returned and I eventually found out that they had spent the last few hours up at the country club. At about the same time that they returned it started drizzling outside and the wind had picked up.
So we sat in the car snoozing on and off, waiting for the sun to come up and wondering what the conditions would be like. With the sun trying to claw its way through an overcast sky we could glimpse through the fogged-up windows a large swell pushing around the point with a strong offshore wind holding the face up. As is usually the case at a strange spot we sat there for a while checking the place out as none of us had ever ridden here before. Then one of us probably said 'C'mon! Let's go out!', so out we went. The day itself was quite wintry and cold, and to our surprise we discovered that the water was really quite warm and only the wind was icy (no wetsuits in those days). I've surfed plenty of times when there's been a strong offshore wind blowing, and if I only have one lasting memory of my first time out at Crescent's it would be just how strong those offshores really were.
I'm not sure now why we didn't stay at Crescent's longer, perhaps because Noosa was our ultimate goal. We had quite a few miles to go before we reached it and our time was limited. Our next stop along the way was a place that had the reputation of having the longest ride of any surf break in the whole country, Byron Bay. We reached the lighthouse at Byron Bay in the early hours of the morning and found out that we were now at the furthest point east of the continent, but to our disappointment the break that we heard so much about wasn't working too well. Being desperate for a wave, we decided to check out a beach break a little further north that, from a distance, seemed to be peeling left and right. This break would end up giving me one of the best days surfing I've ever had.
We managed to find our way down to the beach, went out and stayed there all day. This shorebreak was about eight foot with a slight offshore wind blowing up the face and breaking left and right, with the right being fast and hollow while the left not so tubing but ok. In all my years of surfing I've never spent as much time as that day inside the green room or in the water in one session. Every ride I got was a complete cover up. Finally the day was coming to a close and it was time to start thinking about food and sleeping arrangements. Just before we did, we decided to walk up the beach a hundred yards or so and check out a pier that some people were fishing from. This pier had a huge round pipe that ran the length of it and it was only as we reached the end that we found out what this pipe was used for. As we got nearer we noticed a dark liquid gushing out the end and to our horror we found out that this was blood and bits and pieces being flushed out to sea by a nearby slaughterhouse.
Our next stop was Noosa itself, and even though it was only two foot, it was still pretty good. I only wished it were a bit bigger and the rides longer, but the only things in Noosa that were longer and bigger were the cockroaches scuttling underneath the beds that night in the old block of flats we stayed in. Anyone reading this today would have to be a little bit envious when I say that most of the time we were surfing we had these places almost to ourselves, and most of the villages nearby are now holiday resorts. I went back there as recently as 1999, and the changes that have taken place made me want to leave there in hurry as the whole place looked like an ants' nest. I guess I'm a bit old-fashioned when I say I don't like changes, but when I see all the development that has occurred in the last decades, I'm a little bit saddened and shake my head because things aren't as they were. I reckon we were lucky to have had it all just perfect when we did.
Another lasting memory I have of the trip is that it rained nearly every day, but it was always warm temperature-wise. We hung around the area for three or four days, hoping that the surf would pick up and during that time we found various places to sleep. The first night we slept in the old boardinghouse-type flats with its friendly pets, the second night we thought about renting a holiday flat, but that was really beyond our budget. It just so happened that we ran into some fellow South Australians, Stewart 'Mouse' Lindsay, Andrew 'Arab' McArdle and Peter Neville who were also surfing in the area. So we pooled our money together and two of us went in and made a booking, while the rest of us waited out of sight around the corner and sneaked into the flat after dark. So there we were, the six of us in this rather huge flat with all the creature comforts, and so pleased with our efforts that we decided to have a party. I don't know what the other blokes were drinking but I decided on a bottle of cheap Muscat. That was the first and only time I've ever drunk that stuff, as during the course of the evening and after it taking its desired effect I was as sick as a dog, lying on the bathroom floor with my head stuck in the toilet bowl. The third night we slept in a suburban bus stop at Maroochydoore, and when we awoke the next morning we were greeted by some strange looks from the people that were waiting to catch their bus.
There was not much in the way of surfing done over the next few days as any swell that had been around dropped dramatically, so much so that we decided to head back down south following the coastline as we went. We called into various spots to check them out but the only one that looked half-decent was Lennox Head where a small wave was breaking. I don't know why only one of us went out that day, perhaps because it was a strange break for all of us or it wasn't that appealing, but Arab decided to surf by himself. He didn't stay out all that long, and when he eventually came in he had cuts all over his feet and legs from clambering over the barnacle encrusted rocks. After this a far greater decision was made and that was to head even further south to the city beaches of Sydney in the chance that distance and time would produce a wave of better quality and size for all of us to enjoy. Along the way we had a bit of fun in the early morning by sharing our breakfasts with each other, via the windscreens of our vehicles. This very close bonding worked out fine until the local constabulary thought this practice might be of harm to other drivers, and we were pulled over and subsequently fined for speeding and dangerous driving.
We eventually reached the Sydney city beach of Manly to find it miserably small and raining, so we did the usual tourist thing and had a look around. We left as soon as we had seen enough of Manly and surrounding, regardless of the time of day. My biggest disappointment of the whole trip occurred to me when we arrived home. I had taken several rolls of films covering the trip and when I got them back from the developer I found that the ones taken with the telephoto lens all turned out blurry. Before we had left on the trip I had taken my camera gear into the shop where I had bought it, to have it cleaned and serviced. So when they cleaned my telephoto lens they put one of the lenses in backwards, causing all the shots to turn out lousy. Of course they said sorry and reimbursed me with a heap of new films but nothing they could do for me could ever help me with my bitter frustration.
I first travelled the Great Ocean Road in the early sixties, when driving along that road was akin to climbing 'Mount Everest'. Most of it was a dirt road and a very dangerous one to travel on for a number of reasons. On one stretch the road hugs the cliffside with a perilous drop to the sea below, and the other was the stretch through the rain forest of the 'Otway' ranges, ever twisting and turning and mile after mile of nothing but the green darkness of the canopy. In those days it was not the tourist destination it is today for those reasons, and with the advent of modern road building techniques the whole area has really come so alive So that it's hard to get a decent photograph without a tourist in it.
As the years pass, so does my memory, but as they say, first impressions are lasting ones, and my first trip had all those. It was about 1961 and there were five of us in the car with our balsa boards on top. We had planned to follow the coast from home to see how far we could travel on a long weekend and find surf. We had reached Warrnambool and slept the night in the car with some newly acquired companions (a couple of cartons of the local brew). One of the guys had been on this road before and said that he remembered seeing some pretty big surf a few miles up the road at 'Bells Beach'. A few miles? More like a hundred!
We got as far as Port Campbell before we decided to turn back, as we were running out of time, but just before we did, we noticed a great deal of activity over towards the cliffs. There were police cars and tow trucks and locals all focussed on something down below that had obviously gone over the edge. As we peered over the cliff, we could see that they were trying to raise a car which some unfortunate local had driven over the cliff top (I think he must been sampling the local brew too). The poor guy never got to feel how cold the water was because just above the water line below the cliff there's a type of rock platform that reaches out quite a few metres. One of our mates got all the details from one of the bystanders and, when asking about conditions ahead, he was told that the road beyond was even more treacherous.
Most of this area is pretty thick scrub and you could just about walk over the edge without even knowing it. When looking at the sea from the cliff edge one can't helped but feel a little bit spooked. I mean everything about the joint is so impressive, the cliffs, the surf, the thick long black tentacles of kelp, and just the awful feeling of hopelessness about the whole place. But at the same time it seems to excite something inside.
We managed to surf a spot nearby called Peterborough, and I remember that it was just a lousy shorebreak with lots of that rotten black kelp, and that it was spooky as well. So we never made it to the famous 'Bells Beach', but on the way home one of the guys saw a sign saying 'Bells Beach X amount of miles'. So someone came up with the bright idea that if we couldn't make it there, at least we'd have a souvenir. Well, we ripped this sign off the post and shoved it in the boot of the car, not bothering to worry about a passing vehicle on its way to Port Campbell. We should not have been surprised when a short time later we were pulled over by the police and asked to open up the boot. We expected the worst but they just confiscated the sign and told us to leave the state and to never come back again. Of course we did – I never came back hundreds of times!
When I was sixteen, I stayed in a tent at the Torquay Caravan Park for a few months in 1962, and as I didn't have a car, I had to be content to surf the Torquay main break and a couple of other local breaks. It wasn't long before I got friendly with another guy my age who was staying there with his folks, and they also enjoyed some variation of surfing. This new friend of mine's father rode an old plywood plank and used to drive us to all the other surf breaks that were working, and one of those included Bells.
On one particular morning we were checking the surf at Torquay and it was very big, too big to go out, so the father suggested we have a look at Bells. If a person has seen the movie 'Point Break' with Patrick Swayze and Keanu Reeves, then they would have the wrong impression of what Bells Beach is all about. In fact, when I saw the closing scenes of that movie I couldn't help but roll around on the floor laughing. God! Hollywood always gets it wrong!
Bells Beach is not really a point break but a reef break, which breaks over a shallow shelf that runs out quite a distance from a headland and finishes in a small cove. The Bowl is out in the bay, about 3/4 of the way across from the left headland. There are a couple of other breaks nearby; one is Southside to the right and Winkipop to the left, and of course Centreside somewhere in the middle. And, with a small swell running and when the tide is high, there's Little Rincon, which works inside the Bells main break and breaks very close to the headland. It's very hard to estimate the size of the waves from the headland, as it breaks so far out. It's only when you get out there that you really get a good idea of the size and type of break it is. On this particular day anyone having a look could only say one thing 'Bells is big!'.
We watched for a while, as there were probably about a dozen guys out the back already. Most of them seemed to know what they were doing; they must have been out there before when it was this huge. Even though it was pretty big outside, launching from the beach was relatively simple and generally is, apart from where the wave breaks along the platform shelf and the shorebreak. Other than this, the water is reasonably deep.
I was the last one in the water so I was virtually paddling out by myself, and I launched far down the bay near Winkipop. I must have been paddling for ages although it probably were only a few minutes when I had a good look, just to see how much further I had to go. I could see the others sitting out about another hundred metres, so I started paddling further over to the right. This was to be a big mistake. The next time I looked out beyond me, the boys out the back were starting to scratch for the horizon and my worst fears were soon to be realised. A rogue set was marching through, and there was no doubt I was going to get caught inside. The blokes out the back made it over the lot, then the first wave approached me and as it started to break with the whitewater rushing to engulf me, I ditched my board and dove as deep as I could. Seeing that I was very near the Bowl area, there was quite a lot of underwater turbulence as it spun me around as if I was a rag doll. I don't know how long I was held down, but I was being dragged a long way and my greatest fear was hitting something on the bottom, although it never happened. Eventually I surfaced as the wave let me go, I quickly looked around for the next one, grabbed a lung full of air and dived again. This time it wasn't so bad, as I must have been in slightly deeper water, or so I thought. After diving under another one of these bombers I finally had a chance to swim further over to the left, into clear and safe deeper water. I'll never forget that swim as it took ages to get back into the beach to find my board. I guess the reason why I went back out again after such a thrashing can only be explained that I didn't want to be seen as a wimp, even though I was feeling intimidated by that episode.
I eventually made it out the back, albeit this time with a lot more caution and rode about six of the big ones. It was really awesome to have those walls of water ever threatening around me, especially in the Bowl. It's something I'll never forget. Strangely enough, my worst wipeout came at a break in Adelaide, called the Southport Left, which wasn't a large wave but a six foot wave breaking over a shallow sandbar, and it really gave me the impression that life was going to end and that was nearly it.
To quote Greg Noll about the death of the famous Bob Simmons…
It wasn't that big a day – certainly not beyond Simmon's skills. The irony of it is that it was only a six-or-eight-foot day, wrote Noll. That's the way it always goes. For the most part, it's not the big waves that get a
guy. It's always some quirky thing.
What a terrifying season of the year: it's hard rubbish collection time. It's that time of the year when the girl gets that glazed over look in her eyes and the valuable collection of treasure I have been storing that she calls rubbish, comes under threat of being thrown out. It's that time of the year that sends shivers of fear up and down my spine. There is only one other thing that I'm more fearful of and that is her almost daily tour with that most horrid of all appliances, the dreaded vacuum cleaner. For the last few days now and while the surf's been flat, she's been busy going through cupboards and boxes, only to surface every now and then with some precious item, saying, 'Can I chuck this out?'
She came downstairs one morning and said, 'Hey look I found a heap of photos in that old box up there, underneath and behind the watchamacallit!' My eyes lit up as she handed them to me and much to my delight, they were some old shots that I took in Victoria, at Easter time in 1967.
The memories started flooding back of an Easter when the surf along the Victorian coastline was huge and firing. It was one of the glassiest Easters I can ever recall, when almost everyone who surfed in Australia descended upon the Surfcoast to witness the Australian Championships. All up and down the coast there were hoards of blokes out riding, what looked like big lazy waves which were rolling out of the early morning's sea mist. The water still had some autumn warmth in it, and every break was buzzing with a multitude of blokes. Even at Point Danger a handful of surfers were getting punished every now and then from sitting in too close. Looking west from Point Danger, we could see that even good old Torquay was looking beaut with some oily looking big ones coming through. And although it's one of the biggest, easiest decent sized waves to surf, I'm afraid it still attracts all kinds of surf craft imaginable, even to this day. You still shouldn't ever be surprised to share a nice looking shoulder with a surfboat or some crazed kayakker, along with all other types of floating paraphernalia.
The biggest problem of course was trying to find a spot that wasn't too crowded. Like kids going through their Chrissie presents, we travelled up and down about 100 kilometre of the Surfcoast and finally settled on a spot with no-one out, Cathedral Rock. We soon found out why it wasn't crowded, as on its day Cathedral Rock can be the most chunderous of breaks going. Some of the guys surfing that day were Bill Prior, Bob Bolton, Stoker, Des Clarke, and Greg Frost, just to name the few I can remember. I'm pleased to report that these guys did their state proudly, showing those other interstaters that we could manage even sillier wipeouts than they could.
That evening we joined, what seemed like thousands of local and interstate surfers at the Torquay pub, which was going off as good as the surf was. The only problem for the blokes was the lack of sheilas there. Somehow I managed to win the heart of one of the few that showed up. I won't go into any gruesome details of how events in that respect turned out, but just let me say that things got pretty ugly. In the true spirit of the surfer of the day I promised to meet her at Bells Beach next day at the final but never did, nor did I ever see her again.
Bells that morning was big and glassy. I managed to get a good spot to watch and photograph the action amongst the multitude but unfortunately the conditions deteriorated rapidly and the shots I took turned out poor. However I did get to see some fantastic displays of good quality surfing, put on by the likes of Wayne Lynch, Midget Farrelly, Nat Young, Peter Drouin and many others. As it turned out some of their displays even equalled the performances put on in the pub the previous night. There was one incident when Nat Young had lost his board and faced a long swim in and paddle back out. Believe it or not but Midget Farrelly who was paddling back out from a ride, saved it from going all the way in and towed it back out to him. This brought a huge response from the gallery, as if their feud was put on hold in the name of good sportsmanship. Little do I care who won that contest, even to this day I still don't know. I do remember how well they rode, how good the surf was that Easter and how lucky I was to be there when the Surfcoast was working on one of its all time best days.
In 1970 my parents and I made a three-day trip to Sale in the Gippsland to see my newly married sister. On the way home, always being the adventurous one, I decided I would show my folks a bit of scenery and travel the coast road.
Generally, this trip would take about 12-14 hours non-stop, but taking the coast road would make it a little bit longer. The weather was fine until we reached the Otway Ranges, even if there was a slight headwind, which was actually a Southwester, the wind that brings the storms and swells. As we entered the Ranges' rainforest, it began to rain, so for the next two hours we drove in almost complete darkness and calm until we reached the start of the 'Shipwreck Coast', where the canopy opened up and the wind had become a raging gale. The sun was just about to set as we travelled along that lonely and foreboding stretch of road, the wind and rain buffeting the car.
I had climbed into the back seat to get a well-earned sleep, when after what only seemed like seconds I could hear my father, who had taken over the wheel, was complaining that he couldn't see and my mother was telling him to stop. But I knew my father wanted to keep going as we still had quite a few miles to go. I leaned over the back seat and told my father to pull over as I was taking over the driving again, and just as he did, the sun came out for its final flicker as it died on the horizon.
He stopped the car at the side of the road, which was very close to the edge of those infamous cliffs, and as I looked towards the sea I noticed a gravesite. I suppose I thought it strange that a gravesite should be situated where it was, I mean there was no town or homestead in the near vicinity. I pointed it out to my father and we both went over to have a look.
There were a number of graves in the site and two at the back seemed older than the rest. It was these two that we were drawn to, as they seemed almost like a magnet. In one of the graves to the left two males were buried. On the right a deteriorating tombstone had the name 'Carmichael' inscribed: the grave contained the bodies of a female and a young child. The inscription on a memorial told the story about a ship by the name of 'Loch Ard' that had been wrecked on the rocks below in 1878.
The Loch Ard was a three masted cargo clipper, weighing 1693 tons with an iron hull, on its way to Melbourne, carrying 18 passengers and 34 crew. Eight of the passengers on board were all from the Carmichael family. It was 4 AM on the 1st of June on a foggy Saturday morning and while some of the crew were peering through the dark and fog to take a bearing, the ship was swept onto a slightly submerged extended reef near Muttonbird Island.
From the accounts of the only two survivors and perhaps some people who may have been in the area at the time one can get a fair idea what conditions were really like. Being a surfer with a number of years experience I feel I can give a fairly good account on what the conditions were really like. The surf itself would have been a moderate swell, probably around eight foot, and in this area even a moderate swell would have been big enough to sink any ship. The sea would have been reasonably calm, as with a fog there is very little wind and at 4 AM in the morning the wind, if any, seems to calm down.
It's reported that masts and rigging smashed onto the deck below, along with huge sandstone rocks from the cliff face of Muttonbird Island. Most of the crew and passengers were trapped below as the ship sank in seconds, while a few of the people, who were up and about above deck, were thrown into a boiling sea. One of the survivors, Tom Pearce, an 18-year-old apprentice seaman and obviously a person who knew how to swim, managed to make it to an overturned lifeboat and clung to it as it drifted with the natural progression of the swell into the entrance of Loch Ard Gorge. Upon reaching one of the only beaches within miles inside the gorge, Pearce, who was lying exhausted from his ordeal, heard the cries of another survivor, Eva Carmichael, the 18-year-old daughter of an Irish doctor, who was immigrating to Australia with his family.
A nightgown-clad Eva, who could not swim, had managed to grab a lifebuoy and had kept afloat by clinging to a chicken coop and a spar and finally was swept into the narrow opening of the same gorge as Pearce. Tom heard a cry for help, swam out and took one hour to drag Eva to safety and bring her back to the beach, where he put her in a cave and covered her with some foliage. After fossicking amongst the strewn wreckage on the beach, Tom found a bottle of brandy and gave her some. The pair then fell asleep. When Tom woke, he clambered up a sheer 50-metre cliff and wandered around for hours in a daze from a head wound. Eventually he was found by two drovers from Glenample station who where working in the area and related to them the story of the wrecked Loch Ard. Hugh Gibson, who was the manager of Glenample station, organised a rescue party and managed to bring Eva back to the homestead, where she spent the next few days recuperating from her ordeal.
Although the coast for miles around was piled high with pianos, dresses and bottles of champagne, only four bodies were ever recovered, including Eva's mother and sister Rebecca, who lie at rest in the grave above the gorge. One would like to think that after their ordeal a romance would not be out of the question, but Eva returned to Ireland and married someone else six years later. Tom, who was awarded a medal for bravery from the Royal Humane Society, went back to England and later aquired the status of master of steamships. He survived several more shipwrecks but none that were anywhere near as famous as the Loch Ard and finally died at the age of 47.
Two days after the tragedy occurred, a valuable 1.5 metre high peacock was washed ashore. It had been made by Minton Potteries in England and was bound for the opening of the Exhibition Building in Melbourne, when the tragedy took place. Today it is known as the 'Loch Ard Peacock' and can be seen at the Flagstaff Hill Maritime Village in Warrnambool.
There is an eerie fascination about the wreck of the Loch Ard, and when you go there and witness the amount of tourists wandering around, you can't help but feel it too. Just to go to the tip of the gorge and look down at the surf charging into the cliffs, Muttonbird Island outside the entrance and up the gorge towards the beach, one cannot help but feel impressed.
One of the best surfing trips I ever did was a sojourn to Lorne in the early seventies with Mick Knill and Ian 'Farmer' Bone. This trip had everything; good surf, good weather and best of all good times in general. While we were in this part of the world, we stayed in a bungalow at the back of a house on the side of a hill in this popular seaside town. From there, we moved up and down the Great Ocean Road each day, looking for the best places to surf. On one particular day we took some local advice and went down to a place called Kennett River, which was a righthander that only worked on the low tide. We arrived there about an hour before the tide started to drop, and by the look of the place it didn't ever look like breaking properly. There was some swell, showing some potential, but every wave seemed too fat to break, so we hung around and waited to see what would transpire. We waited and waited and then suddenly, as if the place had been blessed by a miracle, it started to work. It was about six foot with a 100-metre ride from the point to a gnarly shorebreak with almost perfect shape. Even though I didn't like the long tentacles of black kelp, over the next few hours the three of us made a real meal of this break, getting some of the best rides of the whole trip.
Afterwards we changed and decided to go back to Lorne to get something to eat as we were quite famished, and in those days there were no fast food places around nearby. I can't quite remember just how far we got, when someone noticed a large cloud of smoke drifting away from the land out over the sea. Mick said, 'That looks like it's coming from Lorne'' and I tended to agree but good old 'Farm' didn't. 'Nah,' he said, 'it's at least ten miles away from Lorne', as we continued our journey towards it. Everything became much clearer as we rounded the last bend and came down into the tiny township. The whole of the north eastern side of Lorne was ablaze with a raging forest fire and with the wind behind it, it threatened to destroy the whole town.
Sirens were going off all over the place, with firefighters and police almost everywhere, while livestock and wildlife were running amok through the main street. Despite a warning from the authorities, we drove through the heavy pall of smoke and ashes to get up to the bungalow where we had left most of our valuables. We reached the bottom of the road that lead up to house but being stopped by a police car, which was parked in the middle of the road we weren't allowed to drive any further. So we left the car and decided to complete the last 200 metres or so, up the steep hill by foot, despite the near blinding, choking smoke. Strangely enough, by the time we reached the bungalow, the wind had switched direction and both the wind and the fire went the opposite way. While we were checking to see just how close the fire came to the premises, the owner was out back doing the same. We were all amazed to see that the fire had stopped about a few metres short of his fence, as if turned back by an almighty being.
That night and for many after, there was a constant smell of stale smoke around Lorne, and every time we drove in from the other direction we could still see the glow of smoking trees on the sides of the hills. Apart from the small amount of damage that the fire inflicted on the town of Lorne, I reckon the most damage was done to 'Farms' record of judgement, in estimating grand surfing sessions and other glorious deeds. We never let him forget his; 'It's at least 10 miles away from Lorne'!
Cactus is a fairly rugged spot in and out of the water, it's the surf spot of plenty; plenty of good surf, plenty of heat, plenty of flies and plenty of big whites, and my last trip in the sixties almost ended up a disaster.
Cactus is situated near a small town named Penong on the Nullarbor Plain, just at the start of the Great Australian Bight. If you are not up with your Latin, Nullarbor means 'no trees' and it can be very intimidating. It is in fact a desert and can get really warm there, especially during the summer months. Cactus itself was actually called Point Sinclair and was given its current name by the first guys who drove up there, looking for surf. Well, when they first saw it, the surf was pretty poor and someone said, 'This place is cactus!' meaning no good and boy, how wrong they were, as Cactus is now regarded as one of the best breaks in Oz! Cactus was also known as Rosella Point (A brand name for canned food here), because of all the empty cans left lying around the joint before the guys that frequented the place heard about the word 'ecology'. Apart from what you heard or read, Cactus was first discovered and ridden by a guy named Dennis 'Snake' Ferret who was working in the area as a wool classer at the time.
It was Christmas time 1967 and summer, the surf was pretty good all week and getting bigger every day. One morning we woke up to find it closing out right across the bay. Someone mentioned that a few kilometres back along the coast there was a spot called Point Bell and it should be working perfectly, so we decided to go and have a look. This meant doing a lot of driving through some pretty rough terrain, and most of it private property.
We were driving through one piece of property along a track, which had probably been made by the owner while working at clearing the Mallee scrub. All of a sudden there was one loud bang, closely followed by another and upon inspection we found that we had two blowouts after driving over a mallee root. Anybody travelling through this sort of country always carries a couple of spare tyres. We did have a couple of spares but had used them earlier in the week, so we were in quite a bit of trouble and it looked like being a very warm day. Three of the guys decided to walk to Point Bell to see if anyone was down there. One of them was silly enough to walk in just a pair of board shorts and no shoes. It took him eight hours to crawl back, and when he arrived he was a pretty sick bloke.
If there is any blame to be laid I have to be honest and say my good friend Johnny Matson would have to wear it, as he should have known better than to drive at the speed he was doing, seeing we had no spare tyres. Two of the guys who walked down to the point came back after a few hours and told us the bad news; no one was there. By this time it was starting to get pretty warm and we didn't have much water left, only an esky one quarter full of dirty ice water with a couple of cans of canned fruit. Now, I'm no hero, but I didn't feel like hanging around waiting for the heat to decide our future, so I decided to walk back the way we had come, remembering we had passed a building of some sort a number of kilometres back. John, who must have been feeling that he was to blame for our predicament although nothing was said about this, decided to come with me.
I grabbed a blanket and wrapped it around myself while John used a large beach towel. We also took the esky with the remaining water, which by this time was almost empty. The heat was really oppressive and getting hotter all the time. This delightful little walk we were taking was during the warmest part of the day, and the stops we were making were getting more frequent and the starts were getting harder to make. It seemed like we had only walked a few hundred metres or so when we were looking for some shade, but there were no trees, only small Mallee scrub. A number of times I really had to rip into John to get him moving again, as a person can perish in this sort of country in just a few hours. If the heat didn't get you, the flies would, and they were like wedge-tailed eagles. The soil around here is a dark red and very dusty, which, combined with the heat, takes its toll as the soles of the boots I was wearing were starting to peel, while John, wearing only Japanese joggers (thongs), was really starting to look crook. My biggest worry was that all the country was starting to look the same, I mean we could have been walking in circles and wouldn't have known as there seemed to be tracks all over the place. Eventually we came to a small rise and away in the distance through the heat haze I thought I could see the reflection of the sun on what seemed like a roof.
We staggered on for another two hours. Over every slight hill or bend in the track we looked for any sign of a building, but there was none, only more tracks going in all directions and more flies. By this time we were both getting pretty stuffed and all the water was gone. It was then that we turned a corner to see a water tank sitting on the side of a small hill. We both rushed up there only to find that it was old and pretty empty, which did nothing to boost our morale. When we rounded the next corner, to our delight we spotted a house. As we walked up to the front door, we heard a loud buzzing noise, only to discover that if we thought the flies were bad out in the open, ALL their mates were here under the veranda in the shade. I knocked on the door but there seemed to be no one at home, so we decided to go around the back to see if we could find some sort of a tap or anything that resembled water. To our surprise a young woman and her mother were sitting in the back part of the house.
They didn't seem particularly surprised to see two people who were in a lot of trouble, and before we knew it, they were pouring lovely cold water down our throats. After we had just about drunk their fridge dry we told them that we had left another three guys somewhere back down the track. The mother then very quickly got on the two-way radio to her son, who was out harvesting a crop of wheat, explaining to him about our situation and asking him to come home. This young bloke was quite a character himself; there he was out harvesting his crop in this heat and the next minute he was driving his Jeep (which ran on four cylinders and diesel) to help out five guys in strife in the scrub. We went with him of course, and as we got closer to where we'd broken down, we came across our car and the other three guys moving very slowly in our direction. They had not been just sitting around either, but had managed to somehow stuff the two tyres with grass, enough so that they could get the vehicle mobile. Now the young farmer sized up the situation, jumped out of the Jeep, ripped off the two punctured tyres, patched them and pumped them up by hand within what seemed like minutes. You know, he and his folks would not accept any reward for helping us out, so we decided to leave some cash in his back shed where he'd find it after we were gone.
A few years later I was travelling through Ceduna, a large town over that way, and by accident we ran into him at a service station. He was pretty upset that we left the cash. The breed of people that live in this part of the country are pretty tough and almost reflect their environment, but once you get to know them, they are the friendliest and most eager to help people I've ever met.
?INCLUDEPICTURE \d "cactus2.JPG"??The first time I surfed Cactus I took the ring off my finger and had it in my mouth for the whole time I surfed that first session. I thought the glint of gold flashing under the water might attract a big fish. The fear of the great white is very common at Cactus and I don't think I've ever heard from anyone who's surfed there and hasn't had some respect for what lurks beneath those waters. About the only time one forgets that fear is when one is locked into a Cactus tube.
It's not just the sharks you've got to worry about at Cactus, it's mainly the flies and some of the locals. One in particular is 'Moose', who happens to be a mate of mine. Believe me, you wouldn't want him for an enemy. Even Mark Warren in his Atlas of Australia Surfing gave some friendly advice no to get in his way. Another dangerous creature to be aware of in this area is the march fly. The march fly is not a little fly; in fact it's quite big (some people believe it's crossbred with the wedge-tailed eagle). It tends to land on any part of your body, completely undetected as there is no buzzing like from a normal fly, and then starts a feeding frenzy. So you have a choice: you can escape its feeding frenzy by going in the water and take your chances with whitey!
?INCLUDEPICTURE \d "cactussand2.JPG"??
And now the famous mouse plague…
The area around Cactus is almost a desert, nothing grows over a few feet high, and looking at the place you wouldn't expect it to be over-abundant with wildlife – wrong! On one of our trips rain promoted a lot of vegetation growth and as a result a few of the local creatures decided to increase their population. And as we were driving past the wheat growing properties we noticed some of the large wheat storage bins and silos seemed to be moving with a rippling effect. On closer inspection we discovered that the cause of this unusual effect were millions of mice.
At night, while we were sleeping, these little cuties would be crawling everywhere and all over us. There where also little geckos that were enjoying their own little plague. Now you're probably thinking, 'Oh yeah, is that all! Only mice and geckos, surely a few little critters like that would be no problem'. Wrong again! Other animals feed on mice and geckos, some of those include snakes, and in this area we have one of the world's deadliest snakes going around, the king brown. The whole bloody area was alive with the damn things and we had to be careful where we walked and sleeping became a bit of a nightmare. I'd like to point out that anything like civilisation is miles and miles away from here. There are no motels, electricity, phones, fresh water or help if one gets into any serious strife.
One morning a mate of mine, Ian 'Bongo' Bradley, and I went hunting for some rabbits with our rifles. We climbed to the top of a sand dune and as we looked across a small valley we could see two of our acquaintances. They were walking within a few metres between each other. Bongo spotted a snake in the middle of them, raised his rifle and fired a shot at it. These two mates of ours thought that we were shooting at them and to my horror returned fire and for the next two hours we were dodging bullets. I guess we were lucky that they were bad shots, even so it took our minds off the snake population for a couple of hours.
In closing I would like to quote what a good old mate of mine, Trevor 'Gus' Dawes, said to me…
'I'll always remember those early days as the best days of my life, with no comparison!'
While scanning a number of surfing photographs I noticed they all had one thing in common: the expression on my face…that look of determination! I hardly ever notice anybody else while I'm riding a wave. Let me explain that a bit further. I'm almost fully concentrated on what's happening around me, what the wave's doing, what I'm doing, but at the same time I rely on my peripheral vision to spot anybody who might be in the way. I rarely see anybody else's rides as I spend most of my time out the back trying to get and stay in the right position. Mind you things have changed in that respect over the last couple of years with the girl surfing, as I have a responsibility that she's not in harm's way.
In my youth I was a member of four board riding clubs but never entered into any of their competitions. Don't get me wrong, I feel that competition surfing helps to promote this sport I love, and through competition the general public gains a bit more respect and knowledge for the sport of surfing. I just don't see any competition in surfing, as I approach every ride like a struggling artist, trying to paint onto that watery canvas to the best of my abilities.
God knows I've had some horrendous wipeouts in my time, but who hasn't? I don't know what goes through your mind at these moments, but I think I've only gotten what I deserved for being complacent. During the last session I had at Middleton I had an awful wipeout on a not so big wave. I cannot recall ever being worked over before like this. I was held down and rolled around like a rag doll, expecting at any second to hit the bottom with my head or another body part. Just after I came up from that belting, another surfer who witnessed it said, 'It's been a while since I've seen someone take that sort of thrashing', or words to that effect.
At the start of any of my sessions there is this unmentioned agreement between myself and the ocean, I commit my body and soul to its keeping, knowing full well of all the perils I may go through. I can only remember one time where I got to the water's edge, turned around and did not surf a spot. That spot was Angourie, in the mid sixties. I'd surfed there before but never enjoyed it, as there was something spooky about the break that I didn't like and I've never surfed there since.
Isn't it amazing that some people who have little knowledge of the surf look at the sea and almost consider it as a predator? An example is the 17-year-old who drowned at Middleton the other week. He made a commitment when he entered the water but what he didn't have was the experience that everyone of us should have and that is something you can't buy.
I learnt my big lesson at Bells Beach back in the early sixties and duly got punished for not spending more time studying the break before I went out by getting caught inside the 'Bowl' paddling out. The waves were huge that day, they would have had an 18 foot face, but oh so awesome were they in their beauty that they needed to be ridden well, by guys far more experienced than myself.
Fortunately I learnt a lot from that experience, and ever since I have a real good look before I go out anywhere. Greg Noll's quote, ' It's not the size of the wave that gets you, it's always some quirky thing' is quite relevant. One late afternoon many years ago, we were surfing at Threepoles when Dave Humble bought the farm. The surf wasn't big but we figured he wiped out over the shallow part of the reef and hit his head on it. He was found floating face down in the shallows, just as the sun was setting and no one saw what actually happened to him.
In all my years of association with the sea I've never been scared of it but I've always maintained the highest respect for it. Isn't it amazing how a ball of energy, ever so small or large can lift you to the highest levels of elation and in the next moment have you whimpering like the poor sook you don't want to be?
Even at the age of nearly 59 I would still like to paddle out at these famous or infamous breaks like Waimea, Sunset or the Pipeline, to experience the aquatic atmosphere of these breaks. But to ride them for myself would have to be another decision and one made on the comfort level I would be feeling on the occasion. When I've stood on remote beaches like Castle Cove and Gibson Steps in Victoria, or Sandon Point in New South Wales, I'm afraid common sense has taken over. At these places there is no easy way out or in, and if you get into trouble you're putting other people's lives at risk in coming to your aid if you get in strife. I would also dearly love to paddle out at the Loch Ard Gorge, just to experience the full mystery that
surrounds this enigmatic place of historic tragedy.
If my favourite break was to somehow reach an awesome size I would be one of the first out there, as forty-odd years of experience of how it works come into play here, and it would be more fun than awesome. There have been nights when I've had dreams that my local beach, just down the bottom of the hill, has had huge, glassy swells pumping through. I wish!
Awesome comes to me very rarely these days, as the ability of my youth fades and on the rare occasion that I do get a good ride, I've gotten an accolade or two if I'm lucky. Surprisingly enough I've been never been called an 'Old Fart' and told to get out of the water, so I still must be doing something right.
The breaks that worry me in my recollections of places I've seen include 'Marlo' on the southern Gippsland of Victoria and 'Dalmeny' on the South Coast of New South Wales and a few other 'secret' spots which really have appealed to me but I've never surfed. We were at Dalmeny a couple of years ago, having lunch and watching the surf. It was a strange looking right and not always that makeable but it seemed to say to me, ' Come on out and try your luck!' And I would've done so if that vehicle alongside of us with South Australian numberplates and a board on top had hung around a bit longer. I was just about to go up to them and say, 'How about going out with us?' but they disappeared before I could ask the question. I really regret
not being a bit pushier on that occasion!
A good friend of mine once said to me in an e-mail that there are still spots on the far south east coast of this continent where only a few die-hard fisherman go and where the waves and breaks are perfect for surfing. The only problem is that you need a 4-wheel-drive vehicle to get to them. On one of our sojourns back from the east coast we took one of these tracks and saw species of fauna and flora unique to this area plus rare glimpses of a wave breaking in complete solitude on a pristine beach but only from a distance. It'll be many years before you see a 'McDonald's' sign in places like those!
Have you ever stood on a remote beach with a break working perfectly with ideal conditions and just looked, I mean really looked at it and said to yourself, 'I wish I could share this moment with a few of my mates'.
Surfing Middleton is like having the winning ticket in 'X-Lotto', as getting the wave of your life here is just as hard to achieve. But Middleton has a strange attraction for me: it's always a challenge getting out the back, and when you get there you need all your surfing experience to pick the right wave to ride. The water never really gets warm and it's always a milky colour, so if there is ever anything lurking over a half a metre under the surface you're never going to see it. Also, there's the different smells that hang about this place, from rotting seaweed to a strong fishy odour which tends to get the imagination going.
I first surfed here in the very early sixties, and the journey from your vehicle to the Point hasn't changed one iota in all these years: it's a challenge in itself. If you don't die from overexertion from getting into your wetsuit then the climb down to the beach is going to test your mountain goat abilities, although these days the council has catered for all the seasonal whale watchers and surfers by installing steps. Once you reach the beach you're confronted with the odd sneaky rock hiding just below a thin cover of sand waiting for an unwary foot. If you make it over this, the next major barrier you will encounter is clambering over the Point itself, where the rocks vary from smooth to sharp, and I generally find all the sharp ones these days (I think this may be due to my failing eyesight). The next challenge comes at the take-off point where you inch your way down from the sharp rocks to the slippery, smooth seaweed covered ones, where you wait for a lull in the sets. So there you are, standing knee deep in the surge on this slippery surface, almost below sea level, waiting for a lull in the sets or until your patience runs out. When you reckon that it's safe to go, you launch yourself just after the last wave of the set that has passed. If you're lucky, you're away, unless you haven't left part of your legrope looped around a rock. This can look quite hilarious to the onlooker and very embarrassing for the professional surfer, and it can be a dangerous practice.
Now comes the hard part: getting out through the breaks. The swell rolls in over a number of sandbars and can start breaking about a quarter of a mile out. So you can bet your life it doesn't matter how good your judgement was when taking off, you are always going to get pounded a few times before you reach clear water. Even when you feel you're safe out the back it's always good to have the ability to know how to turtle roll as every now and then an extra large set sneaks through. The argument over wave sizing will always be around and I have my own way of judging wave size. If a surfer around six foot of height has reached the bottom of the wave and it has a bit of the lip of the wave above him I regard that as a six-foot wave.
The wonderful autumn weather continues with daytime temperatures of 24°C (75F) and at night 14°C (55F), the water is around about 16°C (60F). On Friday, conditions at Middleton were the best I've seen here for a long time, the swell was about three to five feet, and the offshore breeze was almost non-existent. The word must have gotten around about the quality of the surf, as there were decidedly more guys out than usual. The first wave I caught was an absolute screamer, which walled up very nicely with a few tight sections that tested my capabilities, and my reaction time was adequate, if not spot on. The length of the ride was about 150 metres and well past the Point into the shorebreak, and in some ways it was almost equal to any ride I've had at Crescents. When I finished the ride I felt so exhilarated that I almost raised my arms in triumph but stopped myself as I thought that would be a little self-indulgent.
Usually, when you manage to pick up a decent ride first up, you rush out the back again as if the good waves are going to dry up soon and you're going to miss your share. There are not too many breaks around this country that I haven't ridden over the years; a lot of them have been reef breaks that have a regular pattern. And I reckon that sometimes a person can get bored with regular patterns and that's why places like Middleton can be appealing if not challenging, and improve your surfing and your appreciation for the sea.
The decision to come out of the water is usually governed by what sort of session I've had. I generally try to come in when I'm either buggered or had a terrific one, or just before I may have completely embarrassed myself. So on Friday when I finished my ripper session I came out of the water and strutted up the beach like I owned it, only to get to the car and have my ego deflated by the girl saying, 'Is that all you can do on a board?'
So this little story should really be titled 'self indulgent person deflated at Middleton'
We went down to Middleton yesterday even though the surf report said it was only two foot (I always add an extra 2-3 foot to that) to find it about 3-6 foot and as glassy as hell. Normally I would have been jumping out of my skin to get out but due to a recent illness I was concerned about my lack of fitness. I hadn't had a wave for a few weeks and was still feeling a little bit wobbly. I couldn't stand it any longer and in less than five minutes I was standing on the Point myself, board in hand, waiting for a lull. As I waited I saw my girl paddling for a nice looking medium sized wave which she caught. And to my delight I watched her as she stood up and to my surprise she didn't fall off the back like she usually does, she rode the sucker past me! I thought, 'She's come a long way from the girl who was crying on the beach at Torquay a few months ago because she couldn't surf properly'.
Finally I launched myself and made it out the back without even getting my hair wet, which is pretty rare at this place. Despite being winter, the water temperature wasn't too bad, about 14°C (58F), air temperature about 17°C (64F) with no wind at all and six other guys out. The water was the usual milky turquoise colour and I don't suppose any one of us was feeling really comfortable in light of the fact that last weekend a sailboarder was taken by a great white at Hardwicke Bay on Yorke Peninsula.
I got a few good rides, even a couple of rippers, and one in particular took me almost into the beach. So instead of paddling out through the breaks I decided to go off the Point again. The tide was a bit higher now and a really large set was coming through. Then I did something really stupid. I took my eyes off the sea for a second while holding my board parallel to the surf. A wall of whitewater hit me and slammed me and my board onto the rocks. At first I thought my leg and ribs were broken but I didn't have the time to worry about it, I had to get to my feet again in case there was another sneaker wave following the one that hit me. I managed to stand up and to my surprise quickly figured out all my bones were in their right places, if not a little bit sore and numb from the hammering they had taken.
So I thought, 'Bugger it, I'm going out again!' I stood there for a few seconds, this time watching the surf, as I wasn't going to be caught again with my lack of concentration. As the initial shock of this episode started to wear off along with the pain, I felt numbness in my left foot. Taking a quick look I could see that I had done some damage as blood was running freely from the inside of my ankle. So I made the obvious decision not to go off the point but hobbled back over the rocks and the beach, back to the car, humbled once again by Middleton.
Yesterday morning I was sitting at my computer doing a bit of work with the Foxtel surf report in the background and every now and then I'd look up and check out what the winds were doing. At about 3:30 AM I took the dogs for their usual walk down to my local beach. There was a slight offshore breeze coming from the north-east and as I walked to the water's edge, I noticed there wasn't much swell about (if there is any size swell here, that means it's bigger down the coast). At about 7:10 AM I checked the surf report which said, 'Mid Coast, dead flat give it a miss, South Coast five foot, light offshore wind, with a five out ten of rating'. In a flash the boards were on the car and we were on our way. Middleton was breaking bigger than five foot, maybe seven, and when we pulled up we saw a large set marching in, with the first wave peaking and breaking perfectly left and right.
I got out of the car, took a good long look and quickly realised that the only way out was through the bay with the rip. As we watched, a guy was heading for the Point and I said to my girl, 'Watch this!' This guy must have been crazy, as some of the waves were washing over the Point. He was lucky enough to launch himself, but he couldn't see that a big set was just about to hit him. Ten minutes later he was back on the beach, making his way to the bay for the easy way out.
My girl mentioned that she wasn't going out and if she had a thought she might, I wouldn't let her, this surf wasn't for novices. Eventually I started walking towards the bay which is about a 200-metre walk from where the car was parked. As I walked past the other cars, I noticed that a lot of them still had their boards on and most of the occupants would remain spectators today. When I reached the spot where the rip goes out I was joined by a guy on a shortboard who proceeded to do a few muscle stretches (something I should have done). After the last wave of a big set hit the beach he took off with me right behind him and with the aid of the rip we were both in clear water in less than five minutes.
A few more minutes passed and I was getting closer my desired position when aw a large set on the horizon. I thought, 'I'll try and pick up the last one of these and see what they're like'. As it approached, I started thrusting my arms deeper into the water to gain some speed because it was going to be hard catching one of the waves with the strong offshore wind blowing. The next thing I knew it was peaking and I was on it and as I quickly looked I made the decision to go left as it was starting to break from my right. I started to make the move to get to my feet as I was sliding down a now sharp incline when I felt a very acute pain in the back of my upper left leg as if someone had shot me. I couldn't get up to my feet and in the next few seconds I was being rushed into shore caught in the wall of whitewater, heading straight towards the Point and the rocks.
Somehow I managed to get out of that wave just a few metres short of the rocks but I was still in a lot of danger because there would be more waves coming shortly, threatening to push me onto the Point. I then paddled diagonally to my left to put a bit of distance between myself and the rocks and closer to any waves that might be coming. When I was in a reasonably safe position I thought for one stupid moment I'd paddle out the back again and continue my session.
Then to my good luck another big set came through, making my mind up for me. So I turned my board around and caught the first wave that carried me to the beach. As I tried to stand I realised that there was something wrong with my leg and it wasn't just a simple cramp. My girl carried my board back up to the car while I hobbled along behind on one leg with mixed emotions.
With the boards back on the car and leaving Middleton I had feelings of anger, frustration and loss. I was angry with myself for not doing a few stretches before I went out. Frustration, that a part of my body had let me down. And loss, that I had missed out on riding what has become my favourite spot at its best. What a week it's been, last Tuesday I chipped a bone in my left ankle after being hit by a wave trying to launch from Middleton Point and now this.
My worst fears were realised later when I went and saw my Doc, who diagnosed a torn hamstring, which means I'll be out of the water for a few days. So until then it looks like tea and sympathy. I don't know if I can handle that!
Last Saturday at Middleton I had just left the water, climbed the steps and was walking to the boot of the car when I felt a heavy pain in my chest. Somehow I managed to get out of my wetsuit and while doing so the girl had also reached the car. I said to her, 'I think you better get me to a doctor or better still a hospital'. Twenty minutes or so later I was receiving treatment for a serious heart attack. My girl said at one stage the situation got critical as I barely registered on the graph. I then was transported by helicopter to the Flinders Hospital in Adelaide. I was given all the appropriate tests and it looks like I'm going to have to take it easy for a while which is doing nothing for my current disposition.
It's been two and a half weeks since the attack and today my girl wanted to go for a wave albeit by herself. The conditions were perfect with no wind and the swell was 3-4 foot and glassy although I have seen it breaking with a better shape to it. Even so it was a beautiful day with an air temperature of 19°C (65F) and just to be out for paddling practice would have been worth it. As we pulled up and looked we could see within eyesight a dozen people out, scattered up and down the coast, all looking for the most consistent breaking pattern.
My first impression was, 'Yeah, I wouldn't mind going out but that is totally out of the question as I still have a couple of weeks before I'd be trying anything like that'. And even while I was thinking about it the girl was taking her board off the car and out of its cover and starting to get into her wetsuit. She asked my advice where would be the best place to position herself and I told her it didn't really matter as it was sort of peaking everywhere. So I watched her walk down the steps with her board under her arm to the beach by herself. Under normal circumstances this would not have concerned me but this time it was different, I felt detached from the whole scene and my only concern was that she'd be all right by herself.
I watched as she attached her legrope and walked out into the surf. She stood there for about five minutes waiting for the current big set to pass and then launched herself. She seems to have listened to what I'd told her and stayed close to the point and in less than a few minutes she was sitting out the back. I kept a close eye on her with a pair of binoculars until I felt the urgent need to relieve my bladder, which meant climbing down some crude steps that definitely weren't designed for that purpose. As I stood on the precipice looking down toward the toilet block I thought, 'God! Those steps have gotten steeper since the last time and when I get down there how the hell am I going to get back up? Sure, I'm allowed to climb some stairs but these are ridiculous and were designed for mountain goats and not human beings that are slightly disabled'. Somehow I made it down there, did my business and started my trek back to the top again with some reservations.
When I reached the top of the cliff again I thought, 'Well that wasn't as bad as I thought it would be and maybe my convalescence is much further advanced than I thought'. This whole story may sound a bit ridiculous in light of the fact that less than three weeks ago I was out in the surf, risking my life in a more extreme environment. I walked back to the car checking out the surf with the same indifference. I got back in the car and turned the radio on, picked up the binoculars and resumed observing my girl, wondering if she was enjoying her endeavours and hoping that she would come in soon so we could get the hell out of this place.
I wonder will it ever be the same for me again, will I ever get back the passion I had for surfing that I had before the attack? Or will I remain a victim who occasionally returns to the scene of the crime?
It is one month to the day since I had the heart attack. On the agenda today was the Cardiac Rehabilitation Program at 2.00pm at the hospital. Afterwards I had an appointment at 4:30 PM with the cardiologist for my ECG test, which would determine if I would ever venture into the surf again. I wasn't nervous at all, as this was the day I had been looking forward to. I only wished that these two events had occurred a bit sooner because I don't have much patience with things like this.
From the Rehab Program I left, now joined by the girl, to keep the appointment with my cardiologist and the dreaded but necessary ECG and stress test. One thing I dislike more than anything else is waiting around for a doctor, and it was an hour before we eventually saw him. After being shown into the torture chamber a young nurse started attaching numerous electronic wiring to my upper torso so that soon I looked like the back of my computer. Eventually the doctor came in with an almost evil smirk on his face, and before I knew it he had me started on his walking treadmill. After a minute or two the pace was increased and I thought 'God! This is too hard, I'm going to toss this in!' But a voice inside my head argued back, 'If you don't finish this then that's the end of your surfing days!' So I persisted and then the nurse said that in ten seconds the speed would be increased.
Oh bloody great! For a second or two I thought I was going to fall flat on my face as I was having trouble keeping up with the pace. I felt no pain in my chest at all but the pain in my calves was excruciating and my legs were starting to feel a bit wobbly when all of a sudden it was over. I felt a bit dizzy as I staggered over to a bench were I sat down and the nurse started taking all the wiring off me. She offered me a drink, which I declined. All I wanted was a towel and the results of the test and when I had found out that I had passed I was over the moon.
The results of the test were terrific and he gave me the ok to go back to what I wanted to do – surfing! So it looks like I'll be checking the weather and surf reports overnight and I just hope there's a wave going tomorrow!
Not that I'm counting the days but it's been four weeks and two days since the attack and the first night that I've paid any attention to the Foxtel weather report in all that time. And at 3:00 this morning I did what I used to do and took my dogs for their usual walk down to our local beach. When we got about half way down the hill I noticed the sound of a wave breaking and thought, 'I reckon there might be a wave down the south coast worthwhile checking out later when the sun comes up'.
So at about 7.30 we were on our way down south and about 45 minutes later we were wetsuited up and walking on our way to the point at Middleton. The sky was sort of hazy with a slight cross-offshore wind blowing with a half reasonable 3-4 foot wave pushing through. On another occasion I personally would have given surfing a miss today but I needed the exercise, also I needed to go out again for the sake of my sanity and rehabilitation. I didn't have any worries while I was out but the coming in was going to be the real challenge to my sad lack of confidence. When we reached the Point I took every precaution to get out the back with the least amount of strife. I checked my legrope while watching the surf and then gradually made my way down and over the slippery seaweed covered rocks to the final launching spot.
I waited until the last wave of a set and then made the decision to jump with my board beneath me on top of the passing wave. For a half a second I thought 'Well I'm away now, no going back'. Then all of a sudden I came to a sudden jerking stop! I quickly turned my head and looked back and saw that part of my legrope was still hooked around a rock on the point. Talk about déjà vu, the same thing happened to me only six months before, I couldn't believe it. How could I be so bloody stupid again, especially on this particular day and after how very cautious I thought I had been? Finally I got untangled from the rock and away from the Point with no great drama, with only a bruised big toe and a little dented pride. If I thought my pride had already taken enough of a beating, well on the first wave I caught I fell flat on my puss. It wouldn't have been that bad but what made it worse was the cackling of by the girl who had witnessed it. After paddling around for about another half an hour, trying for this wave and that with no great effort and very little success I decided that the next wave I caught would be my ride in.
I stood on the beach for a few moments and considered the whole situation and then looked up to where the car was and thought, 'Well this is almost the end of the test and when I reach the car this will be a milestone in my rehabilitation and my comeback as a surfer'. I climbed the stairs and reached the car just as another guy was heading out. I looked at him and said, 'It's not as good as it looks out there!' And I felt like a real surfer again.
The sun is shining through the lounge room windows, the overnight storm has cleared the air of all the germs except the ones that I cough and splutter around with this cold I've been lucky enough to catch. It's strange how the weather changes in this state as we have four distinct seasons. Last week I was sitting here with the fire going freezing my butt off. Now this week everyone's walking past my window in T-shirts and shorts on their way down to the beach. I'm sure there's a wave breaking somewhere on a nearby coastline and all I know is that I'm not on it, not that I could do any justice to it at the moment.
This old body of mine has taken a fair hammering so far this year and I'm not sure that it's going to make the distance. With a cracked bone in my foot in February, followed by a very painful fall on my knee on the bitumen at Crescent Head where I nearly passed out from the pain. Then in June I got slammed into the rocks on the point at Middleton and cracked a bone in my ankle, followed in July by a torn hamstring on one of the best surf days there in recent history, and finally the heart attack in August.
Now I've got this smart arsed kid, a so-called friend of mine in California calling me names like 'Weenie' and 'Big Baby' just because he thinks I can't handle this little cold of mine. Well, I'm no stranger to pain and in my fifty-odd years I've had plenty and I can handle it. I've survived a number of serious car accidents and a couple of scary wipeouts. The first memorable one was at Bells Beach at the age of sixteen where I got caught inside when it was breaking 15 foot plus and another on a gutsy left-hander at Southport which really caught me by surprise, and that one was the scariest of all.
Worse than any wipeout, I survived Pam, Vivienne and Sandy, and that took some doing. Now the biggest survival test of my life will happen at 6.00pm on Saturday the 2nd of October, as that is the day the girl and I are getting married!
It was three to four foot with a slight cross-offshore wind and the tide about mid to high which, in my humble opinion, are almost perfect conditions. There was no standing around contemplating whether or not to go out as a sea breeze was forecast, so not a minute was wasted in getting out.
The girl and I both launched off the Point at the same time but I could see that she had made a mistake by paddling out away from the Point when the easiest way is to paddle as close as possible to it and even slightly in front of it. So when I reached clear water I looked back to see her still struggling behind me. I thought she might give up and turn around and go back in. To my delight a little while later I saw her sitting about fifty metres away to my right. I considered this achievement by her a major milestone in learning how to surf.
My first two waves were absolute belters with the initial one being my wave of the day and a good 75-metre ride in length. As soon as I picked it up I knew I was in for something special as it began to form nicely right from the start. After the take-off and bottom turn I climbed and kissed the lip with the bottom of my board, then dropped down beneath it just as it started to pitch. I did this a couple of times and then noticed a section in front was really starting to wall up. With split second thinking I took the gamble and walked to the nose to gain extra speed to get through the section and to my good luck it was well worth it. Before I knew it I was completely covered up as it broke over me and the next minute I blasted out onto the shoulder just as the shorebreak was starting to form. I dropped down again and just before the wave closed out I zipped up the face and over the back of the wave catching my board just before it hit the water.
If I thought that ride was more than reasonable then so did the young grom who had witnessed half of it while he was paddling out, 'Hey man! That was awesome…you were right inside!' I do remember the look on his face when his eyes met mine and really nothing more needed to be said. It seemed like it was a good day for everyone as the girl managed to get two of the best rides of her short surfing life as well and I was fortunate enough to see them.
Towards the end of my session I had one terrific wipeout in the shorebreak that I can share and laugh about. I picked up a wave similar to my first ride and was trying to repeat the same performance. The wave was breaking very nicely and I was doing my dropping and climbing stunt. I figured I had one more climb to do and then a drop, then over the back off the wave I'd go. This time the wave pitched a fraction early as I was mid-way through my final climb and the last thing I remember is seeing my board being swallowed in that green hollow tunnel as I was falling in the opposite direction.
The power in that particular shorebreak was exceptional, and first I thought my leash had snapped, as I couldn't feel it anymore. I got dragged under the water for quite a few metres until eventually the wave let me go and I came up to the surface with fortunately everything intact. The downside of this session happened when I finally came out of the water and clumsily stubbed my big toe on a rock. It sort of makes me wonder if someone's watching and reminding me of what I am…just another average surfer.
I was standing on the Point at Middleton the other day with the old board under my arm, waiting for a big set to roll through. Looking out over the surf and the scenery, my mind started to wander. I wondered what would a bloke like yourself be thinking, if you were in the same position. Probably the same as me: what a glorious life we have and how fortunate we are to be involved in such a wonderful sport.
The girl and I had pondered on the previous start to a session just how many times we had been walking down the cliff and out to the Point and off, in search of that elusive magic surfing session. Her, perhaps fifty and myself, well! The number of times must be getting close to maybe a thousand or more.
Seconds later I was in the water, making that arduous long paddle out the back. While paddling I saw a fellow surfer picking up a wave, heading towards me. I looked at his face, not for recognition, but because I was fascinated by the look of concentration on it. I wish every surfer who I see in this situation all the very best. Sometimes, if the wave is an absolute screamer and he looks like getting the wave of the day, I can't help myself and yell out, 'Yeah! Go! Go!' as I feel the stoke that must be welling up inside him. There is no jealousy or wishing that wave were, mine only the feeling that in a few short minutes I may be in the same position myself.
As we move into autumn the water was still warm and of an emerald, sandy colour with a zephyr breeze blowing from the shore. The sky was clear except for a few feathery clouds streaking towards the north, making conditions perfect for stoking up a person into having a good session. The only other sounds I heard besides those of the sea and air were those of my two dogs barking on shore, who would just love to have been out here with me. I looked over to my right towards Port Elliot and saw the signs of a nice big set coming. I let the first one pass and as I peered from the top of it I saw a second and a third behind it. I waited for the third and as it got closer I started to paddle, thrusting my arms deeper and deeper into the water to get enough speed to catch it. All of a sudden I picked up the wave and in one movement I was on my feet. I heard the hiss of my board as I slid down the face and once again I was on my way to another journey to exhilaration. God! I love this sport.
Upon our arrival we found Middleton breaking more than half a gazillion miles out and huge. We had arrived extremely early to avoid the rush of the weekend warriors, who would doubtlessly be descending like a plague on this spot as soon as they had heard the latest surf report. The tide was at its lowest and it was breaking out as far as I can ever remember, with a slight offshore wind blowing and only two other guys out.
It was far too big for the girl and she decided wisely to give it a miss while I wondered exactly where I'd go out. Going off the Point was not a good option and launching through the bay was little better, until I noticed two tiny figures clambering over the rocks, almost the other side of 'Suicides'. One of those tiny figures turned out to be Peter Cox and if anyone knew the best spot to go out on such a day it was him.
Within minutes I followed his example, climbed over the rocks and walked out through a small inlet over a rocky bottom until I reached deeper water, then hopped on my board to begin the long paddle out. I had gone no further than thirty metres when a series of big sets came through, which threatened to wash me back onto the rocks. At one stage I got hit by a larger wave, and when it finished dragging me back in I saw that I was about a metre off a large rock that was almost covered by water. I sat in the lull of a safe area for about five minutes, waiting for the sets to finish and then took off again. Each time I went over a small swell I had a good look to see where the guys were and then behind me to get my bearings, just to make sure I wasn't being dragged by a rip into a dangerous or heavy impact zone.
Finally, after about fifteen minutes I made it out to where the other blokes were sitting. Coxy said 'G'day' and proceeded to tell me about his latest trip to Tasmania, while I checked out the horizon and then the shore just to see what was what. The water was reasonably clear and almost devoid of all the seaweed that was building up around the bay and rocks in general. For the first time in ages I waited a while to get some strength back before going for any waves as I usually start my sessions off straight away if there's a wave coming through.
Even though we were in relatively clear water it didn't mean that we weren't going to be caught inside by a big one. Minutes later a huge set came through and started feathering a further 100 metres out. The three of us scratched our way out to meet it before it broke but finally had to turtle-roll under the whitewater and out the other side. Fortunately the whitewater of those big ones only rolled down the face of the wave and had no real crunch in it. Even so they looked intimidating, and as they got closer to shore they definitely were.
The time passed very quickly and before I knew it there were about another half a dozen guys out with us, sitting across the bay. I hadn't had much luck catching anything as only the bigger ones were worth going for, and even some of those were a little bit fat. There seemed to be a very strong drift towards the east as, when I looked towards shore we seemed to have moved from Suicides almost to the right in front of the Point. This was good as I was in familiar territory and getting back into shore wasn't going to be a problem.
Finally a big set came marching through. I let them all go except the last one, which had a reasonable amount of shape to it. This wave was bound to be hard to pick up, and when I did it was a fairly late take-off. As soon as I had the slightest inkling that I had it, I was on my feet and racing down the face, heading right. For about a hundred metres or so the wave held its shape and I managed a few manoeuvres to make the ride more enjoyable until it started to wall up very quickly into a crunching shorebreak.
The wave and my ride were was nothing special. However, it felt good to ride something with a bit of size. When I headed back out, a strange thing happened. I heard a voice coming from behind me on the shoreward side. I was positive there was no one behind me, and when I turned to look there was indeed nobody to bee seen. Perhaps I might have had one too many turtle-rolls and my ears were playing tricks on me. A few minutes later I heard it again. By this time I had almost reached clear water again, so I stopped and sat up on my board to have a good look. Suddenly I heard a loud siren going off and it was then that I realised it came from shore. The spooky voice I heard was someone talking through a loudspeaker. I had forgotten that the State Longboard titles were being held here today. Eventually I snagged a real big one from way out the back, which I decided to ride in on. The ride was so long that by the time I hit the beach my hair had dried and was probably a half an inch longer.
Meanwhile the competition was well under way and the carpark was nearly full. I was so pleased that I'd gotten out early before the crowd rolled up. I said hello to a few of our club members and, still in my wetsuit, drove to the bakery to get some well-earned breakfast. After about an hour and a half I had the strong urge to go back out again as it seemed to be getting better with the incoming tide.
This time I went through the bay as it looked less intimidating than before, but oh so wrong I was in this assessment. I got about halfway out, got belted good and proper and was held in the impact zone for about five minutes. At one stage a big hairy one broke right on top of me as it unexpectedly jacked up. So I quickly dove away from my board. For some strange reason I grabbed my legrope, I suppose to yank the board back quicker once it had finished the washing machine cycle with my body. As the wave dragged my board forward with it I felt an excruciating squeeze on my hand as the legrope tightened. For the next fifteen minutes my whole hand was numb and I thought I might have done some real damage. Nevertheless I continued on and finally made it out the back where I said g'day to all and sundry that were in hearing distance. When I looked at the expressions of some of these blokes' faces I could see that they were a bit nervous about being out in larger than usual stuff. So I tried to break the tension by talking about my experiences with great whites and a recent hold down I had at 'Big Hill'. One young guy on a boogieboard right alongside me looked like he was trying to catch flies, as his mouth was open that wide.
If Saturday was any good then Sunday was even better, albeit a bit smaller. It was the glassiest I can ever remember seeing Middleton, and it seemed to scream with its pure beauty, 'Come make love to me with your boards!', and we did.
Once again I pondered about where to go out and decided that out through the rip in the bay would be the best, even though it was half clogged up with seaweed. Today would be an excellent day for the girl to go out as it was at about her experience level, so she joined me. We changed into our wetsuits, waxed our boards and marched down the road to the bay. I took off first and trudged out through the incredibly thick weed, holding my legrope a stiff as I could, so as not to get caught up in it. The girl did likewise and was doing okay until she got on her board and tried to start paddling out. I was a little further out, sitting on my board in reasonably clear water, while she was hollering at me as though I'd planted the weed there to trap her. Finally, after a bit of cursing in German and a little logic thinking we paddled side by side out the back with not a hair out of place.
There were two other guys over in front of the Point and as we joined them I sensed that, much like ourselves, they were stoked to be out here on such a beautiful morning. In fact the conversation was extremely friendly which was disappointing for me, as it was going to make it a lot harder to be nasty and drop in on them! A few minutes later we were joined by Coxy and between the four of us things were going along nicely until a big set came through. I let the first couple go and waited to see what was left behind them, while the girl and another bloke caught one of the first. Unfortunately I could see a larger set looming on the horizon. So I paddled out even further, but this was a real rogue set and broke out beyond me. It didn't cause me any hassles though as far as getting worked over by the whitewater was concerned.
Then I started to have a look what the girl was up to as it had been a while since she caught that wave of hers. It was pretty hard to see much closer in with the sea mist around, so I called out to the other blokes who were further in, if they could see her. They both said that she was in front of the rocks by the Point but she was okay as it was pretty shallow, and if she was having strife she could even stand up there.
Now, I know the girl pretty well, and if she was where they said she was then it was panic stations. I started paddling in and then I heard her calling out for me, so I started paddling faster. Luckily there was a fairly long lull between the sets as she was just about buggered when I got closer to her. There really wasn't much I could do except urge her to paddle towards me even though she was nearly exhausted. She bitterly complained that she couldn't but did it any way until finally she was with me again and we both paddled away from the Point and into less dangerous water. We both made it out the back without any more drama although she wasn't a happy little vegemite. I told her to rest till she would regain her strength and then catch a wave and let it take her into shore. As usual she didn't take my advice, ended up catching a couple of waves and getting the best rides of her short surfing life.
My last ride was quite a humorous one when I look back on it. The sea breeze started to pick up, making it a little bit sloppy. After about an hour I called out 'I'm going in', and made my way across the point and into the contest area, which just happened to be the only way back into shore safely. I fluked a decent sized wave to take me in when all of a sudden one of the competitors dropped in on me and decided that my right should be a left. Well of course we both collided and thankfully no damages or injuries were sustained. I continued on into shore and then heard the guy on the loudspeaker system saying 'Would that bloke on the red board move further down the beach, like Goolwa''. I thought, 'Hey arsehole, I don't have a loudspeaker system to scream back, I'm just coming in, so F&%$ -#ff!'
I've got to write the following, while it is still fresh in my head. Yesterday I was expecting an extraordinary session of surfing, well in a way it was. We didn't leave home until later than planned and reached the final stretch of the 77-kilometre trip to Middleton at 8:30 AM. From the top of Flagstaff Hill you can generally tell what conditions are like. If you look to the left you can take a guess at how big the swell is through a small gap in the landscape. If you look to the far right towards a reef named 'Frenchman's', you can take another guess at swell size. On this particular morning, there was a bit of sea mist hanging in the air and we could see whitewater beyond the seaward side of the town, but 'Frenchman's' somehow looked different. This meant it was either an extremely low tide with a reasonable sized swell running or it was any sort of tide with a huge swell pushing through.
When we arrived at our destination we found out it was the latter. It was enormous and I had no idea what position the tide was in as it was almost impossible to see the Point, which normally sticks out like a sore thumb. The waves were breaking so far out, that they seemed to be coming from forever and upon reaching the Point they defiantly raced over it, threatening to wash it away completely. There was no one around, and I only would've gone out had a few more guys turned up, as it wouldn't have been too healthy out there alone.
We waited around for a half an hour for others to turn up, but those that did just drove on through and hardly gave it a glance. I was a little disappointed as it looked pretty good and glassy, even if it was going to be one hell of a paddle. I had the bright idea to go and check out some other spots like Boomer, Chiton or the Dump as these places hold a very large swell and the girl hadn't seen one locally as yet. Upon reaching the lookout at Boomer Beach I could see huge swells stalking in under the peaceful looking guise of glassy, alluring mountains.
Further down the beach and over to our right through the mist I could make out a tiny figure at the bottom of a huge breaking wave. Out beyond him sat a number of small dots in amongst these large mountains rolling into shore. The name of this place was Bullies and what an apt name it is too. A longboarder was prowling the beach, looking for a safe way out through the massive shorebreak, without having much success. I raced to the car and grabbed the camera, thinking that this special moment was going to disappear before it could be recorded. To capture the best images I decided to go down to the beach as it has a very steep incline and one can still see most of the action out back, regardless of the waves in front.
Let me describe the features that make up this break and the surrounding area. Most of the sand here is very granular and comes from millions of years of pounding the granite rocks. At the tide's lowest ebb, you can see a number of jagged rocks at the water's edge that reach out to make up the outer reefs. The beach is so steep right along this stretch that when it's this size just getting past the shorebreak is intimidating enough without worrying about what's happening outside. The steepness of the beach, combined with a large, consistent swell with hardly any outlet for all this energy to escape, this amounts to a shorebreak which resembles a consistency of wet cement. Out the back, the wave itself comes out of very deep water and resembles some breaks on the east coast, insomuch that it's almost impossible to see a big, sneaker set coming. Mainly though it's a regular breaking peak, which is a right-hander and an occasional, unpredictable left, both with a very late take-off. On a very low tide a larger than normal wave that hits the outer reef can break almost top to bottom. So, being caught inside with a rogue set hitting this reef can have horrendous effects on the unwary.
For about three-quarters of an hour the longboarder, whose name was Allan Odgers, persisted in his attempts to get out past the shorebreak and I admired his persistence. Eventually he walked further down the beach to the right where the shorebreak looked less vicious. After taking some initial poundings he finally made it out the back. He was the only longboarder out there, while the rest were all shortboarders. Most of these blokes at Bullies had limited experience in the big stuff but they all acquitted themselves pretty well, despite some quite serious situations that were presented to them. Every now and then, a big sneaker caught all of them inside and luckily enough they survived it. I would hate to think of what would have happened if there was a disaster, as there was only a small crowd watching and no emergency service close and handy. If going out was a major problem then coming in through the shorebreak wasn't any easier.
One young bloke got caught right in the impact zone and got completely hammered by it. When he finally made it ashore he collapsed with exhaustion on the beach and lay there for a while until he recuperated. Most of the rides these blokes got were successful and some of them very impressive, mainly due to the consistency of the break, albeit a menacing one. Rarely did we see anyone suffer a horrific wipeout although there were the odd one or two humorous dismounts. As the minutes went by, so did the movement of the tide on its journey to its zenith, with that the waves became fatter and the number of rides diminished until the reef outside wasn't hardly breaking at all.
The next morning we went back to Bullies, armed with the 500-mm lens but unfortunately the swell had dropped and there were only a few boogieboarders out at 'Knights'. I just wonder how long it will be before we see it working like this again.
I might as well talk about the bad sessions as well as the good ones. The surf on our coastline over the last few weeks has been extraordinary. So much so, that there have been days when it's been breaking out so far, it's not been worth the paddle out. Well, this Monday and Tuesday have been almost perfect, with Tuesday being the pick of the days.
Did you ever have one of those days when you knew that the surf was going to be great, without even seeing it? And when you do finally get there, these feelings are confirmed and things start flying everywhere, just to get ready being out there amongst it? Well, yesterday was exactly one of those days. The only thing wrong was I was where the waves weren't breaking and spent most of the session paddling for the sweet spot. For most part it was bloody frustrating, but I did manage to get a couple of half-reasonable rides. One ride was a screaming left-hander and just as it disintegrated, encapsulating me in the shorebreak, knocking me off my board I saw to my horror another surfer paddling out in the direction my board was going. When I came up I yelled, 'Sorry mate, are you all right?' to hear 'G'day Ron! How are you going?' It was 'Arab', the biggest 'dropper innerer' on this great southern continent in the history of surfing, I quickly replied 'Sorry I missed you!' Joking of course. I thought I could talk out in the line-up but this bloke is outstanding, he can bore you to death with his chatter even while riding a wave. There's not a chance of getting a word in edgeways either as, he's got Blue Tack stuck in his ears to prevent surfer's ear.
One of the stories he was telling me was when Ian 'Bongo' Bradley saved his life at Waitpinga many years ago. Little does he know, but all the crew nearly lynched old Bongo for doing that. During the 1967 Australian Titles at Bells Beach someone got to one of the large boulders that lay at the bottom of the cliffs and painted in huge white letters 'Arab is a Goose!' He would have loved that. Anyway, my session was so bad that I went out a second time, just to prove not me but the quality of the waves were to blame. I could've saved myself a whole time and trouble, as there was nothing wrong with the waves. Enough said.
How does four foot plus and glassy sound to you?
I wasn't the only one that thought conditions were ok, as we had a couple of southern right whales frolicking in the bay for the better part of the weekend. Yesterday I went out at Surfers by myself and even though the winter sun had a bit of warmth and the offshore breeze was almost zero, the size wasn't there. The main reason for going out was just to keep the fitness up. The colour and the lack of clarity in the water were a little bit unnerving though. It was a murky brown and reminded me of some of my bachelor stews that I used to make; I was lucky that I didn't cop a gob full. Who knows what was lurking underneath all that muck, as I know full well that bronzies, skates and fairly big stingrays often patrol inside the shorebreak here. I remember a long time ago, just as the sun was setting seeing, a dorsal fin cruising along, just a few metres offshore. I stood there, mesmerised by the ease and almost blatant way it glided along, in between the sets, then I thought, 'Hang on! I was only out there a short while ago'. Often you'd be coming in after a session and as soon as your feet hit the bottom, you'd loose your balance as you trod on a skate trying to get away from you. Even though this coastline looks a little boring, it's far from that, as it's always changing and there's always something that makes every session unique.
Looking down from the top of the hill we could see that the surf was decidedly perfect! Away to the south-east and west, the overnight sea mist clung to the shoreline, hiding its treasure, while at Middleton the early morning sun shone like a spotlight, as if it was pointing to the El Dorado. Driving the last few hundred metres down the main road did nothing to quell the enthusiasm, as the view of the glassy, approaching waves only confirmed the reasons for my excitement.
A few seconds later we pulled into an unusually crowded carpark. At first glance it was hard to find all the surfers who belonged to these cars but on closer inspection we could see a group huddled out to the left of the Point, while in the bay a handful had it exclusively to themselves. It didn't take long to realise there was a shortboard competition being held and thus, the reason for the crowd.
?INCLUDEPICTURE \d "mid18june6.jpg"??
Without even giving it a second thought or look, I decided to launch from the bay with aid of the rip, rather than battle through endless mountains of whitewater by going off the Point. The girl wisely decided not to go out, as the size was quite beyond her capabilities. While walking down the bay, board under my arm, I checked out some of the vehicles and owners, trying to see an old familiar face or two, but to no avail. I'm constantly amazed of how many new faces I see here when conditions are as good as this; they all just seem to come out of the woodwork.
After doing a few stretches and a good look to see if some big sets were looming, I commenced my paddling out with the aid of the rip. In less than five minutes I was out the back, pleased with myself, for accomplishing another dry hair paddle. I started to make my way down towards the Point where about a dozen or so guys were scattered, when all of a sudden a big one came through. I pointed my board towards the horizon and started scrambling, at almost the same time it started to feather on top. It was still a further fifty metres out when it started to break and I thought, 'Well, is it going to be a turtleroll or a bail?' As it got closer, it became a solid wall of whitewater and then suddenly all this oncoming energy hit a deep channel, which caused the whitewater to back off. By the time it reached me it was a big green swell building up, getting ready to break again further in.
The first few waves I went for I was successful in catching, but my actual riding of them was deplorable. I distinctly remember getting onto a really nice looking wave, only to fall off as I commenced a very insipid looking bottom turn.
For the next half an hour the waves appeared to have dried up. I mentioned to Peter to watch out, as I suspected that we were due for another big sneaker, and he said, 'What, about every half hour?' I replied, 'Yeah, that sounds about right'. Shortly after that Ian, another local paddled past me, cursing and muttering something. I said, 'What's the matter, Phil?' I'm hopeless with names but I never get a face wrong. He replied, 'I just got a blast over the loudspeaker system to get the hell out of the contest area'. He added, 'There's no way in the world I'm going off the Point, I've already tried and spent fifteen minutes doing that, without any luck'. He kept on paddling off down towards the left, still muttering profanities as he went.
A few minutes later I found myself almost alone and sitting a lot further out than the other guys, with just a few smaller waves coming through. I couldn't see the horizon, for a reasonable sized wave was almost upon me, but I had a gut feeling that something else was approaching. All of a sudden I could HEAR it feathering, followed by a rumbling. And as I went over this wave, I finally saw it: A monster, breaking a further hundred metres out. 'Fuck! That's big, I'm in deep shit!' I thought as it was roaring and rumbling towards me like a freight train. I felt so insignificant and humbled and completely at the mercy of something so powerful. This wave seemed so arrogant, having a mind of its own, saying, 'You've been playing with my kiddies so far, so now deal with Daddy!'
I expected this wave to wash the whole Middleton Point away. The best choice would have probably been to bail, but I decided to turtle-roll instead. Next thing I felt the power of that wave rip the board right out of my hands. While I was caught up in the surge it slammed me down a metre or two, rag-dolling me. After it passed I had to breaststroke my way up through the dark towards the surface, and as I broke through, I quickly had a look back to see if another bomber was following.
After I gained my composure, I sheepishly looked around to count the heads bobbing up and yelled out to Peter, who was way over to my left 'How's your clacker valve?' I couldn't hear his answer but I had a fair idea what it was. This is not the first time I've been in such a situation but I can assure you that you get the clear and distinct message from such an experience that you are totally and utterly alone. Anybody who dares to treat the sea with any lack of respect is doomed to come to very tragic end.
I continued to surf for another half an hour or so until I was also starting to feel the cold and decided, regardless of the quality, the next wave I caught would be a roadie. I picked up a reasonable sized one and after it closed out I proned in. Upon reaching the beach I made my way over the heaps of rotting seaweed that had been piled up on the shoreline to the ablution block. It's a little unnerving to coming out of a very unstable environment like the surf and find yourself sinking up to your knees in a stinking, rotting mess, even if it's covered with what appears to be a firm layer of sand. If I was stoked by my session or my undergarments were soiled from it, all was washed away by the freezing cold water coming out of the shower.
I received this e-mail tonight from a very old friend of mine, Kiwi White, a local tuna spotter and surfer over on the Eyre Peninsula, with regards to the recent two fatal shark attacks on the West Coast:
'We had excellent waves last weekend, only to have the pleasure of our efforts marred by the tragic events. I knew Jevan Wright personally and had nursed him on my knee as a kid, I only saw him just a few days before the attack. Today I talked to a witness of the attack at Cactus. His narrative was so explicit it sent chills up my spine. He said this shark wanted the surfer no matter what and the attack was so vicious. A couple of the locals surfed at Cactus last Thursday, and I believe Mick Tomlinson has been out at Blacks since.
I have been doing some diving in salmon nets since and have had lots of shark thoughts while doing so. Hopefully we will all get over this and enjoy our time in the water again soon. Yesterday there was a big swell down at 'Fisheries' right hand point but the wind was blowing a 30-knot westerly, making conditions horrible. This morning the swell dropped off, so I took a friend down there and we did not even bother to go out. Regards, Kiwi'
I guess we could be in the water again as soon as tomorrow morning, albeit with some strange thoughts still lingering. Less than two weeks ago one didn't mind being way out the back, by oneself. I guess I'm not the only one who's having these flashing thoughts of a 12-15 foot big white coming up from underneath and ripping into me. But I know the compulsive need for another surf will eventually take over and we'll go with the same wild abandon
At this moment that I start to type the clock on the wall tells me it's 11:45 PM on a Wednesday evening. Outside I can hear the onshore wind howling like a banshee in the midnight blackness, threatening to rip the roof off as it claws its way around the eaves of our house. A few hundred metres down the bottom of the road is the sea and I've been lying here imagining the many scenarios being created out there with this persistent onslaught. The current weather report on TV is telling me that we are experiencing thirty knot winds, with a maximum of forty-plus expected over the next twenty-four hours. If it's going to blow this hard then let it do so for a few more days, as it's been so very long since there's been a huge swell in the gulf and that is something I want to witness again. There's a very high tide a 6:30 AM and with this wind behind it I wouldn't be surprised to find that the local jetty has been washed away again. It's happened twice before in my lifetime, and there's no good reason why it can't happen again. Who can stop Huey when he gets in one of these particularly nasty moods? There will be plenty of stormies to ride when the sun comes up but only one place anywhere on our coastline really worth looking at, and that is Myponga.
Myponga is a small fishing village that sits at the bottom of an extremely rough, long track about forty kilometres south of where I'm sitting right now. It has a point that sticks out like no other in the gulf and is perfect in conditions like this, as it swings the storm swells into the bay, while the wind coming over the hill is turned into an offshore. You can ask me if it's that good a place to ride when these conditions prevail and if it's worth the amount of pain inflicted on the vehicle to travel that track and I'll probably say no! It's a treacherous, pebbled rock break that is exceptionally hard on both board and body, plus it doesn't break consistently well. So why would I go there if it's not that good you ask, I'll tell you why. I haven't surfed or seen a real big swell there since 1967 and it's a place I want to surf just once more.
?INCLUDEPICTURE \d "line1.gif"??
One day a few months ago I returned home from the beach and went upstairs to check my e-mail messages, included in the many that I received was one from a surfing and diving mate from Victoria. Dave said I must check out the 'Castaway Surfing' site as it contained excellent photos and stories about the history of South Australian surfing.
I logged onto the web and brought the homepage up and quickly scanned the pages, I was really impressed with the thought and amount of work that had gone into preparing this masterpiece.
My feelings ran high as I read about the old days down the South Coast. I looked at the photos of old friends of mine and was especially thrilled to see a photo of the South Coast Surf Chaser, a 1934 Ford V8 sedan. The old chaser was my home for many a night as she was parked down at Surfers beach in front of the old tin shed not far from the concrete pool. I made my bed in the huge back seat and early in the morning I would get out of my sleeping bag, gobble down a few cold baked beans and head out for a surf, before any of the others were awake.
So thrilled after catching up on my past through Ron's efforts I e-mailed him to thank him for bringing back so many memories, it wasn't long before I got a reply and over the following months we kept in touch. Early in September I had to go to Adelaide, so I rang Ron and said I would be in town for about a week and that I would bring my wetsuit over with me, just in case there happened to be a surf during this time.
It was about 7.30 in the morning when their car screeched to a halt in front of the Arkaba Hotel on Glen Osmond Road. I was warmly greeted and asked to hop in and we hit it off straight away. Ron was driving, the girl was in the rear and the 77-kilometre trip just flew by as we talked about the old times, the waves we had and the people we knew through surfing.
A short time later we were at the carpark at Middleton Point. I was impressed, as here we were at a popular surfing spot with small clean lines wrapping past the Point, a slight side offshore breeze blowing and only one person out. A few seconds later I was outside the car and untying the two 9'4' Malibu surfboards from the rack. Ron said, 'What's the hurry, let's check it out for a while'. My response was, 'I want to get in the water as soon as possible before the crowd gets here'.
I had not surfed the beaches of Adelaide or Victor Harbor for at least fifteen years and I was keen to go out. After getting into my wetsuit I took a block of wax and proceed to wax a board. When I had finished Ron said, 'Thanks for waxing my board but the other one is yours for the day'. 'You bastard!' I laughed, 'why didn't you tell me'. He replied, 'I'd never stop anyone from waxing my board, it saves me the trouble'. I just had enough time to wax the girl's Cutloose Malibu before Ron had suited up. We walked down to the Point together and paddled out into the cool but refreshing water. It felt so good to be on a big Mal once again, it was so easy to paddle, so easy to catch waves and great to ride. I felt like I was in a timewarp going back almost forty years. For company we had two female surfers, a surf ski rider and another male surfer. It definitely wasn't crowded and the waves were fun. The girl was on the Point with her camera and tripod taking heaps of photos and most likely wishing she was in the water with us. So after about an hour and a half I said to Ron I was going in so that the girl could come out for a surf. Ron told me to stay and he gallantly went ashore and gave the girl his board. The girl had a couple of nice waves before the wind freshened up and so we decided to call it quits for the day.
I came out of the water feeling high, as it was so much fun and it made me feel like going to the first surf shop and ordering a new Malibu. The trip home was very quick and before long we were inside having lunch and coffee. Once again Ron & the girl thanks for letting me into your world, much appreciated. Keep in touch.
Regards,
Kiwi White, Tuna Spotter, Fisherman
Port Lincoln S.A.
Some time ago I commenced posting in this newsgroup with a question asking, 'Does anyone in this newsgroup actually surf?' I had been reading the posts in here for quite a while and my first impressions told me that there were good reasons for asking it. Most of the topics discussed were anything but surf related. The response to this was varied, with some openly admitting that they couldn't surf and one even offered to do me bodily harm if I ever appeared on their beach. To this latter reply I smiled and thought, 'If this arsehole only knew who he was dealing with'.
Now the time has come to make the statement: many of the contributors in this newsgroup don't surf and are posers of the worst kind. Instead they've brought the sport I've loved for so long into disrepute, so much so that I find myself no longer able to sit back and keep cancelling the angry retorts to posts that I've held in my draft folder.
Amongst the worse is the person that I call 'the fence sitter' who writes mainly about the food and other items he pours down his throat. He sees someone being abused and instead of having the guts to come to this persons defence, he writes some stupid quip to make himself appear humorous. When another is personally assaulting this idiot, he crawls to that person with no dignity, like a snivelling coward, to go easy on him. I wonder what his government will do when they find out that he's been fraudulently posting to this group on their time. How do you feel about that, Alt.Surfers; here you have a bloke who's spending your good tax money to get his jollies?
I know of another person who also does the same thing, and the courts don't take too kindly from people who steal from their employer. This other organism that I speak of here is unfortunately closer to home than one would wish. But I'm sure there will be enough subscribers left in here that will eventually see him for the dog's breakfast he really is and ignore the shit out of him. I know exactly where he lives and works and I have several means that I can call on to make his life a living hell.
There have been other creatures that have ventured onto the Alt.Surfing stage for a brief moment and in all the short time they have been around they've caused nothing but trouble, with no personal surf content in their meanderings at all. These arseholes should be taken out and publicly be given the 'cat of nine tails' verbally, by the group. Arseholes should not be tolerated by anyone of true surfing substance.
I feel pity for you poor unfortunate US-centric minded posters who have to put up with your miserable, crowded and polluted surf breaks. You are so ridiculously stupid that you're not aware of how bad your surfing lifestyle is. It's really pathetic and tiresome to continually read about some obscure local storm that might miraculously appear on the horizon to brighten up your forlorn surfing lives. It's a sad state of affairs when the poor Seppos have to travel to places outside of their own country to escape in the attempt to get some good quality surf. For some time now I've grown tired of wading through all the crap that appears in Alt.Surfing to get to the good stuff. I've enjoyed all the new things I learned about surfing various breaks in different countries that some of you live and surf in. But more than anything else I've enjoyed the banter with blokes like Doc and Rico, to name a few.
In light of a current thread that's popped up in regards to the girl here, I'm pulling the plug on posting to AS. Put it this way; it's the thread that broke the camel's back. In all my surfing life I've never had trouble with the female of the species about being involved in this sport of ours. With me it's just the opposite, I applaud it. But recently one has come to my attention, and this is where I have to say something about the attitude of this vile and cunning individual. I don't give a flying fuck about what country you live in, but as far as I am concerned name-dropping is worse than dropping in on someone's wave. Combined with suck-holing and mindless questions that never seem to cease, along with lame surf trip sagas, that calls for drastic action. This new little bitch on the block calls herself an Internet Guru and has a website full of '404 Objects Not Found' (incidentally this message was recorded on the 19/10/00 at 4:47:51 this morning while trying to access one of her pages). This doltish thing published to Alt.Surfing that she wanted a reply in answers to some questions. Then she infringed copyright by posting a part of a personal e-mail and made the whole thing public. If that wasn't enough, a few posts later she does the same damn thing again. Is this person a moron or not? After that stupidity another clown enters the arena, obviously half milo and offering to fix things up with the, usual for him, churlish offer. A number of months back my girl went to a lot of trouble to supply this dill with URL's so that he could come here to live and find employment.
I've enjoyed sharing the experiences of my surfing life but it's been much more than just that, as I've tried to get across the actual lifestyle, mood and environment of what it's like surfing in Australia. Bruce Gabrielson in his recent page titled 'My OZ Surfabout' gives a reasonably good picture of what an outsider can expect when visiting this country. So with this last post to AS I say, may Huey smile upon the true Alt.Surfers, as they know who they are and for the rest of you poor arseholes I offer you the following: 'Get f@#$%d!'
Today I knew would be the only day a wave would be available for god only knows how long. The girl had been working late shifts, so I waited until the sun came up at 6:34 to check out the newly installed surf cams in the Mid and down the South. The Mid was flattazza but through the dirty lens of the Middleton cam I could see small lines coming through the early morning sea mist. At approximately 7.00am I slammed the boards on the car and a quick cup of coffee down my throat and by the time I'd finished doing all that the girl was up and ready to go. I must admit that it was good to be with her in the car and heading for another session, together again with the usual idle chit chat about how her working night went.
Even though the surf was small, three foot, the tide was extremely low so the paddle out after so many weeks lay off wasn't that easy. After persisting for five minutes we made it out to the back. I'm sure anyone who has surfed Middleton regularly will agree that as bad or as good as it looks from the top of the cliff, it can be exactly the opposite once you're out the back. I've been out on big glassy days when it looks terrific and had some horrible sessions, and on other occasions when it's looked ordinary I've had terrific ones. And honestly, that's had nothing to do with my attitude on any given occasion, it's just the way Middleton is.
Today the water was its usual misty amber green out back, with hardly any breeze to speak of except for the warm north easterly that occasioned itself upon us, and a large number of crested terns dive-bombing the small bait fish around us that were obviously in abundance. With the cross-offshore the waves were peaking everywhere and to get a good ride was going to depend more on good luck than experience. I managed to pick up a good-looking right-hander but one of the shortboarders thought it was good as well and decided to drop in on me. So instead of a confrontation I decided to pull out and paddle for another. The second wave I caught was an absolute pearler but I'm afraid my abilities were down and I could never quite make that exciting part of the wave, the curling vortex.
I must say here and now that the girl's surfing abilities have improved remarkably, and even though she wasn't getting too many rides she is becoming more discerning as to the ones she paddles for. After about a half an hour a real good looking right-hander came through, which found the girl on my left and myself paddling for. We both picked it up and as I sprung to my feet I noticed the girl was only a minute part of a second on doing the same. I was so aware of her take-off, as in the past her performances have been nothing like this. With my peripheral view I could see she had full control and her take-off was as perfect and good as I've seen by anyone. After that I'm afraid I lost sight of what she was doing as I was in the pocket and had the wave to contend with. It was a good one too, and it needed a real sculptor, not a bloke like myself who hasn't been near a wave in two months. I finished my ride with a not so glorious wipeout and as I surfaced and grabbed my board, I looked around to find the girl was just a few metres away to my left, which meant that she had had just as long a ride as I did. I was ecstatic that she had done so well, and she spent the rest of the session with a smile on her face. She even went as far as saying whilst out there, 'If I get only one ride like that one then the whole deal is worth it'. What an attitude! It's a damn shame more surfers don't have the same, including myself at times.
After about an hour we both decided to get the next wave in and call it quits. Perhaps the surf wasn't that great or the conditions ideal but one thing to remember about the whole session was sharing a wave with someone who is special to me.
It shouldn't be long now till this incredibly long, hot summer is over. We've gone past the middle of February and March 31st is officially the end. I will be so bold as to say that we all here are expecting the promise of those regular autumn swells, along with the warmth that will still be left in the water. Just about everyone I've talked to has had a shocker of a summer and if you had one session per week, you would have been dead lucky. I can't believe that we had fifteen days straight of good sized, consistent surf back in spring, not only on the South Coast but also the Mid. Even Bullies fired up again on Monday, 16 October with a decent sized, good looking swell but has done very little since. I can remember quite vividly on a couple of occasions in spring when I had just finished a session and lingered in the shallows, looking out at the surf with wonder. I recall the appreciation I felt at the time, as to how lucky I was to have surfed and witnessed another special occasion. Who hasn't ended a session and gazed back out to the line-up as if offering a prayer of thanks? Also who hasn't thought to themselves at the same time, when will I next be in this situation again?
As we all know surfing is one of the most difficult sports to learn and it's just as well that once you've reached an efficient level it's just like riding a bike. What I'm trying to say is that even after many weeks layoff, when you go out for a wave it only takes a couple of rides before you're performing somewhere near your best. There are surprisingly a few good points about being away from the surf for an extended period and one of those is that if you have a loss of stoke, you're sure to regain it. One of the bad points is that you loose that high level of fitness that the hard core surfer needs.
So when offshore winds were forecast for last Sunday it was an almost automatic reaction to go down south, regardless of swell size. To make a long story short, it was awfully small but the girl continued her good form and I enjoyed the workout, it wasn't good but necessary.
The surf conditions were true to the weather forecast; north-east to north-west winds with a change later in the morning. And we were there right at sunrise, watching a more than reasonable sized swell pushing in. We were not surprised to see Ian Fuller, a local, checking it out. He came up to us on his bike and confirmed that he was going home to get his board. He was hardly out of sight when another local, Jock, came strolling down the road, walking his tiny dog Scottie. He stopped, chatted to us briefly and then almost ran back to his house to get his board as well. I didn't even bother to ask the girl if she was going out, as anyone could see it was definitely for experienced surfers only, so she decided to patiently take some photos from the Point.
By the time I had changed and was ready to go out Ian had already launched himself from the bay and was rapidly moving out with the aid of the huge rip. I wasn't going to be that fortunate, as I copped a really big set halfway out. Despite the rip being exceedingly strong and straight there seemed to be a sideways drift on each side of it. So you had to be wary that one of the sideway's drift didn't carry a person onto the rocks at Suicides or pushing a body to the other side and back into the middle of the bay.
After a number of successful turtle-rolls I joined Ian, who was by himself. When Jock turned up, for the entire morning session there were no more than eight surfers out at anytime. Speaking about Jock; I can't remember seeing a bloke riding a wave and looking so happy, or is it just the crazed look he seems to have on his face? There he was, charging down the face of a wave at the age of sixty-seven with his eyes and mouth wide open and most of his teeth back on shore. Who cares? It's great to see a bloke who seems to be enjoying his surfing as much as Jock does.
The waves were easy to catch, which in a way was deadly with the swells coming through consistently. Wave choice was going to be very important because if you picked up the first or second wave of a set and rode it too far, you were going to have one hell of a paddle back out through a couple of extra large ones that would most likely be following. Even though Ian was riding the left into the bay and relying on the rip to get back out he got caught inside on a couple of occasions and took a bit of a pounding. And although conditions looked pretty clean from the cliff top, the slight cross-onshore was making it fairly bumpy.
Every now and then a real big set came through, the first and second waves of the set would feather and threaten to break beyond us but we'd make it over, only to be caught inside by an even bigger one. It was one of these that caught me in a lapse in concentration and way inside. I had just finished a ride and was on my way back out when about a five wave set came through, so I started scratching for the horizon. I didn't even make it over the first one, let alone the second or third and had to turtle-roll each one in turn. I must have gotten spun around by the last wave and was too buggered to point my board in the right direction. Facing the shore, the biggest one of all broke right on top of me, picked me up and took me with it. I was caught up in a sideways fashion on my board in this huge mass of boiling whitewater hurtling towards shore, and for a few seconds I lost sight of everything. When I could see what was going on I noticed I was still inside the bay and there was a real chance I was going to end up on the rocks.
Keeping my cool I summed up the situation. There was no point in ditching at this stage and trying to paddle back out as I'd gone too far. So I thought I'd ride it prone and see if I could angle enough to the right and miss the Point. If the worse came to worse I could ditch much closer in and try to sort the situation out from there. Fortunately I just missed the Point by a metre or so and made it to the beach. I daresay that had I hit the Point the local council would have sent me a bill to have the bloody thing fixed up.
I wasn't that happy with myself and felt like a goose, so after making my way up the cliff and having a couple of words with the girl I walked back down the road and paddled out again. Even though I had a real good look beforehand from the top of the cliff I didn't have an easy paddle. When I finally got out the back I got a bit of ribbing from the boys, as Ian said, 'What! Did you go in to change your underwear?' I just treated that question with the contempt it deserved and kept on paddling. Ian's a pretty funny and cheeky bloke and has a nickname going for everyone who surfs Middleton. I'll bet he's even got one for me which couldn't be anything else but derogatory.
The conditions had changed during my brief spell out of the water. The wind had dropped and it was starting to glass off. Looking over to the south-west I could see the dark clouds of the cool change coming and it wouldn't be long before the wind came up. About a minute after I mentioned to one of the blokes about the drop in surf, the set of the day came through and cleaned us all up good and proper. On these occasions one feels quite alone, or at least I do. On the other hand, when I finally emerge from a thumping I usually look around and count heads.
To finish my session I took off on a big bomber that would take me all the way into the beach. After rinsing myself off under the shower I joined Jock and Ian who were standing near the car, discussing the future possibilities of surf. Eventually they both walked home, boards under their arms, and it only seemed like a few seconds after they left that the northerly freshened up, putting an end to another session for that day.
As we were driving home I commented on the number of cars heading south with boards on, 'I really can't get over how anyone could wait till ten or eleven AM before thinking about going surfing when conditions are so good'.
It would be almost every South Australian Surfer's dream come true if someone would come along and tow Kangaroo Island from the entrance of the Gulf Saint Vincent. By doing that there would perhaps be more waves hitting the reefs that now only work occasionally. The breaks that work when the south-westerly swells do get in through that narrow gap are places like Gull Rock, Moana Reef, The Trough, Seaford Reef, Seaford, Threepoles, The U-Turn, Trigs Point and a hand full of others.
I know that saying that in 'the good old days' back in the sixties, a lot of these spots broke bigger and better is going to upset the younger generation. But in the case of Seaford itself that just happens to be true. The early surfers were the ones that made this suburb popular and as some of them got older and married they moved down there when the land became subdivided for housing. With the housing came the need for storm water drains, which led to the authorities putting a huge storm water pipe right in front of the Seaford break itself. All the sand from the reef got washed away by the storm water, and now it doesn't break out as far and as neatly as it used to. When the 'Beach Boys' toured here in the sixties they said the coastline and the reef breaks in the Mid Coast reminded them a lot of some of the surf around California. Funny thing was when someone invited them to go for a wave I think only one of them could surf.
On Friday we followed my instincts and went down the Mid Coast, where I shared a nice sized wave at Anzacs with only three other surfers for three hours. Although it was a bit crumbly at first it glassed off and I'm pleased to say that I was amongst a handful of some of the more astute surfers who can find a wave on our coastline on a day when all forecasts say there shouldn't be any. You'll notice I didn't include myself as 'one of the better surfers', for my wave choice and riding on Friday was deplorable.
First off, and before I went out I noticed that there was another longboarder who seemed to be struggling to get out the back. I just thought the bloke was an egg and had gone out from the wrong spot. I soon found out that the spot that I launched from wasn't any better as I spent about ten minutes getting pounded and drifting further south than I wanted to be. I eventually made it out the back and found myself about 100 metres away from where I should be. I was pleased that I hadn't had an early breakfast before going out as I think I might have done a bit of recycling of it, having taken a good gobfull of a decent sized wave while going through it. There's a lesson for the young newbie surfer here: it not only pays to keep your mouth shut out the back but also when you're paddling out.
I was making some wonderful bad wave choices and when I did manage to pick up a goody in the right position, I'd either fall flat on my puss just after the bottom turn or lose my balance and wipe out like a goose. Not good surfing when you've got your own personal photographer standing on the beach, patiently, for hours on end.
The high tide had been at 6.00am and I had gone out at around about seven. The reason I'm telling you this is that Anzacs is a strange, shallow reef break that peaks up rather sharply and then peters out to a thick shoulder after about twenty metres. Then it builds up again, and if you've ridden it correctly you can have some fun being crushed in the extremely shallow, rocky shorebreak. These conditions change as the tide gets lower and sometimes this break can work a treat when it all comes together. Mind you it's not much fun doing the rock dance when the tide gets to its lowest, in fact it's a pain in the arse.
Just to give you the picture of what I was doing out there and how unwired I had the spot I'll explain. A big set would come through and I'd paddle out to meet it with the others. I'd go for one of the waves in the set if I thought it was my turn and paddle like buggery for it. And nine out of ten times I was missing them as I was, so I thought, too far out. The following one would come through with less water in it and break right on my flamin' head. Kraft Cheeses! It was frustrating but I was determined to stay out there until I got a couple of 'you beaut' rides. Mind you, the way I was travelling I could still be there now.
On my way back out after another inglorious ride I said to the three other blokes, 'Golly gosh! My wife cleaned all the wax off my board the other day and I hate riding a board with fresh wax on it'. I only hope my lie worked and that they wouldn't consider me just another oldtimer getting in the way and making a fool of himself. Actually, they were a fairly decent bunch and in between sets the conversation was very friendly and it was pleasant being amongst them. One of the blokes was Trevor, a local lad who had the misfortune of loosing his board on one of his rides and had to do the rock dance to retrieve it.
Towards the end of my session I did manage to get a number of pleasing rides and thank Huey for that, as I'm not real crazy about surfing with headlights on.
It's still surprising to me after all these years of my involvement with the sea how the swell can pick up overnight or even in just a few hours. Just one look from the top of the hill that overlooks the south coast told us that the surf was huge, so without further ado we went around to Bullies. When we arrived there were about eight guys sitting out the back and just as many on shore watching. The wind was slight and coming from the north-east and the tide was almost at its lowest, which made those ugly rocks in the shorebreak look like a rotten set of huge teeth. The next minute a medium sized set came through. One bloke picked up one of the larger waves of the set and rode it reasonably well, which prompted us to get the cameras and large lenses out. We were joined by some of the regulars who ride this break, criticising the crew out in the water who they regarded as the 'Flea' mob because of riding the break when they themselves considered it not up to standard.
Even though Bullies may not have been up to scratch in some people's eyes it was still big enough to command some respect. I noticed that some surfers would swim rather than paddle out through the treacherous shorebreak with boards trailing behind them on their leashes. Every now and then the 'Phantom' would break and almost precisely ten minutes later a large set would roll in. The Phantom was a wave that broke periodically out from Granite Island and would forecast that a bigger than larger set was on its way in.
Just like a lot of reef breaks, the first wave of the set at Bullies will have a lot of water in it while the latter ones have less, and with the tide so low even these medium sized waves were breaking over the shallow reef like hollow, wet cement. This made most of the take-offs very critical and some of the riders had spectacular freefalls that brought some jeers and cheers from the mob watching. Even if they managed a reasonable take off, that was no guarantee that they'd survive the rest of their ride. Getting barrelled at Bullies is fairly rare but it doesn't stop many of them from trying to do so, even if they know they're going to get punished later on for their attempts.
I tried to get some of the more spectacular wipeouts on film and it seemed like the surfers were trying to oblige me, as nearly every second ride ended up a close fatal episode. One young bloke who had finished his session came up the steps with blood gushing from a savage wound on his foot. When queried about what had happened to him he said that he had been slashed by his own fin during a wipeout. The girl followed him with a couple of band-aids as he hobbled to his car, but he was going to need more than bandaids to fix up that slash.
It takes a different type of surfer to ride a place like Bullies. There are no lifesavers or emergency services on hand when this place gets big and these guys ride this break at great peril, knowing this. On this particular day there was surf on all coasts, and while some were getting their thrills at Bullies, there was a state title competition being held in the Mid. We called in and had a look on the way home and after witnessing the performances at Bullies I know which display of surfing I'd rather watch.
If there are two seasons of the year that the most ardent of South Aussie surfers look forward to then it's our spring and autumn. This autumn has left me with many indelible memories and it's been my good luck once again to experience the excellent quality of surf that has been on offer this season. From the 28th of February to the end of May we've been in the water almost every other day, averaging at least four days in the surf per week. Due to my failing memory I find that writing all this down is the best way to keep a record of these halcyon days I'm enjoying, be they good or bad.
As soon as we arrived at Middleton we were reluctant to get changed in a hurry. The coolness of the weather and the overcast skies seemed to be signalling it was time to get ready for the 4/3 wetsuit soon. By the time we entered the water we were joined by a shortboarder who must have been a firsttimer at Middleton. He had initially tried to go off the Point from an impossible launch site. It reminded me of an occasion a couple of years back when two Taswegians tried the same thing, only to find it wasn't a very smart move to jump straight into a pile of slightly submerged rocks and into oncoming big surf.
The three of us waded out until we could no further and started, what I thought was going to be a relatively easy paddle out. But as it's always the way when it looks easy: we copped a big set which had the girl struggling for about fifteen minutes while the shortboarder and myself got out almost straight away. Even though conditions were really clean, it was extremely deceiving when paddling for a wave. Just when you thought you had caught it, the wave would roll into a deep channel and change its form into a benign rolling lump. It was one of those strange days when it looks better from the clifftop than it is out there.
This story could have called 'Drop-in Sunday', because on my first three rides I was dropped in on by the shortboarder, followed by the girl on the next two waves. Not that the rides were ever going to be anything special but I would've loved to find out. When the girl dropped in on me she immediately fell off her board on both occasions and duly blamed me for stealing her wave. You can imagine it was a little tense for me out there with the girl who insisted on playing German U-Boats with her board, me being the target. I tried to put all the friction behind me and endeavoured to find out the secret of what it was going to take to get a successful ride. Before I could blink, it started to get awfully crowded since we were joined by a mob of 'weekend warriors'. Most of them were mates, which meant it looked like becoming 'drop-in heaven'.
During the next half an hour I managed to get a couple of good rides and was decidedly feeling much better within myself, whilst the girl had moved about 50 metres away and well outside of torpedo range. Every now and again I would look over there with a fair amount of trepidation, only to see her smiling back at me, and that's when I really started to get nervous. I commented to one of the locals, Steve, that it looked like being cold salad sandwiches for lunch. Then all of a sudden I looked around towards shore and saw the girl had picked up a wave and made a decent job of riding it, even if she had dropped in on someone else. I turned back to Steve after she finished her ride and said, 'Well it looks like roast chicken for lunch now!'
There's no doubt I was pleased for her and those that had seen her ride told me how good it was. My biggest worry now was she had done so well I was going to hear all about it on the long drive home. I still may have had a little angst inside me when on one of my better rides all types of craft were paddling towards me. Why people insist on paddling back out through the best avenue of riding a wave, I'll never know. One particular dill was doing just that, so I thought I'd give him a good scare and bottom turned around him, just missing him by a few inches. I think it had the desired effect as the idiot kept asking me afterwards if he was sitting in the right position; I of course replied no and suggested he should try a little further west, like Port Elliott.
The coolness of the conditions got to the girl before me and she went in, and I followed about a quarter of an hour later. As soon as I got back to the car I was reminded just how close we were getting to winter. I reckon it took me nearly all the rest of the morning to feel warm again.
Well, it's the first of June today and officially the start of winter. It's a little bit sad to see the autumn end because it's been so excellent and so many good days were to be had. I don't think the girl will forget this season soon, she will probably recall in the future that this was the time she excelled and really improved her surfing abilities.
Why, even yesterday, on the last day of autumn we were treated to one of the best day's surfing for the whole season. It wasn't huge but just a good size and terrific conditions, which had most of us performing at our very best. Even though the water was a fraction cooler than at our previous session, the sun still had some warmth in it. The waves were glorious, and I can't remember seeing anyone getting a bad ride. There were left and right peaks breaking consistently everywhere you looked, which made the chance of someone dropping in virtually impossible.
I can recall quite vividly one of the rides I got. It was one of the larger waves of a big set, and it was already starting to break from the left with a perfect looking shape. The girl was on my right, a little further inside as I paddled and caught it with the curling vortex rushing to meet me before I could get to my feet. Just as it threatened to pitch and take me over the falls I was on my feet and hurtling down that steep face. Huey! I love those take-offs when you realise that you're going to be intimidated but you know that your abilities are up to the challenge. In the next second I slammed into a mildly radical bottom turn and ended up riding it almost into the shorebreak where I had an inglorious dismount. Ah, what the hell! It didn't bother me if I disgraced myself after such a ride. After all I had had a better wave earlier and there were many more to come after that. This particular wave was so wonderful looking and will probably remain in my memory, always, for its aesthetic beauty. Even the girl who had watched my ride gave me a compliment, which is very rare.
Being surfers we are so lucky to see the ocean from a completely different perspective that is sometimes so hard to describe to the rest of the non-surfing public. No session I've ever had has been the same; they've all been different in some small way. This one I'll never forget though, for the simple reasons that the waves were ideal for me size wise and the conditions were so perfect and pleasing. It was a real big effort to come out of the water and drive home so early but the girl had to start work on an earlier shift, so it was no good complaining.
Can you think of a better way to end an awesome autumn and start a promising winter?
I can honestly say that I wasn't looking forward to the coolness of this winter. As I get older they seem to be a lot colder. So you can just imagine my pleasant surprise when we received a bonus week of exceptionally warm and sunny weather with some good quality surf to go along with it. I surfed every day out of the seven, and this is the most consistent I've ever seen the Far in all my years of winter surfing.
The Girl wrote:
How fortunate have we been with regards to the surf, with a solid swell hanging around the South Coast for more than a week. The first couple of days however, I was somewhat handicapped from the effects of a cold, so I resigned myself into watching the surf through the viewfinder of my camera. After shooting endless rolls of film, observing dogs digging, whales tail-fluking and husbands expertly doing backhand bottom-turns for a consecutive three days, I took the advice of fellow surfer Chris, who said never to listen to a doctor but to go for a surf instead and clean the sinuses out.
This, I promised myself, I was definitely going to do, come hell or high water. Well, the tide was nice and high, the waves were clean, glassy and small, resulting in a dry-hair paddle. Ron was getting wet feet while setting up the tripod on the point and I was happily paddling for the waves. The first right-hander I caught was a beauty, unfortunately not to be captured on film, since a certain person was busy wringing out their wet socks instead of looking through the camera! There was no wind, and even though I hadn't been in the water for nearly two weeks, the water was still pleasantly warm, allowing me to stay out for an hour. I didn't do much good after that, so I went in and Ron went out. I was soaking up the warmness of the sun, being dazzled by the glistening blue sea and observing my other half on his surfboard weaving his way through the crowd, intentionally avoiding some of them by inches.
The longer I watched, the more I wanted to go out again. On a day like this going home seemed such a waste! When Ron came out of the water I begged him to go out with me again. After ten minutes of recuperating we paddled back out and caught a few more waves, just enjoying this magnificent winter day, a sunny, blue sky, clear water and plenty of waves.
On the way home Ron and I were talking about personal surfing skills. We had noticed that certain surfers, who expose themselves to the water on a nearly daily basis, never seem to change their style of surfing or even attempt a risky manoeuvre to try something out of the ordinary, while still being practical and not showing off at the same time. Their level of surfing never seems to alter, which we thought was a shame. It makes you wonder if they will ever know what it is like to reach the peak of their surfing abilities, yet never stagnate or take it for granted. Based on the personal efforts, frustrations and perseverance I have put into my learning curve, I most certainly want to improve and find out what else there is to it.
The Girl wrote:
The next day conditions were not quite as perfect. There was a light offshore wind blowing. The size of the swell hadn't changed but the waves were a little harder to get onto as the wind held them up and they often closed out. We stood and watched for a while. Being Monday, there was no hurry to battle for space in the water anyway.
Suddenly a young guy approached us and asked if we knew a good place to get a cheap longboard, preferably a McTavish. We listed the half a dozen or so surf shops between Middleton and Adelaide. He had an accent and told us he was from Cornwall, staying at his dad's in Goolwa for a while with his wife. He'd hired a longboard the last couple of days and wondered if he could buy a nice second hand surfboard for the time of this stay.
He seemed like a genuinely nice guy and keenly showed us his 'Surfrider in Europe' Surfing Atlas, pointing out where exactly he came from. The distance between the North and the South Coast of Cornwall was forty kilometres, and he pointed out that the North Coast was generally breaking bigger, but the South Coast was breaking more frequently. We were chatting away about the surf and it turned out that he had been out yesterday as well, keen to get his wife to take some photos of him surfing, because he'd seen Ron with the camera at the Point, but unfortunately his wife fell asleep in the car.
We proceeded to get changed while the guy quickly drove off to the local surf shop, and by the time we were ready to hit the water, he'd already returned, put his wetsuit on and paddled off the Point. In the meantime another surfer had turned up in his squeaky-clean stationwagon and, while annoying us with his blasting music, squeezed his well-rounded waistline into his sparkling new wetsuit, lovingly scraped the old wax off his board and put a brand new layer on it.
We joined young Nick, the Pom, who paddled for a wave and got a nice long ride. I'm not usually into chatting in the water unless I want to annoy Ron, but inbetween sets Nick and I had quite an animated conversation going. I couldn't help being captivated by his stoke and sincere happiness of being Down Under. Again and again Nick pointed out how he couldn't believe how warm the water was. He mentioned that the water in his bathtub was colder than at Middleton and asked whether our winters were always like this. On one occasion I said to Ron, 'look over there, look what he's doing!' – and sure enough Nick was lying with this back on his surfboard, lolling about like a seal bathing in the sun! Nick told me that it was so freezing cold in Cornwall that they used to surf in full clobber, hood, gloves, rashguards, thick wetsuits and still their lips would be blue from the cold and their fingers would be so numb and frozen that they had problems turning the key in the car door. In addition the water around the part of his coastline was pretty polluted, to that extent that a lot of surfers had to give surfing away for fear of catching Hepatitis. Apparently there were many caravan parks in that area, discharging the sewerage directly into the sea.
He sure was one dedicated dude and most appreciative of the waves to be had in our part of the world. He was chatting away animatedly inbetween catching some closeout waves while I enjoyed his permanent smile, friendly nature and good sense of humour. We were also talking about his vehicle, a beat-up old Jeep-thingy, which was making funny noises when running. His mum had blown up some part of the exhaust and he was now a bit hesitant in starting it up again and also thought that the bull-bar was slightly over the top. I nodded in agreement, saying that he wouldn't want to mow over a roo, but aside from that it was a nice surf vehicle. His ears pricked up when I mentioned our national animal, and he said he was keen to see some real ones, not in an animal park. He didn't believe me when I said I'd spotted a roo hopping along the Esplanade at Surfers and even had a photograph to prove it. I advised him that a good place to keep an eye out for the hopping mob would be the road to Waitpinga.
My toes started indicating that an hour had passed and the cold was getting to me, so I indicated to Ron that I was going to catch a wave in. Ron grinned, pleased with himself after having had some more beaut little rides. I smiled at him and said, 'What are you so happy about!'. 'I'm not happy, I've got wind!' he replied with an evil smirk on his face, obviously totally oblivious to the fact that the dropper-inner guy was sitting right behind him. 'Just keep the noise down,' I warned cheekily and eventually caught my last wave.
As I was walking past Nick's car I said, 'It was a pleasure sharing your stoke, keep it up!' It was so nice to see an outsider appreciate the cold, clean waters of South Australia, which are often neglected to be mentioned or explored by travellers in favour of the crowded, infrequent surf of the eastern states. Nick instead counted his blessings and had no qualms in displaying his stoke. I wish part of it would bounce on some of the regulars, who seem to take the swells that hit this coastline much more often than on the East Coast, for granted and arrogantly whinge when it often is not to their liking. A true surfer goes out in any kind of surf, and, after bad sessions learns to treasure those precious long rides we have every so often and whose quality matches any wave in the world.
Down south it was big and breaking way out. I didn't even bother going out as there was a bit too much west in the offshores and it wasn't looking appealing. When I rolled up, young Mark, the local plasterer, told me after he came in from his session that he'd had a helluva time getting out. Although it looked good from the cliffs, it was a bit choppy and you could also see that there was an extremely strong drift down towards Day Street.
I hung around for about three hours hoping that when the sun came out, the wind might drop and the overall conditions might improve. Well the sun did come out and that's about as far as the improvements went for the day. From the cliff I watched two longboarders launch from the point and drift almost down to Goolwa before they decided to turn around and head back into shore. Their attempts were about 5 minutes apart. When the first bloke came walking past below I remember thinking, 'Hmm, are you gonna give the Point another go or are you gonna be smart?' He was smart and waddled down to the bay with his tail, errr… leash between his legs.
But what do you think the second bloke did? He went off the Point again! He was still trying to get past the shorebreak some fifteen minutes later, while the first bloke was already getting rides in front of the Point. Eventually he made it out, and I can tell you he looked really buggered from doing so. How should he describe his session if he was going to be honest about it…maybe…'Oh, I had a real beaut session today mum, an hour paddle out, three quarters of an hour drift, one wave (the one he came in on) and an hour's walk back to the car.'
If that wasn't enough entertainment enough, a number of shortboarders and one lid tried the same thing a little later. What made it worse for them was the water being right up and almost washing over the point by that stage. The tide was coming in rapidly and it was almost funny if it wasn't so serious, seeing those blokes running backwards and forwards as each big set came in. How any of them escaped serious injury is beyond me. Talk about 'Kook Day Thursday'!
The girl had to work yesterday, so I did a few chores around the house, like cleaning up the entire dog poop in the yard, Then refilling those poop machines with more tucker. I then went down the road and checked out some of the local board shops for a new vehicle for the girl. I saw a couple that were ok but wasn't impressed, especially by the latest prices.
Afterwards I came back along the sea front and noticed a small swell coming up the Gulf. I logged onto the Net and saw on the surf cam that conditions were the same as the previous two days but a bit bigger. So around 2:45 PM I picked the girl up from work. It was another unusually warm, beautiful winter's day with the sun shining brightly but by the time we arrived at the South Coast a sea fog had moved in. It was as thick as pea soup and looking from the cliff top you could only see the Point and nothing more. John, a friend and local rocked up. He said he was going out, so we decided to join him.
Looking around you could only see about fifty or so metres in any direction. It was only once or twice when the fog lifted that we got a vague glimpse of the Point and a couple of other surfers. It wasn't so much spooky, but every five to ten or so a big set started breaking out beyond us. The worst thing was you heard them before you saw them. One set was heaps bigger than the rest and a huge mass of whitewater came thundering towards us. When it hit we did the old turtleroll but the second one was slightly smaller and hadn't broken yet. The first one had taken most of the water out of the trough so this second wave suddenly pitched up and broke right on top of us, giving us all a sound thrashing.
After that the girl headed towards the right of the Point with the intention of going in. I followed, if only to keep her in eyesight. I could see that she was going too far, so I yelled and waved to her to turn her board and try and get the next wave in. After another final pounding by a big set she did, followed by myself shortly after. Strangely enough on our drive home by the time we reached the top of Flagstaff Hill, the fog had lifted and we witnessed a glorious sunset.
At 8.00am I logged onto Southcam to check the surf and found conditions perfect as predicted, albeit a bit smaller than Monday night. So without further ado we headed down south, as strong northerlies were forecast for sometime during the day. During the time it took to get there they had already sprung up, threatening to flatten the surf.
I was having a real good time picking up the waves quite easily. I'd had about four good rides on reasonable sized waves when I decided to go for a smaller one. It had real good shape to it and I was riding it as good as it deserved to be ridden. Towards the end of the ride it started to wall up in front of me nicely, so I decided to take a stroll down to the nose. I got there alright and rode it for a few seconds when all of a sudden the wave hit the shallow inside sandbar and jacked up rather sharply. As it broke I went off the front, spinning around and hit the water facing the opposite direction in which I had been travelling. God only knows what the board was doing. As I resurfaced I saw the nose of my board coming back to me at face level. I had no time to dodge and the next thing I know is that it hit me just above my wide open right eye, whack!
At first the pain was excruciating and I let out a few expletives like, 'Gee! Golly gosh! That smarts!' I put my hand up to my eye to feel the damage and the coolness of the water seemed to ease the pain a little. I thought better get out of here because I had landed just a few metres in front of the point and I didn't want to get caught inside by a big set.
I started paddling back out, all the time grabbing handfulls of water and bathing my eye to take the pain away. Keith Fynaart, a fellow club member, was sitting out the back. I said to him, 'I just got hit in the eye by my flamin board'. He said, 'Yeah, I know you've got blood pouring from it'. I put my hand up to my eye again and pulled it away to see it was covered in blood. I thought I'd better get out of the water fast, because it wasn't much good spoiling someone else's session with a big nasty or two hanging around. Back at the car I asked a bloke who was just heading out to tell the girl what had happened, 'Tell her I got a bit of a whack, no real dramas and to come in when she's ready'. He must have told her that I was mortally wounded because she came in almost immediately.
While I was standing there with my towel up to the wound I noticed Keith was swimming just a few metres away from the smaller inside Point. His leash had snapped and I saw was his board hitting the rocks. When he had recovered his board he was walking towards me to take a closer look at my injury, while at the same time I was walking over to check out how much damage he'd done to his board. Lucky for him there was more damage to my head than to his board.
By the time the girl had reached the car I had changed into my clothes and was looking for a bandaid. She had a look and thought that my injury would make a good subject for her photographic course, so she got out the camera and took a pic. Afterwards she whacked a large bandaid on it, grabbed her board and headed back down the cliff and to finish her session. I yelled out to her as she disappeared down the steps, 'Thanks for the sympathy, lovey!'
I sat in the car and watched the girl, who was getting plenty of rides off the point. I thought, 'Bugger it! I'm going out again, and anyway the salt water will do my injury good'. But every time I wiped out I stayed under the water longer, as I had visions of my board coming back at me again. After we had had enough we headed towards home and on the way we called in to see my favourite quack, Doc Waterman to see if I needed any stitches. He's a real funny bloke and while he was putting in the three stitches needed, he asked the girl, 'Is there anything else you want stitched up?'
The girl wrote:
I picked Antje and Holger up at the airport, everybody being a bit awkward at first, trying to overcome the barrier of meeting strangers. They were so YOUNG! When we arrived at our place, I made them a cup of tea and offered some biscuits. They were a bit overwhelmed by our hospitality. After having travelled along the East Coast for three weeks in a campervan, both appeared to have been bitten by the Aussie bug and the surf bug. At about 10.30 PM we all retired to bed.
On Sunday, after a wholesome brekkie we put the boards on the car and went for a drive down south with Ron being the tour guide, providing them with information about the history of this place and Encounter Bay. We'd already told them there would be surf the next day and to expect a dawn patrol
At 7.00am on Monday we arrived down south to find it small and slight offshore – just perfect for learners! Eagerly we got changed but Antje declined to go out for the time being. Holger had chosen to ride Antje's Mini Mal and was having lots of problems catching a wave. The waves were a bit full and the size of the board was not suitable to be sitting out the back that far, he should have paddled in a bit further. After a about an hour we came in and convinced Holger to give it another go, this time with my board. He was much more successful, catching at least half a dozen waves. When both men finally came in we got packed and left for the bakery as we were all starving.
It was decided we'd stop at Moana so Antje could have a surf in the shorebreak, since there were no rocks or reef. When we arrived there, she was very hesitant in going out by herself so Ron convinced Holger, who already was suffering from spaghetti arms, to go out with her to give her some tips and keep her company. He told them where to go out and where it was breaking properly. We suggested to Antje she should try my board due to its good buoyancy. They went out okay but never ventured past the shorebreak and started to get blown south by the wind, ending up a good 200 meters further down the beach. Eventually they both came in and we went home.
Even though according to the weather forecast we expected there to be no surf on Tuesday, the winds had been slightly offshore all night. We went down south at 6.00am, stopping only at the supermarket to get Antje some Strepsils for her sore throat. It was overcast and glassy and the swell had definitely increased. The lines were clean, the tide was very high, nearly the whole Point was under water. It was a decent size, with bigger waves of at least five foot.
Our visitors were a bit concerned about the size and stood there contemplating. Middleton has the impact of looking a bit daunting to people that don't quite know it, and Holger muttered something about 'a bit big'. We suggested not to go out if he didn't feel comfortable. Antje wasn't going to go out either because she feared being stuck in bed with a cold for the rest of their holidays. Initially we were going to go out through the rip, considering the size of the waves battering the Point. Ron was as keen as mustard and in his eagerness paddled straight out and promptly got punished while I, being smart for once, saw the oncoming sets and no way was I going to get clobbered. So I stood at the Point, watching Ron getting battered and washed in and nearly ending up on the rocks. When I could see no more lines on the horizon I jumped off and had a dry-hair paddle out. Ron arrived shortly after. We could see Holger and Antje still standing at the car, him pondering whether to go out or not. Even though conditions had improved compared to yesterday, it wasn't breaking better because many of the waves were closing out. After about half an hour we saw Holger paddling out – he'd timed it well and never got his hair wet. He was a bit intimidated because the waves were stretching all the way across.
We saw a big set approaching and started to paddle towards the horizon. I turtle-rolled the first wave and tried the same with the second, but it broke right on top of me, I lost my board, got the rinse cycle, came up for a short breath of air and got another rinse, until I popped up with my board a fair way away. I saw Ron looking at me worriedly, asking if I was all right. He said he'd seen my board and it took a while for me to come up. I paddled back out and asked Holger if he'd made it and he said yes, he'd paddled like crazy to scramble over the top. Maybe he was right, calling the waves 'mini-tsunamis'?
On the way home, after checking out the Mid, Ron expressed a great desire to pop into the Cheesecake Shop. We bought half a choc-vanilla baked cheesecake and, disregarding the amazed looks of our visitors, got stuck into it straight away with our bare hands, breaking pieces off and shoving it into our mouths like greedy grubs. We finished it off within ten minutes flat. At home we had a well-deserved rest.
After doing some early morning shopping we took a drive along the esplanade of our local beach, to check out if there was any change in the recent horrid conditions. Our local beach doesn't get much surf of any consequence but even if it's breaking at one foot here, then it's bound to be breaking better down in the Mid. Even though the breeze was coming from the north-west, which is a cross-offshore wind here, it seemed to be abating. So just for the hell of it and out of sheer desperation for a wave I shoved the boards and gear in the car while the girl got herself ready to go. At the same moment that she slammed the door closed behind her a look of horror spread across her face. She had left all the keys inside the house and we were going nowhere fast. The only thing to do was go to the telephone box up the road and get a locksmith to remedy the situation as soon as possible. Three quarters of an hour and seventy dollars later we were on our way down to the Mid and I can tell you that this is no great way to lift the stoke for any type of session.
Only taking a half glimpse at the prevailing conditions I started to change into my surf clobber and got my board ready. The girl had changed her mind and decided not to go out because she thought it was beyond her limitations. Fair enough, I've never ever tried to talk anyone into going out somewhere where they're not comfortable. I was all but ready to go when one of our club mates, Paul, pulled up and I decided to wait a few minutes extra while he changed. Shortly afterwards the two of us were paddling out to take on some slightly choppy, shoulder to head high waves. The water itself was a muddy brownish colour with lots of weed floating around. I didn't think this was strange with all the recent storms lately and one of the local guys mentioned that the Mount Bold Reservoir up in the hills had been opened to let some of the excess water run out. With the winter over and the spring weather taking effect I noticed that the water wasn't as cold as at my previous sessions. When I was sitting out the back I drifted over into an extremely warm patch of water, which really quite surprised a couple of others and myself. I tried to reason with myself that this was due to the run off from the big stormwater drain that now sits at the bottom of the cliffs nearby. I've never struck this before and if I have I can't remember when, but it was a little unnerving to say the least.
As far as my own session went I had some surprisingly good rides along with some real shockers. Most of the big sets that were coming through were closing out and not worth worrying about, but some of the medium sized ones were lining up quite nicely. It was the third wave that I caught that really gave me a surprise. I had picked it up and had ridden it about halfway in when almost without warning it jacked up over a shallow part of the reef. I had just completed a bottom turn and was making my way up the face again when the lip pitched over the top of me and I was locked in. I was amazed when this happened as Threepoles doesn't normally present itself like this but I was thankful, as it's one of the most rewarding experiences about surfing.
Most of the blokes out there were fairly congenial and reasonably good riders, except for one who was an absolute goose. Not only did he look like an egg with his blue and white booties he was performing like one as well. It seemed like every time I started going for a wave, there he was right in front of me paddling across my path. I guess you come across this type of bloke just about everywhere and it wouldn't matter if you did your nana at them, as they wouldn't take any notice because they think they're shit hot.
The surf was small, peaky but glassy adequate. Sufficient enough for the girl to give her new board a go. The seaweed that had built up from the previous few weeks had all disappeared, much to everyone's approval, as the smell of it was becoming quite obnoxious. Now there seemed to be a larger number of small baitfish around, which in turn has enticed a large number of dolphins into the area. Even before we had gone out someone had remarked on how many there were and how spectacularly they were feeding.
I'd just finished a ride and was in the middle of pulling out of a wave just as it was about to close out. For some unknown reason I looked at the patch of water just in front of me and spotted a large copper coloured fin break the surface, glide effortlessly to my left for a few metres and then disappear beneath the foamy water. Never have I seen a creature move so completely confident and effortlessly in its own environment. There was no one within shouting distance, who I could have warned, so I decided to paddle cautiously in the opposite direction from where I last saw it. When the next reasonable sized wave came through I decided to catch it and end my session. Who knows the shark may have gotten a bit inquisitive by my movements and decided to have a taste test. As I got to the small bay near the Point the wave died on me and I had to paddle the rest of the way in. I yelled out to the girl who had been standing on the Point, 'Did you see the shark?' but I got no answer. Good thing I wasn't taken by it otherwise no one would be reading this.
On Saturday the surf was a similar size but was better lined up with the very slight offshore winds. But just like the previous day the ocean life was still abundant. There was this one small dolphin that just would not go away. It swam around my board in ever decreasing circles for about a minute or so, until a larger one broke the surface right along side of me. I nearly shat my wetsuit!
Monday saw us down south before the sun came up, and before Maureen had started her usual pre-dawn session. This woman goes out EVERY day before the sun comes up and surfs the same spot on a regular basis. I don't think anyone can remember a day that she hasn't. We saw her go out and were nonchalantly watching her, talking to other locals who turned up from time to time when something out of the ordinary happened.
Maureen was paddling out and as she went through a breaking wave, a large dark shape broke the surface close to her left and appeared to be checking her out. She stopped paddling, apparently taken aback by this apparition. The next thing this dark looking creature bobbed up on her right-hand side and looked even larger than before. I reckon after that Maureen must have been carrying some extra weight in the bottom of her wetsuit. Instead of what she may have thought it was, it turned out to be a large, curious seal.
We were standing on the cliff overlooking the smallish looking, glassy surf yesterday morning with a few of the locals when Fletch voiced his thoughts aloud, 'I'm gonna make a real pig of myself this autumn. I'm gonna lie to my staff about this and that to get extra time off, and surf myself silly'. I couldn't help but grin with huge approval, as he had voiced my intentions exactly for the up and coming season. I mean it really has been an atrocious summer and one session a month really just won't do.
The sun climbed further out of the early morning sea mist and as the warmth hit our bodies, decisions were made about going out into the lacklustre surf, even if it was only to give us some relief from another week of boredom. The water seemed a bit cooler than last week and the tide was extremely low, in fact it was about as low as I've ever seen it, making it seem like a very long paddle out. The girl hadn't been out for a few weeks, so she struggled for about fifteen minutes to get out. I had made it out the back relatively easy and joined the only other person, Barbary, another local.
I looked back towards shore to see how the girl was doing and finally I could see what I thought was her silhouette against the morning glare. I called out to her, 'Did you have a hard time getting out, lovey?' and strangely enough I got no reply back. I thought she might be a bit shitty after struggling for so long but I found out later to my embarrassment the silhouette was that of Jock. No wonder he paddled further down the beach towards the left. I managed to get a few half-reasonable rides during this session but the girl really stole the show. And her final wave looked real good from where I saw it, as it took her all the way to the beach.
Good Friday was not only good but also after this Easter, it should be called 'Great Friday'. Great Friday was followed by Great Saturday, Great Sunday and Great Monday. While the Mid Coast retired into its usual small and weak seasonal winter pattern, the far South Coast began to show strong signs of its promising and typical autumn/winter character.
Conditions on Friday were slightly peaky here and there as a result of the amount of wind from the previous day. It was reasonably clean though, all things considered, the size was good and for the first time in ages the waves looked like they were worthy of a challenge. As the weekend wore on, both the air and water temperature went up a notch with only a slight decrease in swell size and an increase in the glassiness.
The seaweed, which had been lying in large piles on the beach and in the bay, had almost disappeared completely. Unfortunately some of the sand that protects our feet when we launch from the small bay had also gone. It was also a surprise to see so few people taking advantage of the situation. I mean there weren't more than twenty people out surfing for the whole holiday period…not that I'm complaining. Most mornings we were the first ones out, so we were virtually surfing by ourselves for the first half-hour.
Because all days were nearly a similar size, and as were the conditions I'll talk about one particular session, which sort of covers most of the long weekend's experiences. The girl and I went out through the rip in the bay, not because it was too big to go off the Point but because it seemed to be breaking better there. When we got out the back and looked east, the only person we could see was a lone surfer on the far side of the Point.
I was determined to get one of the bigger ones, which were coming through every ten minutes, so we paddled out a little further than most were breaking. The second we reached the spot a big set came through and I made a late take-off on the third wave of the collection. As I took off it started to pitch up and break, leaving me with my board almost in mid air, but in a pointed dive towards the gut of the wave. The nose of my board pearled and seemed to be heading for the bottom while I followed it in a parallel dive. I rolled myself into a ball, protecting my head and vital parts, as I thought my board would be coming back at me at a hundred miles an hour. It didn't but I sure got one hell of a wash, rinse and spin cycle.
The most unusual ride I had all day was when I took off on one of the larger waves, which had a perfect right breaking shoulder. Unlike my pearl diving, previous wave, I made the drop easy but at a rapid rate of knots. I hit the bottom and climbed back up the wave, smacked the bottom of my board against the falling lip. I thought I'd charge down and across the face and outrun the menacing lip when all of a sudden there was nothing but air below me. I fell sideways, and as I fell I was turned back, facing the way I had come and landed on the nose of my board in a sitting position. Strangely enough I rode it for about another twenty metres in this ridiculous fashion until I decided I'd had enough of entertaining my fellow surfers onshore and around me.
E-mail from Dennis aka 'Sixties Relic':
Hi Gang,
I had the pleasure of getting together with Ron and the girl in April. I'd met 'em last year in Northern NSW but the surf was impossible so we didn't go out. I'd driven over from Melbourne with my wife and daughter and had done my duty (I reckoned) of admirin' the lovely buildings and magnificient roses/autumn leaves, stopped and took photos of lots of those things that had evoked sighs of delight from the females in the car to show just how much I was enjoyin' myself … all the time secretly looking forward to a surf.
The girl had to work, so Ron and I heartlessly dropped her off quite some time before opening time (gave her a chance to get a head start with her work before the interruptions) and shot throught to Middleton.
It takes the same time from Adelaide as it takes me to get to my breaks and like most of us there is 'that curve or ridge' you come to where you get the first glimpse of the ocean. The butterflies were flappin' round inside us as Ron announced the coming of 'the bend' and we were anticipating that beaut sight of lots of lines out on the ocean that encourage a bit of speeding to get into a good day. There were some lines out there. When we got to Middleton Ron reckoned it wasn't too good and would take hours to clean up to perfection. We were out there quick enough. I was appalled at the hell of a paddle you'd have if it was big because I've been spoilt with steep beaches and short paddles out. Noosa even on a big day is only thirty meters of mad paddling to get out the back. The Bluff (at Alexandra Headlands) yesterday was a long paddle of about sixty meters through and under the sets. Ron and I had maybe a hundred meters of picking our way out. The girl had loaned me her board. I wasn't really dressed for Southern surfing, only wearing board shorts and a toaster (about 1mm thick, silvered inside 'wetsutit top') The water was still 'pretty warm' being about as cold as I'd ever experienced and the wind was light so I lasted about an hour and a quarter sharin' 'em with Ron and my new friend Terry Towelling. I started shivering and reckoned it was time to go in and do some videoing of Ron and Terry on the reasonable waves rolling through. Afraid I didn't bring my tripod and the resultant footage looks like it was taken from a mining vibrator belt, with a background of teeth chattering, ruining the soundtrack. Got a few good rides on tape however.
We went back home after a few hours and picked up the girl who requested I come tomorrow when we could share her board and photography of each other (the photographer doesn't star in many pictures normally). Now what a sensible woman. I couldn't find a flaw with that plan. My wife however wasn't impressed AT ALL. I got a bit pig headed and reckoned I was bloody goin' anyway! … The women of my family are very white and have an aversion to the beach and can't understand why I'd want to go surfing with my friends when (a) I can go any time at home and (b) I was going to miss out on goint to the Barossa and Clare valleys with my family! Telly was good that night … no one talked so others would miss the dialogue.
Ron and the girl picked me up in the dark without attending dawn services available (Anzac Day) and we drove through patches of fog to Middleton, arriving as the sun peeped over the horizon. Surf wasn't quite as good as the day before but looked worth going out in. I decided to stay on the shore and video some steadier stuff, using the girl's tripod as well as snapping away with my still camera. Queenslanders can't take steady, quiet videos, even with a tripod in S.A. Shivered for an hour again. When the girl came in she said it wasn't really that good so I decided to be a coward and stay in my dry clothes.
I did meet some of the identities like the woman who's been going out before dawn every morning for more than four years and will prove to be the exception to the rule and we'll never be able to skite that we knew her … that woman who was taken by the great white while surfin' in the dark. I met other noteables who's names I've forgotten, apart from 'Old Jock ' who's sixty-seven and surfin' most days … I hope I'm gunna be like Jock! We mooched round to Terry Towelling's house, drank coffee, ate dry bickies and pesto … ha! Let the Yanks eat donuts. We'll have the healthier stuff. We were on a time limit. Ron HAD to be back in time for the footy match and went into a state of mesmerisation in front of the TV.
The girl let me check my e-mails on her computer as I would be a bit lonely in my flat while the women folk diligently checked out wineries and scenery and lovely old stone buildings till WELL after dark. One e-mail stoked me: I'd submitted a story to the Aussie Longboarder Magazine a couple of years earlier and they advised me it had (finally) come out in the latest edition. They'd send me a couple of magazines and when he 'could find my photos' (ominous!) they'd forward them on with my cheque… Cheque??? WOW! I wasn't game to ask about cheques … reckoned I'd get my foot in the door first. The girl (one of those strange soulless people who isn't interested in footy) said, 'Let's go to Glenelg and see if the newsagent there is open and has the ALB in stock.' They did, so I was very stoked to see something of mine in print. Some weeks later I was even more stoked when I got a cheque for $480. When I got back home I was skiting out in the surf, how I'd been out at Middleton with some mates a fortnight earlier. A couple must have been there when it was flat. THEY unkindly called it Piddleton. Too impatient to wait a day or two?
Well me! I bloody liked it and if anyone wants to meet a great, friendly crowd and have a real good time, look
up Ron and the girl.
After having described our Easter surf as terrific, I would have to specify today's early morning session down south as a bloody ripsnorter. The swell had risen considerably from the previous day, which saw my mate, Terry Towelling and myself, riding three-foot plus, glassy waves, all to ourselves.
The girl and I had checked out the Mid Coast just before sunrise. Even in that dim light we could see it really did look disappointing. So with a quick 'g'day' to an old acquaintance, Allan, who was checking the surf out with a coffee in hand and wearing his mum's slippers, we headed down south in anticipation.
Through the morning haze we could see the whole South Coast was a combination of golden autumn colours of the land and a pale glassy blue of the sea. What a gorgeous morning…I really do love this time of the year! We weren't worried about the wave size, as we'd been promised an increase in height, via the various WAMs and virtual buoy reports. So as we pulled into the carpark it was no surprise to see a couple of people already out. Fletch and the irrepressible Maureen were riding the far left while Coxy was the lone surfer in the bay with Terry Towelling being the only person on the clifftop checking it all out.
After a quick exchange of 'good mornings' we offloaded the boards from the car and got changed while Terry scampered off home to get geared up. The girl did have second thoughts about going out for a brief moment and said, 'Do you think it's too big for me?' I answered her by saying it wasn't and she could easily handle the conditions. Moments later we could be seen walking down the road towards the rip, every now and then glancing over to the left and catching the activities of Coxy riding the bay. I could see he was still wearing his spring suit, which made me feel better because I had donned mine, thinking I was going to be too cold. The only reason I was wearing it was because my old steamer had just about had it and I was still feeling the effects of the rashes I had earned from wearing it the previous day. On reaching the small rise at the top of the road near the grassy turn off which would take us to the beach, we spotted another local, Jock, who was taking his puppy for its usual morning's forced march. I yelled out to him to go get his board, and he murmured back something with his broad Scottish accent, which because of the sound of the surf we couldn't hear.
As we entered the water I thought, 'Hmm, seems to be no second thoughts here about what we're doing, looks like it's going to be a real memorable session'. The water was cool with a bit of a nip to it but after a while I forgot about it and started thinking of where we were going to sit. When we had arrived at the desired spot we found ourselves alone as Coxy had caught a wave and ridden it a fair way in. While we were waiting for a set Coxy had made it back out. In the middle of saying good morning a big set rolled in. Being the furthest one out, Coxy yelled out as he started paddling, 'Are ya garn left or right?' I yelled back, 'Right!' I don't know why he even bothered to ask, as he dropped in on me anyway. There was no need to make a big song and dance about it, as there were plenty of waves to be had and minutes later I had two big lefts to my credit, while the girl had two terrific rights. At one stage I was paddling back out after a ride and I saw her taking off. I could see it was a pearler of a left and I yelled out to her, 'Go left, go left!' which she did. But despite it being such a good-looking take-off I don't think it ended up as the ride of her day. Her second ride ended abruptly, as she was climbing to the lip and got interrupted by a beginner on a longboard. She had to push his board out of her way to avoid collision.
About a half an hour into our session a real big set rolled in and caught us all inside. We all turtlerolled and I cursed as I saw each wave of the set roll through with a perfect looking right-hand shoulder going through unridden. Just after this we were joined by Terry Towelling, who gave us a detailed and laborious explanation why it had taken him so long to get out. Apparently he had rung all his mates and told them how good it was, then spent the next half-hour doing his morning ablutions. Talk about getting one's priorities right!
He wasn't out there five minutes when he, just like the girl, caught a perfect looking left. Once again I yelled out, 'Go left, go left!' which he didn't and he ended up having an awful ride. As time went by more and more of the locals made it out, such as Barbary, Jock and Ian just to mention a few. Despite the number of the larger sets, which came through during our session, I only caught one, which gave me my longest and most satisfying ride of the day. If it wasn't for that one I would've had to be content with all the smaller rides I got. But as I think back now and remember all those big ones I missed and how good they looked, I can only kick myself for not being in the right position.
We've been real lucky again and copped some very good waves in the middle of the week, with the best day being Friday. Unfortunately the girl had to work, so the doggies and me dropped her off. She's been doing temp work at Centennial Park Cemetery which makes me a bit nervous before going for a session. It was a warm morning with an overcast sky and a threat of rain in the air but the winds were light and offshore and that's all that mattered. Just to pump my stoke up, which I really didn't need, I had a tape of the 'Beach Boys Greatest Hits' blaring into my ears along with a small black dog barking in time, as I sung along with all the tunes. It must have worked because I had one of my best sessions for ages, in conditions that were close to perfect. When I saw the quality of the surf, I was so excited that I nearly put two wetsuits on when getting changed.
With my board and legrope in hand and my wetsuit still unzipped I ran down the road to the bay. I had a quick word with Jock, who was just walking home after he finished his session with a terrific looking ride. I asked him if it was as good as it looked and he said, 'Better!' I made it out the back in a real hurry, saying g'day to a few of the usual suspects and paddled over to where my new mate Terry Towelling was sitting. He looked pleased to see me and said something, which meant as much. I like surfing with Terry, as he provides plenty of conversation and entertainment between sets and he laughs at my piss poor jokes. While we were waiting for a set he asked me if I could see any waves coming, as he wears goggles because he's shortsighted. I said, 'Nope! It's too glassy'. He kept on muttering away about another local surfer, Barbary. He repeated, time after time…'Barbary's still out here, she's been out as long as me…I can't believe it'. Just to humour him I replied, 'It's ok mate, she's allowed to stay out here as long as she likes'. He came back with, 'She never stays out this long, I can't believe she's still out here!'
For the first half-hour of my session it wasn't very consistent and not many of the unusually large Friday crowd were getting any rides. All of a sudden the crowd thinned out and it started to pump. Terry and I were virtually surfing by ourselves now. Both of us got some great rides and I vividly remember Terry paddling back out after one good long ride and almost frothing at the mouth with excitement. He was burbling so much that I couldn't shut him up. I got some great rides myself and was probably surfing better than I have for over a month or so. It's surprising what a little bit of extra height, power and quality of a wave will do to one's performance.
In the end Terry went in after having a super long session and I followed him about three quarters of an hour later. I was getting changed and was just about to go home when Terry came by on his bike. He was still raving about his session and how good the surf still looked…I'll never forget how stoked he was. Just before we parted company he said to me, almost pleading, 'Can we dare to think it will be the same tomorrow?' I looked at the ominous clouds in the sky and pointed out to him how still the air was. Small insects, which you see before a cool change, were flying all around and it was starting to sprinkle with rain. I'm sure as I watched him peddle back with a hope in his heart that he'd be back the next day. And me? I can only say I felt the same.
It really was a good session and the surf was excellent.
It's been over a week since we had our last wave and the symptoms of withdrawal have reached their peek. All through the last week I've been eagerly watching the weather and wave patterns, waiting for the conditions to improve and get to the stage where I'm anticipating like crazy. When I was much younger my stoke levels used to get so high I thought I was going to burst. Well I can tell you I can't remember the last time I felt the way I'm feeling at the moment. I'm watching the clock, which seems to have cement in it, as it slowly ticks over towards dawn. I'm constantly checking the current wind conditions and WAMs, to see if there are any changes, which might bring about a sudden dive in my excitement.
Turning my ear to the outside noises of the world, I filter out the sounds, which don't fit into my current mood and listen for any wind that might be detrimental. I can just about taste the size and good conditions, as I sit here with a blanket around me. It's cold and very still, which tells me it's going to be a brilliant day today, for surfing. There's been only the one solitary day when a wave was available and we missed it, so if you think I might be a little stoked up…you're right!
It's been going off its brain here the last few days, with the biggest swell hitting the 'South' so far this Winter, on Friday. It was so big it was impossible or should I say unwise to go out at our usual favourite spot, as it was breaking more than a quarter of a mile out. There are not many places one can surf when the swell gets this big with the tide being so low as it was. A lot of the younger and heroic surfers go out at 'Bullies', which was really thumping in. Our mate Terry Towelling was with us when we were checking it out and taking some pics, he said he'd never seen it so big! There was no wind at all and there were these big blitzkriegers charging out of the early morning sea mist, jacking up as they hit the reef and looking just like the 'Pipeline' in reverse …quite impressive and teasingly beautiful.
With the threat of strong westerly winds forecast we decided to go out at the 'Dump', which is situated about a mile west of Bullies. It's one of very few places available to surf down south when it gets as big as this. Terry and I were lucky and had it at its best early, before the crowd turned up since the word obviously got around and the multitudes descended upon the place. The girl decided to stay on the beach and take some photos, as she felt the conditions were beyond her capabilities. Although the shorebreak isn't as life threatening as Bullies, sometimes it can be a bit of a bugger getting out. We launched ourselves to the left-hand side of the break, with myself leading the way and the Towelling right behind me. We had waited for a lull but wouldn't you know it, as soon as we neared the impact zone a big set came through. I obviously copped a few on the head and got hammered back towards the shore, while the Towelling rocketed past me on his more buoyant board and made it quite easily out the back. Eventually I joined him in jockeying to find the right position out the back.
Even though the Dump is a reef break it can be fickle. Sometimes the waves hit the reef and peel quite nicely from right to left. And other times a wave will come in and break very ordinary. I guess the tide height and wave direction have a lot to do with it. Either way, if any wave comes through at say overhead size it usually closes right out. There is a left-hander nearby, but it's a much shorter ride and is neither appealing from the beach nor out there, but it does beat the alternative, which is no surfing at all. Nevertheless both breaks can get very crowded when all the other alternatives are out of the question.
The first wave I caught was one of the bigger ones and I thought it had a reasonable shape to it. And although it started to peel from the left as it usually does, it suddenly turned nasty just as I finished my bottom turn and hammered me. I tried to paddle back out from where I was dragged to but I was caught in the usual westerly drift and after about five minutes I gave up and caught a wave in, only to relaunch myself further down the beach. This time I made it out the back quite easily, just in time to see the Towelling take off on a very similar wave. I didn't see him again for another ten minutes, and although he never got caught in the drift like I did, he said he'd had a struggle getting out through the shorebreak again.
For the next three-quarters of an hour or so we managed to get some good rides between us and just as we were starting to get too comfortable a rogue set appeared out of the blue. We started paddling for the horizon like crazy to get out of harm's way, as the wave continued on its way, feathering and threatening to break. As it was almost upon us I remember thinking, 'This is going to be a bit of a damn inconvenience if it breaks now', because it was going to give us both one hell of a hiding. Luckily we both made it up and over the top, as it broke a half a second later, cleaning up all and sundry who had been sitting inside.
After that little bit of drama we both caught a few more reasonable rides and eventually came in. Looking from the beach after we got changed it wasn't hard to realise that we had had the best of it. The tide had come in, making almost every wave a closeout and the break had become really overcrowded.
The surf over the last two weeks here has been rather ordinary. And no matter how hard I searched the WAMs, virtual buoys etc., it was impossible for me to pick a day for a reasonable wave to ride. I kept reading reports on how lousy it had been. So during the early hours of Sunday morning, whilst checking out the BOM, I noticed a shift in the slight winds from cross offshore to dead offshore, starting at about 12:30 AM. I kept an eye on it until about 6.00am, then tiptoed upstairs to whisper in the girl's ear, 'Do you want to go for a surf today?'
I didn't have to ask her twice, as she's always keen to go but this particular morning she was a little bit slower than normal getting up, I guess she must have been in a very deep sleep. She never wakes up grumpy, and that's a blessing for me. We left home at about 6:30 only to find our usual speed down south slowed down by one of the thickest fogs I've seen in donkey's years. It was so thick going up Willunga Hill we had to slow down to 75 kilometres per hour. But by the time we reached the top of Flagstaff Hill the whole of the South Coast sky was clear, even though the sun was still another half-hour off rising.
As we turned into the final stretch we were quite pleased to find it clean with a slight north-westerly blowing and a reasonable size swell pushing through. We got ready in a hurry, knowing full well there was going to be a big crowd for an early session. When walking down the road to the bay where we normally launch ourselves, I said to the girl in a quizzical way, 'I think my booties are still wet!' She replied, 'No they're not, it's because the road is so cold'. I don't think I'll ever get over the fact how cold it can get here over winter, and over such a short space of time. In just a few weeks we've gone from just wearing a wetsuit to donning additional attire, such as booties and rashies. As we neared the track down the beach, we met our mate, Terry Towelling going in the opposite direction. He was all rugged up for the cold, wearing a red pair of pants and a matching red jacket.
The girl asked him, 'Is that a new jacket you're wearing, Terry?' He replied, 'Yes, my daughter gave it to me'. I jokingly put in, 'Did she knit it for you?' knowing full well it was a store-bought one. As he tried to quip back with a smart retort I added, 'That's amazing, the girl knitted this new wetsuit for me'. We had a bit of a quick chat as we neared the downward path. He mentioned that he'd had a long night with a few friends and some vintage scotch involved, which was probably the reason his eye colour matched his attire so well. We promptly told him to go get his board and get out, but I bet he went and rang all his mates first, as he took such a long time to join us.
Eventually we arrived at the water's edge, where we attached our legropes and ventured out into the icy looking water. The tide was reasonably high and coming in, so the shorebreak was a little bit of an inconvenience. I first thought the water didn't seem too cold but after a few minutes of paddling I noticed it was a bit nippy on my hands. The swells were coming through fairly consistently but we found them hard to pick up because a lot of them were thick from the fullness of the tide and probably the previous day's onshores. It wasn't until about another half an hour before I got a good wave. It was a left-hander and it looked like being a ripper! I took off just as it started to break, shot up to my feet as fast as I could to avoid pearling my board and raced to the bottom at a terrific pace, where I slammed in a fairly radical bottom turn. I raced along the face of the wave until it became less threatening, then did a cutback towards the breaking section of the vortex. I tried to do another radical turn on my backhand but it was too severe and I ended up loosing the wave. While I fell over the back of the breaking wave, it carried my board further towards shore. As the slack was taken up between me and my board, I felt an abrupt release and instantly I realised my legrope had snapped and I was adrift in the middle of the bay and quite a long way out. At first I was disappointed, not having ended such a good ride with a bit more class. Then I thought, 'This is going to be a damn inconvenience, I'm going to have to swim all the way across the Point and then in'.
I looked towards shore and could see my board about fifty metres away, and for a few seconds I thought about swimming after it. I gave that idea a miss after I remembered from past experiences, many years ago before legropes were used, what generally happens. You get within a metre or two of your board and just as you're about to claim it again, another wave comes along and takes it away. Turning around to see if anyone was near me I spotted the girl nearby and waved to her for assistance. She paddled over and I climbed onto the back of her board with the intention of getting out of the bay and over to the other side of the Point. This was a good idea but because we were almost in the impact zone I had to slide off the back every now and then to dive under a couple of larger waves which broke right on us.
As we neared the shorebreak, a large wave broke just as I was about to get on the back of her board again. I decided not to climb on because it looked like being a worse disaster, as this wave was really starting to pitch. As she took off on it I made a last mad grab for her legrope with the thought of getting a tow in. But at the speed and force at which she was travelling my hand got squashed in the tightening legrope, causing me a great deal of pain as I wrenched it free. The girl had travelled a further fifty metres towards shore before she could get off, while I was trying to catch a body wave in. With the aid of the wash from several following waves and her endeavours to get back out to me we were together again in about five minutes. We didn't bother catching another wave together, we just let the wash from the sets take us towards shore. There where a few desperate moments as we tried to reach the beach, as the tide was quite high now and it was difficult to see where all the rocks were.
Upon reaching the beach the girl asked me, 'What are you going to do now? Do you want to go and have a rest?' I said, 'No! I'm going out again, see if we've got another legrope in the car'. I started looking for my board while the girl raced up the stairs to the car. I found my board fairly fast, lying on its back on top of the rocks about thirty metres away. I turned it over to see how much damage was done but was pleasantly surprised to find it had escaped any serious structural damage. In the meantime the girl had found a spare legrope and instead of climbing back up to the road we clambered over rocks along the beach on our way to the bay again. By pure coincidence we met another mate of ours, Jock, who was just getting ready to go out. When I say 'by pure coincidence', I mean he had also recently had a very perilous swim himself which was far worse than mine had been. When we related to him what had just happened to me, he grinned at me and said, 'I know! It's fun isn't it?' Mind you, Jock happens to be 67 years of age!
Again we made it out the back without any problems only to cop a fair bit of ribbing from some of the crew about my little misadventure. I took it all in my stride and got on with he job of trying to get at least one decent ride without any further hassles. I remember getting a couple of ok ones but nothing very memorable. I'm not sure how much longer we stayed out but I do remember starting to feel the cold, accompanied by a slight pain across my chest. I thought, 'This is great, now I'm going have another heart attack'. As we drove home I muttered to the girl, 'I don't know how we did it all those years ago…no legropes or wetsuits…just board shorts, cut off sleeved footy jumpers and a long cold swim every half an hour!'
Look at the date, it's the 16th of December 2003 and we're still getting good sized quality waves. This time last year everybody was miserable, because of the lack of surf and the unpleasant, persistent south-easterly winds. Towards the end of winter this year I made a bold prediction to a few people: I said I didn't think we would have as bad a summer as everyone seemed to be resigned to. When I first started surfing during the summer of 1959 the waves were a good size with warm, offshore winds. Not just one day, but it always seemed the same, day after day that summer. I remember those days so well because I'd never seen the horses manes before.
So it was no surprise to me when we rolled up at one of our favourite breaks that the surf was ruler straight with a slight north-east wind kissing the waves' faces and only a handful of surfers out. The girl had taken her board in for a minor ding repair the previous day, therefore we only had one board between us. Guess who went out first? The girl had already had two previous days in the surf anyway and I really needed one.
I'd had a stress and echo test the day before at the Flinders Cardio Investigations Clinic. And even without knowing the results, I felt my main pump could handle the workout I was going to put it through. So with no regrets or second thoughts, I went out through the small bay near the Point. I reckoned my paddle out would be easy, because I'd launched myself between sets but I was soon to cop a sneaker set out of the blue and on the head. About seven waves came through and I had a struggle on my hands, as I was soon going backwards instead of forwards. I looked across to the Point and saw the girl standing there, and she was further out than I was. At no stage did I ever consider turning my board towards shore and giving up, not even when I started to feel some pain around my chest area. I decided to take it easy and only make an effort when necessary, waiting for a lull in sets, which would eventually come.
Ten minutes later, after a very subdued performance of paddling, I eventually made it out the back. I wasn't puffed, nor did I have any pain, I was happy just to be out in the water again. Over to my left I could see John. It's good to see a friendly face out in the surf and surfing with John is always a pleasure. I had to say g'day to him twice, the second time louder than the first, as he had what looked like wax in his ears and normal conversation vocals were impossible. He said g'day back, to which I added, 'If you see my body floating face downwards in the water, can you tow it in towards the Point, because the girl's there and she'll claim it'. He said, 'Yeah, sure' with a wry grin on his face. I'm sure he had no idea how serious I was with this banter.
My riding was a bit wonky on the first wave, but I managed to finish it off with some sort of dignity. The second ride was far better, although none of the waves I caught were very far travelled. The waves were of a decent height but the tide was having a big effect on the quality of the rides, as they were short and closing out. There was one particular ride I had which got me stoked but it had nothing to do with my surfing abilities, it was a matter of being in the right spot at the right time. The second to last wave I caught I didn't really want. Both John and myself were sitting by ourselves; there wasn't anybody else within 100 metres of us. A larger than normal set came through, John caught the first one while I went for the second. Meanwhile the offshore wind had increased and was holding the waves up longer, making the wave faces steeper, so they tended to close out faster. So there I was, paddling for this wave, it caught up with me and started to break. All of a sudden I didn't want this wave anymore, so I tried to pull out of it by sliding to the back of my board but by then it had me. I went over the falls sitting on the back of my board, but with style mind you, until I hit the bottom and then the wave exploded. It must have looked quite funny from the shore; it must be the most ridiculous wipeout I've ever had. John paddled back after his ride, raving about a floater he'd had. Me, I kept my mouth shut.
I finished my session and came in so the girl could use my board. She went out immediately, as the temperature was climbing rapidly to its top of 39 degrees celsius, and who could blame her with the current conditions! If anything I reckon the quality of the surf looked a lot better. She managed to get three pretty good rides with the last one being her best by a long shot. It's not hard to tell if she's had a good session and it's damn easier to tell if she's had a bad one.
We left Adelaide at 4.00am on Saturday, 16th of October on our 2,100-kilometre trip to Noosa, Queensland. By 6.00am we reached the small town of Burra in the mid north of our state, South Australia. Unfortunately we made the mistake of not filling the petrol tank before reaching this town as nothing opens there until 7 o'clock, so we had to wait around or better still do a bit of enforced tourism in this historic copper mining town. I originally figured that the first leg of our trip would take about 16 hours with an overnight stay at Armidale some 1,600 kilometres up the road. But with the delay at Burra and a few other stops we didn't arrive there until 11 o'clock that night.
Most of this trip is across the real Australian bush can appear to be pretty boring with very little of attractive flora or fauna to see. On this particular trip we noticed a larger than usual number of emus; they seemed to be everywhere. It must get fairly hectic in the scrub at night judging by the amount of dead roos, wallabies etc. on the side of the road. As we were driving along I was thinking that the most amazing creature of the Australian bush is the crow. Even if there is a dead roo lying on the road they never bother to fly off as you pass close by. They seemed to have learned that the cars and trucks will go out of their way to bypass rather than drive over it, so they just sit there atop of the carcass, enjoying a free feed. While I was pondering about the crow and how wily it is I thought, 'It's amazing that of all the wildlife suffering from some fatal collision with vehicles that travel our roads one never sees a dead crow'. The next thing I know a big black mass of feathers goes thwack! against the windscreen of the car right in line with my face. I quickly looked out through the rear vision mirror to see a large crow fluttering off to the left behind us, obviously not too injured but it must have scared the living suitcase out of it.
One of our stops almost in the middle of this continent was at a place called Emmdale, which was just a petrol station and would have to be one of the most extraordinary places I've ever stopped at. Outside was a very old Mal with the words 'Emmdale Surf Club' painted on the front, so it was essential that we got a photograph of me standing there with the usual man-and-his-surfboard pose. Inside the collection of people was also unusual, along with the local cockies there were about half a dozen aging Rebel bikies plus a couple of truckies all sitting around having a meal and a beer together.
I mean for a place so small and out of the way this was a huge crowd; perhaps the reason for that was that you could order a beer with your breakfast and no one was going to question it. The most impressive sight we witnessed along this trek was a huge thunderstorm, which developed out of a single thunder head cloud. Single sheet lightning brightened up the sky every couple of minutes or so and kept us entertained for an hour and well after the sun went down.
From Armidale we got an early start the next morning, hoping to make the final length of our trip a short one so that we would get a chance to check out the surf before the sun set. We got to the Nambour Rainforest Caravan Park around mid-afternoon on Sunday with half the Australian population of moths squashed on the car bonnet. What an idyllic, wonderful place to stay with stacks of palm trees with exotic tropical flowers growing everywhere. After we got unpacked and settled in we hopped back in the car and headed up the coast to Noosa. I was under no illusion as to what to expect of the place after not having been there since the mid-sixties.
I had already realised that the greedy tourist developers had gotten in there and had all but ruined the once tiny, sleepy village but I don't think I'll ever be able to overcome my distaste for the multitudes of people who inhabit this place for their holidays. Just as well the surf was non-existent; had there been a wave going I reckon the line-up would have been packed and a very good reason for justifiable homicide on my part. We left the wannabes to their rabbit warren kingdom and had a quick look at a couple of beaches down south to see if there were any other breaks worthwhile considering on the morrow.
The sun was up at 4.30 on Monday morning and we headed straight out of Nambour to the nearest break at Maroochydore. The weather was fine but humid and no wind to speak of but I suspected that a north- easterly would spring up later. There was a small three-foot glassy wave breaking over a sandbar and even at this time of the morning there were quite a few guys out. We chose a right-hand beach break a little further down the shore where only about a half a dozen people were riding. I'd forgotten just how warm the water was up here and I must admit I felt a little ridiculous wearing a wetsuit.
We had about a one and a half-hour session, which included some good little nose rides. I don't think I would have enjoyed myself without the obligatory horrendous wipeout. One wave came through that must have been about four-foot and the wave of the day. I was lucky enough to see it and paddled out to meet it. I turned and with a couple of strokes picked it up, jumped to my feet and dropped into a bottom turn. From that take-off I enjoyed a nice little ride, dropping and climbing to stay right in the pocket until I reached the shorebreak. It started walling up in front of me very nicely as though it was challenging me to take a walk to the nose, which of course is what I did. This decision was fine until the wave decided to close out altogether and as I hit the water on the shore side of the wave I noticed the nose of my board was pearling. I went under the water and a second or two later I felt the flat deck of my board hit me fair and square on the top of my head. I emerged not knowing what day it was but as soon as I got some of my senses back I realised I had to get back on my board in case I lost consciousness. At least if I did I could drift into shore where a young woman was playing with her kid on a belly board and she might see that I was in trouble. A few minutes passed and I was starting to feel a bit better so instead of coming in I turned around and went back out to finish the session. The north-easter finally came up and put an end to surfing and for the rest of the day we became tourists. One of the quaint attractions of the town of Nambour is the sugar cane railway train, it's quite an unusual sight to see all the traffic stopped by this curious little vehicle travelling down the middle of the main road, taking its cargo to the nearby sugar mills.
The next day the surf had dropped in size to almost zero, so we spent the day roaming around in a humidity haze. Coming from a cooler, drier climate we were not used to this type of heat as our blood was thicker, and it really knocked us around. So with the poor surfing conditions prevailing and all the local sightseeing done we made the decision to start heading south towards Crescent Head. We drove along the Bruce Highway until we reached the turnoff to the Gold Coast, taking photos here and there of some of the scenery along the way. One strange little place, the Ettamogah Pub, which was inspired by a cartoon series, was compulsory photo taking. The Glasshouse Mountains always look impressive and while I was taking a photo we witnessed a female kangaroo and her joey, jumping around like a little loon all over the place trying to get back into its mother's pouch.
After driving for what seemed like a couple hours through Brisbane we ended up at Burleigh Heads. This whole area has magnificent panoramic views with the tall buildings of the Gold Coast in the background. I decided to give my board a rinse in the small surf at Kirra Beach while the girl went berserk taking photos of whales that were in the area. We also had a quick look at Currumbin, Greenmount, Rainbow Bay and Snapper Rocks. There was a bit more size to the surf at Duranbah but there were about 50 million guys out, all trying to catch the same wave. From there we headed directly to Lennox Head and Ballina where the girl wanted to go to pick up a surf sticker. While she was in the surf shop I went down the beach to check out what the surf was doing. I'm afraid it wasn't doing much and as I came back I noticed a bloke paying close attention to our car. As I got nearer he moved away and started walking across the road, at the same time the girl came out of the nearby post office and together we decided to cross the road also. All of a sudden this person who had been checking out our car turned around and with a broad grin on his face said, 'I recognise that ugly old bastard', meaning me of course. It turned out to be an old mate of mine, Hayden Burford, who had moved to Lennox Head from Adelaide a year or so ago. I must say it was good to catch up with a friend so far from home and exchange all the recent gossip that had been happening about the surf and people that we both knew.
Our next stop was of course Kempsey, roughly 20 kilometres from Crescent Head. After a night's sleep we drove down there at five o'clock the next morning to find the tide high and the swell low. Also there were no changes to the sandbar that was still there from August so good old Crescents still wasn't working at its brilliant best. We waited for an hour or so until the tide dropped and the break inside started to work a little and that's when we decided to go out. The waves were about three foot and glassy and for a half an hour we had it to ourselves until some of the guys noticed we were doing all right. Next minute we were joined by about another dozen guys. The next day conditions were appalling with a strong north-easterly flattening any existing swell so we talked about whether to head south down the coast or go straight home. Watching the ABC weather report that night I noticed a strong wind warning being issued for areas south of Seal Rocks and a brief mention of seven metre waves. I found this warning a little hard to believe even though there was a low-pressure system off the coast in that area. The next morning we packed the car and headed south. I'd often told the girl about the days when I rode Seal Rocks and more out of nostalgia than curiosity of big surf we decided to call in and have a look. When we finally arrived I found the place almost exactly the same as it was in the sixties, including the dirt road leading in.
Even though we managed to get a few small waves here and there, generally the surf was disappointing, especially Crescents as we've enjoyed many fine sessions there. The next decision was to get as far we could down the South Coast of New South Wales just in case there was something happening. This proved to be the smartest decision of the whole trip. We hastily drove through Sydney to avoid the late Sunday afternoon traffic. Our next stop was at the top of the Bulli Pass. Just out of curiosity I got the binoculars out and took a look to see what the surf was doing on the points far below. Even though the points were still a few kilometres away I could make out tiny figures of guys on boards catching what appeared to be some very big waves. So with a great deal of haste we drove down to Sandon Point where we found the carpark chock-a-block full of cars. With camera and binoculars in hand we made our way to the best photographic vantage point. As we got nearer I noticed a temporary type memorial had been placed to commemorate a young surfer who had died here in April this year, which sort of added to the atmosphere of this place.
There were about twenty guys out, mostly shortboarders with a few boogieboarders interspersed. The conditions were reasonably good with a variable breeze blowing and a slightly overcast sky. There seemed to be no regular pattern to the marching swells and a lot of the guys were getting caught inside by the shifting peak and some of the larger sneakers breaking outside. It was awesome to watch: every now and then someone would get onto a large wave, and with the timing and take-off being so critical there were a lot of collective moans as some poor soul went horribly over the falls from misjudgement. Mind you there were some guys who had a bit of luck and got onto a good one and probably had the wave of their life, but there were not many. A lot of guys were having problems picking up the waves as they were just to the right of the main peak. When they looked like they were almost on one they would drop off the back only to get cleaned up by a larger wave following. And still they came, one by one like lambs to the slaughter, launching themselves about 50 metres short off the point. At one stage there was a Boogie Boarder right in front of the rocks and if he was looking for trouble he was sure going to find it there. Fortunately for him he made the wise decision and moved over to the right.
Shortly afterwards we left Sandon Point because we were under time pressure to get to Batemans Bay before dark. As we approached Kiama it started to rain and the wind increased in its velocity. I can't remember when I've been in the middle of such a violent storm. At one stage it was raining so hard we had to pull over and wait until it eased before we could move any further. The Princes Highway is generally one of the safest, uncrowded roads in the country but that afternoon into evening it became a nightmare to travel on.
The next morning the rain had eased but the wind was still a fairly savage offshore gale, which seemed to have no effect on the increasing swell. We called in at places like Narooma, Pambula and Eden to witness the ferocity and size of the never-ending giant swells marching into shore. At Narooma it was particularly awesome, as just standing on a huge rock to take some photographs was a little unnerving. I was always aware that some giant sneaker could race right in and wash us off that rock. About the only place where it might be safe to go out was at the Pambula river mouth. When we arrived there I headed towards the beach and met a young guy with a shortboard who had just been out there. When I questioned him about what it was like he replied that it was breaking too fast. At Eden some guys were perched atop the cliffs with their boards still firmly attached to the top of their cars. There would be no stupid surfing for these guys or us today as there was no way anyone could get out the back.
So we decided to make a dash across the border to Victoria and the Bells beach area or a similar break that would be suitable for us to ride. To our disappointment after our 10-hour drive we found Bells breaking at about six inches, obviously the swell was not reaching this far. Even if there was no surf for the rest of the drive home I still reckon the Great Ocean Road is by far the most magnificent piece of coastal scenery I've seen any where in Australia.
Most of the trips we do these days are to the East Coast of the continent. Starting from Adelaide, South Australia, our ultimate destination is a place called Crescent Head, which happens to be one of the best Mal waves just about anywhere. Crescent Head is a small seaside town, situated about halfway between Sydney and the Queensland border. The nearest major town is Kempsey, 21 kilometres to the north-west.
It' s always a gamble to do the 1,800-kilometre trip to Crescent Head with regards to finding a wave to ride there. After having done this trip so many times the first six hours are quite dull, as the scenery tends to be boring. The countryside is flat to slightly undulating with fragments of Mallee scrub inbetween, followed by long stretches of empty plains. Most of the towns in this area are one-horse or should I say one-tractor-towns with the pick of them being Pinnaroo. We always stop and visit some old friends of ours that live in the small Wildlife Park there. These friends of ours include kangaroos, wallabies, emus and a variety of native parrots. One in particular is a sulphur-crested cockatoo who always says 'G'day how ya goin'!' He also has another voice, which initially took us by surprise and that is a smoker's cough. It's really quite funny when you hear it, as it sounds so real.
We join the Sturt Highway at Balranald and for the next 400 kilometres until West Wyalong the road is particularly boring with not a tree or shrub over two foot to be seen for the first 130 kilometres. One thing that really drives me crazy on this stretch is the number of discarded empty drink containers that people have thrown out of their car windows. When I think of the 'Keep Australia Clean' people I reckon there's enough rubbish here to keep them busy for a couple of hundred years. A word of caution: if you are planning any trips interstate be sure to obey the road laws as the cops are everywhere, even in the most ridiculously small towns. We should know, we've been unlucky enough to give a number of contributions to these revenue raisers and have also been breath-tested on more than one occasion.
From West Wyalong to Forbes the countryside changes dramatically as small Mallee shrubs give way to the larger river gums and ranges with creeks and rivers running through. The people who first explored this country must have been running out of names to call some of these creeks as there seems to be an over abundance of Scrubby, Sandy and Reedy Creeks. And then there are names like Nine, Ten and Eleven-Mile Creek, where I often imagine the early explorers running around with measuring tapes.
If one was to do the drive in one hit as I did when I was younger, it would still take the better part of 20 hours, and that's driving non-stop, except for petrol and food. We always take our two dogs with us everywhere we go, so we usually book ahead at various caravan parks that allow pets, even if under very strict control. So far, thank God, we've never had any problems at anywhere we've stayed but there have been some very funny moments and some even hilarious ones.
Most of the time we stay in the cabins provided, as they are fairly cheap and have most of the amenities of home, but one must be careful during the holiday periods because if you change your itinerary on a whim, you might find yourself sleeping in the car. On one of our first trips we stopped over at Cowra during a very hot February spell, with the air temperatures of 42 degrees Celsius and very high humidity, much higher than home in Adelaide. We were lucky, as the cabin we stayed in that night was new and had air-conditioning installed.
Even though Kempsey is close to the coastline, the temperatures were in the mid-twenties with a very high humidity level, and we really felt it since we were used to the clear dry heat of Adelaide. Kempsey and Crescent's are ideally situated on the Mid North Coast of New South Wales, and you can travel a couple of hundred kilometres north and south and find good surfing spots just about everywhere.
There are quite a large number of motels and caravan parks in Kempsey with about three parks that cater for people travelling with pets, and I must say in the off-season the rates are more than reasonable. The amount of time we spend in the Kempsey and surrounding area depends on whether the surf is working or if time is running short. Then we generally make our way home following the coastline south and then west, checking out some possible surfing spots along the way.
Although there are plenty of places with accommodation, not many of them allow people with pets and the ones that do are pretty awful. Between Newcastle and Sydney there are none. When travelling up and down the East Coast of New South Wales try to take the coast road if you have the time. Some of the scenery and surf breaks are magnificent. The amount of road works along this stretch of road are not so magnificent. Granted parts of this road are being upgraded but a lot of unnecessary hold-ups are due to repairs being done to a road which should have been laid properly the first time.
The 1,800-kilometre trip to Kempsey was reasonably uneventful except for a spectacular sunrise and a plague of grasshoppers that made a real mess of the front of the car. We arrived at our destination at 1.15pm on Friday and after unloading the vehicle we made our way to Crescent Head to check out the surf. We found the surf a reasonable size but utterly blown out by a very strong nor'easter. My guess was that at first light the next morning would be the best time to check it out again, and when we did we found the size of the swell had dropped dramatically but the onshore wind hadn't. I remembered the Mountain Man's words… 'There's a spot Ron, which always seems to attract swell like a magnet, even when it is fair dinkum flattazza tack everywhere else if the swell rolls in from the north-east. It's at the far end of a 20-kilometre dirt track'.
I noticed the Crescents caravan park directly opposite the break was chock-a-block full of people, most of them surfers, so even if the place was working there was going to be one hell of a crowd. We hung around for an hour or so but eventually made our way back to Kempsey. I was sitting inside the cabin, trying to pass the time watching an old Bogart movie while waiting for the Mountain Man to turn up. The girl was outside with the dogs reading the morning paper when I heard her say, 'You must be the Mountain Man!' and, 'he's inside watching television'. This was the first time I'd met the Mountain Man face to face, and the girl described him as follows: 'He didn't look like I'd imagined the Mountain Man – he's at least as tall as me, maybe six foot, curly red-blonde hair, blue eyes and very subdued in his movements'. Quite frankly if you asked me what he looked like I would have said he was about the same size as me – eight foot tall with blood-shot eyes, a similar colour to mine.
Anyway, he came in and sat down and we made ourselves known to each other over a cuppa or two. We talked about surfing in general and the possibilities of checking out this secret spot that the Mountain Man had been talking about which only worked an hour or so on either side of the low tide. Eventually we decided to head on down and check out Crescent Head again to see if it had improved at all, and if the dirt track was navigable we would continue on and have a gander at MM's spot. As it was, Crescents was still crap and the dirt road wasn't so bad with the 20-kilometre drive only taking about ten minutes or so. When we reached the end of the road we found a small carpark with about a half a dozen cars with board racks on top. MM and the girl walked up a steep hill that overlooked a long bay sweeping down to the south-west and it was decided that conditions were ok for a surf. As we made our way over the sand hills we were advised by a fellow surfer coming back along the sandy track that we should be careful, as he'd spotted a large black snake having a nap in the middle of it. It wasn't unusual that the girl saw another one in the same spot the day after and I reckon that in total we saw more wildlife on that 20 kilometre of dirt road than we saw in the rest of our 5000 kilometre trip. When I walked over the final hill down to the beach I was confronted with a view that seemed to say, 'Come surf me!' And that is exactly what we did.
The break consisted of a shifting peaks with a long left and an unpredictable right. The swell was coming out of deep water, making it almost impossible to position oneself just right. I found this place fascinating, if not challenging. The Mountain Man being a goofyfooter preferred the left most of the time and got some very long rides right into the beach where he walked back up the shore and paddled back out with the slight rip alongside the point. It was an extraordinary thing that this break should be working at such a size when nothing was working anywhere else. Also I was very surprised that there weren't more than a half a dozen guys out, which meant we virtually had it to ourselves, considering their surfing prowess. Even with a strong north-easterly wind blowing, which is onshore everywhere else on the east coast, here it was a slightly less severe cross offshore, making the wave face stand up almost perfect. This little session lasted about three hours with some very memorable and much appreciated rides, thanks to the surfing knowledge of the Mountain Man.
The next morning we got a real early start as the temperature was going to be high with almost zero wind early, with the nor'easters expected to come up later in the day. When we arrived at the secret spot, the Mountain Man was nowhere to be seen. The only people around were some young guys in a 4WD, parked on the shoreline. When they emerged later, we recognised them as a couple of young guys that where out yesterday and had spent the night here. The sea was extremely glassy and a heavy fog was hugging the coastline while offshore we could see a large pod of dolphins doing some early morning fishing in the surf. If I didn't know any better I probably would've turned around and given surfing a big miss here today as it looked like nothing spectacular surfwise was going to happen.
There were a few swells coming through, just barely breaking a little outside and rolling into the beach. So we sat there for an hour or so, watching the dolphins fishing while we waited for the tide to drop and the Mountain Man to turn up. At about 9 o'clock we went back to the car, where we were greeted by a bright 'Good Morning!' The Mountain Man had arrived after spending the night in his well set up vehicle at a spot back down the track. We sat and chatted for a while, waiting for the tide to go out a little further and when we thought it was right we made our way down to the beach with our gear. The swell was now breaking out further and it even looked about a foot or so bigger than it did the previous day.
It was an absolutely fabulous morning with the water crystal clear and looking like a sheet of glass. The pod of dolphins that we had seen earlier showed no fear of us as they joined us, some even coming as close as underneath our boards. If I got some reasonable rides the day before, then this day was going to be special. One of the largest waves I caught that day was a late take-off and as I got to my feet I had a fair idea of what was going to happen. The girl who was standing on the beach witnessed it: 'Ron's freefall was especially memorable. He reminded me of one of the surfers at Waimea Bay who tackle those monster waves. He was just falling down the face of the wave, standing on his board with his arms stretched out horizontally for balance until his drop ended and he disappeared into the wall of whitewater that swallowed him up'. The wave that I enjoyed the most that day was one of my last ones. By now the girl had joined us and it so happened that the three of us all paddled for the same wave and caught it. With my peripheral vision I noticed that the girl was on my left going almost straight, MM was going for the left while I went for the right. The wave in front of me started to wall up and threatened to break as if it was daring me to take the challenge of going for the section, which I did. I walked down the nose of the board a couple of steps to get more speed and then the lip dropped over the top of me. I threw my arms into the air with exhilaration as I could see I was making it through, almost in a selfish act of defiance, which, upon reflecting on it since, is something I'm not very proud of. The last wave of that day I shared with MM and as we came out of the water he said, 'I hope you didn't mind me dropping in on you' I replied 'No! I was just heading in myself', feeling very grateful to the guy who had given us this rare chance of surfing some very fine waves indeed.
The next day we drove up and found MM's car and camp site deserted until I looked up towards the top of the hill and saw this lone figure standing there checking out the surf. The swell was a similar size to the previous day and I let the girl go out first with MM while I stood on the beach trying to take some shots. The girl had a real good session, catching quite a few rides while the Mountain Man got a couple of absolute screamers on the left. I must say that MM was a real gentleman in the surf with the girl by giving her encouragement, even though she ended up getting kabonged in the shorebreak. By the time I went out, a cross-onshore wind had come up and it started to get really choppy. I managed to put an hour or so in and get some reasonable rides but it just wasn't the same as the sessions I had the day before. Eventually we all ended back at MM's campsite and despite the numerous times we asked him if he wanted to share our cabin back at the caravan park he declined, preferring to sleep as near as possible to the surf. So we left him and headed home.
On our way back home along the dirt track we came around a bend and I noticed a small 2-3 foot wave breaking with perfect shape off a point. By now the weather had changed dramatically as the wind had changed from a nor'Easter to a south-easterly and there was thunder and lightning in the air. We turned around and drove back another 6 kilometres to let MM know, being aware that he wouldn't miss that one! He came back with us and went out by himself for another 30 minutes and got a couple of nice little rides before it started drizzling and getting overcast and dark. We finally left him there at his supposedly new campsite and said we'd see him there in the morning. The name of this spot was Big Hill.
After a few overnight showers the weather cleared up quite a bit, even though there was a reasonably strong south-easterly wind blowing, which meant our secret spot was right out of the picture and Crescents would be too small. Crescents was the first place we checked out and it was about three foot with about a dozen guys out so we decided to head towards where we last saw the Mountain Man, Big Hill. As we came around the corner I could hardly believe my eyes; it was going off like crazy. It was a lot bigger than Queen's Head with the offshore wind holding it up and peeling, sometimes unpredictable off the point and across the bay. Seconds later we saw MM's car coming around the bend and as he got out I could tell he was pretty eager to get out there amongst it. We both had a look and thought it was going to be a very long paddle, starting from way down the beach and around the incoming break. While he was changing into his gear I studied it a little longer to discover that one could walk about 75 metres alongside the point through the shallows and then in between the bigger sets make a 50 metre or so dash into clear water out the back. The timing of this little experiment was going to be very critical. As far as the girl's mood towards not being able to go out there she described it in her own words: 'It was f@#&%* huge! The guys got all excited, but I was so depressed because I could see it was way too big for me and looked quite intimidating. So I decided to stay dry and take some photos. Sitting on the rocks, watching the guys enjoying themselves in these big waves didn't exactly make me feel better. Neither did the girl on a shortboard I observed surfing out there. So I went back to the car after having taken some shots and sat there and sulked, close to tears, reading Women's Day'.
About 15 minutes after the Mountain Man went out I was making my own way through the shallow water while the girl was clambering over rocks on the point with her camera. I finally reached the point where I had to do the 50 metre or so sprint out the back and to my surprise the rest of the paddle out was very easy without any big sets coming through. Besides the Mountain Man and myself there were 5 other surfers. The sets were not very consistent, so we had to wait ten minutes or so for some of the bigger ones to come through. I noticed that the Mountain Man was sitting way out, over to my right, so I yelled out to him, 'What the hell are you doing over there?' He replied with something that I couldn't quite hear. The next thing I knew was what he was trying to say. A really big set came marching in and the rest of us who were sitting closer to the point had to scramble like crazy for the horizon just to get over them before they caught us inside. Meanwhile MM caught one of the bigger waves of the set, riding it all the way into the beach and across the bay. Don't worry he didn't mind telling me about it a couple of times. It was such a long ride that I didn't see him for quite a while and I thought he must have gone in but a quarter of an hour later he bobbed up out the back again.
The first wave I got was one of the smaller ones, as I usually prefer to get one of these at a spot I've never surfed before to get a feel for the place. Even at this size the take-off was quite steep and fast and I realised that this was going to be one hell of a session. The next one I caught, I'd call my wave of the whole trip as it had everything a surfer could want. A late take-off followed by a long and threatening wall and plenty of zip as my board responded to my every request of it. There were plenty of sections and opportunities for manoeuvres but the wave was moving so fast that now it all seems like a blur. All of a sudden the ride was over and I was trundling back towards the point to go out again.
Once again I managed to get out without any trouble but I don't think it did my concentration any good as I became a bit complacent about the joint. Very shortly after I reached what I considered clear water a big brute came through and cleaned me up. I was scratching to get out the back beyond it before it broke and just as I started up the face of it, it nailed me good and proper, driving me deep into the water like a nail through a soft bit of wood. The strange thing is that it didn't toss me around like a rag doll like I expected but just held me under for what seemed like an eternity. I opened my eyes as I always do when I wipeout but all I could see this time was blackness. I was trying to swim up but I didn't seem to be making any headway as I was still being carried forward by the surge. The seconds passed and then I started thinking, 'I'm going to drown, I've got to breathe and it's going to be water instead of air'. Just as I was about to take down my first lungfull of water I noticed that the darkness was beginning to clear and realised if I just held on for a few seconds longer I would burst through the white frothy surface and get some air.
I came up and gasped a lungfull, quickly looked around to see if I was going to be hit by another and then yanked my legrope to get my board coming to me instead of wasting time going for it. I'm not sure how long I was under but I reckon it was the best part of twenty seconds and even though it sounds a bit frightening, I wasn't in the least as it didn't seem that bad an experience. I really don't think drowning is that terrible a way to go. Probably the worst thought I had about it was that if I drowned it would have been a damn inconvenience by putting an end to all the things I like doing and to all the ones I love. This is not the first hold-down I've experienced as I suffered a similar one in bigger surf at Bells Beach back in the early sixties and the worst part about that one was the very long swim in to recover my board. Thank God for legropes these days!
As a result of this experience I lost my complacency, upped my concentration level and went on to catch a number of other rides that weren't so bad but nothing like the earlier big one. Eventually I came in and shared the stoke with a French guy who had been out there. We both agreed that this was a very special day and we were the very few surfers on this coastline lucky to get such a session. As usual the Mountain Man was the last one to come in and when I reflect on it he was always the first one out.
By the time we had all finished this session the wind had sprung up, the tide was coming in and the break was starting to look a bit messy. So we decided to pack it in for the day and go back to Crescent Head to see what was happening there. I don't think any of us was really surprised to find the swell had risen quite a bit but was currently suffering the same fate as Big Hill, too much offshore wind. So after an hour session that wasn't too fruitful, we decided to hit the Crescent Head Country Club for a bite to eat and consider where we were going to surf on the morrow.
The next morning we went to Crescents early before the sun came up and even at that time there were about a half a dozen guys out. The conditions were glassy and of a reasonable size with the Mountain Man already on his way out. It was about 15 minutes later that I was making that most pleasant walk of any surf spot I've ever been to, alongside the golf course and out to the point. The water was warm, even at that time of morning and the paddle out to the take-off point was as usual easy. I reckoned we had an hour before it got too crowded so we made the most of our opportunities and got as many waves in a short time as we could. This time the girl did a lot better, catching more waves than she ever had here before, which was very pleasing. The Mountain Man was up to his old tricks, sitting right out the back and over to the right, waiting for the bigger sets. I managed to get quite a few really long rides but I just didn't enjoy it as much as I usually do, because I reckoned I'd been spoiled by the waves at MM's spot and Big Hill. Crescents is fairly predictable and I really prefer a wave that isn't. After a while the wind came up and it started raining. It wasn't long before the break deteriorated into a bit of a mess. So we packed up our gear and went back to the caravan park and sat around waiting to see what might happen later when the tide started to drop around 4.00pm.
As it turned out the surf got worse, the size was starting to drop with the aid of the strong onshores and it looked like the rain was going to set in and hang around for a few more days. At 4.00am the next morning the Mountain Man came around to our cabin and the girl made him breakfast followed by a few cups of his beloved coffee. Afterwards, when the sun came up we met him down at a grey and rainy Crescent Head, the surf being awful, completely ruined by the strong north-east wind. Just for the hell of it we went down to our secret spot to check it out and found conditions clean with the offshore but too huge to even attempt to go out. So we made our way back to Crescents for the last time along that 20-kilometre dirt road with some regrets. The drizzling rain did nothing to improve my sombre mood and I wondered if and when I would ever surf there again. And if I did it just wouldn't be the same without the Mountain Man there,
On our return we ended up at a place called Munchies for breakfast, with MM all of a sudden deciding that he would leave right now. He shook my hand and said it was nice to have met me, gave the girl a hug and a kiss and left to go home to Sydney. We felt a bit lost without his company and didn't quite know what to do and nothing really cheered us up with the conditions being so miserable. After examining the weather forecast for the next few days there was no likelihood of any change here so we decided to pack up and leave and head south the next morning.
With no definite plans we left Kempsey at 7.00am and headed south down the Princes Highway towards Sydney. We eventually came to a large fork in the highway, which gave us the option of heading straight down south through Sydney, or left to the northern beaches where strangely enough the Mountain Man lived. There was no huge uproar in the car as I veered left and about a half an hour later I was walking through the gate of a property at Newport. As I stuck my head in I said to the freshly shaved bloke who was foraging around in his car, 'Any chance of someone putting the kettle on?' The reply came back 'Too right!' What a different bloke this was to the bushranger we had gotten to know over the previous five days at Crescent Head, almost neatly groomed and very much the caring family man, hardly recognisable. Later he took us for a short tour of his local beach and a couple of surrounding breaks. Afterwards the girl and I did a tour on our own and I showed her some of the first breaks I surfed back in the early sixties like Palm Beach and Avalon. Actually Avalon was breaking quite nicely with a reasonable sized left and right peak. For a minute or two I even considered going out and catching a couple but with 60 odd surfers all competing for the same inconsistent waves it was hardly worth it.
We were kindly offered the bungalow at the back to spend the night, so we decided to stay the night and invited the whole family for a meal at the local pub. Afterwards we went back to the house for a cuppa and a bit of a chat on the large front porch that MM had constructed himself, then it was off to bed for an early start in the morning to get through Sydney before the traffic started to move. So at roughly 4:30 AM we loaded the boards and paraphernalia onto the car and slipped out of the driveway as quietly as possible, so as not to wake anyone up. Our next stop would be somewhere near Wollongong and hopefully a meeting with the Mongolian Horde.
Well, we did the right thing and tipped Mr and Mrs Horde out of bed at seven in the morning with a call from a phone box on one of the main streets in the Gong. Ghengis said he'd be down the beach at Thirroul in an hour's time, so we went there and checked out the surf while we waited. The girl saw a guy approaching her, appearing very friendly, asking the dogs' names and wondering if she had a cigarette. He was wearing a huge crucifix around his neck, and she was assuming that it might be the Horde. Something should have told her though that he seemed a bit too odd, and he didn't carry a surfboard either, so she politely declined but pointed out that I might have a smoke. I was so consumed with checking out the surf that my mind was not quite with it as they both started walking over to me. I'll let the girl tell the rest of the story… 'Ron was walking over to shake his hand, and the look on his face when being greeted very friendly and asked for a cigarette was unbelievable. He really thought that this weirdo was the Horde! I nearly cracked up with laughter, and after Ron handed him the tobacco, the guy stuck his greedy hand into the packet and asked for the papers. I just managed to whisper to Ron that THAT wasn't HIM so Ron told this bloke that he needed to go to the Deli to buy some papers. The guy politely thanked and apologised for the inconvenience and slowly took off. Ron couldn't believe he'd fallen victim to the local village idiot! I was just sitting there, cackling for about ten minutes about this hilarious experience, when Ron announced he could see a couple with a pram approaching, the guy carrying a surfboard. 'Twas the Horde and his family!
The Horde was almost the complete opposite to the Mountain Man, as he looked more like a young student, a bit thinner, curly thick blonde hair and intelligent round glasses. His local break Thirroul looked like only a very small ride in length with a gnarly shorebreak, so I asked him if he knew of a spot nearby that perhaps had a bit more shape and perhaps a longer ride. He suggested a place just down the road called Austinmere; so we threw his board on top of ours and went down to have a look. Like so many of the Sydney beaches it was like a tiny bay, with what looked like a half reasonable left-hander breaking down the northern end. Apparently when this place is working at its best there's a right-hander which is supposed to be pretty good down off the southern end of the beach. There was a heavy sea mist clinging to this part of the coast and further to the south it seemed to dissipate into blue sky. Without any further delay I got changed and we took the boards off the car and marched down to the water's edge. The water temperature was a lot cooler than up north and it reminded me of what I might expect when we finally got home.
We paddled out with the aid of a slight rip and once out the back we got a better perspective of just what the waves were doing. They were quite a reasonable size with a shifting peak and even though it was basically a left-hander there was occasionally a right. The wave itself was coming out of deep water and jacking up slightly, making late take-offs the order of the day. As usual, I grabbed a couple of smaller ones first just to see what was going on while the Horde seemed to be doing ok with a couple of bigger and longer rides. Eventually I went for a larger one and was quite happy with the result so I thought I'd have a go for a right. The second right I caught, a bloke dropped in on me and as I completed my bottom turn and was starting my trim his board slammed into my left shin. I heard a loud 'Sorry!' as he was wiping out but I managed to retain my balance and finish the end of my ride. If that had have happened a few years ago I would have reacted a little bit differently but seeing that I'm not allowed to punch blokes' lights out anymore I just paddled back out and gave him the fuming evil eye. Just before I caught my last wave in a much larger one came through, the Horde was on my left just behind me and I thought he was scratching just like me to get over it. When I burst through the falling lip and turned around to see where he was, all I saw was the trail of his wake as he headed shoreward on that cruncher. Talk about spectacular late take-offs just to impress the interstate visitors! At least I'm glad he got the wave of the day.
We both left the water together and made our way back to the car. I could hardly see much point in getting changed and drying myself off. It had been raining on and off for the last three days with barely a break, so everything in the car was damp, including the towels. We dropped the young Horde off back at his house and politely declined the invitation for a cup of tea because we wanted to get out of this miserable rain and find somewhere dry. By the time we reached Kiama the sun came out and it turned into a glorious warm day. It was a Saturday morning and there was plenty of traffic on the road. As we drove past Kiama I noticed a number of guys surfing a nice looking break called Bombo. I was half tempted to turn around and go back but the need to get closer to our next overnight stop was more urgent. However, we did stop at Ulladulla when I glimpsed a wave breaking out off the point of the bay. We drove up a road leading to a lighthouse and took a left-hand turn down a dirt road, followed it until we could go no further and walked down some steps to find the wave we were looking for. We took a couple of pics and made a mental note that if conditions were right on one of our future trips it would be worthwhile checking out as it showed a lot of possibilities.
When we finally arrived at Batemans Bay it was late afternoon, so we drove along the beaches and checked them out, but there wasn't much swell around. That evening we made a decision to head down and across to Victoria and the Surfcoast as there were no chances of any improvement here. We left early the next morning and stopped at Narooma to find that the surf had not miraculously jumped overnight, took a couple of pics of a glorious sunrise and then continued the rest of journey to Torquay. As soon as we crossed the border a very strong south-easterly wind sprung up and in this part of the country this is bad news as far as the surf is concerned. The girl generally phones ahead in regards to accommodation but for some unknown reason this time she didn't. This was probably the only mistake we made on the whole of our 5,000 kilometre trip. So when we arrived, the caravan park we usually stay in was fully booked and so was every other form of accommodation, due to it being Labour Day and Grand Prix weekend in Victoria. Driving on along the Great Ocean Road in the hope of finding something further down the track I was checking out the surf as we went along. The south-easterly was completely out of control and it looked like days before there would be anything like a decent wave on this coastline. We finally managed to find a motel for the night at Warrnambool, where a room had just been cancelled. The next morning we were up bright and early again to complete the end of our long and highly successful surf trip albeit, the last leg being a little disappointing.
To sum up this trip I would like to say that this was probably one of the best surf trips I've ever been on and there are several reasons for that. I've often said that the New South Welshmen are the most congenial people I've had anything to do with in this country and the guys I surfed with and the others I met along the way only confirmed this belief. I mentioned before that the Mountain Man and Mongolian Horde are completely different blokes as far as personality, stature, etc go but certain things they have in common. No one could ever question their endeavour or stoke as far as surfing goes. They just go out there and ride it…no complaints. The friendship they showed towards the girl and myself will never be forgotten. Thanks fellas for making our holiday and I only hope it's not too long before we surf together again.
We arrived at the Surfcoast, Victoria, at 12.30pm and promptly went to Torquay Beach to see what the surf was doing. Unfortunately the tide was at its highest and any swell around was pretty small. A quick trip to Bells Beach confirmed that nothing much was happening here competition-wise either and that the day's heats had been called off until the morrow. So, to fill in the remaining part of the day we headed in an easterly direction towards Ocean Grove to pick up a long awaited surf sticker from 'The Green Room'. Along the way we checked out a few spots that might be working for an early dawn patrol the next morning. One spot in particular showed a lot of promise and that was Point Impossible.
We arrived there about 30 minutes before sunrise to find it near perfect with four guys out already, scratching around in the dark. Incidentally, the last time I surfed here was in 1970 and those blokes wouldn't have been out in the dark if it was anywhere near the size it was then!
When Point Impossible is small, it's a perfect longboard wave with a beautiful peak that rises over a shelf type reef (no hidden jaggardies) and runs right for about 100 metres or so, depending on the tide. At the end of this 100 metre ride another peak pops up in front of you and sometimes you can make it through when the swell is a foot or so bigger making, it 150 metre ride or even longer. Given that extra height in the swell, with a low tide this would be an ideal shortboard wave as well, unfortunately I believe that this spot could get extremely crowded.
Over to the right of this break and a further 300 metres out is another reef break that is also a right. I considered paddling out too but was glad I didn't as one of the blokes I talked to said it was far too windy and not worth it. Strange, as it looked so good from the shore and slightly bigger. The water was surprisingly warm and the only need for the wetsuit was to keep the chilly offshores out of the bones. After we finished our session, we drove down to Bells Beach to watch the Rip Curl surfing competition.
Let me start off by saying that I'm not a great believer in competitive surfing, never have been and never will, although I'm a reasonably aggressive surfer myself. Having said that, we went to Bells to have a look at the comp for the girl's sake. As far as I was concerned all I wanted was to see was some good riding and hopefully get some good pics, but truthfully, I would rather have been out riding myself. By the time we got there the heats were well under way, Occy and Shane Dorian had already completed theirs. As we walked down the hill we stopped and watched Taj Burrow get some excellent rides and if I'm any judge of good surfing then from what I saw, whoever beat him would take the prize. We placed ourselves down at the base of the cliff to get the best vantage point, along with about ten other photographers. After seeing what these blokes were using to get their photos I felt that our equipment was about Kodak Brownie Box.
There are basically two breaks at Bells, Rincon and the main break, the Bowl. The waves at Rincon and The Bowl are both right-handers and operate according to wave height and tides. Rincon provides a reasonable right-hander on a high tide with a smallish swell. The Bowl works best on a low tide and once it starts getting over 1.5 overhead, the waves get hollower on a low tide and fuller on the high. Bells can handle waves of three to four times overhead and waves from double to triple overhead are not uncommon over autumn and winter. On rare occasions, when conditions are near perfect it's possible to get a ride outside Rincon and through the Bells Bowl to the shorebreak. And that's when you know Bells is at its booming best! The best winds are from north-west to west and because of the cliffs the westerly can be reasonably strong without blowing the wave face apart.
Despite the slight onshore breeze it was reasonably clean with some nice shaped waves coming through about six foot, some maybe bigger as the competitors were riding from Rincon right into the beach. Normally they would be riding Bells proper but with the current tide and the swell so small there wasn't any other choice. It was announced over the loud speaker system that when the tide went out they would move the contestants closer to the Bowl but the swell size dropped as the tide went out and if anything the wave quality got worse. Regardless, there were some incredible rides and both the girl and myself really enjoyed it. The pity about competition is, in my opinion, that there has to be a trophy attached to it. I don't care whether a person is riding a short- or a longboard, there's only one thing better than watching great surfers for six hours tearing a place apart and that is being out there and getting my own modest rides.
One particular heat I'll never forget though, was the one with Jake Paterson in it. From almost stone motherless last, nearing the final siren, he picked up an absolute screamer and ripped it to shreds from way out the back all the way to the beach. Another outstanding rider was Victor Ribas from Brazil who comfortably won his heat and I expect him to be up near the top as well.
Down to the left of the bay at Bells is another point known as Winkipop, and while the comp was on there were about sixty guys out there free surfing. Strange term that, 'free surfing' as it cost those blokes $5.00 each to go out there as all the roads to the Bells area were closed and an entry fee was charged to get access even to there.
Later that night I watched the various weather reports and in the morning when we left to come home via the Great Ocean Road I wasn't at all surprised to see that the forecasted 30 knot winds had sprung up before the sun had. This made conditions absolutely deplorable. We checked out Lorne which is offshore with winds like these but it was too small. We raced on towards Kennett River which was the only break working at all, to find it small and overcrowded. On the other side of Apollo Bay it was even worse, very onshore with washing machine-type conditions. I just can't wait to hear how good it was at places like 'Johanna' and 'Castles' as they are awfully mean places, as they're open to all the elements and only surfed when no where else is working and then it's experienced surfers only. If Bells has a wave of a reasonable size then you can be assured that places like Castles and Johanna are unrideable, full stop!
The girl was tickled pink to see her first international surf comp and I was more than happy to get another go at Point Impossible after all these years, all in all it was a most enjoyable trip.
The girl's story
'I was so excited to be part of the whole thing, to be privileged to sit there and watch the world's best surfers performing right in front of my nose, being included in the atmosphere is a feeling I won't forget. The surfers were walking right past us, climbing over the rocks to paddle out at Rincon, because the Bowl wasn't breaking. Jake Paterson asked Ron to keep an eye out for his spare board, and Ron told one of the participants to better make sure he'd smile out there as he was on camera. I was just fascinated by all the action going on. We were currently watching Heat 10, with Victor Ribas (Brazil), Chris Davidson and Armando Daltro, with Ribas winning. The next heat had Shane Dorian, Taylor Knox and Matt Hoy, Hoy being the successful lead. Watching these guys perform, being able to see what 'real' shortboarding should look like, carving away so expertly, in water that was bottle green and as clear and clean as you could wish, with waves as big as 4-6 foot. The shorebreak at Bells, due to the steepness of the beach, looks like an absolute killer, and the guys surfed nearly all the way from Rincon up to the rocks where I had parked my bum to take photos. It was high tide as well, so we were really lucky to get some terrific close-up action shots.
One of the photographers approached Ron with a cautious look on his face and asked him if he spoke 'a little English'. It turned out that he was a freelance photographer named Fernando from Buenos Aires. Ron being his cheeky self of course flooded him with Aussie Slang, and they got on like a house on fire, with me casually inserting the Spanish question where to find the gas station, which was all I remembered of the Spanish course I'd had ten years ago. Fernando admitted that this was a very important question indeed. We also met a guy named Tim, who was taking photographs as well and had been out at Point Impossible the same morning with us. He gave me some information about his equipment. The highlight of the day was the promotion girls coming around, dressed in violet-coloured jumpers, offering free Cadbury chocolate. Good thing Ron was there, as I ended up getting his share as well! Time flies when you're having fun, and the heats passed, each being 30 minutes long.
Unfortunately we heard that we'd missed Occy, who'd just surfed before we arrived. Not too perturbed about it, we continued to watch the tide drop and the announcer promising that with the tide going out, sure thing the Bowl would be working, but it didn't because the swell wasn't big enough. The pressure on our bladders got worse as the hours went by, the sun showing itself from behind a cloud cover occasionally, setting the whole place on fire. I urged Ron to wait a little longer, as I was very keen to watch the women's heat. After the 16th heat, it was time. Rochelle Ballard and Keala Kenally, both from Hawaii, casually walked past and launched themselves into the water. They had to wait a while for the PWC's, the personal watercrafts, to place two buoys to indicate the drop-off points.
I was surprised that the girls had the advantage to be towed back out again after a ride, compared to the men, who had to paddle all the way manually! I just hope the women didn't get paid the same amount in price money! The surf was getting worse, and admittedly, the women's performance wasn't as enjoyable to watch. We stayed for another heat with Belinda Godfrey and another female surfer from Australia, but got slightly restless, partly due to an overwhelming urge to relieve ourselves, which didn't get any better with the prospect of climbing back up the steep hill to the smelly toilets.
Still, I would have liked to stay longer, but it started to get dark slowly, being 5.00pm, and even the thought of watching Layne Beachley couldn't convince Ron to stay any longer. I couldn't blame him, because he had been extremely patient. While we were walking back to the car, me still rambling on about how stoked I was and how disappointed that I hadn't seen more famous faces, Ron just said, 'There he is' and pointed… to KEN BRADSHAW who was casually striding past, smiling, probably keen to support his girlfriend Layne. What a day!'
To say expectations were not high about getting some terrific surf up the East Coast would have been a gross understatement. Recent reports regarding conditions up there over the previous weeks were nothing short of excellent. So with high spirits we left Adelaide at 4.30 on a Monday morning with a magnificent full moon over our right shoulders. Around 6.00am the first glow of what promised to be a delightful sunrise confronted us on the horizon, which eventually turned into a glorious day. Our first stop was at Pinnaroo and the local wildlife sanctuary where we renewed some old acquaintances with some of the indigenous species. Shortly after that the girl took over the driving while I had a snooze for a couple hours, until we crossed the mighty Murray River at a place with a name that always tickles our fancy: Tooleybuc. Generally I find the first day of the trip long and boring but we seemed to be doing good mileage and those 1,200 kilometres seemed to pass fairly quickly. We arrived at Forbes and the River Meadows Caravan Park where we usually stay at the around 4.00pm. That night we went to the local RSL club for a meal where they were having a 'steak night'. You should've seen the line-up; the locals were certainly out in force and queued down to the street, and they all seemed to look like cast members for a 'Deliverance' type movie.
We left Forbes Tuesday morning before dawn and made our way on the last leg via Dubbo, Coonabarrabran and Walcha to Kempsey, where we arrived at lunchtime. We spent five minutes unpacking the car then a quick dash down to Crescents to check out the surf. The wind was blowing a strong cross offshore and as we turned into the small road alongside the caravan park the girl piped up, 'I've never seen it as big as this before.'
Even as buggered as I was from the trip it wasn't long before I was walking down to the point with my board under my arm. I stopped about three quarters of the way and decided to launch from where I'd seen a couple of others do likewise, about 75 metres short of the point. A handful of guys were riding the big ones that were coming off the point but their rides resembled more like a big blast out of a cannon and that didn't make it look too appealing. A further 75 metres inside about a half a dozen were getting some reasonable rides, which was more to my liking.
As I took off I noticed the sand had built up quite a bit from our previous trip and there was an extremely strong drift pulling me back in and down towards the rocks. Once past this obstacle I found there was another strong drift down towards the north and I was continually paddling back to get somewhere near where it was possible to catch a wave. I kept on thinking, 'This is not breaking right and it's too big'. These thoughts were to be echoed by some of then local guys I met later on, who said, 'You should've been here last week, when the swell was coming from the right direction.'
I found out later from a guy called Stewart that a friend of his had broken his leash and lost his board. He got caught in this drift and was dragged a fair way north, then got caught in a rip, which took him further out. Eventually, after struggling for quite a while, he made it back in fairly exhausted from his plight but he never managed to recover his board, even though he walked down the beach the next morning at first light looking for it. I caught a couple of waves but gave it away after about an hour and came in with the hope that the conditions might change for the better later.
I grabbed the camera and walked out to the point with the intention of getting some good, scenic shots. How many surfers who have made that walk, have looked over at Crescent Bay and not been in awe of the complete majesty of the big stuff that rolls in there. There are less than a handful of places I've seen where you can get a real good, up close look at the ocean in all its unrestrained greatness, from a number of angles. I clambered out as far as I could over various types of rock, some so smooth that the peril of slipping was very real and some as sharp as a razor, so any quick retreat from a threatening wave was extremely dangerous. The energy from every wave that is coming in has almost no escape back out but it continues to oppose the incoming ones. One set in particular I saw coming from way out; it had me taking a few cautious steps back just in case it was a sneaker set. It approached the bay so stealthily that it almost appeared to be a harmless, gentle mountain just cruising along until it reached the bay and the outgoing energy from a previous, lesser sized set. And it was where these two peaks of energy met that the most spectacular occurrence of all happened: a huge surge went almost straight up making the wave at least three times higher.
All the way up and down the line of these waves, comparable and impressive events were happening. To my left and straight out in front a colossal left rose up and threatened to swallow the huge rock in front of it. In the middle of the bay this wave hit a shallow spot like a freight train, lurched up and then out, finally falling from top to bottom like wet cement. Far over to the right another section formed into a gigantic wedge and rammed itself into the huge cliff face, sending a thick spray of whitewater umpteen metres into the air. The outgoing energy in the form of an almost rideable wave, which was about two thirds the size of the incoming ones continued out for quite a number of metres before it disappeared, almost mysteriously, into deep water.
This scenario repeated itself over and over again, causing me to feel very insignificant. A large rock, that was sitting out in front of all this, was copping most of this furious onslaught. On the side of this rock was a rich patch of green seaweed, which was also catching the last rays of the fading sun. I pondered that in amongst that weed there would be small life forms, carrying on with living, as if nothing was happening amidst all this fury. I also thought about the fisherman who had been swept off similar rocks in heavy surf, a couple of kilometres further south and whose body was never recovered. I even imagined myself, somehow being placed in the middle of all this and contemplating what I would do. The only answer I could come up with was nothing; if I managed to survive the assailment of the first wave then there'd be no way of surviving a second, as I would be caught in the maelstrom, it would never let me go.
I truly love the sea in all its moods and the many settings that it is presented to me in. I could have stayed there for hour upon hour watching it, but it was starting to get pretty dark, so I climbed back over the rocks and then over the hill. I couldn't help to continually look back, in awe of the bay, to catch a final glimpse of its magnificence and its terror.
The next day I could see in the early morning light that the swell had dropped but only a fraction with the offshore breeze now almost from the perfect direction. While out on the point and standing on one of the rocky fingers we could make out the silhouette of a single surfer against a framed wall that was coming around the point. The sun was well up when I finally decided to go out just in front of the rocky fingered outcrop. I'd have to be honest and say that I didn't enjoy this session any more than the previous day, because it still wasn't breaking properly. I got a couple of rides but decided to save most of my energy for when it was working better.
On Thursday I was deeply disappointed when we arrived to find the swell had dropped dramatically and what was left of it still seemed to be coming from the wrong direction. It was such a pleasant day and just perfect conditions for the girl to add to her learning curve, so she decided to go out. After a short while I joined her and surprisingly enough enjoyed a nice little session, despite all her efforts to drop in on me. I went out directly off the point this time and while I was out the back, waiting for a wave with half a dozen others I thought I could hear bagpipes playing 'Amazing Grace'. I looked up and on top of the Nobby there was this guy with his pipes playing away to his heart's content, as if trying to get the surf back up. After that I continually had the dirty ditty version of it going through my head, 'Amazing Grace come sit on my face.' They told me that he was playing the morning before, so he has to take the blame for the bloody swell dropping. I confronted him coming back down the hill on one of my sojourns to the point and asked him if he wouldn't mind trying a piano next time, as he might have more success conjuring up the surf.
Friday saw the size no bigger but we hung around for a while, as we were expecting to meet up with a fellow newsgroup surfer from Newcastle by the name of Madrat. Finally the girl decided to go out at Crescents with only two other guys out in the water. She paddled up to one and asked, 'Are you Madrat?' and he looked at her and said, 'That's a new one!' I presume he'd been called names before, but he said no, his name wasn't Madrat. Out of frustration I decided it was a good idea to go for wave, while the girl thought it was also a good idea to drop in on me on every possible occasion until she finally hit me with her board. When we were convinced that Madrat wasn't going to show we decided to check out Big Hill plus a couple of other spots nearby that might be working. Big Hill was working with about a dozen blokes sitting in the water, which oddly enough reminded me of ducks in a shooting gallery and I had no great wish to join such a mob.
I must say that my sleeping habits improved quite a lot while we were away, as I found myself sleeping in regularly till 2.00am every morning. At 4.00am on Saturday I was walking the dogs in a nearby park when I noticed a stationwagon with a longboard on top do a u-turn and pull into the caravan park. 'Twas the Mountain Man. We supplied him with his usual fix, a dozen morning cups of coffee, and much talk was made about the state of the current surfing conditions. One of the unique things about MM is the way he makes his cup of coffee. It's a real treat to watch, as he never uses a spoon and pours the coffee straight out of the jar.
The minutes passed very quickly and before we knew it the time was approaching six o'clock. It was decided that we head down to Crescents to see if there was any improvement in the surf situation. This experiment proved to be fruitless so we journeyed on to Big Hill and the other locations that we had checked out on the previous day, with even less success. The Mountain Man decided that he was going to make his base camp at Big Hill. So while he was getting himself settled in and ready for a quick nap, the girl decided to go out while I grabbed the camera and made my way up to the hill with the intent of getting some rare photos of the girl surfing. At first she was by herself, then shortly afterwards she was joined by two gentlemen who gave her a few clues on which waves to go for.
Just after midday an onshore breeze sprung up and what little surf there was deteriorated rapidly, so we left the Mountain Man there and made our way back to the caravan park for lunch, where later I hoped to watch a match of AFL Footy. I had just sat down for a feed of chicken and rice when I heard the girl talking to someone outside. To my surprise and delight it was Riq de Carvalho from Newcastle, on his way through to home but he couldn't hang around long. He had already been to Crescents to check the surf out and when I told him that the Mountain Man was there sleeping in his car he seemed genuinely disappointed. Within a few minutes of Riq turning up I heard the girl talking to another person outside, this time it was Madrat, who had set up his 'Taj Mahal' tent in the park directly across from our cabin. Before I go much further here I would like to describe Maddy's 'Taj Mahal'. It was so huge you could've held a decent size party in it. He'd brought everything to go along with it, cooking facilities, heater, light, blow up mattress and I suspect even a blow up doll, all operated with the aid of his car cigarette lighter. Riq was in a hurry to get home, so we very quickly got a photo session going. Talking to Maddy a bit later about Riq, we both agreed that he looked exactly how we both mentally pictured him, right down to the moustache. After Riq left, we decided to go back to Crescent Head with Maddy, check it out again and try to catch up with the Mountain Man. As we were about to take the turn-off into the Crescents beach parking area we spotted MM coming out of the local general store, eating a banana. After introductions were made we walked over to the Crescent Head Tavern for a get-to-know-you session, knowing that a surfing one was totally out of the question. While in the pub someone brought up the subject of playing pool. I very hastily declined as playing competition sports with the girl can be quite dangerous and I had no wish to have a cue stick wrapped around my head. Maddy took up the offer and beat her three zip and to my surprise came through it all unscathed. She must have liked him.
The next morning was freezing. We woke up Maddy who followed us down to Crescents first, but nothing was happening there, so we made our way to Big Hill, where we found the Mountain Man already awake. A magic scene greeted us: there was a thick fog hanging over the water, which was slowly drifting seawards, whereas on land everything was clear. The main thing was that there was a little wave going for us. We got changed and waded out into the water, boards under our arms. The sun was just rising and what a glorious sight it was, everything was bathed in a golden light in amongst the thick cover of mist, the water was so crystal-clear you could see the sandbar ripples underneath, and it was as warm as toast.
We all had an enjoyable session; although it wasn't challenging, it was just pure fun and pleasure sharing the company of people that love being out in the water, in nature, fresh air, just the four of us. As usual MM milked the waves, riding them nearly all the way to the beach, I had to put up with some sheila dropping in on me again and Maddy was doing all sorts of tricks from hanging ten backwards to doing head-dips. At one stage I had just paddled out and was turning my board, Maddy was paddling for an oncoming wave when all of a sudden he stopped, yelling out to me, 'Yours!' By then I was quarter of the way up the side of the wave, I briskly proned out, trying for a one-thrust-take-off. Of course I missed it and snapped back at him sarcastically, 'Thanks mate, good one!', meanwhile the girl who was sitting in the middle of this was cackling so hard she nearly fell off her board.
A bit later on, when we were having a little rest, Maddy attempted to light a smoke with the aid of his car cigarette lighter and to his amusement found the battery was dead. All the basic checks were done, water, oil, petrol, fuses etc. to no avail. Because there was no mobile coverage and the girl and I were getting hungry anyway, we gave Maddy a lift to town to ring for assistance while we had a meal at the pub. About a half an hour upon our return to camp, the bloke from the NRMA arrived and got the car going again. His advice on leaving was that Maddy should NOT stop the motor at any cost before he could get it to someone and have a real good look at it. Of course, Maddy took the guys advice and only stopped at the bank, the petrol station and the pub.
When we pulled into the caravan park later, we got the shock of our lives. We saw immediately that our German shepherd was not tied to the railing of the cabin anymore where we'd left him, but instead lying on the grass, with the leash trailing behind him. On other occasions we have always taken the dogs with us but since we were likely to be surfing in a national park area we had left them tied up at the cabin. When the girl got out of the car and grabbed him, a bloke who was our new cabin neighbour walked over and advised us with lowered voice of what sounded like an absolute massacre that appeared to have happened in our absence. We just heard 'attacked kid, killed chickens, police called', as we stood there dumbfounded, wondering how the hell our dog had gotten loose, when the leash was still in place around his collar. As I walked closer to the cabin, I could see what had happened: part of the railing had broken off, so he got free.
The girl wasn't thinking clearly, still holding our dog who was pulling to get off the leash, when this bloke came closer towards her, still talking about the dogs. Our dog lunged at him and tore a hole in his jeans. The girl apologised to him and offered compensation and he went on to say that he knew about dogs and that this dog was dangerous, but not to worry about the jeans. He then retreated back to his cabin and the girl put the dog in the car. Then the police arrived, two female cops took our details and also advised us that the dog was dangerous and we shouldn't leave him tied up to the cabin. Then the bloke re-appeared, very nicely changed his story and advised the cops that it was a dangerous dog and should be put down. He turned to me, patted me on the shoulder and said, 'Hey mate, I can see you're working class people, just like myself.' And then in the next alcoholic breath he went on and advised that we could be sued by the lady whose chickens got killed and continued to describe all these horror scenarios. The cops interviewed the chicken lady and some other people, while the caravan park manager came over with a smile on his face, saying not to worry about anything. He was sorry about the resident yelling abuse at us because of her chickens. The cops left us with the threat of returning with a ticket. It wasn't making sense. Nobody had actually seen our dog killing the chickens, and no child was hurt either, and it seemed as if some of the kids perhaps may have provoked the dogs, and Rex being protective eventually tore himself loose.
The girl was devastated. What a miserable ending to a wonderful day. We were sitting in the cabin, shaking our heads in disbelief and shock when Maddy popped in and said he saw the cops leaving and inquired as to what the trouble was. He casually planted himself and a bottle of Tooheys on the couch and proceeded to reassure us that we shouldn't worry and nothing much would come out of it, and he also confirmed that the guy that posed as a dog expert shouldn't have approached our dog the way he did. We were sitting on edge, listening to every car going past, waiting for the cops to come back with the shotgun to shoot our dog, but it got later and later and nothing happened. Finally we dragged ourselves to bed.
Monday morning we got up early again and we decided that we weren't going to take any more risks, so we put the dogs in the car and took them with us to Big Hill. The surf had dropped a little, but we still had some fun waves. At about midday it was time for Maddy to leave, so we all said our good-byes. Later in the afternoon and after he'd gone we drove back to the cabin with trepidation, but thankfully the bloke next door had left already. We had a chat to Mrs Caravan Park who apologised for the commotion and basically voiced our suspicions, thinking the kids had teased the dog. She wasn't concerned at all about the whole episode, which made us breathe a big sigh of relief. We were a bit sad to see Maddy's Taj Mahal tent gone, but he'd left a block of wax on our doorstep, which was really beaut. That night was the first night we slept like babies all the way through.
On Tuesday morning we brought MM another thermos of hot water and coffee to indulge in. While the girl walked the dogs along the beach I walked to the top of Big Hill to check out the surf. The surf had dropped even further but we went for a little splash and giggle wave. It was another glorious morning in paradise after the previous day's tensions. A pod of dolphins joined us and slowly swam really close by, and as we were lying on our boards watching we noticed that some of their dorsal fins were distinctly marked. It was just another magic moment. After we finished this session I got a fire going to bake some spuds in the hot coals. Suddenly three white jeeps came around the corner, carrying a group of park rangers, and one of them came up to ask who the dogs belonged to. We were advised that on this side of the park dogs were not allowed, but on the beach they were, which didn't make sense, and neither did the sign at the entrance of the park. He was waving his ticket pad around and we thought it'd be wiser to retreat instead of spoil the day with a $300 fine. MM was very compliant and said we were going to leave but there was no way we were going to leave before the spuds were cooked so we just took our time getting packed up. We ate the spuds half cooked, packed up our gear and left. MM had decided to go up north to see a friend, and we thought the prospect of no surf in the immediate future was not very attractive, so we had a final cup of coffee at Munchies, said our good-byes and parted company. It's always a bit of a feeling of loss to see the Mountain Man go, as he always seems to have a way about him. We were a bit undecided about which way to go home the following day, but when I saw the weather forecast that night we left the next morning via the same route we'd arrived – inland.
The journey always seems a little longer going home and both of us were feeling very tired and jaded. On one of the more tiresome, longer stretches that I was driving when everyone was asleep I found myself reminiscing some of the episodes that we had shared over this whole time frame. I had mental pictures running through my mind of the Mountain Man, silhouetted in the barrel of a wave with his characteristic style of back to the wall stance, while with Maddy I remembered his endless noserides. As for the girl, I guess a smile came to my face as I relived the moments of agony and ecstasy of every wave I saw her catch and how they ended up.
Surfwise, this was not one of our most successful trips but I will say it was one of our most enjoyable ones. I've always said the New South Welshmen are the most friendly people I've met in this country and the ones we shared our time with on this trip only confirms that belief even more. Thanks you blokes for making our trip.
We left Adelaide at four in the morning on the 11th of March with a fair amount of trepidation in respect to the limited amount of information we had on weather conditions up the east coast. There was some concern about the flooding around Kempsey, as the girl had rung the State Emergency Services and was told it was the worse flooding in 66 years. Right throughout Saturday we tried to get further updates, and that night we heard that half of Kempsey was underwater but there was zero information about Crescent Head.
We reached the Victoria and New South Wales bordertown of Tooleybuc at lunchtime after six hours of driving in mild and sunny weather conditions to find the day a surprisingly cool 17°C. By the time we crossed the Hay Plain and arrived at the town of Hay the temperature had climbed to almost double. It was near impossible to sit there and consume our lunch, as the quantity of flies was almost unbearable, so we had to drive and eat at the same time.
At 4.30pm we reached Forbes where we had made a booking in the caravan park. That night we watched the news on TV and from what we saw I had strong thoughts of turning back. On the drizzling morning light we decided to continue on and take our chances, even if they weren't so hopeful. The rain continued right through the night and bucketed down for most of the next day until we reached the start of the rainforest at Walcha. Just before we reached the turn-off at Bendemeer we spotted several cars with boards on top travelling south on the New England Highway, obviously deterred by the closure of the Pacific Highway the other side of Kempsey. The sight of all those vehicles with boards travelling south did nothing to improve my confidence that we were going to have a successful trip. It was on this stretch of road to Walcha that I got a chance to play hero, when I spotted a small turtle, starting its very dangerous journey of crossing the road. I picked up the little bloke and carried him across in the direction he was heading and placed him in a fairly safe spot. There must be a huge amount of turtles in this particular part of the country, as he's the second one I've saved from being squashed on this section of road.
A few kilometres the other side of Walcha we did something we rarely ever do. We stopped and did some sightseeing at the Apsley Falls. This decision was made due to the tremendous amount of water falling from the heavens over the last week or so, and we were keen to see a bit of action as a result. We've seen many falls on our trips but this is by far the most spectacular of all. From the carpark it didn't appear to be very impressive but the sound of it surely was. As we walked down the initial steps we could see that the ones further on were leading almost straight down and it made us giddy just looking at them. About two thirds of the way down is a lookout that hangs out from the cliff where people can face and take in the view of the huge volume of cascading water. A sign said, 'Viewing for six people at a time only' which deterred me from venturing out. From where I stood I noticed some huge rocks, the size of cars about halfway down that had over time been a part of the original falls' face and were now being pounded by the relentless water pressure.
From there we walked up the stairs and further over to the right to another lookout that was even more impressive. Like the other one it hung out almost in mid air. The chasm of the valley was extremely deep and almost scary. It was impossible to see the bottom, while all around a myriad of smaller waterfalls were joining in on the river's wild journey. I don't like heights but ventured out onto the lookout, almost as far as the girl did until I looked down to see nothing below me except fresh air. That was enough for me to move back to where I felt safer. As we walked back to the car we noticed several spots on the cliff top that had been roped off and on closer inspection it was obvious that these huge sections would shortly end up in what the girl, timely called 'the abyss'.
We arrived at the Willow Brook caravan park at 5.00pm to find that someone else occupied the cabin we had booked in advance, despite the girl making three phone calls to confirm our booking. We were offered another smaller one that looked like a dog box and smelled twice as bad with water gushing out of a sewer drain in front of the door. The girl got her money back from the owner and we were lucky enough to secure a cabin at the Southside caravan park next door.
We bothered unpacking the car, as were keen to see how bad the situation was with regards to getting to Crescents. It didn't take long as we had only just taken the turn off from the main road and a few hundred metres down we could see the road was covered in water. Although it wasn't deep I knew that further down it would be a lot worse. From reports we got from some of the locals the floodwater near Crescents was from 4-7 metres deep. Not being satisfied by these varying reports I decided to ring someone at Crescents myself, to find out that it was only 5 foot deep but probably impassable for several days. Also the large swell that had been hanging around the East Coast the previous week had all but disappeared and according to the swell maps there wouldn't be any for several days.
On the way home I was reminded of what Bruce Brown had said in his movie 'The Endless Summer 1': 'It was hard to find a place working when you're only there for a few days or even a week. You have to be a local or spend a lot more time in a particular place to find out if a break is worth it'. The irony of it is that he never took any film of the surf in Australia, perhaps he should have tried the more consistent waters of the Southern Ocean.
12. August 2002
It was not by chance we left Adelaide at 4.30am on Monday the 12th of August for the East Coast, because we had done our homework. By all indications there was going to be a reasonable sized swell. With a strong southerly wind behind us we made good distance and arrived at our first stopover town of Dubbo just before the sun went down. We had a terrific meal at the 'Western Star' pub, which had posters of all the western movie and TV stars hanging on the walls. Being an old yippee fan I checked them out and found one which had the name of Fess Parker posted below it when in actual fact it clearly was Clint Walker. And when I pointed it out to the waitress to my surprise she agreed and said she'd let the manager know in the morning.
The good travelling continued the next day and as we neared the mountain ranges we noticed how dry everything was. It looked like there hadn't been any rain since our last trip back in February, and it wasn't until we stopped at the Apsley Falls that our suspicions were confirmed.
At Crescent Head we found the surf small and not breaking properly so we checked out Big Hill and Back Plomer which to our disappointment weren't working either. We were desperate for a wave so we went out at Racecourse Beach. The water was warm but the air temperature was colder than expected. The waves were about two to three foot and the water was clear with a sandy bottom. We paddled out through the rip and didn't have to wait long to get a ride. Of course I caught the first wave of the trip and the girl gave me a serve by saying, 'You always have to get the first wave, don't you!' It wasn't long after that she dropped in on me, catching the wave of the day and judging from her reaction getting the ride of her life. After about an hour or so we got a bit cold due to the strengthening cross-offshore wind, but we were glad to get wet after the long drive.
Wednesday, 14. August
After a tasty evening meal at the Kempsey pub and a good night's sleep we checked out Crescent at first light. The forecasted swell had arrived but a lot of sand had moved away from the point and Crescents wasn't working the way it should. It was huge and peaking about 200 metres off the point and going further out, across the bay. Even the inside section wasn't working; at no time of our trip did we bother to put the boards in the water here. After some deliberation we decided instead to follow the swell up north to Queensland and left Crescents at 9.00 in the morning. The first break we checked out was Minnie Waters where it wasn't breaking properly either. Driving through the Yuraygir National Park, we continued to Yamba and Angourie. Angourie was breaking ok but was being affected by the strong south to south-easterly wind. Put it this way, it wasn't breaking well enough to go to all of the effort of messing up the car, getting changed and climbing all the way down. Even so there were about a half a dozen brave souls out who convinced us it wasn't worth the effort.
Next we had a look at Lennox Head which was big but in the same nick as Angourie, so we then drove through Byron Bay and checked into the caravan park at Chinderah Lake near the border. By the time we reached Byron we were starving because we hadn't eaten all day and it was getting very close to sundown. Just as we entered the town we encountered some road works and got caught in a traffic jam. After waiting what seemed like an eternity, our hunger got the better of us. I jumped out of the car and headed for the esky in the boot. With one eye looking at our non-forward progress and the other in the darkness of that container I yelled out to the girl to keep me informed of the situation. As I groped around I felt something wet and damp. Thinking it might be a slice of ham I pulled it out to discover a wet sock. I yelled out to the girl, 'Who the hell would be stupid enough to put a wet sock in an esky?' I didn't bother waiting for an answer as I finally found a lump of cheese, some very dry crackers and a large bottle of coke. I grabbed this booty and slammed the boot lid, only to discover I had a huge audience of other traffic jammed motorists witnessing my idiotic antics. None the least was the bloke driving the bus right behind us, who was near pissing himself laughing. To finish my performance I held the foodstuffs aloft and called out, 'Nothing better than wining and dining in a traffic jam!'
Thursday, 15. August
At dawn the first break we saw in Queensland was Greenmount. It was disappointingly small, so we drove further up north, checking out all the beaches along the way. The only place it was a decent size and breaking nicely was Burleigh Heads. There were a lot of surfers out so we decided it was a good chance of getting some decent shots. I noticed most of the riders were shortboarders and when I saw a longboarder making his way out I quipped to him, 'You'll be as popular as a pork chop in a synagogue out there!' He gave me a cheeky grin and answered, 'We'll be right, mate.' After taking heaps of photographs we drove back and checked out Kingscliff, Cabarita and Pottsville beaches. There was swell all right but it just wasn't wrapping around the headlands properly. The southerly we struck at Crescents was in effect here and didn't look like abating. We called in and had a look at Rainbow Bay/Snapper Rocks etc, which has allegedly become famous over the last few weeks for its 3-4 minute rides to find one bloke out with 400 of his mates riding 2-3 foot crap.
It was rather amazing how fast the day went and after we popped into the library and checked out the swell maps, we caught up with a local and Internet acquaintance, Dennis aka '60's Relic', at the caravan park. Dennis and I have more in common than surfing, as we both attended Marist Brother's Colleges, so we spent the rest of the afternoon sharing compared notes on the brutality we justly deserved at the hands of these learned people. The evening was concluded with a meal at the Chinderah Pub and while we retired to our cabin, Dennis slept the night outside the park in his truck.
Friday, 16. August
Together with Dennis we made our way south, back along the coast to look for a break where we all could have a surf together. Dennis suggested Cabarita, but when we arrived there at seven o'clock it was big and ugly with a fast northerly drift. We watched from the carpark how two surfers went out from the point, paddled out until they reached the point and then fell victim to the current. It was so fierce that in a matter of a few minutes they were swept out and raced along the beach at almost running speed, probably at least a couple of kilometres down the bay. It was lucky this bay was there, as it looked like they could have been in a fair bit of bother otherwise. The only stage any of them caught a wave was when they neared the shorebreak way over on the other side. As they neared the completion of their perilous journey another two surfers launched themselves from exactly the same place with the same consequences. When the first two finally made it back by walking along the beach and up the hill to where we were standing, I walked over to them and asked them what it was like. They said it was a bit of a hairy experience and to my surprise they said they were considering going out again. Some blokes here will do anything to get a wave to themselves.
After this we decided to try Byron Bay and checked out the Pass first, which was small and choppy and then Watego's where yet again it was big outside but not wrapping around the point efficiently. This was as far as Dennis was going to travel south so we said our good-byes to him and started the long drive back to Crescent Head. Once again it was good to catch up with one of the regulars who posts to the Surfcam discussion forum, and we really did appreciate his effort of coming all the way down to meet us.
Next we stopped at Lennox Head to get some brekkie. The view from the town beach told us there was a huge swell which seemed to be working properly. From the top of the hill we could see about twenty or so surfers out but the light wasn't good and the persistent south-easterly wind was having a crude effect on the waves here too. Somehow we staggered down the side of the hill with all the photographic equipment and set ourselves up among the black boulders that make up the shoreline and from where most of the blokes were launching themselves. The surf wasn't very consistent and nobody wanted to sit inside and pick up the smaller waves coming through. Instead they sat way out and waited for the big sneakers that came through every twenty minutes, catching them all inside. We took shots until it started raining, then the girl clambered back up the hill with me labouring behind. When I stopped to catch my breath a bloke who had been out surfing, carrying his board, stopped to pass the time of day with me. Strangely enough he asked me what I thought it was like out there. I said, 'Well you're the one that was out there and would probably have a better idea than me.' He insisted and I offered my opinion from what I could see through the lens, 'It looks like the wind is having a huge effect on the waves but it doesn't seem to be causing much of a drift.' He explained that he and his mates had left from Newcastle last night and where heading north but weren't sure where to surf. I told him it looked like the swell was going to hang around for a couple of days and that Burleigh would probably be their best bet, if they didn't mind surfing with a crowd. With almost a sigh of relief he said, 'Thanks! It looks like we made the right decision.'
The next break we had a look at was Evans Head, where from the coastguard lookout we had a marvellous view of the town and the big swells marching in. There was one guy out and he must have been pretty desperate for a wave, as it didn't look too appealing to me. Afterwards we popped into Valla Beach before checking into Crescent and although the swell size had increased it still wasn't breaking properly. That evening we had a meal at the Crescent Head Tavern and went to bed early.
Saturday, 17. August
The next morning Crescents was big and still not worthwhile going out, so we thought a good place to have a look at would be Scotts Head. Checking out Hat Head and South West Rocks along the way, we arrived at Scotts to find a good size wave and a handful of surfers out. We perched ourselves with our cameras on the rocks near where they were going out, as we thought this might be the best spot to get some shots from.
The surf wasn't very consistent but some of the blokes had problems getting out the back because every now and then some big sets would come through, from almost nowhere. Finally they would get caught up in the drift, which would carry them almost straight away back to the beach. I was having a lot of problems with the small lens, trying to focus into the early morning light. So I climbed up on top of the headland and, without any sun glare, had a perfect view of these blokes who were getting some great looking barrels.
Sunday, 18. August
According to the WAMS the swell was supposed to reach its peak on Saturday and drop on Sunday, but we were keen to get back to Scotts Head because of more photographic opportunities. When we arrived we could see instantly the swell had dropped by half, so we did a little tour and found a nice little break working just around the corner. Much to our delight a local surf club was holding a competition at this spot called Little Beach. After getting rid of two rolls of film there, we started making our way back to Crescents and along the way we called into Grassy Head for a gander. The girl wanted to go to the toilet, so I decided to take a walk down to the beach. I followed a walkway for about a hundred metres or so until I came to a high standing lookout. As I reached the top I could see three surfers riding three waves that were peeling deliciously around the point. Everything looked just perfect, the sun was warm and high over my shoulder and the water and surf looked a magnificent sandy blue-green. The only thing wrong with the spot was the long walk to the water and the long paddle out. I managed to take a couple of pics and make a mental note that this would be a good spot to surf during the week.
That afternoon I wanted to hear or watch some South Oz footy but being in New South Wales all I could get on the radio or TV was Thugby and that really pissed me off. This is the only problem with New South Welshman, they don't know that a footy is for kicking and not throwing. Crikey! Any mug can toss a footy!
So we went and sat at Crescents and watched dolphins doing some fishing for tea in the dwindling surf. In the evening we decided to leave on Monday to head down south towards Newcastle.
Monday, 19. August
We drove through Tuncurry and Forster and checked out a few breaks along the way before arriving in Newcastle. The surf was dead glassy and hadn't dropped any further and even though there was some small breaks around there, none enticed us. At one stage I did consider going out at one particular spot but when we saw the only bloke on this stretch of coastline doing so badly I decided not to. We drove through town and had a look at the Newcastle beaches before catching up with Rob and his good wife Carol, where we were kindly invited for tea, which consisted of a roast. That evening we stayed at what we call the 'Swinging Cat Motel', because the single room is so tiny. It's so small if one of us wanted to use the toilet or open the fridge; the other would have to go outside. Thank god the bed was so uncomfortable because it meant we'd be up early for the usually busy trip through Sydney.
Tuesday, 20. August
Based on past experience we left at 5.00am to get a good run through Sydney and were lucky to make it in record time. As we neared Kiama we stopped and had a look at Bombo Beach. Now, every time we've passed this break it's always looked promising and this day was no exception. The day was warm and the water and waves looked inviting. So I geared up and paddled out behind a shortboarder who was going out near the point, as I figured he was a local and knew all the lurks and perks. The peak was basically a left-hander but some of the rights looked good. An incoming local told me it was really barrelling right at low tide. Once out the back I could see it was a shifting peak coming out of very deep water and I knew it was going to take a while before I got this place wired. The first wave I caught was a good one but it lured me into a false sense of security, as the next wave I got was a real surprise when it started to break. It pitched up abruptly and I had what must have looked like one of my funniest wipeouts for a while.
I'm not quite sure what the bottom here is, probably a sand and reef mixture. Whatever it is, the waves at first look small as they approach but when they get nearer they jack up and pitch at quite an alarming speed. On one or two waves I went for I pulled out and nearly went over the falls; it could have turned out quite a nasty experience. Another wave I caught was a left-hander, and as I took off and looked down, all I could see was what looked like a bottomless pit. I took the drop and managed to finish the ride to my satisfaction and enjoyment. The last wave I caught was a right-hander, which was probably my best ride of this session so I decided to make it my last and take it all the way to the beach. All in all I really enjoyed my session and the break. So much so I'm definitely going to have another look at it when we go past again.
We travelled on towards Batemans Bay and to the Durras North caravan park where we wanted to stay that night but had a quick look at Mollymook where it looked a good shape and size despite what the swell maps had said. The onshore wind had gotten into it but it showed definite possibilities for the morrow. At Batemans Bay the girl wanted to check out Broulee and a few other beaches because she hadn't had a wave for a few days and was getting desperate. Out of all the beaches we checked out only Broulee looked ok but in the back of my mind I thought Mollymook would be better the next day.
There are a few precious times in our lives when a magic moment happens. Some of us are aware of these moments and appreciate them. Sometimes we have a camera in hand to capture one of these precious seconds. A classic special moment occurred on this trip. We had just arrived at the Durras North caravan park and in the twinkling of an eye hundreds of friendly rosellas and king parrots descended upon us. They landed everywhere, on the ground, on our car and even in a small tree that was nearby. The tree, which was originally bare of leaves, was suddenly in full bloom with these wonderfully coloured birds. I thought this extraordinary scene looked fantastic and grabbed the small camera to take a picture, as no one could duplicate this spectacular event. Everything looked perfect. There was our car with the boards on top and just behind, in the background was this tree with all the rosellas in it. Just as I was about to click the shutter on the camera, Miss Hun had to go and shake the dog blanket out of the car to get the dog hair out of it. In an instant there was a flap, flap, flap and all the birds were gone!
I tell you honestly, sometimes this girl goes missing in action.
Later that day we were sitting in the pub, having our evening meal, still contemplating where to go surfing the next day and hopefully catch up with the Mountain Man. His and our problems were solved after a quick conversation on the phone with him. He had cancelled some of his job appointments in Sydney in order to catch up with us and it was decided we would meet at Mollymook for a dawn patrol on the morrow. I was quite happy about this decision and was keen to go for a surf at Mollymook while the girl was still plagued with doubts as to whether she would be comfortable going out there. Either way, if it wasn't any good at Mollymook we could always go down to Broulee or wherever it was working.
Wednesday, 21. August
The Mountain Man was already awaiting our arrival at Mollymook when we pulled into the carpark. The surf looked decidedly good and we were pleasantly surprised that despite the forecast there was a 4-6 foot wave going with quite a few larger ones coming through. It was quite cold, so we hung around for a while, waiting for the warm rays of the sun to take the chill away. At 8.00am we all paddled out. Once again it was a shifting peak, much like Bombo but less intimidating, as it was coming in at a regular angle which made surfing it much easier. The first wave the girl went for was a right-hander and I am pleased to say she had an excellent ride, cheered on by the Mountain Man and myself who were yahooing out the back. I think the Mountain Man was surprised she rode it so well, as it had been quite some time since he'd seen her surf. And the last time he had, she was riding her old board, which I felt always held her up in her advancement. There were plenty more waves to be had and the Mountain Man, who had the place wired, really started ripping into the left-handers while the girl had some more terrific rights.
My first wave was a good one but I thought I'd take it easy and catch a couple just to get used to the place again. Even so this first wave was so good that I felt the stoke well up inside of me and thought, 'This has the potential of being a great session.' Eventually I sorted things out in my mind and really started to tempt fate with more radical manoeuvres during my rides. Of the many waves I caught, all I can remember are the take-offs, grinding backhand bottom turns, some slashing cutbacks, back towards the barrel followed by another bottom turn, then looking along the face of a glassy dark-green, curving wall. I tried some of the rights too and even though they were very good I really felt the left was better. After I don't how long we all went in one by one and got changed briefly because the air temperature was still pretty cool. After about a half an hour a second session for the Mountain Man and myself was a must, while the girl declined for photographic reasons. Despite being a bit weary the second session was just as good as the first but a slight onshore wind was starting to come up so I made mine a short one. While I was getting changed the girl went to town and brought back some tucker. When the Mountain Man came in we all had a well deserved lunch of fresh rolls with sliced ham and turkey. At 3.00pm we finally said farewell the Mountain Man who had to go and pick his little girl up from school while we drove back to the cabin, raving about the terrific rides we had. I reckon I can speak for the girl as well as myself when I say that this session with the Mountain Man was really a beaut and will live long in our memories as one of the best we've ever had.
Thursday, 22. August
Much too my disapproval, the girl insisted on driving all the way home via Canberra and Hay. We left Batemans Bay at 4.30am and arrived home at 9.00pm very tired and exhausted after the long drive. From start to finish we covered 6,500 kilometres over eleven days and saw, photographed and surfed some really great waves. As usual we really enjoyed catching up with all our eastern mates and like always their hospitality matched the quantity and quality of the surf we experienced. I can't think of a better word to describe our surfari, but superb!
Saturday, 11. October
Ron wrote:
It has been more than twelve months since our last trip to Crescents, and I couldn't help but notice how green and colourful the countryside looked. Obviously there's been quite a lot of rain across the whole country and being spring, there were wildflowers everywhere. Even the almost endless wheat fields, canola crops and the ever unwanted salvation jane (Paterson's curse) looked spectacular. After a hard day's driving of 1,200 kilometres we were looking forward to a good meal and then settling down for the last leg of the drive to Crescents the next day. Our favourite pub, the Western Star Hotel in Dubbo, was unavailable due to a private function. It always proves to be a challenge trying to find a pub in NSW that offers decent counter meals, affordable prices and a nice ambience to finish off a long day. Eventually we settled for an establishment with a rustic, Irish bar, wooden tables and a fireplace. We ordered our meals and after a long, long wait, which did nothing for our hunger, the meals finally arrived. I offered to pay the barmaid but she mumbled something about paying her later. The meals ended up being awful but we were too tired and hungry to bother about complaining. After we had eaten and were sitting back finishing our drinks, she came to collect the dishes. I briefly mentioned how we felt about the meals. She offered us desserts to make up but we declined, as we were almost asleep and didn't want to wait again. So we left, and it wasn't until we got back to our cabin that we realised we hadn't paid for our food.
Sunday, 12. October
According to the WAMS and virtual buoys that we had checked prior to our departure an eight-foot swell was expected from the south. When we arrived at Crescents at about 1.30pm, it was overcast with a strong cross-offshore wind blowing with smaller waves than I'd expected. While the girl procrastinated about going out I sprang into action and started getting the boards off the car. Away I went on the long walk along the golf course, on my way up to the point.
The girl wrote:
I finally got changed and walked out to the point. When my foot touched the water I thought how cold it was. It always takes me a while to get used to a spot, and I found myself in a position where every wave I paddled for was already occupied by somebody else. Ah, that brought back memories of previous surfs here. We must have spent about an hour in the surf. I did eventually catch what proved to be the longest ride of my life; it must have been about a minute long and it kept walling up in front of me nicely, while I was trying to get some more speed going by walking closer to the nose and shifting my weight forward, climbing and dropping. The wind was actually not too bad out in the water because it was a bit protected, unlike at Middleton where a little bit of wind from any direction can really stuff up the surf because it is so exposed.
Ron wrote:
My first wave was like the girl's, almost never ending. And when I started to have thoughts of pulling out, the wave would wall up again and offer me another challenge I couldn't refuse. Eventually I reached the shorebreak, right in front of the life saving club. With the tide being so low I had to walk twenty metres on sand before I reached the rocks, which I hate teetering over to get to the lawn above. After our session we went around to check out the Racecourse and Big Hill to see if they were working, just in case the swell was going to be of a similar size the next day. With the sun slowly setting we drove up the water tower and marvelled at the glorious golden light, which bathed the unique view over Crescent Head. Meanwhile, our dogs were busy disturbing a nest of mice. The mice shot out of their hole and ran terrified in all directions through the legs of our German shepherd, while our Kelpie singled out one, which came to grief. To complete the day, we replenished our lost calories from surfing in the country club with a meal.
Monday, 13. October
The girl wrote:
We were hoping that today being Monday there would be less of a crowd than yesterday because school holidays had ended. It seemed the word had spread and everybody came out of the woodworks: kneeboarders, long- and shortboarders, boogieboarders – surfers of all sexes, ages, shapes and sizes were to be seen. We were really intrigued by the micro groms on their shortboards the size of a toothpick, themselves not much bigger than a garden gnome. We guessed their age to be about five years old. Later on, when asked, they proudly boasted that they were the ripe old age of nine! They were absolutely ripping out there and totally stoked.
We paddled out just after 6.00am. The swell was the same size as the day before, and a handful of guys were already out catching waves. Squinting because of looking straight into the sun, with sunscreen running into your eyes when going through a wave, it felt like being sandblasted. Ron's face reminded me of a set of traffic lights: green eyes, white sunscreen and the white of his eyes had turned a bright shade of red. The water was so lovely and warm; we could have stayed out for hours and hours. It just looked so tempting when you came in after you'd surfed yourself silly. You just sat there for a couple of minutes with a cigarette, watching the machine-like waves rolling through and every empty wave seemed like a waste and you felt compelled to go back out and surf till your arms would drop off.
Ron wrote:
During the day we caught up with Brian 'Hindu' Thompson, an ex-pat South Aussie who I've known since the mid-sixties. During our conversation he quoted, 'One wave at Crescents is worth ten rides at Trigs' (his favourite break back home). That meant every three waves caught during a session could've been 30 rides, depending on how far you rode them. Three sessions during the day gives you a possibility of 90 rides at Trigs…amazing stuff!
The girl wrote:
And that's exactly what we did. We both had three sessions each this day. The second session marked a sudden increase in swell size. The waves that came around the point were quite impressive, and I was content to catch the reforms inside, lovely four-foot peeling waves. Somehow I managed to ding my nose when going through a wave and ended up with a lovely blue bruise on it, looking very handsome with red eyes to match and freckles to top off. In addition to Ron's colourful look I pointed out that he was dripping with blood from his foot when he came in after his last session. He'd sliced a chunk out of his heel going out through the rocks off the point. The wind came up later but stayed offshore all day and Ron predicted the same conditions again for tomorrow. We got chatting to a Victorian guy named Max who was in his forties. He'd been living in his car since May, together with a stray cat named Zeuss. He was very keen to take up surfing again after having been out of the water for a long time and had even bought himself a new wetsuit but was struggling to get his stoke back. It didn't take Ron and me long to persuade him that the best thing for his mind and body was to go out there and 'just do it'.
Ron wrote:
My last session of the day found me launching from the usual spot, inbetween a small craggy looking outcrop. The tide was almost at its highest and the swells coming around the point were at their largest for the day. As I carefully negotiated my way through the rocks, unexpectedly a large wall of whitewater rolled in the small gully and pushed me perilously back towards the rocks behind me. To brace myself from being smashed, I shot my right leg backwards but felt instantaneous sharp pain. I didn't pay much attention to it at first and the discomfort didn't deter me from going out. Only after the session, when the girl said, 'Hey Ron, you're bleeding like a stuck pig' did I realise I had slashed my foot quite badly on the barnacles. Bloody amazing isn't it? You can get physically slashed up, but mentally you're still running on stoke!
Tuesday, 14. October
The girl wrote:
Again we rocked up for a dawn patrol. Ron said he was going to stay out of the water due to his injury. This decision didn't last long, the water simply looked too good to resist it. Conditions were similar to yesterday and we couldn't believe our good fortitude. With eyes burning from sun, salt and sea and shoulders sore from paddling we strolled, casually with our boards past the golf course to launch ourselves, once more into perfection. The amount of geese on surfboards was amazing: old guys with big bellies and boards to match were gliding along, just standing there while others simply let their boards go when a wave approached or when they dismounted, regardless of whether there was somebody in front of them. That's how I got clobbered on the head by a surfboard, so when I emerged after diving through a wave, I yelled out to the guy, 'You goose!' He said, 'Sorry, love' while I heard his friend asking, 'What did you do?' and he replied, 'I let my board go'. Since there were plenty of waves to be had, we took photos of each other, with me yet again being a very frustrating subject, so much so that Max and Ron, who where watching me at the time were waving their arms like a windmill to show me where I should sit.
Ron wrote:
I was standing under the pandanas near the waterline trying to get some pics of the girl when I was joined by Max, the Victorian. I turned the Max and said, 'Why does she insist on being where the waves ain't'? Max just nodded in agreement. I told her later. 'Listen lovey, ya gotta get more shit on ya liver if ya gonna surf Crescents or anywhere else…ya gotta get more aggression in ya surfing! Blokes are gonna miss a lot of waves ya could be going for, so always paddle for the same wave as they are, with always the thought in mind, they're bigger eggs than you are and they're gonna miss it!'
The girl wrote:
We also managed to drive to Kempsey to have some photos processed and go to the library to check up on the latest surf forecasts. After a long day of surf we hit the Kempsey pub for a meal. The previous cook had left and was sorely missed by us because the new one proved to be unable to cook a medium steak. Even when ordered rare on each of the four attempts the steak proved to be over-done and nearly shattered with the touch of a knife. In exasperation Ron told the barmaid, 'Just grab one those cows ya got out the back by the horns, wave it over the flames and throw it on the plate'. I think at last the cook sort of got the message, as this one was almost edible.
Wednesday, 15. October 2003
The girl wrote:
The buoyweather.com website proved to be spot on correct again and we arrived at the beach very early to get the surf before the onshores would set in. It was lovely and glassy, the swell had dropped a little in size and I decided I would go out so Ron could take some photos of me. Sitting inside I just couldn't get it wired, I always seemed to be in the wrong spot at the wrong time, either getting belted when paddling out or sitting too far outside or paddling for waves who already had somebody on them or slipping off my board. I threw my arms up in frustration and saw Ron behind the camera throwing his cap on the ground in despair. Finally I caught a beaut little wave which was my incoming one. Ron quickly got changed to have a wave himself but at that time, 7.30am, the north-easterly had already arrived and the surf deteriorated. We hung around for the rest of the day and packed up for Victoria the next day.
Ron wrote:
Most of the blokes I saw riding over the four day period were very ordinary surfers indeed but there were a couple of stand outs…such as the slightly overweight local who really did the waves he rode justice…and a young shortboarder, who never got many rides but showed outstanding ability on the rides I witnessed. Then of course there were the young groms who were ripping everything apart. Don't worry, there were a lot of geese out there, as the girl has mentioned. Anyone who has the place wired knows you can turtleroll or duck dive without any concern about the outcome, instead of rolling off your board and relying on your legrope when letting your board go without regard for other surfers. No wonder public liability insurance costs for surf clubs have gone through the roof. Somebody told me once that these days, just like wearing a seat belt when driving a car, it is expected that surfers wear a legrope.
Thursday, 16. October 2003
We were hoping to find a little wave in Victoria tomorrow. So we drove to Wagga Wagga where the girl got breathalysed by a cop when we left the 'Pawn and Palm' pub that night after a quick meal. One word of advice to other surfers travelling interstate: the cops are red hot, so be careful!
Friday, 17. October 2003
When we bought the Victorian paper in Wangaratta, the forecast was 'small' and 'no waves', so we decided to drive straight on through back to Adelaide. Our decision to go to Crescent Head when we did was timed well…and our decision to change our minds and not go down to the Victorian coast was also correct. The reason I'm saying this is that one day after we got home we were fortunate enough to catch a real good wave at our home break. All in all I would say we had more surf sessions than anybody in one week than anyone else did on the whole continent.
Some final few words about Crescents: Anybody who has ridden it would doubtlessly agree that it's a world class break. To have four days of good sessions there we could consider ourselves extremely fortunate. But to have one day in all of those four, in perhaps a whole year or so when Crescents is working at its absolute best, is just effing marvellous. Even when you've had your three sessions for the day you always look and think, 'Crikey! I wanna go out again' even though you're fully knackered. There's only one better view, other than the one of a person riding a great looking wave well at Crescents: when you're paddling back out and you see a perfectly peeling wave coming towards you with the early morning sun shining right through it, going past unridden. Ah! That's one of the beautiful experiences of surfing this great break.
Here's an extract from an e-mail I wrote to my mate, Terry Towelling (tongue firmly planted in cheek):
Crescents was excellent, although we only had one day of what we'd call good surf – we're getting a bit fussy about the quality of the surf we ride these days!
The first session I got some 'you beaut' rides but you wouldn't even know I was out there, as the girl was far too busy being where the waves weren't breaking again. She should have been on shore taking photographs of one of the greatest surf sessions ever witnessed at Crescents in many years! The surf we had that day was as good as any I've witnessed or ridden. The last wave of my first session was an absolute ripper, all the way from the point to the steps that lead up to the Crescent Head SLSC. Sixty seconds still equals one minute, doesn't it, but who's counting? I was climbing and dropping, with some very radical cutting back, bottom turning, some noseriding here and there, only to repeat more of the same for the next twenty seconds or so…Jeez, I hate myself sometimes for surfing so well…Isn't it great when every wave you get lasts more than a minute?
Afterwards I climbed the steps, had a quick shower and walked back to the car. There were a couple of young blokes in a combie van parked next to us.
One of them said to me, 'Hey! Good riding'
I nodded in agreement and said, 'Thanks!'…
He followed up with, 'You look like you were having fun out there'.
I added, 'You call that fun, I call it damn hard work but someone's gotta do it!'
Finally I said to them, 'I wish my mate Terry Towelling was here, he'd make a real pig of himself, he'd love it. He rides like a demon, dropping in on everybody, causing all sorts of strife and all hell rides with him '.
After that stormclouds gathered on the horizon, as if something was about to happen. And it did: The girl came out of the water…there was thunder and lightning in her eyes. I had gotten changed and walked up to the point to take some photographs. I was just sitting there taking shots of this and that when I caught a glimpse of a dark figure clad in a wetsuit approaching me, like a storm from nowhere. There was no halo over her head, only dark clouds above, so I braced myself for what was to come.
All of a sudden she burst into tears, 'I can't surf, I'm hopeless, I feel like a real beginner'….
I said, 'You're right, you should stay in the car and take up knitting…Better still, you should stay out of the water and take photographs of me!'
Just kidding, I really didn't say that. All I said was, 'You've just had a bad session and we all have those, even I do and the last one was in 1963'.
To make her feel better I added, 'Look at Terry, he has them all the time, in fact I can't remember when he had a good one'.
I think that brought a bit of hope to her well-being, as her second session was an absolute screamer. I had another session an hour or so after a late brekky and came in to take more photographs. This time she positioned herself in the right spot, inside of the reforms, where the waves were breaking. Bloody amazing when you start using your brain when you're surfing. She got four rides…. First one…not too good…. Second one, better, which made my existence almost safe…. third one she rode all the way in which made her and my day. The fourth one was a ripper and she decided it couldn't be topped and came in…unfortunately I had run out of film on her previous three rides, which put my life back into the perilous state again. We both had two sessions each, and when we packed up, two micro groms walked past with their toothpick-sized boards under their arms, saying, 'Why aren't you out there riding the twenty foot waves!' – cheeky buggers!
Addendum
It's quite a pain in the arse for me at my age to get up and go at almost a moment's notice, to travel so far with the girl to find a warm water wave for her to ride. To be honest, the cold water surfing is not something I desire or look forward to, like I have in previous years. During our winter here at home there's a wave every couple of days or so. So I'm in a regular pattern of exercise and diet. I make a mean stew, full of all the good stuff, eat a lot of tuna with salads. I feel good within myself, doing all the right things by this old body of mine. It takes a long time after each trip to get back into my daily routine of doing all the right things. On this last trip, when I was out on my first session, I felt pain…pain in my chest, around the heart area. So much so, I thought I'd catch a couple of waves and come straight back in. The pain persisted every time I paddled back out, so I took my time and paddled slowly, resting every now and then, until I got right out beyond the point, where I could have a rest.
The pain subsided but it came back every time I caught a wave and paddled back out again. After catching three long rides I decided to come in. Even after coming in and walking back to the car I still had the pain. I got changed and walked to the toilets with one of our dogs, it was still there. When I got back to the car and walked up to the Nobby to take some photographs it was still with me. It wasn't until I sat down for about 5 minutes or so and didn't move that the pain went away. Seconds turned into minutes and the minutes became more than an hour after my previous session. The surf had improved for the better and I'd had no chest pain for an hour or so. I tell you mate, I couldn't resist going out for another session…I'll have to be honest with you here, I did it with a lot of trepidation.
I walked down to the point, like the old man I am, with not a lot of confidence and launched myself from the spot where I knew I wouldn't be attacked by big sets coming through or the feet eating barnacles, as what happened to me on the last trip. I was almost in a state of shock how I made it out so easily, even managing to get out the back, way out beyond the Nobby, into almost the open sea. Looking back I would say the surf was at its best at this point of time. During our short stay there…everything was right. The tide was right, the swell was a good size and the wind was just a zephyr of a cross offshore. I took my time and waited for the right wave to come around the Nobby. They're all different you know… some come around the point and break into the point itself and fizzle out to nothing rideable…some come around the Nobby and go straight across the bay and end up breaking almost a half a kilometre away as a glorified shorebreak where no one is surfing. Then there is the one that has some size and a strong definition that it's going all the way. I caught one of these good ones coming around the point and rode it almost into the shorebreak, which was adjacent to the Crescent Head SLSC. It was a good wave and a fair ride but I thought I hadn't ridden it far enough in to end such a very short session. So I turned the board around and paddled back out, with the intention of catching a reform and finishing my session with some respect and closer to where the water meets terra firma. There were not many reforms coming through, while I was paddling, and before I knew it I was right out the back, almost in open ocean, past the Nobby. I had taken my time paddling back out and was doing it all, with mostly my left arm, just taking my time…stopping for a few seconds, here and there, to conserve any energy I had left to be able to turn around and quit and let the gentle surge of the incoming tide take my body back in. At this stage there were only about six other surfers out and I was sitting further out than any of them, so I had first choice of any wave coming.
It eventually came, I caught it and rode it all the way in again. When I had finished the ride I thought, 'Am I going in or paddling back out?' I turned the board around and paddled back out again. This time I had no pain but I still took it easy. Five minutes later I was sitting on my board, waiting for another big one, out past the Nobby. A few minutes later I caught another reasonable sized one, once again I rode it all the way in. After this, instead of paddling all the way out the back again, I caught a number of reforms inside and finished my session on the last one of those. I felt I had a fair session, I had caught about six reasonably good waves and the pain no longer bothered me. The only thought going through my mind as I made my way back to the car was how pleased I was with the way I had ridden each wave during this session.
My next big test for me, mentally, came at Mollymook two days later, when we met the Mountain Man for a surf. I thought, 'The water is going to be colder here but the paddling back out is going to be shorter. I wonder if they have an ambulance in this town?' Nevertheless I followed him into the water and paddled about 150 metres out to the spot where the waves were peaking. I had a real good session without any pain at all, even though the waves were small and inconsistent.
Well, that happened nearly three weeks ago and we haven't had a wave since, so the only exercise I've had has been around the garden. Just the last few days I've had pains in my chest when I've done any sort of heavy work. I have to come inside and sit down for a while, take a rest and go out when the pain goes away and complete an unfinished job. For the past three days the symptoms have been the same. All these pains I've had haven't been as extreme as the one when I had the attack but they really slow me up. Now the girl is talking about going away again, early next year. So I'll have to start thinking of other alternatives to help me survive, instead of having to live on junk food and other bad tendencies, even if it's only for a week or so.
THE END