WRITTEN BY SERKAN OZTURK | 23 JUNE 2011
Published by City Voice newspaper
On July 17, salty haired surfers from around the city will gather at the iconic Manly and Bondi beaches to take part in the first ever International Gay Surfers Day.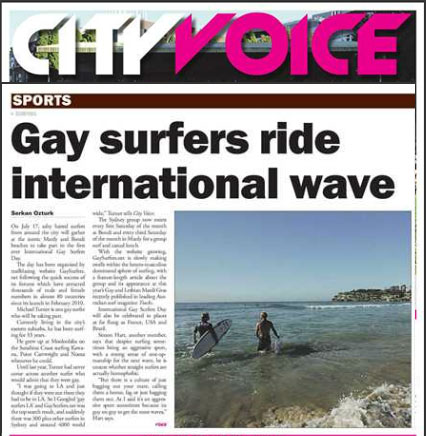 The day has been organised by trailblazing website GaySurfers.net following the quick success of its forums which have attracted thousands of male and female members in almost 80 countries since its launch in February 2010.
Michael Turner is one gay surfer who will be taking part.
Currently living in the city's eastern suburbs, he has been surfing for 33 years.
He grew up at Mooloolaba on the Sunshine Coast surfing Kawana, Point Cartwright and Noosa whenever he could.
Until last year, Turner had never come across another surfer who would admit that they were gay.
"I was going to LA and just thought if they were out there they had to be in LA. So I Googled 'gay surfers LA' and GaySurfers.net was the top search result, and suddenly there was 300 plus other surfers in Sydney and around 4000 world wide," Turner tells City Voice.
The Sydney group now meets every first Saturday of the month at Bondi and every third Saturday of the month in Manly for a group surf and casual lunch.
With the website growing, GaySurfers.net is slowly making swells within the hetero-masculine dominated sphere of surfing, with a feature-length article about the group and its appearance at this year's Gay and Lesbian Mardi Gras recently published in leading Australian surf magazine Tracks.
International Gay Surfers Day will also be celebrated in places as far flung as France, USA and Brazil.
Simon Hart, another member, says that despite surfing sometimes being an aggressive sport, with a strong sense of one-upmanship for the next wave, he is unsure whether straight surfers are actually homophobic.
"But there is a culture of just bagging out your mate, calling them a homo, fag or just bagging them out. As I said it's an aggressive sport sometimes because its guy on guy to get the most waves," Hart says.