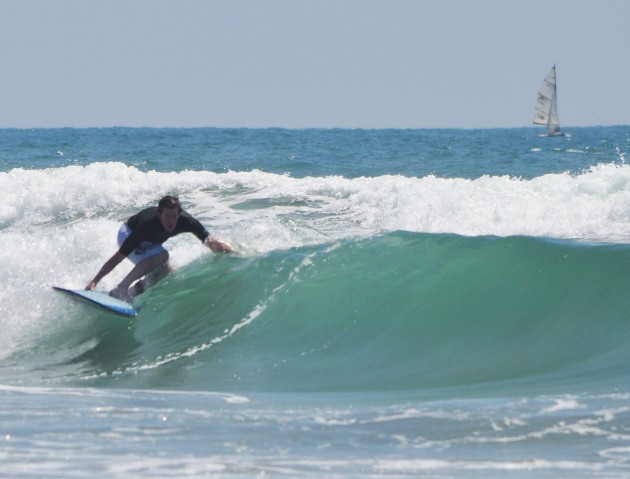 "End of Summer"
It wasn't really the end of summer at the Oceanside north jetty last weekend, because…well, we all know that summers are endless in the surfing world. It was more like the beginning of a new set of friends gathering to celebrate endless new sets. The clouds broke and the sun shone as 23 members of GaySurfers.net dropped in throughout the day to hit the waves. We gathered around a big rainbow flag that was planted on the beach — and then realized that no one from our group had planted it. That rainbow belonged to a landlocked group from Orange County, not a board amongst them. Whatever. We planted our own beach umbrella close by, a more subtle homemade signifier with the logo of GS ironed-on by Jonathan.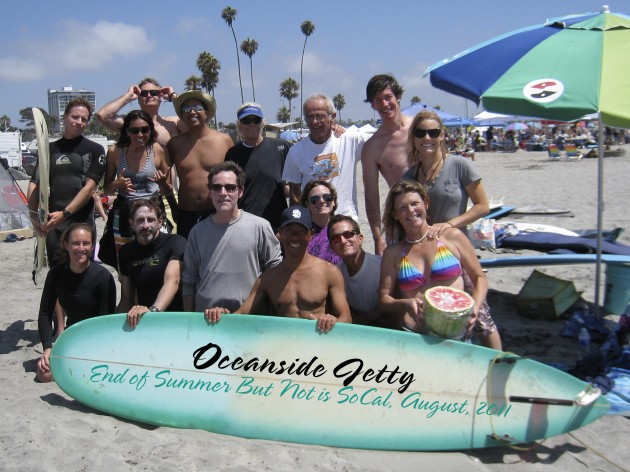 And then we paddled out, smiling, as we got to know each other in chest-high multi-directional/multi-period waves. It was a classic day and an eclectic group. The guys in the group were happy to see so many gals joining the meet-up this time, and we can thank Cori Schumacher for putting the word out to the women and making our group a great mixture. Besides locals, we had Steven fly all the way from Florida to join in, and several members drove in from L.A. and Palm Springs. It was all free-form, with the focus on what counts: surfing. The good energy encouraged some people to exchange boards to try something new, while others exchanged food when our stomachs screamed for us to head in and fill up.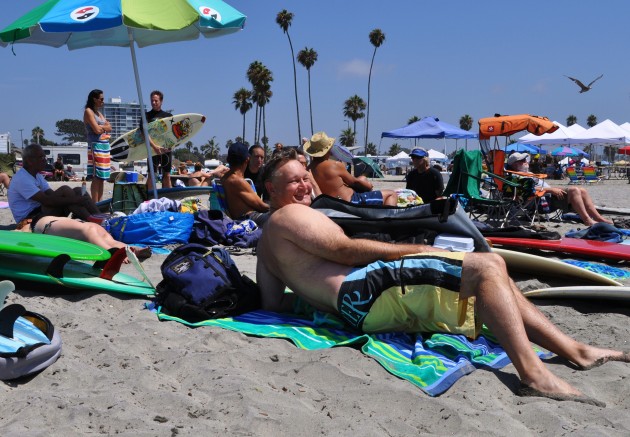 Near the end of the day, Cori helped several of us understand the effect of fin position, fin shape, and fin style with the physics of surfboard geometry, and the outcome it all has on a surfer's style of riding.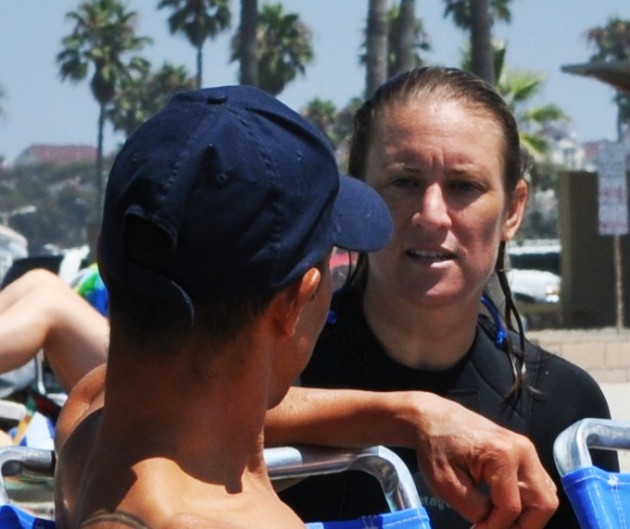 These are fine points hardly ever discussed in surfing magazines (or gay surf meet-ups).
Big thanks to everyone who showed up, and Aloha to those who join us in the future.
–Andy Schell