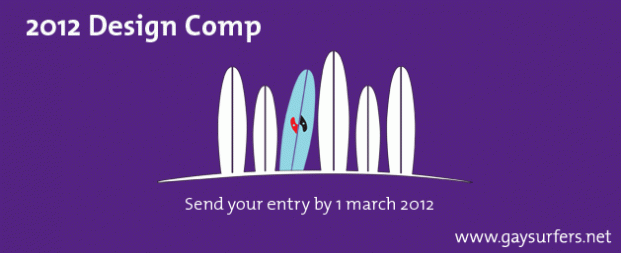 Showcase your talents!
The submission period is now over but you can vote until April 1st, 2012.
Here are the guidelines:
1. Designs must include your version of the existing GS logo (click on the image to download a high resolution image for your use)
You can change the colors and the shape of the fins but you must keep the original concept.
2. You can send a t-shirt design or simply a new logo. If it is a t-shirt it can be any of the following colors:
3. Submit your entries as a JPG to info@gaysurfers.net
(PLEASE NOTE that if your entry wins, we will need a higher resolution vector version- 300dpi/PDF file -in order to print on T-shirt blanks.)
---
To enter:
Send your entry to gs@gaysurfers.net
Within 48 hours of submitting your entry, the design will be placed on the site so that all members can vote for their favorite design! Send your design early to maximise your chance of winning and get your friends involved in the voting!
The winner will receive a free T-shirt with his/her design and the chance to see their design on the Official GaySurfers.net T-shirt.
We are looking forward to seeing your creativity!

-GS
Entries so far
Click on each images below to see a larger version

To vote:
[poll id="10″]