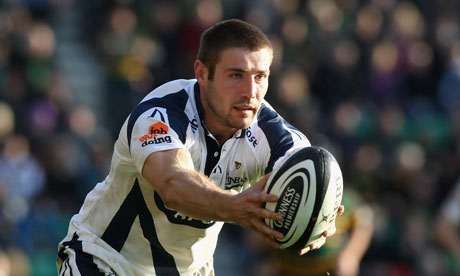 Recently, UK rugby star Ben Cohen said that it was important that professional athletes, if they are going to announce they are gay, do so at the top of their game. Cohen has stepped away from a successful, 15-year rugby career to dedicate his time and effort to an anti-bullying organisation that focuses on allying with LGBT youth to prevent that community's "increased risk for suicidal thoughts and behaviours, suicide attempts and suicide".
Cohen is one of a growing number of straight athletes who are willing to open a dialogue about homosexuality in the most mainstream of sports.Michael Strahan, Sean Avery and Steve Nash and Charles Barkley have also lent their voices to LGBT issues in society and in sport.
Along with education, family, one's peer group and media, sports are a fundamental means by which young people are influenced and shaped. Role models in sport willing to speak up about LGBT issues, along with sports organisations being willing to crack down on anti-gay slurs, help young people realise that sexuality ought not to have a hierarchy of value in today's society. Likewise, attitudes and leadership in mainstream sports influence fringe sports, such as surfing, which are working to improve their marketability and visibility.
Surfing has been demonised by some – heralded by others – as an anti-establishment, anti-work ethic, counter-culture lifestyle of notorious loners, losers, con-artists and dropouts. Oddly, though, within this culture of deviants, those who deviate from the surf norm are largely shunned or ignored. Lewis Samuels, a senior writer for Surfer Magazineknown for pushing the boundaries of surf journalism, observes:
"Surfing has always been known as a counter-culture sport, but there's a tension between the freedom surfers experience in the water and the close-minded thinking they encounter when trying to fit in to surf culture. As a social group, surfers are quite hesitant to deviate from their norm – lest they be perceived as uncool. It's still not 'cool' to be a gay surfer.

"The surf community's intolerance has made many LGBT surfers feel ashamed of who they are. As a journalist, I've interviewed many professional surfers who have felt obliged to keep their sexuality secret in order to keep their sponsors and have a career."
Noting this intolerance and lack of representation, Thomas Green founded GaySurfers.net, the first online community for surfers "who happen to be gay", in February 2010. The site is growing rapidly and has taken on the task of building an international community, where previously only isolated and invisible pods of gay surfers existed. GS'sintended goal is to bring gay surfers together and improve public awareness, both in the specific context of the international surfing community and the broader context of society at large.
In a risk-taking enterprise, such as sport, it is often difficult to imagine that there are riskier and more courageous moves than tackling a massive, growling opponent, or pushing through a defence of six-foot-plus human trees to slam dunk, or chasing after a 60ft wave with only fibreglass to float you. It is important that professional athletes come out at the top of their game, as Cohen said; and for those who are not gay, to shun the hateful epithets that demean others, while standing with their fellow LGBT athletes. These actions to promote understanding, tolerance and compassion are sorely needed at this moment in the history of gay rights – and they do carry risk and take courage. Samuels adds:
"Until prominent surfers are willing to speak openly about their experiences, and the surf media is willing to publish those articles, not much is going to change. As surfers, I believe we can do better – and the first step is taking stock of where we are today."
With the visibility brought by a growing gay surfing community, it is only a matter of time before the larger surf community – and the pros who feel compelled to keep silent – come to terms with LGBT presence in the surfing world. Then, perhaps, we can all speak through the deafening silence that has marked that presence until now.