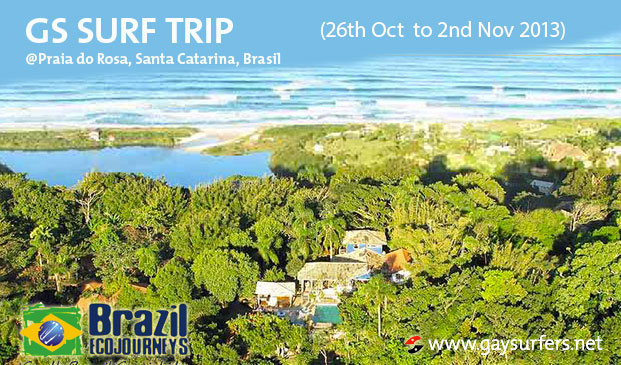 GS teams up with Brazil Ecojourneys to organise a
8 day gay friendly surf trip in Brazil
– Trip begins in Florianopolis on October 26
– 2-night stay in Florianopolis
– 5 days surf camp in Praia do Rosa, Santa Catarina
– Trip ends on November 2nd in Florianopolis
Surf, Yoga and Whales in Gay-friendly Santa Catarina
Santa Catarina, in South Brazil, is a secret Brazilian kept for many years. Known for its gorgeous beaches and mild climate it has grown in recent years as a gay and lesbian-friendly destination.
Accomodation
Pousada Casa do Ceo offers a mix of the native Santa Catarina architecture with the artisanal décor from colonial Minas Gerais, which creates surprising atmosphere. Surrounded by Atlantic Rainforest, green hills and the ocean, the Inn facilities include spacious and personalized rooms, a swimming pool and a sun deck with panoramic views of the mountains, the Ibiraquera Lagoon and Siriu Dunes, parking, Wi-Fi connection and an attentive and friendly service.
Our privileged location, with easy access to both the beach and local shops and restaurants, allow the guests tranquility, comfort and convenience to enjoy great moments be with your loved one or with your family.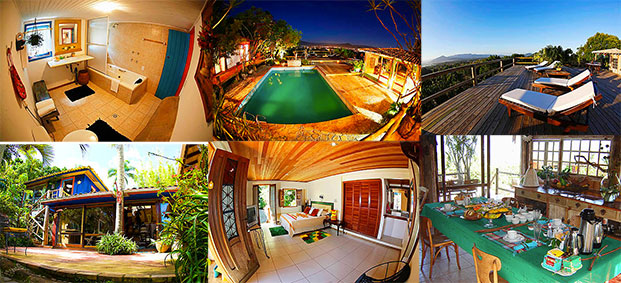 SURFING
Praia do Rosa, on the Southern Coast of Santa Catarina, is famous in Brazil for its perfect waves, its rustic-chic guesthouses and restaurants and for receiving the visit of the Southern Right whales in winter.
Due to its shape, the half-moon bay of Rosa is considered a "Disneyland" for surfers, as there is always an option for good surfing, independently of wind or swell direction. Winter sometimes brings big swells that attract pro-surfers, but most of the year it offers good conditions for all abilities.


Surf coach
Capitão David will be your surf coach and owner of the oldest local surf school, established in Rosa since 1995. The Captain, as he is known by his more than 13,000 student/friends, is a friendly character that has taught generations of beginners and trained some serious surfers. His first lesson can last hours and it will teach you more than any other surf school ever did!
For experienced surfers we offer a chance of touring the nearby beaches searching for the best waves in Brazil with a friendly local.

Florianopolis
We add to the surf camp, a 2-night stay in Florianopolis, the Magic Island, and a place known for its surfing culture and gay-friendliness since the 80's!

Whales
To make the week even more special, you might have a very close encounter with one of the gentle giants of the seas- the Southern Right Whale.
This will be a Surfing holiday that you will never forget!

Schedule
Day 1 (26 October) – arrival in Florianopolis. Check in at your Town Home right in front of Praia Mole- one of the best beaches for surfing on the Island and the gayest beach south of Ipanema. Afternoon free.
Welcome Dinner. Optional G& L nightlife tour.
Day 2 (27 October) – Day free to enjoy the beach (previous host to both WQS and WCT competitions) – optional afternoon tour of the Island.
Day 3 (28 October) – Transfer to Praia do Rosa. Check in at Pousada Casa do Ceo.
Afternoon introductory surf lesson for beginners with Capitão David.
Surf session with a local for the experienced.
Day 4 (29 October) Morning Yoga session at the Pousada followed by a late breakfast.
Afternoon lesson/surf session with a local
Day 5 (30 October) Early Breakfast. Morning for optional whale watching boat trip.
Afternoon lesson/surf session with a local
Day 6 (31 October) Morning Yoga Session followed by a late breakfast.
Afternoon lesson/surf session with a local
Day 7 (1 november) Breakfast. Morning free for trekking /whale watching from land
Afternoon lesson/surf session with a local
Farewell dinner at the Pousada.
Day 8 (2 november) Breakfast. Return to Florianopolis for you onward flights.

Cost per person
Single rooms- US$ 1599.00
Sharing Double rooms – US$ 1129.00
Package includes:
• All transfers starting/ending Florianopolis airport with English-speaking driver or guide
• 2 nights accommodation at a Town Home in Praia Mole, Florianopolis, with breakfast (shared house, private ensuite rooms)
• 5 nights accommodation at the charming Pousada Casa do Ceo in Praia do Rosa (private ensuite rooms)
• 5 surf lessons for beginners with Capitão David School or 5 Surf sessions with a local for experienced surfers ( with transport)
• 2 Yoga Group Sessions
• 2 dinners
Package does not include:
Flights, Visas, meals not mentioned, optional tours, insurance, tips, equipment (except during surf lessons)
**Extensions to Rio or other destinations in Brazil available- please consult us.**