Hannah and Dannie – The Real Deal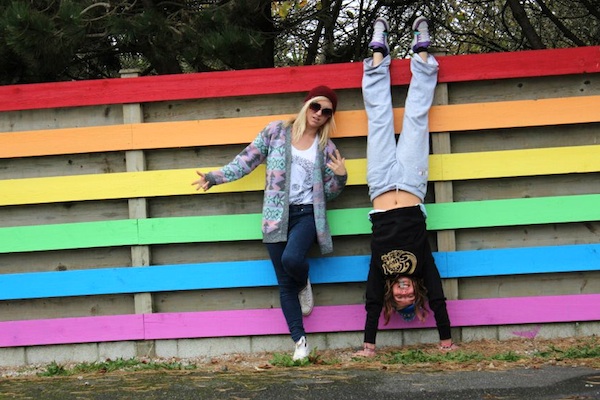 If you're sick of sexxed up Roxy videos and Alana's ass, get a load of these cheeky lasses and their bobble hats.
Real surfer girls, surfing real waves in winter – and they'll make you laugh. Before Hannah Bristow and Dannie become superstars and have no time to talk to lowly surf bloggers, here's a few crucial questions you'll be desperate to know the answers to:
Does Dannie have a surname, or is she just 'Dannie the Scot'?
Hannah: Yep, it's MacLegend.
Dannie: That is actually my last name. Maybe.
Love the whatumentary a 'winters tale in Newquay', will there be a summer version?
Hannah: We've got a few things planned, hopefully a trip upto Scotland…not too sure if you would be able to class it as a summer version though?
Dannie: I'm so keen for a summer version! The weathers perfect at the moment too…shame its flat though and that Bristow's residing elsewhere for the summer. Lets call it an autumnal version and then when we're super famous we can have an Indo version, an Aussie version, a Hawaiian version….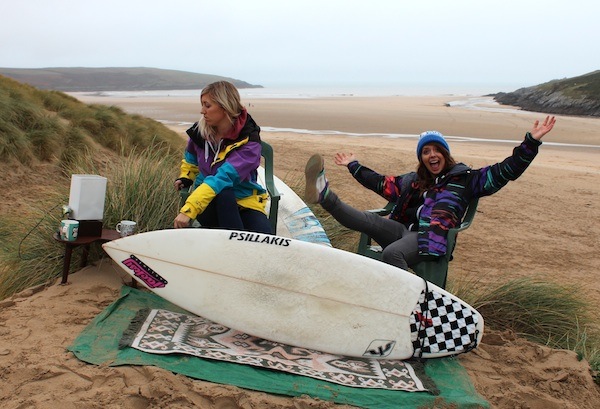 Hannah Bristow and Dannie MacLegend on location
Will you stay in Newquay, or is a European tour on the cards?
Dannie: A Euro version would be sick!
Hannah: I'm out in Barcelona at the moment (notorious for its epic waves) but I'm back for the Boardmasters competition in August and around from then onwards. Hopefully we'll manage Euro version later on in the year?
You appear to have a fine collection of hats, which are your favourites?
Dannie: My blue "BIG DEAL" hat that I got at freeze fest. Mainly because I've now lost it, waaaaaaaah! I also have a fine collection of flat caps including a tartan one and a gold one, cause I iz gangstaaaaa, ya get me?!
Hannah: I just steal and wear whichever one Dannie's not wearing. Apart from the tartan flat cap.
Favourite words of wisdom from Kelly?
Hannah: "I wanted to be Steve Martin when I was a kid. I wanted to be a comedian." I know how he feels.
Dannie: "Surfing is like the Mafia, once you're in there's no getting out." Just because I like to pretend I'm in the Mafia.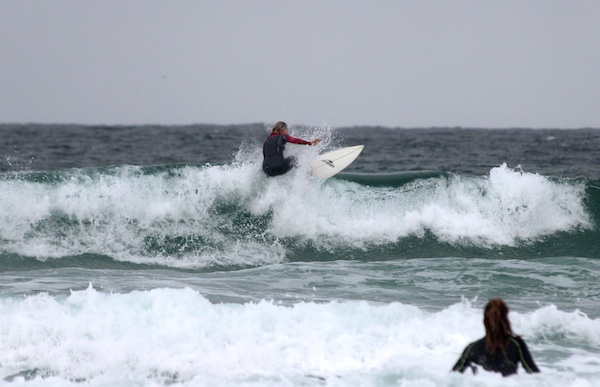 Hannah hardcore winter surfing
Are there any other surfers who could get you to surf 2ft freezing onshore Fistral in February?
Hannah: Lakey Peterson, shes a siiiiick sufer. Dane Reynolds and John John Florence.
Dannie: Hannah Bristow. Always frothing. Plus Alana Blanchard, she didn't get that arse from sitting on the sofa! Erm…more seriously, Steph Gilmore, Bethany Hamilton (if she can surf with one arm, surely I can with two!). To be honest, anyone really. I just need to watch a clip of someone shredding and I'm excited!
When you get offered your own TV show, what channel will it be on?
Dannie: BBC1. Straight after prime time news.
Hannah: The National Geographic channel. Or one of the ones that shows the daytime soaps/Danielle Steele novel turned drama movies, we'd slot right in there.
You're both very funny, tell us your best joke?
Dannie: What bees produce milk? Boobies.
Hannah: Not too sure if I know any good jokes but I once changed Dannie's alarm on her phone to Taylor Swift "I knew you were trouble" but the version where the goat screams. That was kind of funny to hear that going off at 6am when we were going for a dawnie and she had no clue what was going on.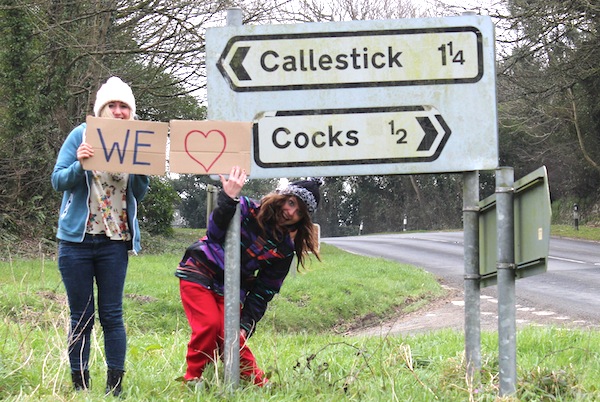 Be in no doubt…
Other than a sense of humour, what do you look for in a potential lover?
Hannah: Hahaha. The dude that's waiting out back in the surf before me at dark o'clock in the morning, no matter if it's pumping or pretty much flat. He'd do.
Dannie: A fine pair of elbows.
Is there anything you're trying to sell?
Hannah: Not our bodies. Or Time Shares. Nope, there's no selling on the horizon but we've got some pretty fun stuff coming up with a company called Northcore and we're going to do some filming with those guys so make sure you check it out!
Dannie: Hannah is trying to sell her body. Naaaaaaaaaat. We're just trying to sell the philosophy that people should live the dream and surf no matter what. And love life. And drink IRN BRU, COS ITS PHENOMENAL!
If a TV or surf company wants to get in touch, or a wealthy suitor – how should they contact you?
Dannie: If they could just fax me, that would be great.
Hannah: Or you can contact us on Twitter @KellySaysSurf. Follow us and we'll follow you, cause that's how we roll. Or at tykemeister@hotmail.com (no joke) or find us on Facebook. We've stopped receiving mail via carrier pigeon after we learnt the hard way that a few weren't house trained upon arrival.
If you think the interview was good you're gonna love their video (if you didn't like the interview you'll still like the video, so watch it now)