San Onofre is a State Park, home to many world renowned surf breaks. Trestles, Cotton, Middles, Church, Old Man's, etc. Trail Six is to the very south.
http://www.surfline.com/surf-report/san-onofre-southern-california_4237/satellite-view/
This natural beach is both a nude bathing refuge and is tangent to the Marine Corps military base of Camp Pendleton, one of America's largest and most important military bases, training troops headed for missions in Iraq and Afghanistan and many other places. About 20 of us surfed together for International Gay Surfers' Day. (Some were exhausted by the previous night's revelry even before we paddled out. A good number of us also celebrated the day before on Saturday as we witnessed for the first time, active-duty enlisted men and women "like-us" marching in San Diego's Gay Pride parade. Until now, acting upon our loving or sexual feelings of our minority sexual orientation, or even being seen in a gay bar, was punishable as "conduct unbecoming" and cause for dismissal without benefits such as pension. The policy of "Don't Ask Don't Tell", (the policyname which is Orwellian Newspeak), has only very recently stopped being enforced, yet it is still on the books. Hence brazen significance of those who decidedly marched proudly, with heads held high). Nevertheless, we 20 or so, decided to forgo Sunday's further Pride festivities to proudly do our part by hanging-ten or whipping up the face with other gay surfers instead. We ventured way up almost to the northern frontier of our county with our neighbor Orange County, to San O, more than an hour away.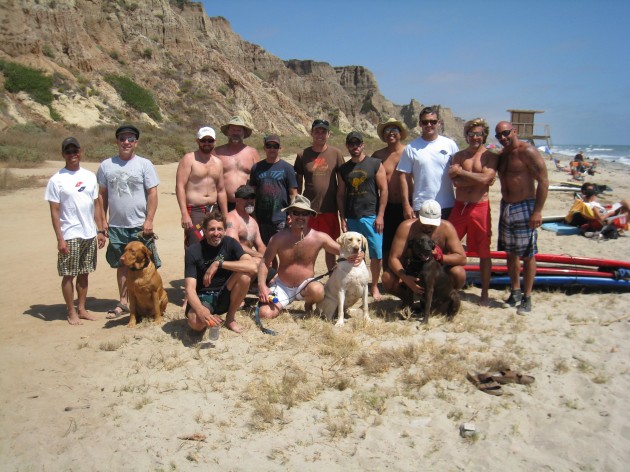 This meetup introduced many different smaller pods that have been surfing on their own either in San Diego, Orange and some who came from Los Angeles. This event attracted those surfers who love the non-urban almost pristine landscape kept natural the way California was eons ago.
Make your visit to America's Finest City even more unforgettable by participating in
events in San Diego
when you can.
The allure of SanO calls afar even to those who could have attended their local LA or Orange venues.
On the way to Trail 6, we saw some women leaning against their truck, and thought they may be our kind??? We slowed, then backed up and rolled down the windows, and asked if Trail 6 is nearby. They responded that indeed it is, but it's purported that the homos are infiltrating that break. We replied we heard, and that we're sorry for being a little late. They hooted and laughed. We asked them, "what-up, with your sass, did you think we might be gay. "Duh!, only gays keep their pinkie finger up when they put their index and thumb together to motion "a little". Big laugh. "Too crowded" for them, they said even if the website said Trail 6. "We're here. We surfed HERE."
The surf was wind chopped because of the usual mid-day shearing winds that kick up. And the tide was too high. But the water was close to 70° and the camaraderie was excellent. After a looonnngggg first session, we broke for lunch and shared stories of who usually surfed with whom and where we've travelled to go surfing. Costa Rica, Indonesia, chartering sailboats in French Polynesia anyone? There are no upscale cafés nor MacDonalds near pristine SanO. You have to hoof in your board, lunch, beverages, guilty pleasures, but we all came prepared, and shared what we had. Then as the day cooled, the tide turned and the wind subsided some — the surf got a bit better and so out we went out again.
Some almost-teen age boy warriors surfed amongst us, their faces painted with bright warpaint sunblock and wearing nothing else but their new pubes and unabashed bare-asses. No one was having more stoke than they for all the bravado they screamed and laughed. For some reason the current and swell kept washing us right into their group! They yelled at me as I knee-paddled back out through them and offered them a SHAKA-bra, "Hey are you GAY!!?" I glided past them, and knelt up high and gave them a two handed SHAKA and a reply, "You BET, are you GAY!!?". They yelled back, "YEE-AHHH, ha-ha! Sure we are!". We all had fun at that, and surfed, and surfed until our arms couldn't move. Back in, some needed stretching out the knots quickly seizing our shoulders, arms and torsos, with an impromptu yoga session to stretch out the tightness, and then–we had to carry our boards, the remains of our lunch, our weary bones, and our thirst, back up that damn cliff and to that parking lot almost a quarter mile away. But what a view of our day, from the top of the golden cliffs as the sun set over the expanse as far as Hawaii. Back in town, those of us who live in metro SDiego ended up having dinner of seared tuna at our favorite slow food quick served place.
Hope to see you all again soon. What a blast! Next year though, we're going to camp that weekend and catch the morning glass instead of the chop. But we hope International Gay Surfer's Day isn't always on Gay Pride Day in San Diego. I'm sure we'd have double the attendance if not for the conflicting schedule. How 'bout the week before or after instead?