Please find below a list of gay-friendly surf spots around the world.
Please contact us if you want to add to the list…
BRAZIL – Cabo Frio
BRAZIL – Fortaleza
BRAZIL – Rio de Janeiro
CA – Black's Beach – La Jolla
CA – Pacific Beach
CA – San Onofre State Beach
CA – Tourmaline Surfing Park
CHILE
COSTA RICA – La Playita
FRANCE – Hossegor – La plage des casernes
FRANCE – Le Porge (lacanau)
FRANCE – Tréguennec (near la Torche)
HAWAII – Donkey Beach Kauai's East side
HAWAII – Queen's Surf gay beach
INDONESIA – Bali
MEXICO – Zipolite
MOROCCO – Mir Left
NC – The Outer Banks
NEW ZEALAND – Raglan
NSW – North Coast – Birdie Beach
NSW – North Coast – Kings Beach
NSW – North Coast – Little Diggers Beach
NSW – North Coast – Little Pebble Beach
NSW – North Coast – Queen's Head
NSW – North Coast – Samurai Beach
NSW – North Coast – Shelly Beach
NSW – South Coast – Armands Beach
NSW – South Coast – Werrong Beach
NSW – South Sydney – Jibbon / Congwong & Ocean beach
NSW – South Coast – Lake Conjola / Green Island
PORTUGAL – Costa da Caparica / Beach 19
PORTUGAL – Meco Beach
PORTUGAL – Sao Pedro de Muel / Praia da Vieira
SOUTH AFRICA – Cape Town
SPAIN – Santander – SOMO
UK – Brighton
---
BRAZIL – Cabo Frio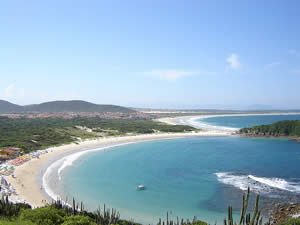 Cabo Frio, is a very beautiful tourist city, its waves are excellent to surf, much of the commercial center of the city is facing the beach, around town there are many great hotels and inns. Your gay attraction in the carnival season, is the gayosque bamboo, a gay quiosk on the edge of Praia do Forte, the main beach of the City
BRAZIL – Fortaleza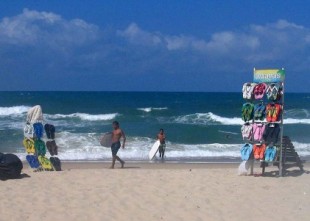 Fortaleza is a great place to practice surfing, beautiful beaches that is renowned all around the world, as Jericoacoara and Canoa Quebrada among other places, with a unique natural beauty.

BRAZIL – Rio de Janeiro
In Rio, not only the people are beautiful, waves can also be really beautiful…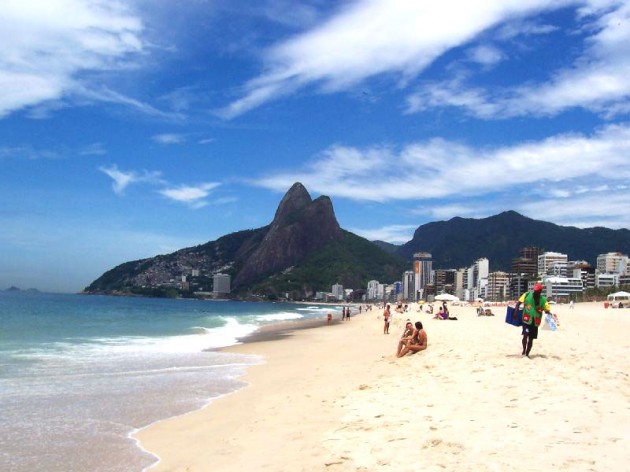 SURFING Although all of the inner-city beaches from Copacabana to Leblon are fickle and can be dead flat, they also can be very good. The beachbreaks of Ipanema and Leblon can offer shifty peaks from playful waist-high peelers to giant closeout pounders, all depending on the shifting sands. The beach itself is lovely, with the twin spires of Two Brothers rock at the west end, and here is where the hipsters mingle. Check the beach and pick a peak when it's working. When it is too big, try Arpoador at the far east end or the Puntão at the far west end. And if it's dead flat, don't despair — those are the days when you need to head out to the beachbreaks of Barra da Tijuca and the super-consistent Prainha to the west. Flat in town doesn't mean the surf can't be good a 30-minute drive away. GAY Not far from the beach a street named gls "Farme" is very popular among gay tourists who come to Rio, an excellent attraction for gays surfers in the world.
Saquarema-Rio de Janeiro-Brazil, too.
Saquarema
is a small surf city, one of the most famous in Brazil, sometime we have WQS and WCT overhere. We dont have a specific gay beach overhere, but we dont have problems also.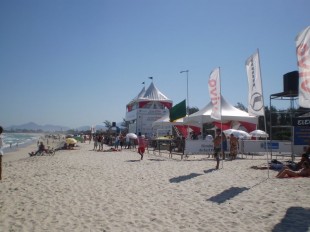 CA – Black's Beach – La Jolla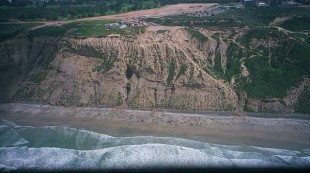 Black's Beach is located in La Jolla at the southern tip of the Torrey Pines State Beach, right below Torrey Pines. If you enter the beach by way of the gated, paved path at La Jolla Farms Road and Blackgold Road you will be at Black's Beach. And a warning for entering the beach, the stairway that descends from Glider Port is in very bad shape due to rains years ago. That entrance comes with a warning. So if you plan to visit Black's Beach, use the entrance from La Jolla Farms Road. There are also Landslide signs posted near the cliffs. If coming from the Scripps Pier, walk north towards the beach. This particular beach is open 24 hours. Take in mind there are absolutely NO facilities. Parking is very limited on the street. You can always park at the Torrey Pines State Beach and walk south. SURF Black's has long been a celebrated nudist beach, existing in spite of a 1976 city-wide vote banning nudity here and at other city beaches. In fact, the nudies may be able to claim a more entrenched, if not longer, residence at Black's than surfers, but this fact has been disputed with Surfer magazine articles on Black's beach dating back to mid 1960s. Shit, if squatters' rights existed in this country, they'd own the beach. But the obscene and surfing have come, over the years, to meld into the essential Black's experience which is very gay-centric. Most of the straight crowd tends to stay in the southern part of the beach with the middle and northern areas much more liberal and gay friendly, especially the very north which is essentially the unofficial gay beach for San Diego. Here you'll most likely find anything you could possibly be looking for including some of the best gay surfers on the west coast. That said, this is the best beach break in the county, and everyone knows it. The saving grace here is the long hike due to the sheer cliffs. It requires a time commitment that rules out most before-the-job or lunch-break sessions. There are three main peaks, shifting phantom peaks and sneaky insiders that work according to conditions. A deepwater canyon attracts most any swell with west in it and holds waves from 2 feet to as big as it gets. During head-high and smaller swells, low to medium tides are best, but, during large swells, it's less tide sensitive. It should be obvious, by the glider port on the north end, that the dominant wind is onshore. Which is, as Black's northern residents will tell you, the perfect direction to tickle a heavily tanned, stark-naked bum. Visit Travelocity.ca for Gay & Lesbian Travel specials and Event/Festival List Directions: There are no easy ways to Black's. There is either a steep climb, a long hike or entry by water route. There are several steep climb options, and there are two long hike options.Access by water is done only rarely and very few do it. I usually enter by way of the gliderport. Details The annual Nude Surf Event
The annual Nude Surf Event was held at Black's Beach on Saturday August 1, 2009. Early Morning Warm Up Participation was a little less than previous years, possibly due to being held on a Saturday instead of Sunday, but there was still plenty of surfing action and Whoo Hoo's. There's even a special shirt which you can get for $10 if you email Geoff@BlacksBeach.org. The money goes to the Blacks Beach Bares, a great group worthy of your $10. Weather started with overcast, got sunny and then a few clouds rolled through when the surf competition started. Air temps were still in the mid 70's and water was reported at 79, so the clouds didn't matter at all. Participants included men and women ranging from the mid 20's – 50's. Waves were on the small side, but plenty of waves were caught giving the judges enough criteria to make awards for best male and best female surfer.
A boogie boarding and body surfing contest took place later in the day. There's a video of the event atThings To Do Nude, and you can learn more about Black's Beach – one of the best nude beaches in the country – from the Blacks Beach Bares or the Things To Do Nude Beach Report.
Dates for the 2010 event will be announced in early 2010, but it's never too early to start practicing some nude surfing. Places to Eat El Pescador, at 627 Pearl St., fixes the finest grilled-fish sandwich anywhere (858-456-2526), and it's located next to one of San Diego's best surf shops, Mitch's. If you just want a burrito, Bahia Don Bravo (858-454-8940), at 5504 La Jolla Blvd., is a notch or two above your corner taco stand. La Jolla, especially Prospect Street, is home to many fine, but pricey, dinning establishments. One of the more reasonable joints is Girard Gourmet (858-454-3321), a deli with the best turkey, avocado and cheese sandwich in the business. Places to Stay Just knock on any one of the mansions fronting the ocean here and ask to use their facilities — they are unusually accommodating. Ha. La Jolla is, hands down, the most chi-chi neighborhood in San Diego, and the exuberance of its elite resorts borders on bizarre. The Chopra Center for Well Being, for example, offers the Pizichilli treatment ($210), a stream of heated oil poured over the body while two therapists rub you down. Assuming most surfers would rather get lubed up in the ocean, a good bet is to stay in Mission, or Pacific Beach, where there are more hotels and no-tells than you can shake your stick at. Or, with rooms between $40 and $120, check out the La Jolla TraveLodge at 1141 Silverado St. (858-454-0791).
CA – K38 Baja Mexico
K-38 used to be one of the dusty crown jewels of Northern Baja, attracting a steady stream of California surfers, gay and straight, through the '50s and '60s longboard era due to its consistency, ease-of-access and well-shaped walls and lax enforcement of laws. As development moved south of Rosarito, a condo highrise and health retreat took care of the ease of access part — now, rather than parking on the low cliffs overlooking the break like it used to be, everyone is forced to find parking elsewhere. It's no longer an epicenter, really — though the quality and consistency hasn't gone anywhere. On lined-up south swells, K-38 is a bowly and tapered right point/reefbreak, allowing for numerous schwacks and the occasional tube through the inside; as the swell gets more north, the wave tends too spill wide and mushy — though still plenty fun. Due to an underwater canyon and its south-facing direction, short-period northwest windswells don't make it into K-38 like they do at some of the other beachbreaks in the area. Places to Eat The best thing about K-38 isn't the glassy right walls — it's getting out of the water totally famished and heading 100 yards north to the infamous Taco Surf and powering down like 10 of the best little carne asada tacos you'll ever eat in your life and washing 'em down with a cold Pacifico. Or you can go next door to Ana Mar for a more formal meal (breakfast is insane). Other than that, head back to Rosarito: All on the main drag: Rock n Roll Taco is an old favorite, as are El Paisano, El Nido Steakhouse and Macho Taco (which is a loud as its name suggests). The numerous taco stands dotting the laneways are probably the best deal — as always, head to the busiest one, to insure freshness and quality. If you want to get blind drunk and beat up whilst listening to superloud bad pop music, head over to Rosarito's landmark, Papas n Beer Mexico is always a thrill, you're bound to find some drunk surfer willing to explore or a local gay boy looking to make some extra peso's. Places to Stay There is a little place with rooms for rent right where you park under Puente Morro, which is pretty cheap, but the nearby polio pond breeds serious mosquitoes — you get what you pay for. Just north of Ana Mar is a $5-$10/night campground called Olas Altas. The nicest closest place is Las Rocas (see below). Hotel Calafia (877-700-2093; $45-$150/night) is a beautifully funky, rambling old place, overlooking the reefbreak, complete with a little museum/art gallery and dozens of nooks and crannies and terraces to escape to. Las Rocas Resort and Spa (888-LAS-ROCAS; $75-$200/night) is another super beautiful place over looking the ocean, just a couple miles north of K-38. The Sanoviv Medical Retreat (800-SANOVIV; super expensive and only necessary for those wanting to "reverse the aging process") actually overlooks K-38. The gated community of Las Gaviotas offers a bunch of different houses for rent; Baja Pro — $150-$300/night for houses sleeping up to 12 — is a good place to start researching.
CA – Pacific Beach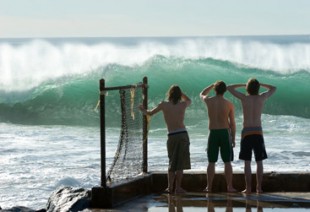 Sailing may be popular here but surfing is a way of life, and Pacific Beach is the home of the country's only gay surfers' club. Also available for your enjoyment are the flourishing gay & lesbian communities of Hillcrest, North Park and Normal Heights. Spend an afternoon watching hang-gliders off the cliffs of La Jolla while enjoying the sun and surf at the popular, nude Black's Beach; or drive to Coronado to visit The Hotel Del Coronado where you can dine and sip cocktails against the breathtaking backdrop of a national historic landmark. It was here that a cross-dressing Tony Curtis lost his heart to a wonderfully dizzy Marilyn Monroe in Some Like It Hot. A red trolley or taxi will take you from the skyscrapers of downtown to the Mexican border where the bargain hunter's mecca of Tijuana awaits. San Diego offers museums, concerts, cafes, an aquarium, and the country's most exquisite zoo. Visit the "Old Town" for a flavor of San Diego's origins. Or, just experience the fragrance of eucalyptus as sea mist sweeps over San Diego's cliffs and through the ancient Torre pines.
CA – San Onofre State Beach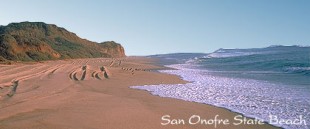 Located just South of San Clemente, California is San Onofre State Beach; a renowned spot for surfers of all skill levels. The southern end of the San Onofre State Beach is a clothing optional area which attracts naturists, old school nudists, hippy types, volleyballers, traditional surfers, family campers, a smattering of marines, and GLBT sun worshippers, both surfer and non. San Onofre State Beach consists of two areas, the surf beach and the trails campground area. From the San Diego Freeway Interstate 5 exit at Basilone Road and travel south. From here you can get an overview of Trestles (but don't stop on the freeway off ramp for a view, you can get an expensive ticket). Follow the signs to the right off of Basilone road to the storied San Onofre surf beach, one of the most historic surfing sites on the west coast. Or travel further south where you will come to the State Park Campground with a $10.00 entrance fee or a yearly pass for $125.00. The two areas are separated by the San Onofre Nuclear Generating Station (SONGS). The bluffs campground is three miles long and has six trails to the water and endless beach break opportunities. Trail six is where the "gay" begins and a few hundred yards south the trunks come off. The further south you go past the no trespassing signs and into Camp Pendleton Marine Corps Base the gayer the scene. Only a few guys carry a board this far but there are several spots for surfing and cruising and enjoying an all over tanning session. The vibe at the state beach is famously mellow and non-competitive for beginners. There are plenty of waves to go around. The charming town of San Clemente has accommodations at every level and there are hundreds of camp sites available at San Onofre State Beach from May 15th till October 1st. Year round camping is available at San Mateo just over the hill from Trestles on Christianitos Road. Dogs are welcome at trail one and trail six. Alcohol is officially prohibited. For more information from a naturist viewpoint go to www.friendsofsanonofre.org. The San Onofre area is freeway close to some of the most fabled surf spots in California.
From the last parking area south in the State Park Campground take the short, but steep hike down trail six and keep walking south along the beach. You will pass a beautifully designed and huge peace symbol made of beach rock and driftwood; truly a heartfelt work of folk art. A bit further south you will come to a fence with some scary "no trespassing" signs before you enter Camp Pendleton Marine Corps Base. Many beach goers choose to ignore the signs but from here you are on your own (check out the Friends of San Onofre web site above for some legal advice). There are several miles of sandy beach just begging for exploration or an uncrowded surf session. At any time the Marines may choose to kick everyone off the beach. They are always respectful in my experience, but they mean business. Remember, it is their beach and they are tougher than we are. The State Park Rangers can give citations for nudity, but they seldom seem to venture very far south. The lifeguards only seen interested in one thing, keeping their swimmers safe, whether naked or not. Just be careful and have fun in this carefree and beautiful and very gay friendly beach. Please hike out all your trash and leave nothing but footprints. (Published by Brian)
CA – Tourmaline Surfing Park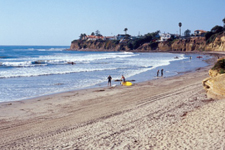 PB Point is a rolling right that meanders through various slow sections. In fact, it's the slowest wave around and requires a low tide and swell with push to make it decent. There was a time, though, when these qualities made the Point ideal. The very first San Diego shack, a copy of the Polynesian throwback at San Onofre, was erected at PB Point during the early '40s. This was the first headquarters of Pacific Beach and La Jolla surfers before they migrated to Windansea. The shack was rebuilt there in 1946. It seems they were moving on to better hunting grounds. Which makes one wonder: where would the shack be now if the tradition had continued? As a social gathering place, and center of a community, the parking lot and beach at the end of Tourmaline Street is something to be cherished — old friends, old stories, old boards, and a brand-new sunset every night. The atmosphere here is the antithesis of the aggro jostling going on just a quarter of a mile away at the Crystal Pier. The people who surf Tourmaline love it. And you'd have to be bleary-eyed with love to stick with waves that mushy. Longboards are the rule. Places to Eat Kono's Cafe, at 704 Garnet Ave., has a solid breakfast menu (858-483-1669). The finest Hawaiian plate lunch in town is served at Da Kine's (858-274-8494), 4120 Mission Blvd., on the top floor of the Promenade. From the outdoor patio at Da Kine's, you can watch the surf at the end of Pacific Beach Drive, just a block away. Be adventurous: Mission Boulevard and Garnet Avenue offer a plethora of face-feeding possibilities. There actually used to be two gay bars in San Diego but with the invasion from the young college crowd and overall acceptance of gays in general, both these bars went straight. Places to Stay From 10 of the rooms at the Crystal Pier Hotel, you could wake in the morning, grab your board, hop the pier railing, and land in the lineup. Of course, you could get a ticket for jumping off of a pier, but it's physically possible. Check your tide book — you wouldn't want to break your legs by landing on hard-packed sand. Rooms at the Crystal Pier Hotel run from $95 to $305, and reservations as long as six months in advance may be necessary (858-483-6983). The Banana Bungalow Hostel, at 707 Reed St., offers dorm-style rooms from $15 a night, but it's necessary to show a foreign passport or proof of international travel (800-546-7837). Rooms at the stylish Catamaran Resort Hotel, at 3999 Mission Blvd., run from $130 to $315 (858-488-1081). There are smaller, less expensive hotels all along Mission Boulevard.
CHILE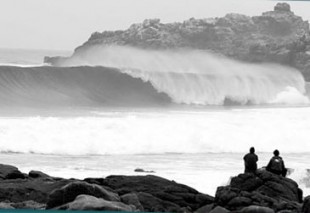 Quotes from an anonymous gay surfer: "Im from Chile. Surfing is really good if you know where to go, its the goofy paradise because its full of lefts. But there are also righs in the north. Near Santiago, the capital you can go to Pichilemu, 2 hours and a half, its powerful and without northern wind it may be glass. Also you have Maitencillo, 2 hous north from Santiago. Can be good or bad, depending of the time. If you have more time. 6 hours to the north,Totoralillo, Punta Teatinos, La serena, you have perfect waves, and 6 hours to the south, Curanipe, Pullai, Buchupureo, Cobqecura, and more. Winter or summer, waves come, but crowds,dissapear in winter and during the week. Further North you have Iquique, Arica, thats warmer. In easter Island you have also a lot of waves. Chile has 4100 kms of beach Hope you come, and hope this helpes a little ;D hope
Contribute


GaySurfers is a pool of resources about Gay Surfing. If you have anything you want to publish on the site for the community, please send it through to info@gaysurfers.net.
COSTA RICA – La Playita


Yes, there's a gay (and clothing-optional) beach in Costa Rica, at Manuel Antonio, but you need to watch the tides carefully. Facing the water on the main beach at Playa Espadilla, turn right and walk about 20 minutes until you see a rock formation jutting into the water. The gay beach, La Playita, is on the other side, offering shady palm trees and a cooling waterfall. At low tide, it's an easy walk between the boulders; at high tide, it's dangerous and near impossible. Ask the locals, who pay attention to daily tides, when it's safe to go, and when you'll need to come back. Men and women welcome.
East Coast – ??
This spot is not yet registered:

FRANCE – Hossegor – La plage des casernes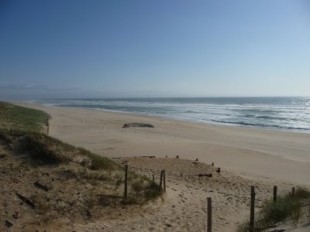 Peut être la plage GAY des landes la plus connue, la plage des casernes est réputée pour ses longues dunes qui partent sur plusieurs kilomètres. Mais elle est aussi connu pour son secret spot "Fatima", un banc gauche droite qui déferle souvent sans personne dessus même en plein été. Bien sur, on y surf souvent sous le regard des nombreux naturistes et nudistes, et nudistes gay (il faut bien le dire!)… En résumé, un super spot pour surfeurs gay (gay surfers), on s'y baigne, on y surfe avec la sensation de liberté d'être loin de tout, mais entre nous… Details: Le point de vue qu'offre l'accés sur le haut de la dune permet de scruter les pics éventuels allant du Penon jusqu'à deux ou trois kilomètre sur la côte sauvage avant Souston. Le spot des casernes an lui même offre assez souvent une jolie gauche en face du blokhaus ensablé et une jolie droite en face du gros blokhaus. Pour l'été, les lifeguards font leur boulot très professionnellement et savent faire preuve de partage au niveau des bancs de sables entre vacanciers et surfeurs, donc no problème avec eux, il arrive même de les voir à l'eau assez souvent. Bon surf à tous English Drive from Le Penon to Vieux-Boucau. After several kilometres there is a camping place to the left called "Les Oyats". Drive down the road until you reach the end of the road – there will be lots of cars parking there already. Grab your board and walk down to the beach. After walking up the dunes you can see if the spot sucks or rocks. There will be at least two sandbanks generating funny wave. If you are standing on the dune you can see Le Penon to the left.
Enjoy!
FRANCE – Le Porge (lacanau)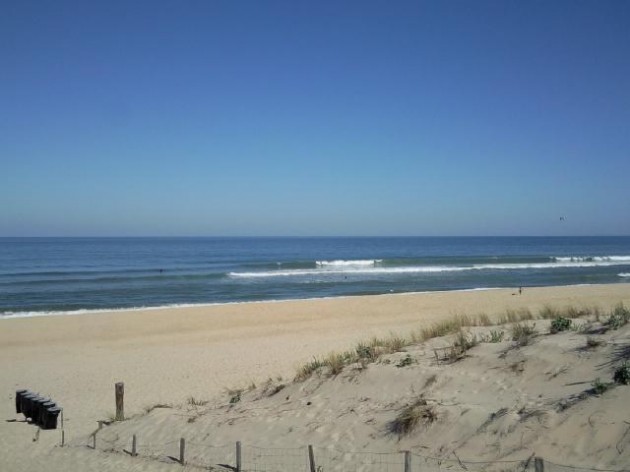 Le Porge est une superbe plage de surf gay, au sud de Lacanau, superbes vagues, superbes dunes dans lesquelles se faufilent de nombreux nudistes pour rejoindre la mer depuis les parkings.
Sur les plages océanes, ce n'est que le flux et le reflux des vagues où l'on aime plonger ou se laisser porter. L'Aquitaine offre aux amoureux du surf, débutants ou confirmés, les meilleures déferlantes d'Europe. La marée descendante découvre les "baïnes" ces "petits bains" que connaissent bien les Aquitains et dont il faut se méfier. Stations à la mode hier comme aujourd'hui où l'ivresse des jeux du casino succède à celle connue sur les vagues (Arcachon, Biarritz), vastes étendues où il suffit de marcher dix minutes pour savourer la solitude et l'espace inviolé … Les plages sont toutes surveillées, c'est là que se baignent les non surfeurs en toute sécurité. Mais pour qui veut des vagues et les joies du naturisme, il suffit de s'éloigner de la plage principale pour trouver des étendues désertes où profiter du grand air et des vagues à son gré. Autres plages naturistes de la région: Du nord au sud: le Verdon-sur-Mer, Soulac-sur-Mer et l'Amélie, Montalivet-les-Bains, Hourtin-Plage, Carcans-Plage, Lacanau-Océan, Le Porge, Grand-Crohot-Océan, Lège-Cap Ferret, Arès, Andernos-les-Bains, Lanton, Audenge, Biganos, Le Teich, Gujan-Mestras, La Teste, Arcachon, Pyla-sur-mer, Biscarrosse-Plage, Mimizan-Plage, Contis-Plage, Lit et Mixe, Saint-Girons-Plage, Moliets-et-Mâa-Plage, Messanges, Vieux-Boucau-Port-d'Albret, Seignosse-le-Penon, Hossegor, Capbreton, Labenne, Tarnos, Boucau, Anglet, Biarritz, Bidart, Guéthary, Saint-Jean-de-Luz, Ciboure-Socoa, Hendaye.
FRANCE – Tréguennec (near la Torche)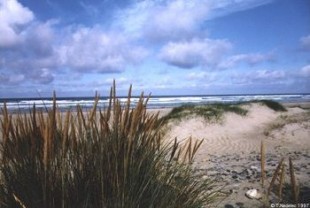 30 k north of Quimper in the baie d'Audierne, near the point of "la Torche", you will find 'Tréguennec beach'. Great nude beach, and very beautiful. Ideal for surfing, big waves. La Pointe de la Torche is not far! Drive towards the Audierne bay, north of St Guenole, from Tronoen to the North. Mixed with gay. Great place for surfers.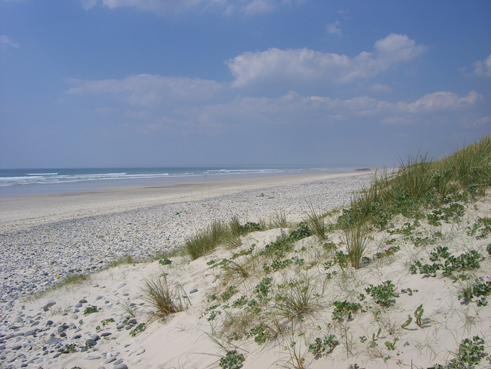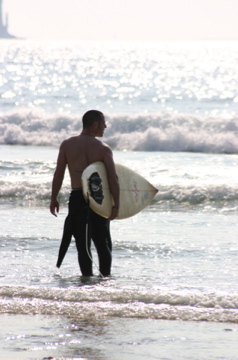 Il faut préciser qu'il y a deux spots également accueillants pour combiner surf et naturisme gay dans la baie d'Audierne, les deux se trouvent en effet sur la commune de Tréguennec mais il y a deux zones distinctes, celle de Tronoën à laquelle on accède par le parking de la plage de la chapelle de Tronoën (marcher ensuite vers la droite, le nord, pendant 10 mn vous y ètes), celle de Tréguennec proprement dite que l'on atteint par le parking de Kermabec (mêmes itinéraire vers le nord qu'à Tronoën)… les deux zones séparées par un vaste espace moins fréquenté mais parfois surprenant… juste au sud, la pointe de la Torche, très surf mais moins gay… au nord le coin de Penhors, idem. Suggestion pour prendre un verre ou une kouign (pancake local délicieux) après les vagues, chez Marie-Cat plage de Pors Carn (à Penmarch, juste en dessous de la Torche), terrasse près de la plage, très gay friendly… ou au bar Le Nautilus (également à Penmarch, port de Kérity, sur la côte sud), très sympa, gay friendly et avec vue sur la magnifique vague des Etocs, une vague mythique en Bretagne Avis aux amateurs! Propos posté par Fréderic Morvan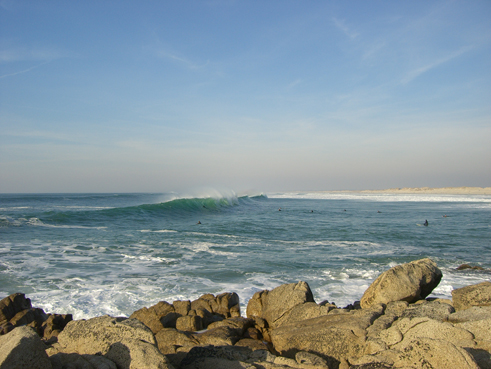 HAWAII – Donkey Beach Kauai's East side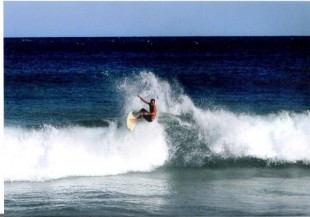 Although the nudity here has been threatened and possibly stopped altogether by wealthy land owners…. They can "Never" stop us from surfing here! (comments posted by Michael Soule)
HAWAII – Queen's Surf gay beach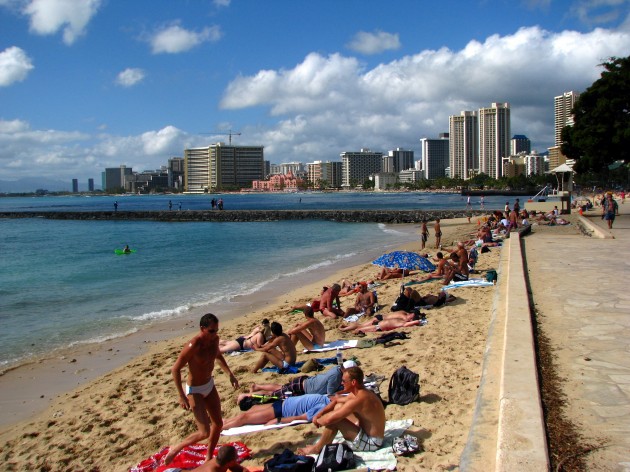 By far the most popular gay beach in Hawaii, and one of the most scenic and well-known in the world, Queen's Surf Beach is a relatively secluded stretch of sand in the heart of Waikiki, but along a section with no direct hotel frontage – this accounts for the fact there's more privacy and fewer families here than to the north or south. The beach here draws a mostly gay-male crowd, although certainly not exclusively so, as plenty of lesbians and straights seeking seclusion tan their hides here, too. Queen's Surf is easy to reach – it's just a short walk along the beachfront south of where Kapaluhu Avenue intersects with Kalakaua Avenue at the beach (not far from Hula's gay bar). The approximate street address is 2715 Kalakaua Ave., across from Honolulu Zoo and the northwest edge of Kapiolani Park, and just north of Waikiki Aquarium. There's a small coveredpavilion along the grassy area behind the beach that has restrooms and a snack bar, and plenty of GLBT folks also lie along this grassy section. A bit farther northwest along the beach, you'll also find a nice-size volleyball court There's no nudity along here, and it's far too centralized to qualify as cruisy in any racy way, but that's not to say this isn't an excellent spot to mingle, make new friends, and find out what's on during the evening. As the day progresses and the sun sets, many of the beachgoers here walk over to nearby Hula's gay bar for some post-beach socializing and hobnobbing. It's a very congenial scene, not particularly attitude-y or stuffy. All shapes and sizes congregate here, including plenty of tourists just working on their tans.
INDONESIA – Bali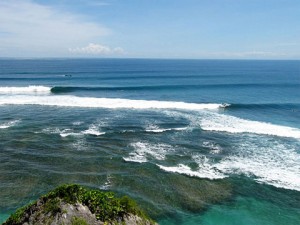 Bali is the best place to enjoy surfing and probably you may learn newer techniques as there are more innovative breaks for expert surfers at various beaches such as Padang, Balangan, Suluban and Bingin beach. Nevertheless, Bali has a comparatively rich gay scenario, though it is unquestionably less commercial as compared to other Southeast Asian countries such as Thailand or Singapore. But then, gays rock Bali. If you love nightlife and want to get lost in pubs and bars, you can enjoy every night you spend here! Like the tourist destination in general, the gay scenario is centered in South Bali around Seminyak. There are lots of eye candies around for those that just sought for the hunks. You can meet gays in pubs, bars, streets and even in hotels. All you need to have a good and genuine approach that may make your trip to Bali a life-time memorable thing. Bars and Clubs The Gay Scene is becoming more developed, with dedicated gay bars such as Q Bar and Kudos on Jalan Dhyana Pura in Seminyak, and a strong gay presence at other venues on the same road and in the nearby late-night disco Double Six. Most of the other Seminyak clubs attract a good mixed crowd of Indonesians, expats and tourists. Gay Beach While no beach is exclusively gay, one in particular has become very popular with gay tourists and locals. It is called Ganesha or Petitenget Beach on Jalan Petitenget (Road) in Seminyak. Going by car, taxi or bike, you need to go down the dirt road beside Hu Bar opposite the famous Living Room Restaurant – about 150 meters until you get to Callego Massage and Restaurant. (an easy way to describe where this beach is approx 500 meters along the beach from Kudeta in the opposite direction to Kuta) This is a very popular meeting place for gays, where you can hire sunbeds on the grass area or on the sand. The food is simple but very good at Gallego restaurant and they will deliver it to your sunbed. Be careful of the local boys offering their company for the day because they will expect to be paid.
Enjoy!
MEXICO – Zipolite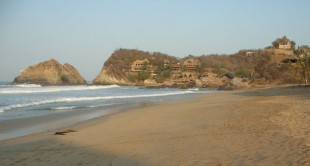 Playa Zipolite is a beach community located in San Pedro Pochutla municipality on the southern coast of Oaxaca state in Mexico. It is located between Huatulco and Puerto Escondido Zipolite is best known as being one of Mexico's very few nude beaches and for retaining much of the hippie culture that made it notable in the 1960s and 1970s. Lots of great waves, lots of nude gay surfers, very close to famous Puerto Escondido!
Enjoy!
MOROCCO – Mir Left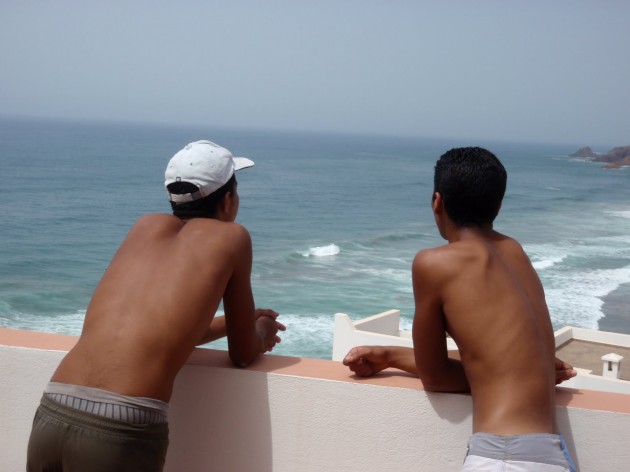 Driving from Agadir south to Sidi Ifini on the International Road you will pass through the village of Mir Left. A great place to camp is 200m before the river which feeds the village you will find a turning to your right as you follow the road south. Follow this track for about 1 km and you will end up on a flat area behind the beach. Park up here for a few days. Walk north on the beach from this camping spot and you will find some sea caves. The caves are being used as a cafe, so venture inside and have a cup of tea or a tagine. The village has all the commerce that you need. A great souk, with fresh products each day, the tomatoes where the biggest that I have seen in my life! Hotels beds and appartments to rent can be found in the village. The beach in the centre gives a good left point break, which breaks off the rock into the protected beach. Watch the rocks in the take off zone at low tide. There are some average beach breaks north of this break on the otherside of the river. The surf casting north of Mir Left is fantastic. The deeply shelving beach is a fishermans delight. The small Berber villages which follow the coast, rely on this natural resource as their main food store. From the delights of crab and octopus which are found at low tide in the natural supermarket (open 2 times a day; low tide only) to the sole which is found on the break line shifting through the sand, you have the beach.The setting sun will leave you with memories. Add to this the lack of population and you will understand why this is an area that any fisherman should visit for a few days. If you have more info about this spot:

NC – The Outer Banks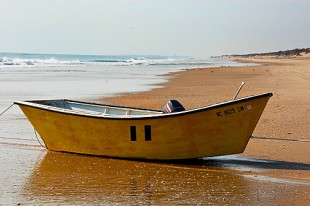 DIRECTIONS: Coquina Beach, considered by locals to be the loveliest beach in the Outer Banks, is located off highway 12 at milepost 26, 8 miles south of Nags Head, North Carolina. One on the Outer Banks, take the bypass past all the crap in Kitty Hawk, Kill Devil Hills, and Nags Head to Whalebone Junction.
Go South from Whalebone Junction (you are now officially in "South Nags Head"). Continue approximately 10 miles on the beach road past mile post 25 and watch for the National Seashore Coquina Beach" sign.
Parking is in the public lot.
There are shopwers and bathrooms (cool). GAY: It has been a long tradition among the Outer Banks local gays to have a beach party at Coquina Beach most Sundays during the summer months. Back in the 1970s and '80s the Lost Colony actors congregated at the north end of Coquina Beach at the ranger station. Sunday was the natural choice since the Lost Colony didn't play on Sunday evenings. A powerful nor'easter blew through in the late 1980s and covered the parking lot there in very deep sand. This forced "the colony" to move to the south end of Coquina. The local gays, including some colony folk formed a group called "The GLC" in the early 1990s and at it's high point around 150 gay and lesbians gathered here on summer Sundays. Around the turn of the millenium some key members of the GLC moved away and the group stopped coming. Your friends here at TheGayOBX.com have revived this long standing Sunday tradition starting this past summer of 2009. We decided to return to the north end of Coquina for it's feeling of isolation, more beautiful dunes and there's a sheltered deck here with picnic tables between the parking lot and the dunes. Start your vacation by joining us every Sunday afternoon. Since this spot is somewhat isolated from the lifeguarded area further south, feel free to hang out here any day of the week. Coquina Beach is located across highway 12 from the Bodie Island lighthouse, just south of South Nags Head. Park in the last parking lot on the north end near the sign that says, "The Sand Castle". Our beach is just over the dunes from the sheltered picnic tables., be sure you are in the parking lot that has the wind turbine. If it's raining check this website for alternate plans. Click here for a direct link to our map for the Coquina Beach location. thegayobx.com/default/index.cfm/attractions-map/south-nags-headbodie-island/
NEW ZEALAND – Raglan
It's easy as to get to with a variety of waves for everyone from legendary point breaks like Manu Bay, and Whale Bay featured in the epic surf classic Endless Summer, to a perfect learners beach with plenty of space for everyone when the points heat up.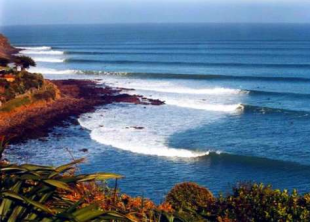 "I've lived there for two years now and can say the surf is pretty constant, there's almost always a wave for someone out there. We get more than our fair share of 3-5 ft swell with the bigger (double overhead) days around winter and spring tides. The town itself is low-key, relaxed, hippy oriented and non-judgemental. There are a few gay-owned businesses in town including an organic burger shack, and a pottery studio, not to mention I manage a hostel and surf rental business as an openly gay community member. As with anywhere, respect, tolerance and a sense of humor will get you far, but I'd love to see a few more gay boys out in the waves with me. There's also a wicked little music scene in town and perhaps the greatest coffee on the planet roasted fresh at Raglan Roast. " Comments posted by Josh (joshkosh)
NSW – North Coast – Birdie Beach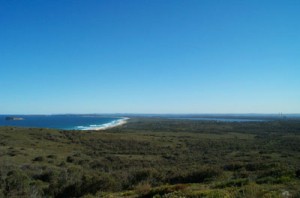 Birdie Beach can be reached by travelling along the expressway from Sydney and taking the Newcastle exit. Follow the Pacific Highway through Doyalson to Lake Munmorah. At Lake Munmorah take Elizabeth Bay Road at the traffic lights. Continue until you see the entrance to the Munmorah State Recreational Area on the left. Turn into the park and follow the signs to the Birdie Beach car park. There is a fee per vehicle to enter the park. There is a nice camping area just off the beach with cooking facilities, plus a toilet block but no hot showers.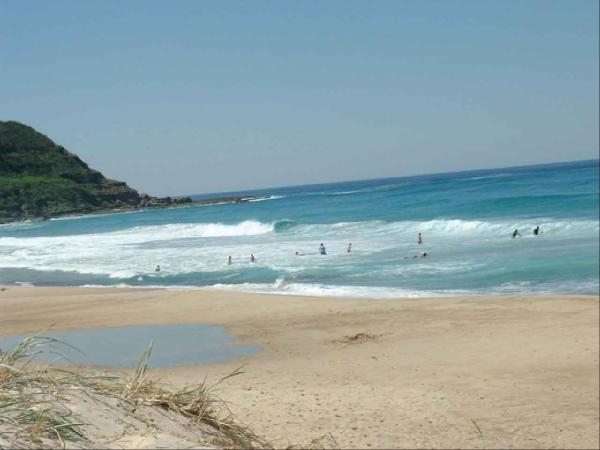 NSW – North Coast – Kings Beach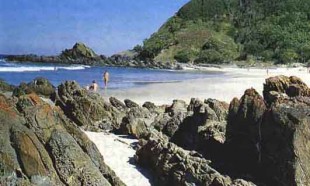 One of the best place to find uncrowded surf near Byron Bay is Kings Beach at Broken Head. It's also the most famous nude beach in the region. From Byron Bay take the coast road south toward Ballina. After about 8 km turn left to the Broken Head Caravan Park. Just before you enter the caravan park a narrow gravel road leads off to the right into the National Park. Follow this road to the car park on top of the hill. Space is very limited so only the early birds get into the car park. After that it is a case of do the best you can. A well maintained track leads down through the rain forest to Kings Beach. The walk alone makes the visit worthwhile. Although not a long distance it is rather steep so take only the essentials. Kings Beach is absolutely delightful, with huge rocky outcrops at either end, and a wide sandy horseshoe bay in between. Grassy sand dunes at the back give way to the forest covered hills behind. Pandanus Palms at the southern end provide some shade from the hot sun but an umbrella may be wise as the amount of shade is limited.
NSW – North Coast – Little Diggers Beach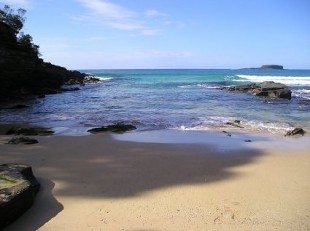 Little Diggers Beach is on the northern outskirts of Coffs Harbour, and over the last twelve years or so has become the main unofficial clothes optional beach in the area. Well aware of its existence the local authorities have adopted the view that so long as nothing untoward happens it will be a case of 'live and let live'. About 3 km north along the Pacific Highway is the Big Banana tourist complex. To get to Little Diggers Beach you take the road directly opposite this famous landmark and follow it through to the coast. It is advisable to park in the car park then walk through to the main beach. Proceed to the northern end of this beach, cross over a small rocky headland and you are on Little Diggers Beach.
NSW – North Coast – Little Pebble Beach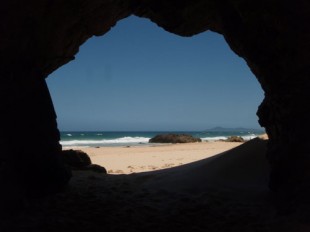 Halliday's Point is about 15 km north of Forster and about 18 km south of Taree. Little Pebble Beach is a small but very nice little unofficial nudist beach with 8 to 10 local regular users. To get there turn off from the Lakes Way between Forster and Taree. It is about 6 km to Halliday's Point. Drive past the main beach and the hill and park near the Bowling Club. From here you walk down the track on the southern side of the club to the beach.
NSW – North Coast – Queen's Head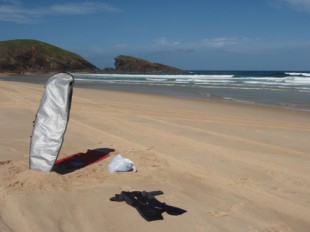 Heading north from Port Macquarie, you can take the car ferry across the Hastings River, to North Beach, where a 4WD track covers the 16 kilometres to Queens Head and Point Plomer. Queens Head has awsome lefts and lots of free camping around. Heading 40 kilometres north from Port Macquarie will bring you to Crescent Head, and out to Delicate Beach, where fishing is a popular pastime. While in the area you can visit Hat Head and South West Rocks at the mouth of the Macleay River. The sandy beaches, historic buildings and great fishing make it a favourite holiday spot. It is also close to the Arakoon State Recreation Area and Hat Head National Park for those who enjoy walking.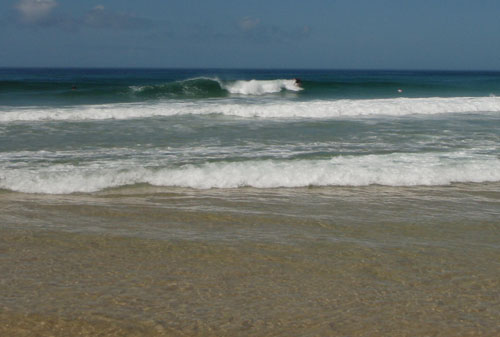 NSW – North Coast – Samurai Beach
To reach Samurai Beach, sometimes referred to as North One Mile Beach, leave the Pacific Highway north of Raymond Terrace and head for Nelson Bay on Port Stephens. To the south of Nelson Bay go in to Anna Bay and then head north along the coast road to Samurai Point. Alternatively you can continue almost in to Nelson Bay then turn right and follow the coast road back. There are several routes in to the beach itself. If you park at One Mile Beach at the southern side of Sandfort Caravan Park you must walk north along the beach for about 1 km to a rocky outcrop. The clothes optional area starts 200 metres north of here. From Middle Rock Caravan Park there is a track through the sand dunes to the beach. Slightly north of this park there is a four wheel drive track leading on to the beach. Samurai Beach is 1 km in length with rocky outcrops at either end. It is very natural and beautiful, and ideal for fishing, snorkelling etc. The clothes optional area includes the entire length of the beach.
NSW – North Coast – Shelly Beach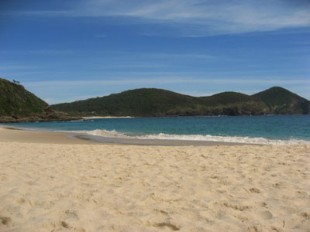 Faccing north, this beautiful nude beach is sheltered from southerly winds and works great on a north swell. Great wedge for bodyborders… About one km north of Bulahdelah turn off the Pacific Highway and take the 'Lakes Way' route to Forster. This road winds its way through some very scenic country to Pacific Palms. Continue on to the Elizabeth Beach car park. From here it is a 10 minute walk along the track leading up the hill and over the ridge to Shelly Beach. If you are travelling south along the Pacific Highway you can turn off just south of Taree and go down through Tuncurry and Forster to Pacific Palms. Can often see dolphins here: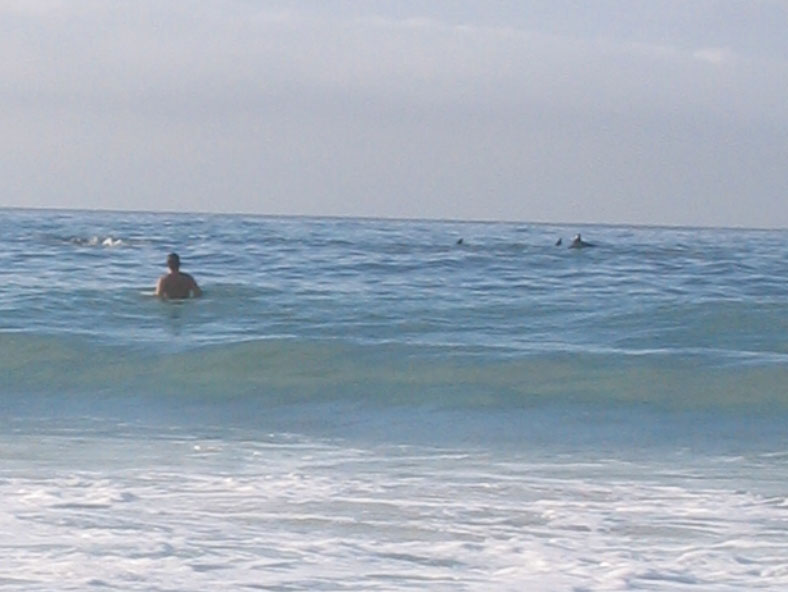 Have fun!
NSW – South Coast – Armands Beach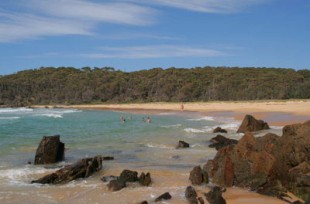 Situated 10 km south of Bermagui on the Bega/Tathra road and 3 km south of Cuttagee Beach. Access is gained via Kullaroo Road. There is 5 minute walk to the beach via a well maintained track. See this map for more details. It is an easterly facing beach of 250 metres in length with quite good body surfing. There are no toilets at the beach and it is essential people take whatever they want to eat and drink with them. More information is available at http://www.armands.org.au
NSW – South Coast – Werrong Beach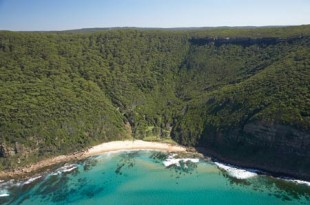 Approximately 40 km south of Sydney near Stanwell Park is Werrong Beach, set in the Royal National Park. Gazetted in 1879, this was Australia's first National Park and only the second in the world. From Sydney take the Princes Highway south to the F6 Freeway, and follow the signs toward Stanwell Park until you turn left to Otford Lookout. Go past the Royal National Park sign and park beyond the shop. From here walk up the good path to the Werrong Beach and Burning Palms Clifftop Walk. The path then descends steeply to Werrong Beach. The total distance around 1.5 km and steep in places, so it is not suitable for the elderly or the handicapped. Werrong Beach is a large amphitheatre about 300 metres long, surrounded by cliffs with a grassed area behind the beach.
NSW – South Sydney – Jibbon / Congwong & Ocean beach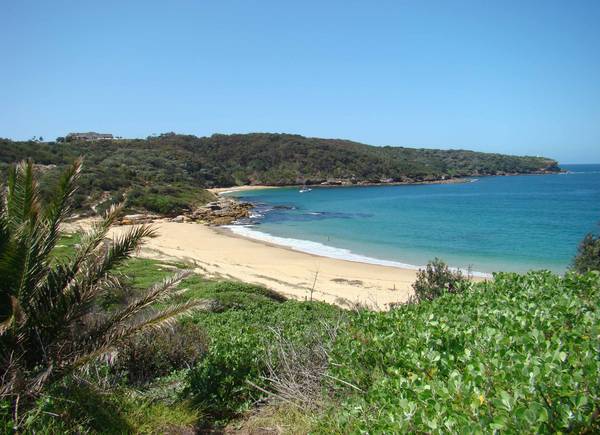 On the south side of Cronulla, is the remote town of Bundeena. Two nude beaches are walking distance from the main beach. Surfing is found further down at Ocean Beach, reached via a fire trail starting some 70 metres before the end of Jibbon Beach. It leads directly east to the ocean and this small sandy beach, which is fronted by rocks at low tide. Swimming is in the rock pools but care is needed in strong southerly swells. All these beaches officially close at sunset. An alternative means of getting to Jibbon Beach is to catch the ferry from Cronulla Wharf and then walk 400 metres to the beach. There are several other beaches in this National Park that are suitable for nude bathing, such as Marley Beach and Curracurrang. The main draw back with these is the long walk to get to them.
NSW – South Coast – Lake Conjola / Green Island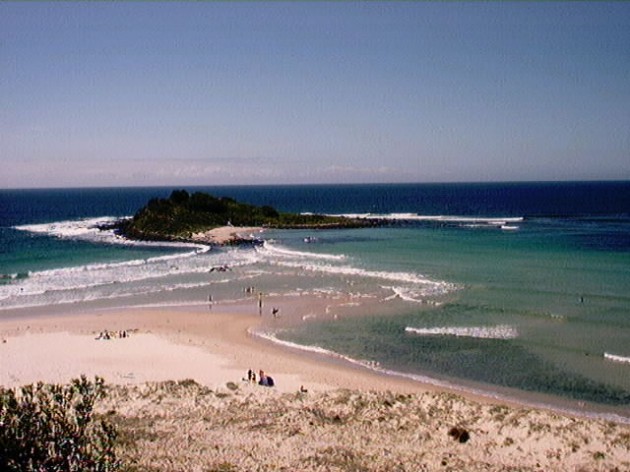 One must visit area is lake conjola on nsw sth coast. Green island is just beautiful and a mellow left that needs south swell and NE wind. Nearby is bendalong beach, one of the most consistent beaches on whole east coast. It's about 3 hrs from Sydney. Nearby town is Milton where PILGRIMS health food/cafe is. You simply CANNOT pass this place. I never ever pass it. Often, my surfing day nearly finishes there post lunch Yyummo! (Comments posted by Scott @digitalia)
PORTUGAL – Costa da Caparica / Beach 19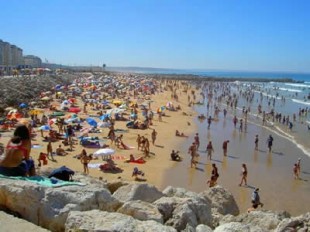 Costa da Caparica beach in summertime. The boulevard of the village itself is undergoing major reconstruction. A huge boardwalk is being built, where half of Lisbon is parading on a warm summer day. Take the little train (in season) at the end of the boardwalk (€ 5 return) and it will take you 8 kilometres south to the quiet stretches of sand. The train has 21 stops (the first three are under the new boardwalk now, so it starts at stop (paragem) number 4 (September 2008). Stop (paragem) 19, also known as Beach 19 or Praia de Bela Vista, is where the nudist beach starts, also world famous for being Portugal's most popular gay beach. The best ones are Morena and Sereia, surrounded by dunes and with good bars. At almost every stop there's a beachclub and the further south you go, the more you have the place to yourself. As everywhere in the world: where the nudist beach ends, the gay cruising begins and this is the largest in Portugal. In the vast bushes behind the railway track, guys from all over Europe and beyond, meet for some fun and relaxation. From Lisbon to Costa da Caparica: by car, go South to Caparica and south again all the way to the last access to the beaches. When the road goes uphill, you have just passed the access you want to go! Go past Praia do Rei until the parking at the end of the dust road. Upon Bela Vista, walk south, to the left of the restaurant. It's some 2 miles of white sand beach and dunes! A taxi will take you there from downtown Lisbon for a little over € 20. By bus: from Praça de Espanha take bus 153 to Costa de Caparica busstation. Walk five minutes south along the boulevard and you'll see the little train, that leaves every half hour (until end of September). The 161 bus from Praca de Areeiro will also take you to Caparica. An alternative route includes a mini-cruise on the ferry from Cais do Sodré across the river to Cacilhas. Get on bus 138 (directo) to Costa da Caparica (bus 124 via Almada will provide you with a long detour past 1960 highrise architecture, that's better avoided). By train: cross the Tagus river to Pragal railway station and take bus 196 to Caparica. The train may be a good alternative on weekends, it'll help you avoid the traffic jams on the 25th of April Bridge. From Lisbon to Costa da Caparica: by car, go South to Caparica and south again all the way to the last access to the beaches. When the road goes uphill, you have just passed the access you want to go! Go past Praia do Rei until the parking at the end of the dust road. Upon Bela Vista, walk south, to the left of the restaurant. It's some 2 miles of white sand beach and dunes! A taxi will take you there from downtown Lisbon for a little over € 20. By bus: from Praça de Espanha take bus 153 to Costa de Caparica busstation. Walk five minutes south along the boulevard and you'll see the little train, that leaves every half hour (until end of September). The 161 bus from Praca de Areeiro will also take you to Caparica. An alternative route includes a mini-cruise on the ferry from Cais do Sodré across the river to Cacilhas. Get on bus 138 (directo) to Costa da Caparica (bus 124 via Almada will provide you with a long detour past 1960 highrise architecture, that's better avoided). By train: cross the Tagus river to Pragal railway station and take bus 196 to Caparica. The train may be a good alternative on weekends, it'll help you avoid the traffic jams on the 25th of April Bridge. At stop (paragem) 21 at the end of the line where the train turns, there's the village of Fonte da Telha ('Fountain of the roof'). This little fishermen's village is perfect for that holiday feeling. This is the real Portugal, with some trendy beach cafés added to it. Fonta da Telha can also be reached by bus from Cacilhas harbour. Beach 19 is just a short walk from the centre of Fonte da Telha. A taxi there from Lisbon will put you back a little over € 25. Even further south, about 10 kilometres from Fonte da Telha: Meco Beach, a real mecca for nudists & surfers A useful place to contact is the Centro Comunitário Gay e Lesbica de Lisboa, at Rua de São Lazaro 88 in Lisbon, contactable on 218 873 918, which arranges gay events in the town and can advise on similar activities in other destinations, perhaps providing contacts or at least pointing you in the right direction for more information. In Lisbon you will find several gay bars, community centres, restaurants, saunas and even beaches. The best place to go is the Bairro Alto or the Praça do Prínçipe Real where the relaxed atmosphere in the clubs and bars is a welcome change to the rest of Portugal. Although scenes of homophobic violence are rare, discrimination at work and at school is reported regularly.
PORTUGAL – Meco Beach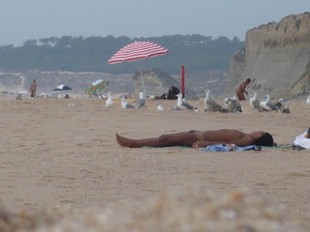 The beach of Meco is really wonderful, very popular by the Portuguese and the most well known internationally. Meco near Alfarim, 40 km south of Lisbon, is located in the middle of a natural park called 'Serra da Arrabida'. This is a real 'mecca' for nudists & surfers. The excellent beach cost line in this area, the well persevered surrounded forest and the climate attracts tourists from all across Europe. Nudist tourism is growing vastly in the last several years in Portugal. The beach of Meco got famous in the 70s as one of the first nudist beaches. Website Young Naturists. At the beach, facing the ocean, on the left side is a high dune from where onwards start the naturist area, opposing to the right side, where the beach amenities are situated, frequented by families. Protected by a high cliff, with small springs (drinking water) and excellent green mud for skin treatments, which is a common sight. Beach restaurant "Bar do Peixe (Fish)", an excellent bar/restaurant with a chill out area (closed Tuesdays). Traditional Portugese meals. Our choice for lunch: Salada Russa con gambas (Russian salad with shrimps) € 7.50, Salada Atum (Salad with tunny) € 7.50, a small bottle of white wine (vinho branco) € 3.80, agua (water) € 1.00. Rua Praia do Moinho de Baixo, Meco. Fishermen with their nets, September 2008. The village lives mostly from the local tourists; when the season is over, people like to visit Meco because of the good restaurants and to walk on the beach. This friendly lady will take care of your car for the whole day: € 1,00. Closer to the beach the price is € 1,50 per day. If you travel by car: from Lisbon, take the A2 South Highway, then towards Sesimbra and after Fernão Ferro turn right to Alfarim, and right again to the beaches ("Praias"). Meco Beach has several paid parking lots. Once agricultural fields, nowadays transformed into car parking lots during summer time, as it is much more profitable for the local families. Public transport: from Lisbon this beach is not the best to be reached. You'll need to catch the bus to Sesimbra from Praça da Espanha bus terminal in Lisbon and get off at Santana. Several buses run to Meco on a regular basis. Don't forget to ask for a timetable to go back to Lisbon. Meco Beach: excellent for activities such as surf, parapente, fishing or windsurf. On windy days the sea can be quite rough.
PORTUGAL – Sao Pedro de Muel / Praia da Vieira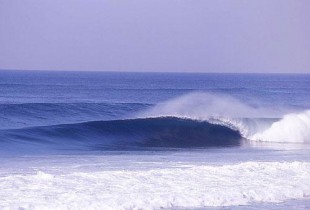 The beautiful village of Soa Pedro de Muel has great surf at low tide. 12 km from Marinha Grande, west direction, Between Nazaré and Figueira da foz. 3km north of São Pedro de Moel is a nude beach called Praia da Vieira that has awsome surf and really uncrowded breaks.
QLD – Noosa – Alexandria Bay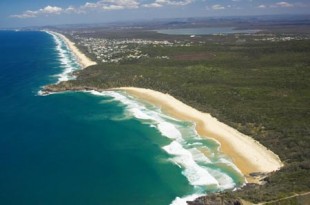 Alexandria Bay is located on the eastern side of the Noosa Heads National Park. It is by far Queensland's most popular free beach and has been used for nude swimming and sunbathing for many years. Most days there are quite a lot of people on the beach, sometimes hundreds on weekends. There are a few different ways of getting in to Alexandria Bay. First of all you can drive down into the main part of Noosa Heads and turn right at the Hastings Street roundabout then follow the beach road around until it ends in the main National Park headquarters car park. It is then a very scenic 3 km walk into the beach and along to the southern end where the naturists tend to congregate. Alternatively you can also enter the park from the southern end at Sunshine Beach, either via Solway Drive or Park Edge Road. You can also walk in from Sunshine Beach but it is quite a steep climb in places. The Solway Drive approach is the shortest but parking is very limited and strictly policed, so be wary.
Enjoy!
SOUTH AFRICA – Cape Town
Cape Town is a very gay-friendly city, so the surf spots around here and the beaches are gay friendly, some extremely polular with gay people. The beaches (and surf spots) near to the City Bowl are the most gay friendly. Spots such as Glen Beach and Clifton and Camps Bay and Llundudno, Sea Point and Mouille Point. Further from the City Bowl and probably gay-friendly is Milnerton, Blouberg, West Beach, Derde Steen, Melkbosstrand to the North, and Noordhoek, Kommetjie and Scarborough to the South. The southern communities are very arty and alternative, so they would in theory be gay friendly. On the False Bay coast definitely gay-friendly part of the city is Muizenberg and Strand, Glencairn. Fish Hoek is more conservative and family orientated, but I live there, and I would love to see gay folk hang out there to surf. I certainly do surf and suf-ski there. Fish Hoek and Milnerton and Sea Point have a large surf-ski community, related to surfing too. Some of the more "hardcore" and small surf spots might not be so friendly to outsiders, purely because these spots are extremely small and local, and the locals are very jealous. One such spot is Kalk Bay, and the surfers there are actually bombastic and will let your tyres down and spit on you on the waves (personal experience). Another is Kommetjie (Long Beach), possible Glen Beach in Camps Bay too. Those are the only unfriendly surfing spots that I know of, the rest of Cape Town is friendly. Where the surfing spot is spacious, there generally isn't a problem. (written by Wayne)
South Australia – Yorkes Peninsula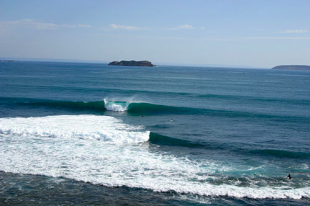 The surfing on Yorkes Peninsula is an experience in itself. Whether you are a participant, or someone who enjoys sitting back and watching, you will see some perfect right beach breaks and some unforgiving lefts. There are waves for all different classes of ability which are located within close proximity of Marion Bay. The coastline accepts winds from all different directions, so you are sure to find it offshore somewhere.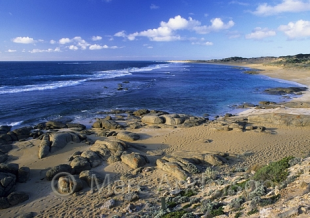 There are many quality surf breaks to choose from in the area. Listed below are some of the most well known breaks located in close proximity to Marion Bay. There are endless beaches that serve up some punchy beach breaks and if you are prepared to search you might come across some interesting places. Just remember to respect the local line up and you are sure to have some all time sessions. Innes is a particularly famous surfing destination, hosting South Australia's most prestigious surfing event, the Cutloose Coopers Classic. This is held in Innes National Park at Chinamans every October long weekend. Surf Locations / Breaks Chinamans This is a high quality wave, it has a powerfull hollow left hander that handles large swells. Left hander, reef, experienced surfers only. (Offshore North). Pondalowie Bay A consistent fun long right that handles large swells. It also breaks left which is of better quality when it is small. Right hander, reef/beach, medium experience (Offshore South East to East).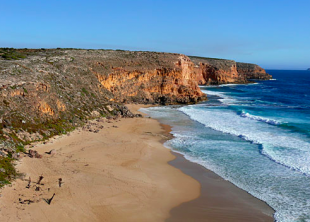 Unlike some of the more localised breaks in the area, "Pondie" as it is known to regulars has a cruisy vibe with many travellers and weekend surfers staying in the nearby campground Daily Heads A quality left that handles the biggest swells to hit the coastline. Left hander, reef, experienced surfers. Trespassers A punchy right that offers some nice barrels. Right hander, reef, experienced surfers only. (Offshore East). Salmon Hole A long right that offers some wackable faces, and the occasional barrel on the suck rock. Right hander, reef, medium to experienced surfers. (Offshore North). You might have to doge a rock or two on low tide.
SPAIN – Santander – SOMO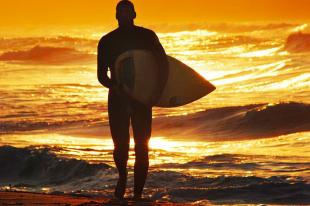 Somo is in Cantabria (North West of Spain) Great surfing Spot: Uno de los lugares de Cantabria donde hacer surf. http://maps.google.es/maps/ms?ie=UTF8&hl=es&msa=0&ll=43.472449,-3.728271&spn=0.006727,0.01929&t=h&z=16&msid=104041099488373580292.0004936100cbdcd249817
"In the Santander city (about 300.000 habitanst) there are clubs and gay asotiations. Summer is best time to visit. We get some civil rights and the society is most tolerant than some years later. Como se dice ¡hasta pronto! 🙂 Sorry for my english", Castro
UK – Brighton
Brighton is a great surf spot: The West Pier is a mellow, cruisy (not in the other often used term in Brighton!) low tide wave, The Wedge and C**t's Corner are wedgy speedbump waves near the Palace Pier, the Barge is a mysterious seldom surfed big wave spot off the Palace Pier. The Marina (aka Custard Point) to the E of the Marina is the heaviest, most localised, beach / reef break in the area which you need a long apprenticeship at to be accepted.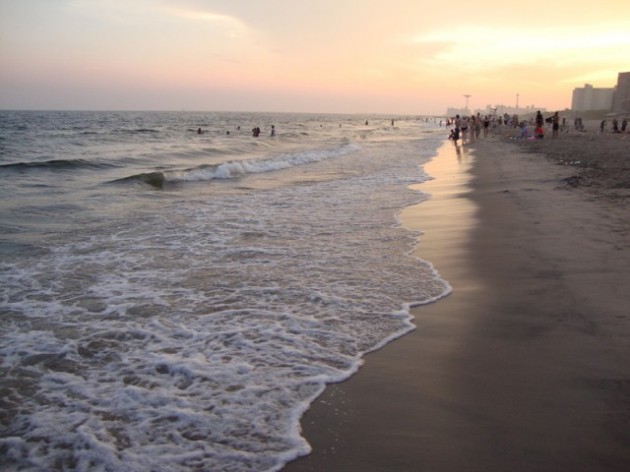 It is no wonder that Brighton has such a big gay community given its long and checkered history. This tiny fishing village, originally called Brighthelmstone, became popular when it was thought that both bathing in and drinking sea water, had a beneficial effect on ones health, leading London's society to flock to its shore. The seal of approval came when the Prince of Wales, later to become George 1V, took to the sea here. He enjoyed the relaxed atmosphere away from the prying eyes of London Society and the Court. He first set up home in an old farm house and decided to have stables and a riding school built to an Indian theme, these became the Royal Pavilion which is Brighton's jewel in the crown. This was the period when men were fastidious in their dress and become known as Dandies, the most famous being Beau Brummel who was a particular friend of the Prince Regent until he fell out of favour and had to flee the country to avoid his debtors. The opening of the train line meant that London became that much nearer and it became and still is home to many stars of music, film, literature and the theatre, which is probably why the gay community became so big. Amongst the great and the good that either were born or lived in Brighton are Dame Anna Neagle, Sir Terence Rattigan, Dame Flora Robson, Dora Bryan, Rudyard Kipling, Dame Gracie Fields MBE, Australian comedian Mark Little, Forces sweetheart Dame Vera Lynn OBE, inventor William Friese-Greene, who is known as the father of the moving pictures, Ben Sherman shirt maker extraordinarie, Magnus Volk inventor first electric railway in Gt Britain, Kevin Rowland of Dexys midnight Runners, Laurence Olivier and wife Joan Plowright CBE, Peter O'Donnell the writer of Modesty Blaise, Gaz Coombes of Supergrass, Oscar Wilde and his sometimes illustrator Aubrey Beardsley, Dusty Springfield, Julian Clarey, Ivor Novello, Virginia Woolfe, Fat Boy Slim and wife Zoe Ball the list goes on and on. It is this long and esteemed history that has led to the creation of the first British Hollywood style Walk of Fame being created. There is much to do in Brighton, the beautiful front used to boast two piers, alas one has burned down but the Georgian and Victorian squares and crescents are magnificent. If antiques and brick-a-brack are your scene, there are many little shops clustered in the Laines district which is a delightful jumble of back streets. There are also many gay shops like Fundamentally Female, Clone Zone and, if you are transgendered, Lacies will provide a selection of clothes and accessories to flatter and enhance. The Gay Village is located in the Kemptown area of Brighton and centred around St James Street where the numerous clubs, bars, and shops are to be found. In Brighton it is probably quicker to list the non gay friendly places but some of the venues worth a look are the Brighton Tavern, The Candy Bar which caters for the lesbian market, The Amsterdam which also sports a sauna and hotel attached, drag queens and transsexuals gather at The Harlequin for karaoke and cabaret, PV is a pub run by lesbians but they do allow the boys in and if you want a smoke with your drink, it has to be Legends on the sea front with their amazing roof terrace. After a drink you will want to sample the vibrant gay club scene. Start with the basement of Legends before going on to the internationally renowned Revenge, a huge club which is open seven days a week, then finish off at the very intimate V2. Some of the bars host club nights so look for Sunday Sundae at Audio, Wild Fruit at Tru and the inimitable FTPA at the Candy Bar. Just in case you want to sleep, shame on you, the number of gay friendly hotels are the most dense in the UK. Lesbians will want to sample the delights of the Pink House and Sea Spray whilst for luxury and position there is Queens Hotel, central to the action, right by the Pier and sporting a steam room, sauna and swimming pool, others worth a look are the New Stein Hotel, Paskins Town House with some art deco whimsy and Hudson's. If you arrive by train you may want to take a diversion to see the Banksy close by which is the two policemen kissing. Finally, for the adventurous, Brighton has two nude beaches. One is legal, situated close to the marina, Hallo Sailor!, the other is unofficial and further away at Telscombe Cliffs. As this is a family beach discretion is advised.