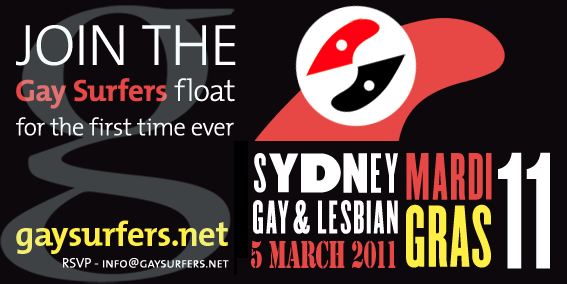 This year, a group of surfers marched with their surfboards in the parade of the Gay and Lesbian Mardi Gras in Sydney, Australia.
Thomas, the founder of GaySurfers.net explains, "By participating in Mardi Gras, we are showing the public that a healthy diversity exists in both the gay community and the surfing community."
Led by members holding the GaySurfers.net banner and followed by a 4 wheel drive showcasing the G-board and laden with surfboards, 25 girls and guys walked, danced and grooved along the parade route to a slick mix of iconic surf tunes. When the song 'Wipeout' blasted out from the PA, each member's surfboard was raised into the air in formation to spell out 'GAYSURFERS.NET. Always at this point the crowd would go wild. (Check out the video below)
GaySurfers.net even got some TV air time with Pam Ann to get their message out to home viewers that 'we, at GaySurfers.net, are a global community of surfers with 3,000 members from 80 countries…we surf together and (regardless of what Pam Ann thought), wax is used for our surfboards.'
GaySurfers.net launched in February 2010, is free to join and offers gay surfers from every point on the planet a place to meet, socialise, create surf GROUPS based on geographic location and plan surf EVENTS. Members can post UPDATES about what's happening in their surf world, share articles and favourite surf spots, participate in FORUMS and upload surf videos and photos. One exciting component of the website is the global mapping of gay friendly surf spots, surf tours, accommodation and businesses. 'It's fast becoming a global surf guide for surfers who are gay.' In just one year, GaySurfers.net has almost 3,000 members from around 80 countries.
The site is designed for men and women, and all ages seem to be jumping on board. 'We're stoked that younger surfers are finding and using the site to network with other surfers.' This is especially important as younger guys who are just discovering their homosexuality need the most support and encouragement – especially in light of recent, tragic news of homophobic bullying and suicides among gay teenagers.
Thomas emphasizes at every turn that this is not a dating site, nor is it a porn site; it is strictly a social community based on a passion for surfing. 'Those hoping to slide a questionable photo in under the radar better find another website, because we monitor this one closely'. He is serious when he says he wants GaySurfers.net to remain "a safe place for all ages."
As GaySurfers.net grows, I hope our message of acceptance and understanding spreads throughout the global surfing community. Nomads unite! Gay or straight, we all share a passion for the greatest sport in the world.
——————
For more information visit www.GaySurfers.net, or contact thomas@GaySurfers.net
To download the full press release and artwork: https://www.gaysurfers.net/images/GS-Promo-Images.zip
——————-
Gay Surfers at Sydney Mardi Gras 2011 – The video documentary

Gay Surfers at Sydney Mardi Gras 2011 -TV broadcast