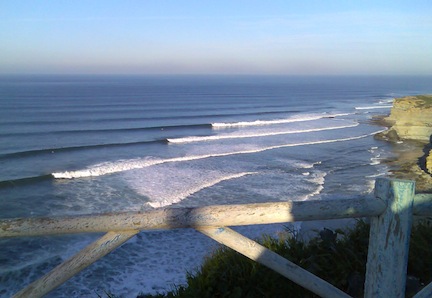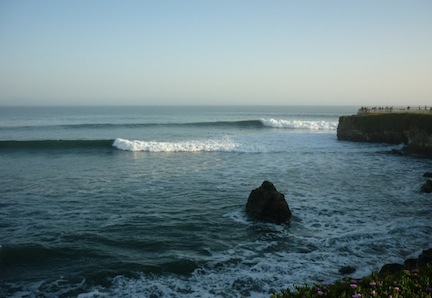 Storied surf zones in Northern California and Portugal join Malibu, California, and Australia's Manly Beach as sites to be formally dedicated
February 24, 2011 – Santa Cruz, CA, USA / Ericeira, Portugal – World Surfing Reserves today announced that two nominated surf zones – Santa Cruz in Northern California and Ericeira in Portugal – have been formally approved and will be dedicated as World Surfing Reserves (WSRs). The two iconic surf regions will join Malibu, California, which was dedicated as the first World Surfing Reserve in October 2010, and Manly Beach, Australia, which was approved in 2010 and is awaiting dedication sometime in 2011, as the first sites to receive the prestigious WSR designation.
The Santa Cruz zone, approximately 11 km (7 miles) of coast extending from Natural Bridges on the western end to Opal Cliffs just east of Pleasure Point, is made up of a dense collection of cold-water dream waves and is steeped in surfing tradition. The zone is best known for the iconic spots at Steamer Lane and Pleasure Point, both world-renowned righthand pointbreaks.
"I can't think of a more deserving location than Santa Cruz," said the city's most notable icon, Jack O'Neill, who invented the surfing wetsuit so he and his friends could surf the frigid waters back in the '50s and '60s. "It's got so many amazing surf spots, a wonderful surf community, and it's just a beautiful stretch of coast. The World Surfing Reserve designation will be a great way to help preserve the area."
The Ericeira area of Portugal is a surf mecca for Portuguese and international surfers alike. The approved Ericeira surf zone consists of 4 km (2.5 miles) of coastline that contains a highly concentrated group of quality surf breaks, several of them world-class, including the popular Ribeira d'Ilhas and other world-renowned breaks.
"Ericeira is such a diverse surfing coastline, it has something for everyone," said WCT professional surfer Tiago Pires, who grew up surfing there. "There are big waves, small waves, expert waves, and beginner waves. I love this area, and I'm glad to see it get the recognition it deserves, as well as a tool to help better protect it."
World Surfing Reserves seeks to designate and protect the most important and cherished surf areas around the world, in partnership with local surf communities. WSR sites are nominated and selected based on four major criteria: quality and consistency of waves, importance to surf culture and history, environmental characteristics, and community support. So far over a hundred sites have been submitted for consideration for WSR status from 34 different countries.
Ten-time World Surfing Champion Kelly Slater, who lent his support to the World Surfing Reserves movement last year, also expressed his strong backing for Santa Cruz and Ericeira. "Any time we have a chance to officially preserve a beach or specific surf break, I'm all for it," he said. "World Surfing Reserves is setting the bar high and far-reaching by covering the globe with the next group of beaches to be protected. I look forward to the dedications and future protection those beaches – as well as many others – will see."
Beyond its cultural and aesthetic significance, each WSR is a meeting of land and sea selected for the unique and salutary nature of its waves and natural setting. The dedication of each WSR seeks the protection of this coastal zone of waves and habitat from inappropriate development, through international and local partnership that builds community around conservation, to improve and dictate stewardship of the area.
About World Surfing Reserves
World Surfing Reserves (WSR) proactively identifies, designates, and preserves outstanding waves, surf zones and their surrounding environments, around the world. WSR is an initiative launched by Save The Waves Coalition in 2009 in conjunction with National Surfing Reserves – Australia, and through additional partnerships with the International Surfing Association (ISA) and Stanford University's Center for Responsible Travel (CREST).
For more information:
www.worldsurfingreserves.org
Contact:
USA contact: Dean LaTourrette, WSR Executive Committee, Executive Director – Save The Waves: +1-415-596-7873 • dean@savethewaves.org
Portugal contact: João De Macedo, WSR Ambassador: +1-415-518-4747 • joaodemacedo7@gmail.com
Australia contact: Brad Farmer, WSR Executive Committee, Founder – National Surfing Reserves Australia (www.surfingreserves.org ): +61-413 031 870 • unitedrelations@sydney.net