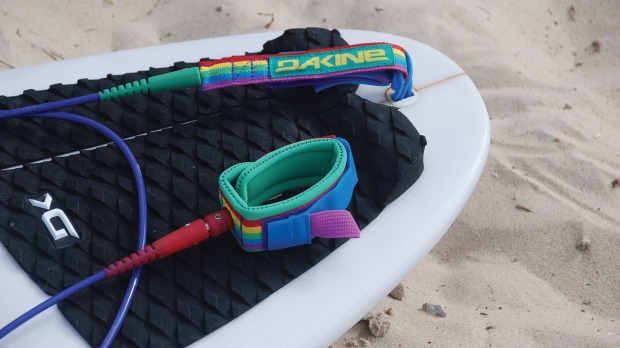 This is the first time a professional surfer is showing support for gay surfers !
Through the Rainbow Lace campaign, Champion surfer Joel Parkinson is also showing his support by wearing a rainbow leg rope at a major tournament: Rip Curl Pro at Bells Beach.
Here is what he posted on his INSTAGRAM ! And check out the comments !
It's the Easter long weekend and that can only mean one thing: the world's longest running surf competition at iconic Bell's Beach must also be on.
If you watch closely, you will see the evergreen Australian surfer Joel Parkinson tearing it up with a rainbow leg rope strapped to his ankle.
That's his way of supporting the anti-homophobia campaign Knot Me Project.
The leash has been made by Dakine, and is almost a throwback to the look of surf gear from the 1980s.
"It started as a conversation with Searley [manager Michael Searle, then turned into an idea and then became what it is now," Parko told us. "I support equal rights. I'm a happily married man with three kids, and I thought it was a good thing to support because it's something I truly believe in.
"The actual leash is really good, too. I hope it creates awareness about the issue of homophobia in sport. As long as everyone is getting along, it shouldn't matter. Surfing is a very open sport."
Parkinson has rung the bell at Bell's three times, in 2004, 2009 and 2011. At the age of 34, having joined the world tour in 2001, you'd think he would start slowing up.
But he says he has a renewed hunger as this year's World Surf League cranks up.
"I was disinterested in some events last year and I didn't feel like being there," he admits. "This year, I am a lot hungrier. The run of good surf in the last couple of weeks has made me fall in love with surfing again."
He's also got a strong social conscience, too.
The Rainbow Leash is part of his "Legacy Projects" initiative, which started at Snapper Rocks last weekend with the inaugural Indigenous Surfing concept to drive indigenous surfing participation.