April 20, 2016 in News by thomasadmin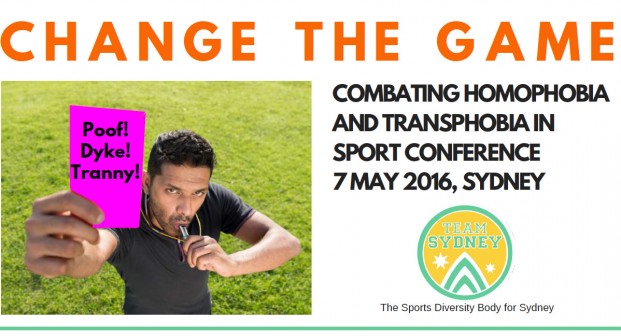 Ian W Thomson and Thomas Castets (director and producer of the film :OUT in the line-up) will be speaking at a the conference Change The Game – Combating Homophobia and Transphobia in Sport in Sydney – 7th May 2016 ‪#‎ChangeTheGame‬ ‪#‎Homophobia‬ ‪#‎Transphobia‬ ‪#‎TeamSydney‬ ‪#‎Sydney2016
Team Sydney aims to promote and encourage participation in sport and sporting events and foster a healthy lifestyle.
Sports and international sporting events have the ability to unite people around the world. However, homophobia and transphobia are still present within many sporting communities and especially in amateur sport in both education and leisure. This must change.
To Register go to www.teamsydney.org.au/ctg
Our Response: Change The Game Conference
The Out in the Fields survey in 2014 showed that 80% of those surveyed had experienced some form of homophobic abuse.
Theme: Combating Homophobia and Transphobia in Sport
When: Saturday, 7 May 2016 (all-day event, food and drinks provided throughout the day)
Where: 99ONYORK, 95-99 York Street, Sydney (formerly 'Bowler's Club of NSW')
Who: School principals and teachers, school counsellors, coaches, volunteers, sponsors, sporting clubs, parents, administrators, IEU, tertiary educators (particularly in the fields of psychology, sports management and teaching), sports participants, fitness centres.
Why: To focus on current research and practice in areas relating to the promotion of, and safe participation in, all kinds of sport, exercise and physical activity. The Change The Game Conference will provide an interactive, educational forum, promoting a healthy lifestyle with inclusivity in sport. The theme will be managing homophobia and transphobia in sport to allow athletes to participate in an unrestricted and safe way, leveraging from the work done by Come Out To Play, Out On The Fields, Play by the Rules and Sports Without Borders.
Team Sydney's Change The Game Conference aims to provoke dialogue that leads to cultural change. Our goal is to prevent alienation, bullying and the often resulting self-destructive acts. It is common for young people to feel isolated simply for being themselves.
It may be hard to change habits or to change people's language, but it is possible.
Conference Aims
Focus on current research and practice in areas relating to the promotion of, and safe participation in, all kinds of amateur sport, exercise and physical activity.
Provide an interactive, educational forum, promoting a healthy lifestyle with inclusivity in sport
Provoke dialogue that leads to cultural change
To Register go to www.teamsydney.org.au/ctg