Originally published by gravedadzero.tv – Translated with Google Translation.
---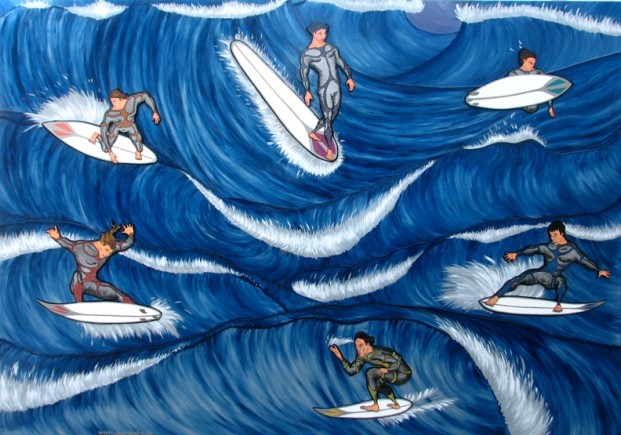 On your website there is a maximum that caught my attention. "Surfing and creating are pillars of evolution" Could explayarte in this concept?
The Artist is like a surfer who seeks to evolve with their maneuvers in the water, where surfing, I see that the artist seeks the same in their creativity, the use of materials, inspiration, I see surfing as a canal linking many other things on my site will include ecology as one of the pillars of evolution, and through the surf we can learn to put these pillars, the philosophy of life is surfing, surfing is philosophical in nature so applies to our actions,
What is your history with art on one side and the surf on the other? When do decide to link the two?
The two stories were forged in the same place, innately in Miramar starting them to capture in Vieste Italy, where I started creating my own works and to have my first practice with a table, the short time I returned to Miramar and so I started fully with all this.
Do you take nature as muse, besides surfing? What other things inspire you?
Love
Tell us about your studio in Miramar and young people expressed there What idea what you've started?
It started by my father, who built this was the store where he developed his business, large and closed my old ones and gradually I built my studio where he works there now ArteEvolutivo my school, a space that integrates different artistic disciplines; the student covers the experience as an artist to develop creativity and knowledge.
You traveled to Italy, Brazil and Spain through art What were those experiences? Internally they discover things about yourself in art and surfing.
Like I said earlier in the trip are gestated all these things which now gave me emotionally very strong and positive for the development and growth of my profession as an artist, was very magical and nourishing experiences for which I am very grateful because I have memories of great moments and special people who made this possible.
When you talk to seem to be interested in surfing as a lifestyle. How do you get along with the vision begins to see it as a sport and business of the transformation in sport fairly recognized?
Surfing is religion and I told some enhanced its philosophical essence, if that is transmitted to the mass consumer surfing is one of the best bargains out there, I have many friends that live professional sport of surfing, I work a lot with surfing, either with my school of Art in the surf school BILLABONG Bollini Augustine, and from the AMS (Association of Surfing Miramarense) or the Surf Club and Art by Lucila Gil, all open spaces together with people and institutions that opens the range of surfing towards their growth and spread, I hope to see surfing in the Olympics or world championships live in Miramar for example.
Please define Javier Javier D'Onofrio D'Onofrio Artist and surfer
This is difícil. Te leave some lines I wrote something that I feel defines me as both
The best surfer
is one that he drops the Love;
is one who seeks the timing
surfing life;
is one that seeks to maneuver
for their evolution;
is the man of inner beauty
that expresses it around;
is one who shares his individualism
to create a better world
the best surfer in the world is you.
Poem and Painting: Javier D'Onofrio