The Netherlands may still enjoy a vestige of its former reputation for liberal tolerance amongst its global country peers but recent political developments have seen a populist right-wing anti-islam party tacitly supporting a right-wing coalition which has been tough on immigration and also came up with the 'brilliant' idea of the Weed Pass, which may potentially make it very hard indeed for cannabis coffeeshops to survive.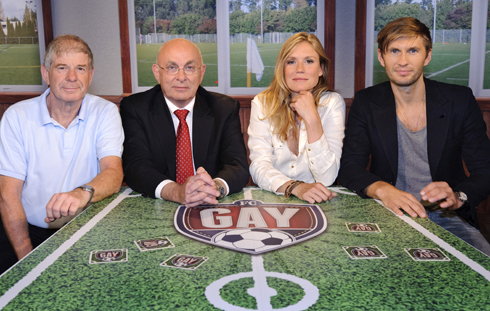 BNN team: Barend, van Praag, Hilbrand and Levchenko (photo A vd Togt)
So many liberal landmarks gone or threatened in such a short time.
But Holland has always been – and still is at the time of writing – a bastion of the gay community. The Netherlands passed a law a decade ago which permits homosexual marriages, and the country's central position in matters of gay rights and movements (2012 is Pink Year in the town of Haarlem, for example), has never really been in dispute. So perhaps it is not surprising that the taboo of male homosexuality in professional Dutch football is now to be tackled.
BNN (a Dutch TV broadcasting organisation) has pulled together a few important footballing figures along with one of their more popular presenters for a one-off theme evening under the name FC Gay (linked article in Dutch), which will also serve to launch a campaign on the same subject by the Royal Dutch Football Association (KNVB). The campaign is due to be launched on 11 October 2012, national 'coming-out day'.
Taking part in the programme will be KNVB president Michael van Praag (ex-director of Ajax), former Eredivisie (premier league) footballer Evgeniy Levchenko, tv pundit Frits Barend and ex pro footballer Wensley Garden, a gay footballer who did come out… once his career was over.
Presenting the show will be Sophie Hilbrand, a popular and forthright young woman who also happens to have a history of presenting brutally honest programmes exploring taboo subjects in society. She should not have too much trouble asking the 'difficult' questions.
BNN has intimated that the viewers can expect questions like, "Would supporters really attack players if they find out their striker likes men?", and, "Are gay footballers simply not tolerated by their fellow players?"
Meanwhile, ex-footballer Garden, who claims it was 'impossible' to come out during his career, will revisit his old team-mates to question and confront them about gays in football.
A spokesperson for the KNVB said that they had been considering the campaign for some time and that they had now decided the moment was right to confront the issue, saying, "The only way to tackle this problem is collectively, involving all the relevant organisations".
It is perhaps ironic that the announcement comes in the same week that ex-Dutch international Frank de Boer has been criticised by a gay rights lobby group for telling BNN that there weren't any gay men in football "because they tend to have different motor skills to straight men". And Italian international and AC Milan player Antonio Cassano was fined for saying that he "hoped there were no homosexuals in the Italy squad for the [Euro 2012] tournament in Poland and Ukraine".
Given that the world of professional football in Holland is probably just as macho-minded as most of its global counterparts, what are the chances of BNN actually outing a currently playing professional gay player? Well, pretty slim really. Or to put it more optimistically: fat chance!