Written by Hayley MacDonald – Published by Fuse Magazine in Australia (March / April 2012)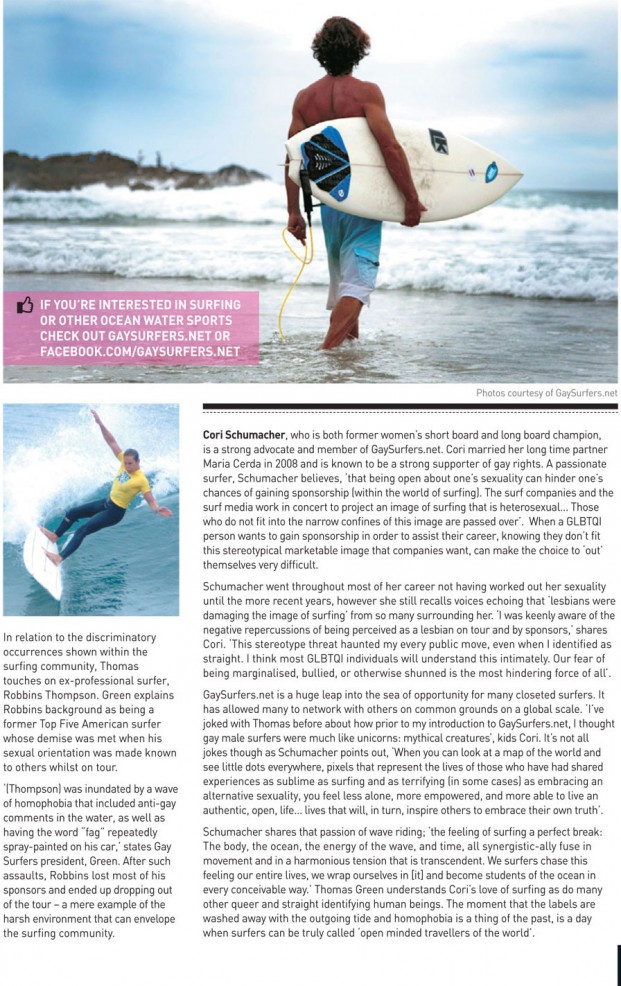 TEXT VERSION
AUSTRALIA AS A NATION STANDS PROUD BEHIND ITS SURFER REPUTATION OF THE SUN BRONZED, MUSCLE TONED, SEXY SURFER GUY AND GIRL.
We see pictures of board-short clad, six-pack carved bodies carrying their surfboard down the beach underneath their broad sculptured shoulders and bikini clad tanned women flaunting their 'assets' on billboards around the country, pushing the stereotypical Aussie label. Sports entertainment company, Sweeney Research' produce 'The Sweeney Report' which indicates that roughly two and a half million people surf in Australia alone. With such high numbers, certainly there is a spot for those who identify under the GLBTI banner, yet when it came to the search, only a mere few were discovered amidst the millions holding the rainbow banner high.
Surfers as a whole all share a passion for the ocean. They are a community within themselves and it seems only those who ride the waves understand the freedom that is found when giving themselves over to the sea. Those who love to surf generally, are known to be searchers and travellers, forever wandering with an open mind in hope of finding the perfect wave, regardless of which continent they end up. With their willingness to open themselves up to new cultures and ideals, they seem to have somehow found difficulty in allowing the gay surfer
to be as free as what their surfer ideals perceive them to be. Perhaps the sport has somehow managed to gain an abnormally high percentage of heterosexual participators or maybe, it's more closed-minded than they make it out to be.
In February 2010, French born Australian, Thomas Green, created a site called 'GaySurfers.net' in hope of finding others who enjoy dancing within the waves. Although Thomas believes, 'labels often overtake individuality,' when discussing the GLBTQI community, he also understands that, 'there is a need for people to identify with others who are like-minded or have a shared experience'. The site allows surfers to be open about their lifestyle choices and share their love of surfing. It is an online environment that hosts over 3840 members from over 80 countries, who utilise the site to meet others, share 'big wave' stories and discuss general events. It's not strictly for 'gay surfers', but is an open community for all those who share a passion for varied water sports.
As Thomas notes, 'The same way it is open to gay, bi, trans and gay friendly, the site is also open to other sports. The word surfing also includes body-boarding, bodysurfing, wind surfing, surf kayaking, kite surfing and many more activities that involve being in the ocean and enjoying the waves, winds or whatever'.
Thomas' sexuality and his desire to take to the surf were both gradual occurrences in his life. He started out as a body boarder in his youth in France, and moved onto surfing from there. His relationships followed a similar path, where in his teens he made the move to Australia and dated women until he began to realise like many others, that his sexuality varied from the norm.
'At the moment, I am living with another man, so I guess I am falling under the gay category, Thomas states, even though he doesn't agree whole heartedly with the stigma of labels, 'I don't like them because they often overtake individuality'. Yet the move to begin the 'Gay Surfers' group has proved to be a success by bringing out into the world those who were hidden in the whitewash of close minded stereotypes that surfing is in fact a sport for everyone!
Just look at surfers in the line-up, we now have all races, cultures and genders represented
in the surf. In Sydney particularly, where I live, we see tradies, business men, black surfers, white surfers, women and kids and everyone in- between surfing together. It is also the city of the Gay & Lesbian Mardi Gras. It's not a big issue.' Thomas discusses his surprise when he met former top-ten ASP pro-surfer, Robbie Page, who questioned him about being the President of the Gay Boardriders club to which Thomas accepted his presidential status with an uneasy "yes." Page surprisingly then congratulated
him and the other members as he felt Australia has a huge problem with discrimination. Support from such a respected surfer was much appreciated by the group. Green pushes a further positive note that, 'GS enriches the surfing world by contradicting the stereotype and showing the diversity that exists in surfing'. Outside of the larger city communities though, the surfing lifestyle still holds some of its dated views and a homophobic undertone still lingers. In relation to the discriminatory occurrences shown within the surfing community, Thomas touches on ex-professional surfer, Robbins Thompson. Green explains Robbins background as being a former Top Five American surfer whose demise was met when his sexual orientation was made known to others whilst on tour.
'(Thompson) was inundated by a wave of homophobia that included anti-gay comments in the water, as well as having the word "fag" repeatedly spray-painted on his car,' states Gay Surfers president, Green. After such assaults, Robbins lost most of his sponsors and ended up dropping out of the tour – a mere example of the harsh environment that can envelope the surfing community.
Cori Schumacher, who is both former women's short board and long board champion, is a strong advocate and member of GaySurfers.net. Cori married her long time partner Maria Cerda in 2008 and is known to be a strong supporter of gay rights. A passionate surfer, Schumacher believes, 'that being open about one's sexuality can hinder one's chances of gaining sponsorship (within the world of surfing). The surf companies and the surf media work in concert to project an image of surfing that is heterosexual… Those who do not fit into the narrow confines of this image are passed over'. When a GLBTQI person wants to gain sponsorship in order to assist their career, knowing they don't fit this stereotypical marketable image that companies want, can make the choice to 'out' themselves very difficult.
Schumacher went throughout most of her career not having worked out her sexuality until the more recent years, however she still recalls voices echoing that 'lesbians were damaging the image of surfing' from so many surrounding her. 'I was keenly aware of the negative repercussions of being perceived as a lesbian on tour and by sponsors,' shares Cori. 'This stereotype threat haunted my every public move, even when I identified as straight. I think most GLBTQI individuals will understand this intimately. Our fear of being marginalised, bullied, or otherwise shunned is the most hindering force of all'.
GaySurfers.net is a huge leap into the sea of opportunity for many closeted surfers. It has allowed many to network with others on common grounds on a global scale. 'I've joked with Thomas before about how prior to my introduction to GaySurfers.net, I thought gay male surfers were much like unicorns: mythical creatures', kids Cori. It's not all jokes though as Schumacher points out, 'When you can look at a map of the world and see little dots everywhere, pixels that represent the lives of those who have had shared experiences as sublime as surfing and as terrifying (in some cases) as embracing an alternative sexuality, you feel less alone, more empowered, and more able to live an authentic, open, life… lives that will, in turn, inspire others to embrace their own truth'.
Schumacher shares that passion of wave riding; 'the feeling of surfing a perfect break: The body, the ocean, the energy of the wave, and time, all synergistic-ally fuse in movement and in a harmonious tension that is transcendent. We surfers chase this feeling our entire lives, we wrap ourselves in [it] and become students of the ocean in every conceivable way.' Thomas Green understands Cori's love of surfing as do many other queer and straight identifying human beings. The moment that the labels are washed away with the outgoing tide and homophobia is a thing of the past, is a day when surfers can be truly called 'open minded travellers of the world'.