By: Ryan Curtin
Break Studios Contributing Writer
Learning to surf is not easy, but getting wet at one of the world's 10 best beginner surf spots worldwide may make learning to shred just a little bit more manageable.
San Onofre, CA. While Trestles is considered one of the best performance breaks in the world, nearby Surf Beach, part of the San Onofre Park, is one of the worlds best beginner surf spots. San O's beaches, specifically the Point and Old Man's, are perfect spots to bring the van, the family, and a bunch of longboards to teach the kids to surf.
Waikiki, HI.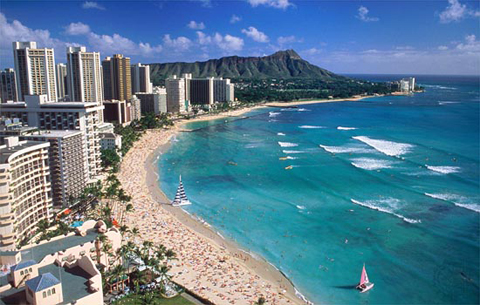 Considered by many to be the birthplace of surfing, this classic Hawaiian wave always has been, and always will be, one of the best beginner surf spots in the world. Situated on Oahu's South Shoe, the waves are warm, gentle, rolling, and long. Big boards are the norm, and Waikiki's historical significance makes the wave a thrill for beginners and experts alike.
Muizenberg Corner, SA. Also known as Surfer's Corner, Muizenberg in Cape Town, South Africa is home to one of the gentlest beach breaks in the world. Muizenberg offers soft crumbly waves, beautiful scenery, surf schools, and live African music on the beach. Though prone to the occasional shark encounter, the men in grey suits never seem to stop hordes of stoked locals and visitors from flocking to Muiz.
Santa Teresa, CR. Costa Rica has some of the best beginner surf spots in the world. The water is warm, the waves are consistent and gentle, and the countryside is beautiful. Costa Rica embraces the "pura vida" lifestyle, and Santa Teresa is a great place to surf and enjoy pure life.
Playa Jobos, PR. While most of the waves in Puerto Rico break over sharp reef, the waves at Jobos reform on an inside sandbar and break gently in a small lagoon. Jobos has it all, great restaurants on the beach, snorkeling in the lagoon, and a more advanced wave on the outside. There's even an ice cream truck permanently posted up in the car-park.
Cocoa Beach, FL. Are you noticing a trend amongst the best beginner surf spots? It's warm water and consistency. Cocoa Beach, along with most of Florida, offers both. Plus, it's the birthplace of surf superstar Kelly Slater. Cocoa Beach must be doing something right.
Florianopolis, BR.

Be honest, most guys want to learn to surf to pick up babes. Learning to surf in Brazil is one of the best places to bypass the actual learning and skip right to the girls. Sure, you'll still be floundering around in the water all day, but as long as you can move on the dance floor this learn-to-surf trip will be more than worth it.
Newquay, GB. Most of the best beginner surf spots are warm water breaks, but there is nothing warm about Britain. England is one of the last places associated with sun and surf, but Britain's south coast actually has a vibrant surf culture, and Newquay beach is one of the best places in the British Isles for young POMs to learn to surf.
Cowell's Beach, CA.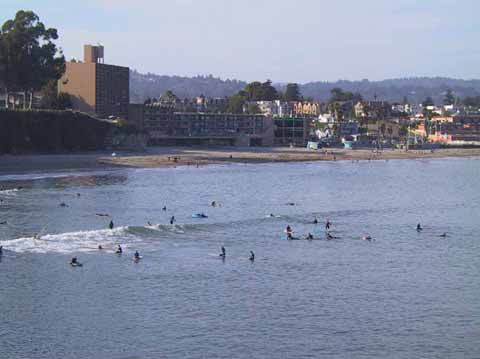 Santa Cruz's Cowell's Beach is another cold water beginner spot. If you don't mind the low temps, then Cowell's is one of the best spots in the continental U.S. to hop on a soft-top and flop around on a two-foot mush-burger.
Byron Bay, AUS. It seems like everyone is Australia surfs, and they all had to learn somewhere. Since Aussies are generally a crazy lot, it's easy to imagine that most learned to surf at their local slab. For those seeking a gentler option the beach breaks in Byron Bay are a great place to learn to surf in the land of OZ.
Sources: www.surfline.com/travel