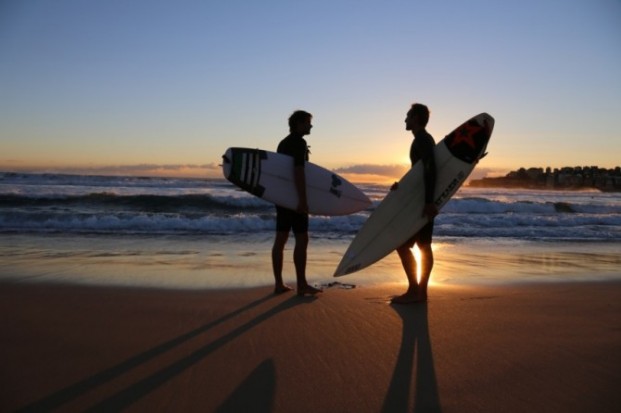 Almost four years ago, an article from a gay surfer named Thomas arrived in my inbox. The piece detailed his experience navigating the nuanced and often-hypocritical norms of surf culture as a homosexual man. His experience was so lopsided – weighted by generally homophobic behavior – that he was honestly unsure if any other gay surfers existed in the world. His doubt inspired him to build a website, gaysurfers.net, and, sure enough, he found plenty of gay surfers. Thousands, actually. That should come as no surprise. Gallup estimates that between 10% – 20% of America's population is gay. Gallup also acknowledges how difficult that data is to ascertain, considering, as they put it: "Many people have trouble admitting their homosexuality to themselves, much less to a researcher."
But that's besides the point. When I first heard from Thomas, I was excited about the opportunity for The Inertia to provide a platform – one that might play a role, however small, in catalyzing a constructive discussion that might lead to social change in surfing, a culture I care deeply about. Historically, whether out of fear, discomfort, or sheer ignorance, surfing had avoided addressing progressive social issues. But with his courageous note, a dialog could begin. To my knowledge, homosexuality had never been breached in surf media aside from a rather groundbreaking article by Fred Pawle about Matt Branson in Stab Magazine several years ago.
I was also scared. I distinctly remember cautioning him that his innocuous note could spawn ugly, homophobic blowback that might endanger him. At the time, words like "fag" and general homophobic banter and behavior were a lot more common, and I was spooked. Rather than using his full name, he signed his post Thomas C. He remains the only contributor approved to use an abbreviation of his/her full name on The Inertia.
Times have changed.
Today, Thomas Castets is an award-winning filmmaker. He recently won Best Action Sports Film at the Newport Beach Film Festival for producingOut In the Lineup, a documentary that examines homosexuality in surfing and  causes the viewer to ask a simple question:
To what extent is homophobia an issue in surfing today?
Out In The Lineup makes a case that it's very much an issue. And it's not as obvious as surfers maliciously spraying homophobic slurs across lineups around the world. Non-acceptance isn't always so ostentatious. It can be subtle. A coercive web. And with cautious optimism the film asserts that we are behind the times.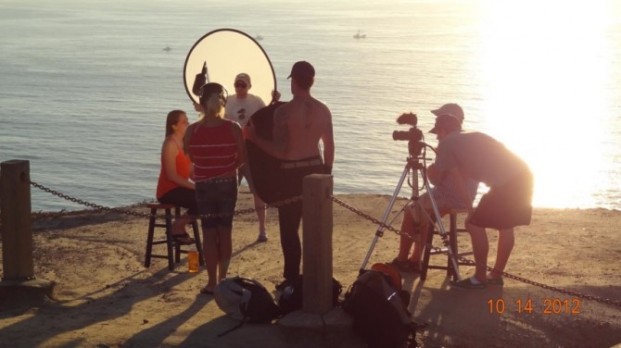 Each surfer profiled in the film has a unique, relatable narrative that inspires compassion and acceptance, but the idea that surfing's hetero-normative affinity exceeds that of any other sport seems overwrought. Sports, more generally, have been slow to join the conversation, and organizations like Athlete Ally, that aim to eradicate homophobia in sports by empowering athletes and allies to champion gay rights, are changing that.
"Sports is the last closet," Cyd Zeigler Jr., co-founder of the website Outsports, a website that reports on gay athletes and homosexuality in sports, told NBC. "Nobody's out, but sports aren't necessarily this horrible homophobic institution anymore. It's just not."
Things are getting better. Which is a function of the massive pendulum swing in culture (at least American culture) that's taken place in the last five years.
While watching the film, I marveled at how much has changed culturally since Thomas and I exchanged those emails in 2010. Since that time, gay marriage has become legal in 19 American states, and our President declared the ban on gay marriage unconstitutional. The US Military ended "Don't Ask, Don't Tell." Influential athletes like Jason Collins have come out in major sports leagues like the NBA, and productive public discussions around homophobia took center stage at the Sochi Olympics and the Super Bowl, arguably the two largest sporting events on earth, excluding the World Cup – which, instead championed the battle against racism, a parallel initiative around cultural sensitivities and openness. An intense, short interval of time has enabled radical changes in public attitude, which, ultimately, made this film feel exceptionally less relevant today than it might have been were it released three years ago. Ironically, that's a good thing.
That said, the film seeks comment from the Association of Surfing Professionals, but, in a terrible misstep, the organization inexplicably retracts their on-camera interview, which leaves the ASP and professional surfing at a serious exposure. By contrast, the International Surfing Association's Fernando Aguerre makes it clear that the ISA welcomes all surfers, from all walks of life.
I reached out to the ASP to understand why they abstained from commenting. They responded by referring me to their rule book, which clearly communicates a zero tolerance policy "for any form of discrimination, sexual harassment or abuse" as well as penalties that range from monetary fines to permanent expulsion from the Tour. They also shared the following statement:
 "The ASP draws its inspiration from the ocean – an arena that does not distinguish where you're from, the color of your skin, where you worship or your sexual orientation. As such, we are an organization of tolerance, objectivity and inclusiveness."
Given the ASP's unflinching written stance on the topic, it's a shame the organization chose not to participate in the documentary – conceivably the only documentary to focus exclusively on homosexuality in surfing that will ever exist. A "no comment" certainly created unnecessary doubts about the ASP's attitude towards issues of sexuality in surfing.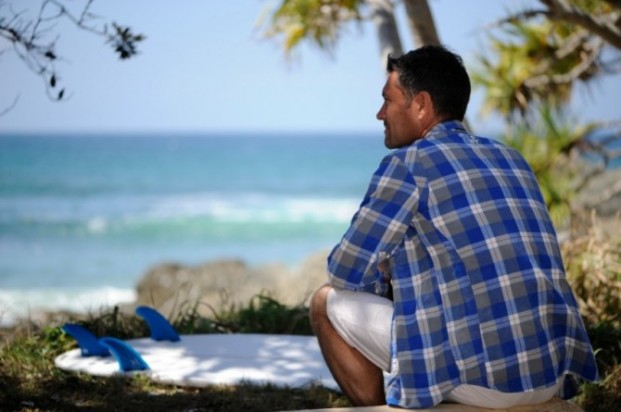 The film was also unable to secure comment from any current World Tour competitors, which is telling in the sense that it revealed the difficulty in securing an interview with a pro surfer about a social issue, but not much else. Coordinating interviews with pro surfers is like watching MTV's Teen Mom. Very difficult, no matter the subject. It also omitted an important perspective.
As such, I surveyed a few ASP athletes with varying response rates, but Ace Buchan shared an exceptionally thoughtful statement:
"As far as my experiences go I don't think homophobia is any more present in my generation of surfers than in any other cross section of society," Ace wrote in an email. "That doesn't mean it isn't prevalent and should therefore be addressed. I think the modern age of interconnectedness via social media has made the youth more aware of these issues but that reliance on devices and pc's for information rather than genuine social dialogue with peers doesn't challenge opinions and stereotypes as much as it should. 
I haven't personally encountered any ugly homophobic incidents in the lineup or on tour, but I can't imagine that the pro surfing world would be a very easy place to come out. In saying that, most surfers and lineups in the modern day that I encounter are very welcoming and accepting of different ages and genres of surfer so I would hope that ones sexual orientation would be accepted in the same manner."
The fact that the ASP and Ace Buchan shared overwhelmingly supportive and compassionate sentiments in no way dismisses homophobia as a serious issue in surfing, or in any sport for that matter. But it is encouraging, worth noting, and it reveals a more optimistic and welcoming portrait of acceptance than the film portrays.
The most poignant statement in the film comes from former U.S. Representative Barney Frank, who is married to a gay surfer. He confides that one of the greatest trials of homosexuality is the fact that, unlike race – a physically discernible trait – one can choose to hide their sexual identity. That voluntary masking creates a torturous scenario for gay individuals coming to terms with their identity.
We all share in the responsibility of building a safe environment for individuals to feel comfortable being themselves. That's why Out In The Lineup is a necessary film.
It takes a gigantic step forward for surfers worldwide in facilitating acceptance. The conversation is now boldly on the map. Winning awards at film festivals and whatnot. It's killing stigma, fear, and ignorance by raising a hand.
I tip my hat to Thomas and the team behind Out In The Lineup for boldly pursuing their passions, undeterred by a fear of non-acceptance, ignorance, or homophobia. By blazing new trails in the name of social change and human rights, they've done surfing a groundbreaking service. From that first email in 2010, I'd say we've all come a long way in the right direction. Last name and all.
Out In The Lineup is now available to buy and rent on Vimeo and iTunes. Have a look, and let us know what you think.
Article written by Zach Weisberg (The Inertia Founder)
Originally posted on The Inertia