Published by Surf Europe
---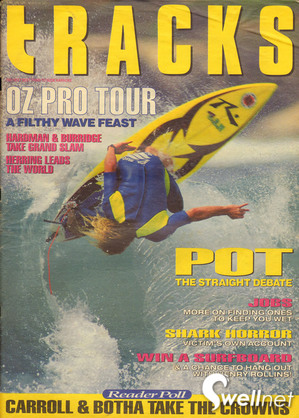 The gays are coming! If you pardon the pun, it seems that gay surfers are attempting to claim their rightful spot in the line-up. Now in the old days, right about now I'd insert a gag about going the backdoor. In the old days you see, gays just didn't surf. Surfing's macho image couldn't even consider, let alone tolerate, the very thought. As such the very idea was met with outright hostility. I remember reading as a grom a quote by an editor of an Australian surf magazine that said, "All pooftas should be locked in a giant jail and all the walls pushed together," and being naive and impressionable thought it was just plain funny.
Matt Branson on the cover of Tracks in '92 ->
Of course, we all must have known that, statistically there must be gay surfers. With the numbers of surfers in the world, it just had to stand to reason. And the so called gay capitals of the world Sydney and San Francisco happen to have incredible waves on the doorstep. Surely over the years there must have been a few benders tackling big bombs at Ocean Beach or some fruity types hitting the small and curlies at Bondi.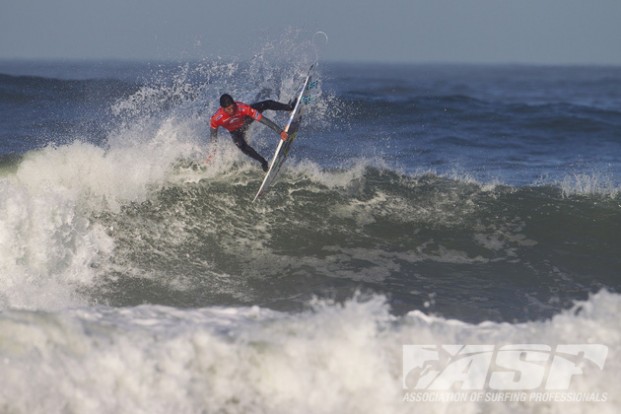 Gab Medina in the Rip Curl Pro Search 2011, in San Franscisco, gay capital of America. Incidentally, sources tell us in Brazil it is only considered homosexual to receive anal sex, not give it. Photo: Kirtsin/ASP
Well, if they did, they certainly didn't tell anyone about it. Until now, that is. In February 2010GaySurfers.net was created as the first online community for gay surfers. Its mission was "to create an interesting and fun site where gay men and women can gather, connect, and share their passion for surfing and other related issues."
The interest was huge. In the first six months, 2,300 gay surfers registered from 76 countries worldwide. Later that year in Australia, Gallows Beach at Coffs Harbour hosted the world's first gay surfing competition, sanctioned by Surfing NSW with ISA accredited judges, called the CoastOut 2010. It was a big success, scored good waves and even featured a beach handbag throwing contest to see who could land a fake Gucci clutch purse over and beyond a massive sand-carved penis.
Former Aussie pro and Lee Winkler turned up with his wife and kids to surf and lend support, although so far only one former professional surfer, Matt Branson, has officially come out as being gay. The fact that Branson was a hard drinking, heavily tattooed, hard charging West Aussie who fronted a death metal band called Mind Crack, only added to his revelation. The women's tour had always featured more lesbians, even if they still kept that out of the public eye. Sponsorship was hard enough, without throwing homosexuality into the mix.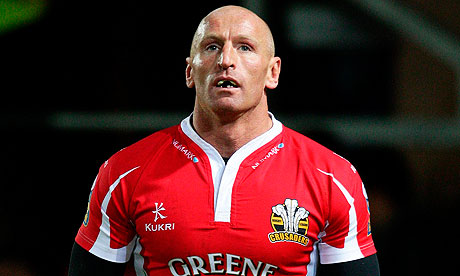 The very manly Welsh rugby captain Gareth Thomas was the first pro rugby player to come out a few years ago… when will surfing break its own code of homophobic silence…?
So what's the point? Well, homophobia sucks doesn't it? It's lame, and lazy and overrated. As surfers it's our collective fault that it has taken this long for gay surfers to be comfortable to claim it. And it's up to us to make sure for the next generation of homosexual shredders it's just a plain non-issue.
The question is: Are you man or woman enough to help make that happen?