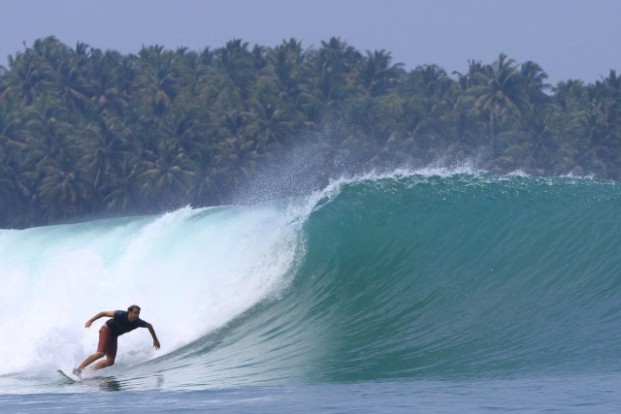 Article by somethingyousaid
As a Frenchman living in the coastal enclave of Bronte, Sydney, Thomas Castets surfs just about everyday. But around 2010 Castets began noticing a pattern among his surfing buddies – they'd marry off, have kids and lose valuable surfing time, leaving him out in the line up by himself. Whether it's greater dedication to the sport, or current Australian marriage equality laws, Castets hasn't followed suit. Regardless, one day he thought, if he knew at least one other gay surfer he wouldn't need to surf alone.
"I started Gaysurfers.net in 2010 to find one other gay surfer. I found 5000,' says Castets.
He's speaking to Something You Said ahead of his debut feature film Out in the Line Up, about the at-odds relationship between the LGBT community and the surfing community, which screens at the Sydney Surf Film Festival.
"Everyone was commenting about how long they'd been waiting for something like GaySurfers.net as they felt they were the only gay surfer in their corner of the world."
Surfing is an odd pastime. If we're to call it a sport, despite it being a solitary one, there may be upwards of 49 other teams all playing their own game on the one pitch… it's nice to have a teammate out there to balance the odds, or just chat to when the ball is at the other end and trade stories afterwards. After a while you see the same familiar faces and your team grows but there's only a few you'll socialize with beyond the beach or pub. That's basically your local surf community.
So, as Castets says, "Not many of the people I surf with know that I'm gay. Generally people assume other surfers are straight. They ask if I have a girlfriend or wife, and I say I live with my boyfriend and often they don't believe I'm gay."
Through GaySurfers.net what Castets found was a group of guys and girls who weren't active in the gay community or fighting for their rights while also distant from their surfing community.
"What we noticed was a lot of these people, man or woman, were quite discreet with their lifestyle, with even how they surf, they weren't the aggressive or loud type. That's an identity thing, when you don't fit in one stereotype, you tend to be more quiet. In a way, they'd found a sense of identity through the website."
Quiet or not before, with an international community of locals behind them, Castets and director Ian Thomson began making noise. They began traveling the world, surfing and interviewing members about this shared isolation but also, ultimately, trying to uncover why homosexuality in surfing is so taboo.
"When surfing started in the '50s and '60s, they were already marginalized and unaccepted but in the last 50 years it's become really mainstream and conservative – everyone wears the same thing, they have blonde hair and blue eyes. And the media are responsible because that's what sell clothes."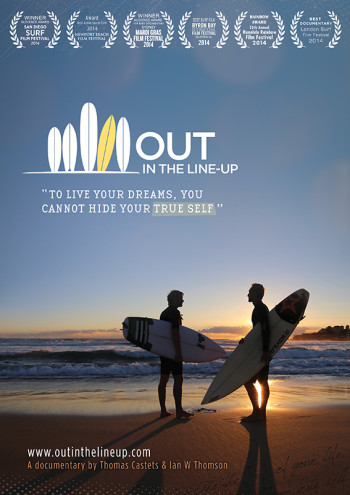 Professional surfers both male and female on the newly titled World Surf League (WSL) tour, formerly the Association of Surfing Professionals (ASP), all rip. But they are also all babes whose faces haven't smashed reefs too often and who needn't prescribe to the ethos 'if you can't tone it, tan it'. They are both. However, while the number of females in both competitive and non-competitive surfing grows rapidly, it's still male-dominated. As a sideline argument, there's been debate recently around the over-sexualisation of some female surfers and their sponsors pandering toward the male gaze as they sell women's clothes to women. Playboy recently posted their "21 Hottest Surfer Babes on Instagram" (reposted by Stab). There are genuinely great surfers on the list and their feeds feature pictures of them surfing, others though are photographed only near surfboards, perhaps with sand encrusted to their butts. It's an industry that lends itself to 'sex sells' which by default becomes 'heterosex sells'.
The 2015 WSL rule book states "WSL has zero tolerance for any form of discrimination, sexual harassment or abuse in the sport of surfing." Yet a portion of Out in the Line Up sees Thomas and Ian chasing a WSL media spokesperson for more than the official party line on homosexuality in surfing. Without giving away what unfolds in the film, from the peak body boasting some of the bravest men and women on the planet, the situation comes off rather cowardly.
But it's not like there aren't any pro gay surfers. Current six-time Irish champ Craig Butler is out. Three-time former Women's Longboard champ Cori Schumacher is out, and active (her blog State of Flux is well worth a read). As is former tour surfer and big wave charger Keala Kennelly among others whose stories are within Out In The Line Up.
Butler is not on the WSL tour. According to Castets, there has not yet been an openly gay man within the ranks of the surf tour in its 39-year professional history. Respected surf journo Nick Carroll compared the pressured silencing of competitors to the 'don't ask, don't tell' policy of the United States Army… Of the fucking Army! But if professional surfers can be confident their sponsors will back them in coming forward, this will create a knock on effect into the community at large…
Actually it should be the community forcing the change. And Castets is optimistic there's less of a homophobic problem (despite some isolated violent or threatening incidents), and rather a laziness in language, a default that needs to shift with words like 'faggot' and 'poofta' thrown around too easily and no-one there to call bullshit on such language.
Castets is confident a dialogue is opening and perceptions changing. As Out In The Line Up receives film festival awards from around the globe and targets the audiences who need to see it, a groundswell of indie labels are fostering a less homogenized view of surfing to open the cultural doors. Meanwhile GaySurfers.net gives a collective voice to a sub-culture within a sub-culture who opt for soft-spoken pride.
The O'Neill Sydney Surf Film Festival is on in Bondi and Manly,  January 20 – February 1. Out In The Line Up screens at Bondi Pavilion on Tuesday 27 January at 6:30pm and at ICMS Manly on Thursday 29 January at 6:30pm. Details are at www.ssff.com.au. Check out the SSFF Facebook page to stay up to date with all future announcements.