Published by http://sportsfags.com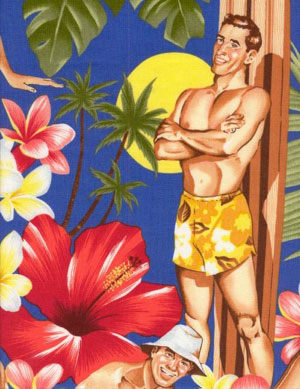 Well this was bound to happen.
According to the Aussie LGBT site Same Same there's a website for gay and lesbian surfer folks GaySurfers.net.
A new website dedicated to LGBT surfers provides a unique opportunity for gay surfers from around the world to meet and socialise online.
GaySurfers.net is proving popular in its initial few weeks online, with 450 members registered since it launched in February.
"For many years I was hoping that a site like this would be launched but it never happened, so I decided to do it myself," explains Thomas, the not-for-profit site's Sydney-based founder.
The website features details of gay-friendly surf spots in Australia, Costa Rica, France, Indonesia, Mexico and the United States, along with a discussion forum and interviews with out surfers.
Back in 2008 The Advocate did a piece on gay surfers, Though no openly gay male surfers compete on the professional tour, several out lesbians do, including former world champion Lynne Boyer. Gay gals who surf are also the focus of the Logo reality show Curl Girls. All of which makes one wonder, Is there such a thing as a "curl guy," and if so, where is he? "I know they're in the water," says L.A.-based Curl Girls star Michelle Fleury. "I look for them, but I haven't spotted or spoken with anyone admitting to being gay."
Maybe they're in San Francisco, a gay mecca where the surfing scene has exploded over the last decade. "If there was going to be a place where there would be openly gay surfers, this would be it," says Matt Warshaw, the San Francisco–based author of The Encyclopedia of Surfing, "but you just don't see it." Warshaw is straight, but he's been writing about demographic trends in surfing for years and the ongoing invisibility of gay men confounds him. "I'm baffled as to whether it's a sport that has happily or unhappily closeted surfers," he admits, "or if it's so staunchly hetero that it's like a force-field to keep gays out."
Apparently things have changed over three years. Kowabunga !!!