Gay men have long been absent from surfing thanks, in large part, to homophobia that permeates the sport. However, a new website proves there are far more gay surfers than anybody suspected, opening exciting new possibilities for the blossoming gay surf sub-culture. Story by Nick Cook.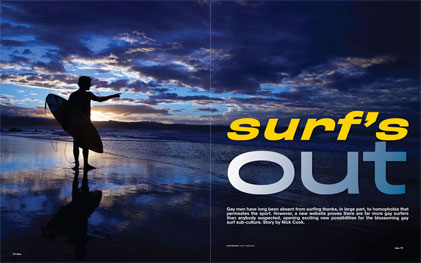 The idealised image of surfers has them sitting shirtless around the fire at the end of a long day in the ocean, the blazing driftwood lighting their laughing faces as they pass a joint from hand to hand. They're young and care-free, with a bohemian lifestyle that it seems gay men would have no trouble fitting into. However, that isn't the case because there's another, often-hidden, element to surf culture: it can be rampantly homophobic.
Robbins Thompson, who spent four years rated in the top five on the American professional circuit, found out about it the hard way. As his sexual orientation became known to others on the tour, he was inundated by a wave of homophobia that included anti-gay comments on the water and having the word "fag" repeatedly spray-painted on his car. "Sometimes it was difficult trying to keep my concentration, wondering what everybody was thinking about me," says Robbins, who was driven away from professional surfing in the '90s after his position became untenable. "If I spent too much time with fellow surfers, accusations would start to fly. There were a couple of times when possible relationships [with other gay surfers] ended too quickly because of fear of getting caught."
It's a theme that is repeated over and again throughout the surfing world. Australian Cheyne Horan was one of the rising stars of surfing, but when a 1988 magazine article implied he was gay he lost endorsement deals and friends; in 1996 teen surfer Shane Dorian was asked by Surfer magazine to list the things he would like to rid the world of and nominated "dykes and fags" along with "diseases, the Devil and flat spells"; and a recently-erected statue of a surfer in Cardiff, near San Diego, was dubbed "Fairy Mary" and criticised for not looking butch enough.
Gays have always been so conspicuously absent from surf culture that Matt Warshaw, author of the San Francisco-based Encyclopaedia Of Surfing, has wondered aloud if there are any. "If there was going to be a place where there are openly gay surfers, this is it, but you just don't see it," he says. "I'm baffled whether it's a sport that has happily or unhappily closeted surfers or if it's so staunchly hetero that it's like a force-field to keep gays out."
That question has been resoundingly answered by a new website, gaysurfers.net, which has proven that gay surfers definitely exist and in far greater numbers than anybody suspected. The website is a social network that's allowing gay surfers to connect with each other in a way that's never been possible before and they're flocking to the site. It came online in February this year and within weeks had more than 250 members, a figure which climbed above 600 in the fortnight we were watching it. Members create profiles – often anonymously – and then get in touch with each other as they check out the gay surfing articles and lists of gay-friendly surf spots. It's obvious from the almost overwhelmingly superlative praise it's received from grateful members that the site has met a very real need. "Thanks for this, it's been a long time coming," writes Jeff, while Hawaiian Michael says, "Thank you so much for this site! It's grown since I joined five days ago… Wow!"
Thomas, who is French but spent seven years living in Australia, is the site's creator. He says he built it because he found it impossible to meet other gay surfers anywhere else. "In the past I have met about two or three and they were not out. They were all very scared of being outed and rejected by the surfers from their community," he says. "I believe there is a surf culture beyond the macho young man and there are things we want to share with other gay surfers beyond dating. I was hoping someone out there would build this community, but it never happened. So I decided to do it myself."
Thomas makes it clear that he doesn't want to be referred to as a "leader for the LGBT world" and says, "You must understand that some information that will be published by members will make some people unhappy. Some members are already organising meetings and camping weekends in particular surf spots and I don't want to be the person to blame for a surf spot that turns into the gay surfing mecca."
Changing the homophobic attitude among straight surfers is one of the website's key goals. "We have two main objectives," Thomas says. "To bring gay surfers together, because meeting other gay surfers with similar issues across the world will help those in need, and to help change public awareness. Letting the world know about such a community will help fight against homophobia and discrimination. It will hopefully help to reach the more closeted surfers who need this website the most."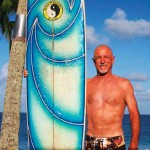 One of those who recently signed up is Ken Sentner, a Hawaiian who's been surfing since 1973 and has been out since 1978. He says the reactions to his homosexuality varied. "About half my friends politely faded away, about half the remainder were neutral and the rest were totally supportive, some opening up and relating same-sex episodes in their past (though they were straight)," he says. By 2000 there were enough gay surfers around to form a loosely-knit club.
Ken has a theory about why surfing remains an outpost of bigotry when the rest of the world is becoming ever more tolerant. "I think surfing remains, in many ways, an adolescent sport. Adolescent boys are the least sure of their sexual orientation, may have most recently experimented with same-sex activity, and hence feel insecure and may tilt toward homophobia as a means of denial." While he believes that surfing is "slowly" becoming more accepting of gays he doesn't believe there will be real change until "some courageous high-profile dude, basically a pro, comes out and says 'fuck you homophobes'".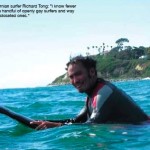 Richard Tong was born and raised in California and has been surfing for the past five years. He also decries the lack of openly gay professional surfers, saying it creates a dearth of positive role models for young gay athletes to follow. "I know fewer than a handful of fellow openly gay surfers and way more than a handful of closeted ones," he says. "All of my straight surfer friends are cool with my sexuality, although I still remain taciturn about revealing it to a surfer I don't know. If it is someone who I trust and want to be friends with in the future, I am honest, otherwise I don't reveal it because you still hear the F-word (faggot) tossed around in the line-up from time to time."
One of the members on gaysurfers.net, who goes by the name Florida Surf, makes an excellent point about surfing homophobia: that much of it doesn't even come from actual surfers. "The only homophobia I ever saw was off the beach," he says of the three decades he's spent hitting the waves. "Surfing is mostly a persona. It has its own following, clothes, talk, actions, products, companies, et cetera and those are all out of the water. It is one of those sports that kids can emulate without having to actually participate. So it has this persona of the 'stoner type' guys with the little beach bunny following. In that instance you find huge homophobia. When there is a group of surfers together on or off the water this persona seems to kick in and then you see the name-calling and homophobic behaviour. But when you are out on the water and everyone is just there to experience the awesome power of riding a wave and, to a point, trying to tame Mother Nature's most incredible creation, sexual orientation is the furthest thing from anybody's mind. It is just you, the wave and an overwhelming peace with the universe."
A lot of the homophobia in surfing can be more perceived than actual, as Tom Naro, who surfs the east coast of the United States, found out. "In the beginning, I must admit I was a bit cautious and fearful of people finding out I'm gay," he says of his 15 years surfing. "I'm out in all elements of my life, but I was told not to be open in the water. But I'm pleased to say that there really has been no significant negative reaction by any other surfers who know that I'm gay. I've not encountered anyone who seems to actually care."
It seems the experience of gay surfers depends largely on where they are in the world. While most of those we spoke to from Australia and America reported some degree of anti-gay sentiment, those in Europe said they had suffered virtually no homophobia. "I never have felt hostility to me on behalf of other surfers, except when I prick them waves [cut in line while surfing]," says Guillaume, who surfs in southern France. "I don't know gay surfers. I am the kind of solitary surfer. I focus on my sport. In reality, the fact of surfing with straight or gay surfers worries me little."
Spanish surfer Rebu Sanz, who lives in gay-friendly resort town Sitges near Barcelona, says there isn't any reaction from straight guys, while France's Yann says they don't have a lot of homophobia in his part of the surf world because the question of sexuality never comes up in conversation. Alberto, a Frenchman who has travelled the world and first learned to surf in Australia, is best placed to spell out the difference between the attitudes of surfers on various continents. "Homophobia seemed stronger to me when I was in Australia (though not in Sydney) and America," he says. "In France I do not consider the surfers to be homophobic."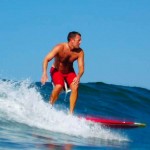 Australia's response to gay surfers seems to be quite patchy. While those who offered to speak to us said they hadn't faced any real homophobia, the vast majority refused to speak because they were afraid of attracting some. "Thanks for the message, but I'll have to decline your offer at this time," Newcastle surfer Steve wrote. "You may find that most gay surfers are still fairly closeted and reluctant to openly identify themselves, especially the older guys."
A telling conversation from a forum on gaysurfers.net sums up the situation. "How is it to be a gay surfer in your home town?" asks 18-year-old Nick. "Sydney is supposed to host the biggest community of surfers in the world and the second biggest gay community after San Francisco, but still no sign of gay surfers. I can't seem to find any." Twenty-six-year-old Alan replies: "True, gay surfers are all hiding somewhere… I hope here, lol. In my hometown there are at least five gay surfers but they keep their sexuality for themselves… I don't know how to tell them that I am gay… Maybe they are on here????"
It doesn't help that there are no openly gay men on the professional circuit and only one former professional has come out. Matt Branson was one of Australia's best pro-surfers until he suddenly quit in the early '90s. "It was fucking incredibly hard," he told Stab magazine. "You always felt like you were lying. You always felt like you were putting on a charade. As a young person growing, to have that charade, it can fuck with you because you can't progress as a person."
For a long time Matt lived with the fear that coming out would mean losing all his friends, but that didn't happen. Some reacted negatively at first, but most eventually came around. "I was hurt, but I understood the response because of the background my mates had come from," he said. "They'd never had any dealings with anyone who was gay. But that's what you've got to do when you're gay."
Best mate Will Webber's account of Matt's coming out to him is very moving. "I remember we were having a sword fight in the toilet," he said. "I was talking about trippy things, like space and time and stars, and he [Branson] said, 'I've got something to tell you that's going to blow you away.' I said, 'What?' And he just goes, 'I'm gay.' Strangely enough, the first thing I said was, 'Why?' He said, 'Don't ask that!' I said, 'Sorry mate, that's fine,' and gave him a big cuddle."
Those surfers who are out in Australia are certainly suffering no negative consequences. Sydney's Andrew Lye even owns and runs a couple of highly successful surf shops. "Most of the people who surf in Manly know I'm gay and don't give a fuck," he says. "To me it's not an issue at all and that's the way the modern world should be. It's not like it used to be when I was growing up and everybody was homophobic. When I first came out I was a little bit uncertain but it turned out not to be a problem at all."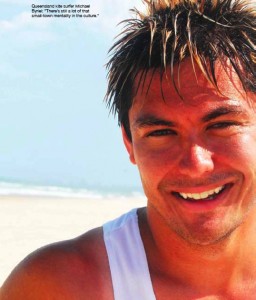 Michael Byriel is a 27-year-old kite surfer from Redcliff, Queensland, who joined gaysurfers.net after a disheartening speed-dating dinner where he had nothing in common with any of the participants and realised how badly he would like to meet other gay surfers. "I think the website is really exciting because it's the first time I've come across something that puts me in touch with real surfers who are also gay," he says.
Michael's theory about the stubbornly misogynist nature of surfing is that it comes from the small coastal towns that are the stomping ground of young surfers. "There's still a lot of that small-town mentality in the culture," he says. Michael has never copped any direct homophobia, but he concedes that it could be because he distances himself from other surfers. "I still choose to do my sport alone and maybe that's a bit of holding back because of the fear of what others will think or say," he says. "I feel really lonely all the time."
That loneliness is on its way to being cured by gaysurfers.net. "There's a few people I've been talking to," he says. "I even found a friend on there who I didn't know was gay."
It's always difficult to change a culture and the tradition of closeted gay surfers is so firmly entrenched that coming out can be an understandably terrifying prospect. All the straight surfers we spoke to, though, said they wished more would do it. "We'd be happy if they all just came out," says Colin Bernasconi from Australian surfing magazine Tracks. "We all have mates we suspect are gay, who still don't have a girlfriend at 35, and it would just save us all from trying to guess. Surfing is lagging a bit behind the rest of society but we're catching up. I wish more of my friends would come out because then they'd be a lot happier. If they're worried by what their peers will say, I think they'd be surprised by the results and would be welcomed with open arms."
Now that gay surfers have a way to find each other, to realise they're not alone and that their sport isn't as hostile as they might have thought, that's hopefully what will happen.