PROFESSIONAL surfer Serena Brooke and her partner share a home, finances and now twin daughters. But the couple, who are in a loving and committed relationship, say the future for couples like them looks grim.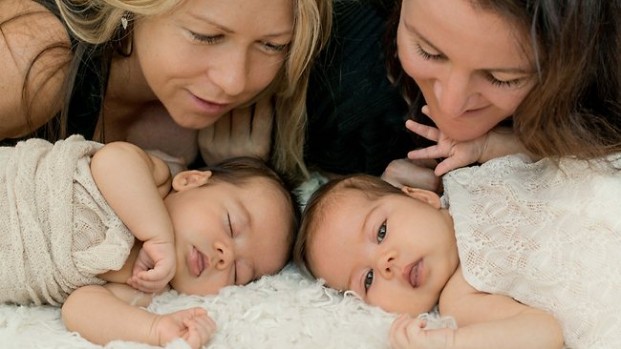 Brooke and her partner, artist partner Emma Sheldrake, said they had everything except the opportunity to be legally married in Australia.
Prime Minister Julia Gillard and Opposition Leader Tony Abbott both oppose gay marriage.
"It's ridiculous because at the end of the day it's just a piece of paper," Brooke said.
"We're together. The government knows we're together. We are totally recognised as having a family, the whole deal. It's just that last piece they are denying us.
"It's time for change and to get on the same planet as the rest of the world."
This comes as former US Secretary of State Hillary Clinton on Monday announced her support for gay marriage.
In an online video she says that gays and lesbians are "full and equal citizens and deserve the rights of citizenship."
"That includes marriage," she said.
Clinton said that she backed gay marriage both "personally and as a matter of policy and law".
In a watershed moment, the Queen also this month signed the Charter of the Commonwealth which contained commitments to end discrimination
Gay rights activists interpreted the move as the monarch showing support for gay rights.
Brooke, who gave birth to the couple's twin daughters 11 weeks ago, said Australia's position was "disheartening".
"You look at some of the countries who approve of gay marriage and if the Queen can do it, why the hell can't we?" she said.
"She's on the back of our money and we're part of the Commonwealth but we're not allowing it and they are.
"We're no different to any other families except that we're two females. We'll bring up our babies with as much love."
The Sunshine Coast couple, both 37, said they don't expect same-sex marriage to be legalised after the September election.
"We've got a choice of Julia Gillard or Tony Abbott who both oppose it so we don't have much hope," Brooke said.
"Tony Abbott's sister is gay but he still opposes it.
"It just comes down to politics and that's the frustrating part – politics is defining how we're viewed. That's where the prejudice comes from."
Australian Marriage Equality wants to make same-sex marriage a central issue throughout the campaign.
Argentina, Belgium, Canada, Denmark, Iceland, Netherlands, Norway, Portugal, Spain, South Africa, Sweden and some US states all recognise the legal right for same-sex couples to wed.
Email kristin.shorten@news.com.au or follow @itsKShort
Read more: http://www.news.com.au/lifestyle/relationships/surfer-serena-brooke-makes-waves-in-gay-marriage-debate/story-fnet09p2-1226600582178#ixzz2QDWFxKU6