Margo Oberg (Born September 1953)
WORLD CHAMPION SURFER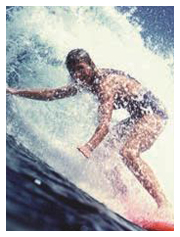 Margo Oberg was a five-time Women's World Surfing Champion. At the age of 15, she won the World Surfing Contest in Puerto Rico. In 1976 and 1977 she was crowned Women's World Champion after winning the Bell's Contest, the Coke, the Brazil International and the Master's in Hawai'i. She finished 2nd in 1978 in the "closest world title race in women's pro surfing history".
After taking a break in 1979, she returned to take the World Championship Titles in 1980 and 1981.
Oberg was named one of the top 100 Women Sports Figures of the Century.
She also is an inductee of the Huntington Beach Surfing Walk of Fame, along with Duke Kahanamoku and Rell Sunn, two other members of the Hawai'i Sports Hall of Fame. In 1992 she became the first woman life member in the ASP (Association of Surfing Professionals). Since 1972, she has lived on Kaua'i, where she teaches surfing.
Margo Oberg is the "first female big wave surfer".


2010 Hawai'i Sports Hall of Fame