– 137 confirmed dead, 531 missing
– Two more quakes hit
– Ship with 100 on board swept away
– Tsunami waves from quake hit US coast
– Officials try to contact 45 Australians
– Radiation levels 1000 times normal
More than 1000 people probably died in the massive quake and tsunami disaster that devastated large parts of northern Japan's Pacific coast, Kyodo News agency said early today.
The news agency report came amid reports of two more quakes today and grim updates indicating appalling loss of life kept emerging from along the hard-hit east coast of northern Honshu island, where the monster wave destroyed more than 3000 homes.
Waves from a tsunami hit residences after a powerful earthquake in Natori, Miyagi prefecture.
The 10-metre wave of black water sent shipping containers, cars and debris crashing through the streets of Sendai and across open farmland, while a tidal wave of debris-littered mud destroyed everything in its path.
At least 337 people were killed in the earthquake and subsequent tsunamis, police and press reports said.
The National Police Agency said 137 people had been confirmed dead and 531 missing, with 627 others injured in the tremor, and a spokesman said this did not include the bodies reportedly found on the Sendai coast.
Flames rise from houses and debris half submerged in tsunami in Sendai, Miyagi Prefecture after Japan was struck by a strong earthquake off its northeastern coast. "The damage is so enormous that it will take us much time to gather data," an official at the agency said.
Fears rose for greater losses as reports came in of a ship with 100 people swept away, two trains missing, and a dam break flooding more homes.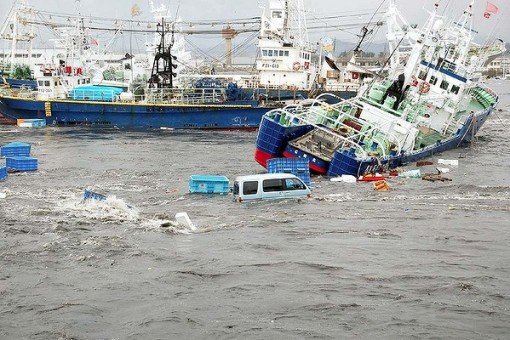 Fishing boats and vehicles are carried by a tsunami wave at Onahama port in Iwaki cityin northern Japan. Photo: AFP