FROM THE SUMMER 2004 ISSUE OF THE OUT TRAVELER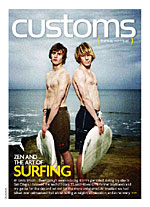 Even though swell-inducing storms persisted during my stay in San Diego, I followed the lead of Noah, 22, and Howard, 18, former boyfriends and my guides for the day, and set out for the shore undeterred. At breakfast we had talked over oatmeal and fruit about surfing as religion, as relaxation, and as recovery.
As a rule, I'm suspicious of people who would preach adherence to surfing as a near religion. But Noah and Howard have such gentleness about them and absolutely no showmanship. I'm actually here to bleed some of my Washington, D.C., cynicism that I packed with me from home. Howard graciously described his growing pains and his deliverance from them: "I was out partying a lot [at 16], but I was always depressed. I'd talk to people, be social–but I didn't feel a connection to anything." He righted himself in part through surfing: "In the water I got a connection to being alone. And that brought me a connection to everything."
After breakfast we hung out with other gay surfers on the grass of Sunset Cliffs in San Diego, swapping stories on coming out and monitoring the damp, breezy conditions. "Out here," Noah said, "you have to be part weatherman, part tide reader, and [without a hint of irony] part Zen master." Noah smiled and patiently coached me through a surfing lesson on dry land. As a Libra, I'm particularly partial to metaphors of balance, and I used my experience snowboarding as a shortcut frame of reference–low center of gravity, trust in balance, and a difficult concession to the will of the sea and its waves. But I'm also learning that much of the joy comes from that sense of control, while also releasing you from it. The whole point, Noah said, is that you don't think. My cynicism was recalibrating into a swelling enthusiasm.
In a scene more befitting Howard's End than Point Break, the entrance to Torrey Pines, nestled in the neck of seaside La Jolla, still offered sweeping views of the coastline and the ocean. Noah thought that Sunset Cliffs was too dangerous for a beginner, so he and Howard led me down mud-caked steps to the beach of Torrey Pines. Patches of white clouds peeked behind the blacks and grays of other clouds, teasing us for what the day could've been if the sun had not been so tired. But my tutors were blind to the clouds and the occasional spray of rain. Instead they heeded the tide, the swell, the amount of wind, and its direction. They were spellbound by the ocean and by a hunger to rejoin it.
The weather was too severe for even a lovers' walk on the beach, but the near sea was crowded with a row of undaunted surfers waiting in uniform black wetsuits. They lined the half-moon bay from edge to edge, spaced like buoys just a few feet apart, each watching for a new wave to own. A few lithe young men passed us as we entered the ocean, and Noah and Howard brightened as we eyed the "candy." They like to play with cute boys with subtle flirtation. It's warming to know that they have not had any negative reactions from family, friends, or other surfers.
Jogging to the water, I wondered how I'd do. With my luck with vacation weather I wasn't confident that the water would kiss me with favor today. But the boys' sunny optimism and minimal coaching expressed their confidence. In the water Noah calmly reviewed the surprisingly few basics of beginner surfing–from when and how to paddle to employing upper, middle, and lower-body strength for balance when getting up and staying up.
Noah had offered me his long board for a better first lesson than the advanced shorter board. I managed to stand for three seconds on the board within the first few minutes. Three seconds led to five, five became seven, then another seven, then five. I may have been a bit inelegant, but I was too ecstatic to feel self-conscious. In a word, I was hooked. It's a thrill to lean on top of a wave that can turn any way it likes. I like that paradox: being in control yet accepting that you're not.
I don't know if it was unmistakable confidence in my ability or if Noah simply wanted his own board ("That's my ba-a-a-by"), but after an hour I surrendered his board to him and retrieved my own rental from a fence along the beach.
Watching Noah pull up with such grace was wondrous. He walked forward on the board, essentially walking on water. Me? At 33 the years have shaved away some of my grace. I had decidedly less success with the shorter board, but my spills and trips were unable to wash away the baby's grin that was chiseled on my face. I was a convert and content to stay. In between waves I rested my chin on my folded forearms, allowing joy and happiness to take root in me. I felt more natural and at peace in that wetsuit in the water than I had at any moment in recent memory.
The three of us stayed out for nearly three hours, sharing the water until dark. Later I treated Noah and Howard to a fresh burrito and said goodbye for the night. I was cold, tired, and out late. But I still could breathe in those moments–lording it over the water while equally at its mercy–when I knew the sound of the Zen riddle's one hand clapping.