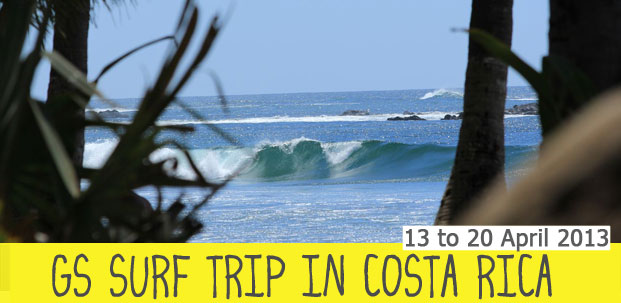 GaySurfers.net and Blue Trailz, a surf school and hostel owned by a GS member and his partner, have teamed up to organize a week full of surfing for members of GaySurfers.net and their friends from April 13-20, 2013 in Tamarindo, Costa Rica.
LOCATION


Tamarindo is one of the most popular surf destinations in Costa Rica. Both in Tamarindo and at the nearby beaches, you will find a wide choice of breaks catering to both beginner and advanced surfers. And with average water temperatures of 27 C / 80 F, you can leave your wetsuit at home!
In addition to great surf, Tamarindo offers a great beach to relax on, plenty of tours and activities and a large selection of restaurants, bars and nightlife.
SURFING


We have two surf packages available for this trip, one for the beginner surfer and one for the more advanced surfer.
The beginner package includes 4 days of lessons with a professional instructor to get you catching your first waves or improving your surf skills.
For more advanced surfers we're including four days of guided trips to local surf breaks. We'll choose the spots based on the conditions at the time but our favorites include Avellanas, Playa Negra, Langosta and Playa Grande.
Both packages include a week's board rental, so no need to worry about the airline fees or them damaging your board.
On the days without an organized lesson or trip you can join us for surf sessions in Tamarindo, or get your own group together to plan a trip. We can arrange these additional trips for you, with guides and transport.
For advanced surfers, we can also organize a full day boat trip to surf the epic waves of Witches' Rock and Ollie's Point that have featured in many surf movies.
ACCOMMODATION


The packages come with accommodation at Blue Trailz or, depending on how many people sign up, similar accommodation nearby. Packages with 4 or 5* hotel lodging can be arranged at request and at an additional cost.
Blue Trailz is one of Tamarindo's leading hostels located right across the street from the beach and breaks and walking distance from the bars, restaurants and nightlife. The hostel has 2 dorm rooms and 2 private rooms all equipped with A/C. Bed linen and towels are provided for all guests and we offer a daily maid service.
Each of the private rooms sleep up to six people in two queen beds and a bunk bed has an en-suite bathroom, full kitchen and balcony.
Both dorm rooms can sleep up to six people in three bunk beds and have an en-suite bathroom and a shared outside kitchen. You can also choose to book this room as a private room for you and your friends.
If we get 10 or more people to sign up, the entire property will be ours including the communal area where we can chill out, watch movies, have drinks, etc.
OTHER ACTIVITIES


Besides the surfing, the package includes a Sunset Cruise. This half day catamaran cruise takes you to a nearby bay to go snorkelling. On the way back a light lunch is served and we arrive back in time to watch the sunset over Tamarindo bay. It also features an open bar during the trip which includes beer and cocktails.
If you want to take a day off of surfing or looking for some activities to complement your surfing schedule, there are a variety of tours and options including fishing, jungle tours, zip lines, snorkeling and diving, stand up paddleboard rentals or just enjoying a long lunch and cold drinks on the beach in Tamarindo.
TRAVEL LOGISTICS
The closest international airport is Liberia Airport (airport code LIR), which is only an hour away. This airport has direct services by American Airlines, Delta, United, US Airways, Frontier, Air Canada, WestJet and JetBlue from major cities in the USA and Canada including Miami, New York, Houston, Atlanta, Chicago, Charlotte and Toronto.
Alternatively, you can fly into San Jose (airport code SJO), the capital of Costa Rica. It has services from many cities in the US, Canada, Central and South America and Europe. However you'll need a connecting flight to Tamarindo, drive or take a shuttle, which will take you around 5 hours. Note that the last shuttle to Tamarindo leaves around 3 pm, so make sure you arrive before 1 pm or otherwise you will have to spend a night in San Jose.
Once we have your flight details, we can help you set up your transportation from either Liberia or San Jose to Tamarindo.
COSTS
The cost of the trip includes:
– lodging (price vary based on accommodation type)
– surfboard rental for a week
– four lessons for the beginner surfer, or four surf trips for the advanced surfer
– Sunset Cruise
Not included in the price are airfare, shuttle from the airport, meals and personal expenses.
Prices:
Dorm Room (up to six people in single beds) $529 per person
Private Room for four or more people in your group $529 per person (maximum 6 people)
Private room for three people, $569 per person
Private for two people, $639 per person
Private room for one person, $839 per person
The prices include all taxes. You can pay with all major credit cards or cash in USD and Costa Rican Colones.
Luxurious 4 or 5 star lodging can also be arranged upon request and at a premium.
BOOKING
If you want more info or would like to book your trip, contact Koen or Aleksandar the owners of Blue Trailz via gsw@bluetrailz.com . They can help you with you all your inquiries and requests from the type of boards they can offer you during the trip to booking your airport transfer.
SEE YOU THERE


With over 4,500 members of GaySurfers.net worldwide, and over 2,000 in North America we're looking forward to a fun trip with great surf and good people. The trip is open to members of GaySurfers.net, their friends, partners, family and others who are ready to share the Pura Vida lifestyle. We look forward to welcoming you in April!