GaySurfers.net and Brazil Ecojourneys team up to organise a surf trip for gay and lesbian surfers #GaySurfBrazil from April 30 to May 7, 2016 in Santa Catarina, Brazil.
Santa Catarina, in South Brazil, is a hidden gem known for its gorgeous beaches and mild climate. Long appreciated by the local LGBT community, in recent years it has become a popular gay and lesbian vacation destination.
Praia do Rosa, the only bay in Brazil to be recognized as one of the 38 "Most Beautiful Bays in the World", is famous for its perfect waves, laid-back atmosphere, rustic-chic guesthouses and great restaurants.
Thanks to the half-moon shape of the bay of Rosa, it is considered a "Disneyland" for surfers- you will always find great surfing there, no matter the direction of the winds or swells. Winter months (June-August) often bring major waves that lure the world's pro-surfers, but year-round Praia do Rosa it offers great conditions for all levels of ability.
With this fantastic surfing environment also comes an amazing surf coach,Capitão David. His surf school, founded in 1995, is the oldest one in all of Rosa. The Captain, as he is known by his more than 15,000 student/friends, has taught generations of beginners and trained some serious surfers. You will definitely learn more with the Captain than you would at any other surf school!  For more experienced surfers who don't need the basics, this trip will offer you the best waves in Brazil with a friendly local, as well as the expertise of the Captain to help improve your performance.
On top of the 5-day surf camp, this trip also includes a 2-night stay in Florianopolis. Also known as "the Magic Island" or "Floripa, this island has been known for its surfing culture and LGBT-friendliness since the 80's!
This will be a holiday that you will never forget!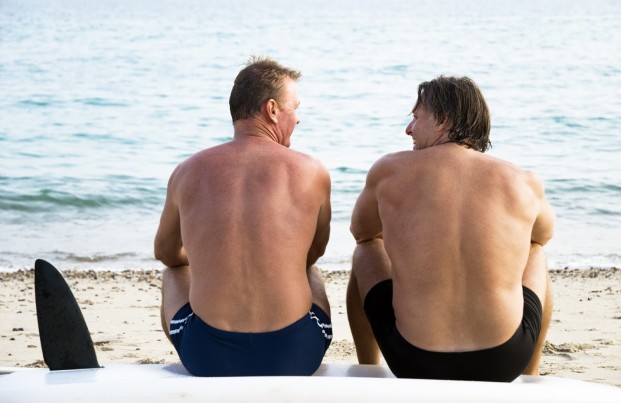 Program:
Saturday 30th April – Arrival in Florianopolis. Check in at your Town Home right in front of Praia Mole- one of the best beaches for surfing on the Island and the most LGBT-friendly beach south of Ipanema. Afternoon free.
Welcome Dinner. Optional G& L nightlife tour.
Sunday 1st May – Breakfast at your leisure
Day free to enjoy the beach (previous host to both WQS and WCT competitions). Optional afternoon tour of the Island.
Monday 2nd May– Early breakfast then transfer to Praia do Rosa. Check-in at Pousada Casa do Ceo.
2 pm: Start of the Surf Camp: Surf Introduction for Beginners/ Evaluation session for experienced. Duration 3 hours.
6:30 pm: Yoga lesson
Tuesday 3rd May
8:30 am: Breakfast
10 am: Surf session & Clinic. Duration 4 hours.
Rest of the afternoon free for relaxation at the beach or by the pool.
Wednesday 4th May.
8:30 am: Breakfast
10 am: Surf session & Clinic. Duration 4 hours.
6:30 pm: Yoga lesson
Thursday 5th May
8:30 am: Breakfast
9:30 am: Departure for a full-day Surfari.
We will explore the Southern Coast of Santa Catarina looking for the best spots for our Surf Session. If conditions are good we will go up to Farol de Santa Marta, a remote fishing village with a famous lighthouse and good waves. On the way there, you'll have the chance to see the famous Laguna Dolphins.
Friday 6th May.
8:30 am: Breakfast
10 am: Surf session & Clinic. Duration 4 hours.
7 pm: Caipirinha Workshop, Sundowners and Farewell Dinner
Saturday 7th May:
Breakfast & Check Out. Transfer back to Florianopolis airport for return flights.
Cost per person:
Single room basis: US$ 1477.00
Twin room basis: US$ 1221.00
Double room basis: US$ 1079.00
Package includes:
All transfers starting/ending Florianopolis airport with English-speaking driver or guide
2 nights' accommodation at a Town Home in Praia Mole, Florianopolis, with breakfast (shared house, private ensuite rooms)
5 nights' accommodation at the charming Pousada Casa do Ceo in Praia do Rosa (private ensuite rooms) with breakfast
4 days of Surf Camp with Capitão David School in Praia do Rosa.
o    Surf Camp consists of lessons for beginners and intermediates, followed by surf clinic with exercises/practice for better performances aided by analysis of videos filmed during lessons/sessions. Experienced surfers will have "Surf with a Local" Sessions and the Surf Clinic (4 hours daily).
1 full-day Surfari with Capitão David School;
1 DVD with photos/videos of your session
2 Yoga Group Sessions
2 dinners
English-speaking Tour Leader
Package does not include:
Flights, Visas, meals not mentioned, optional tours, insurance, tips, equipment (except during surf lessons)
**Extensions to Rio, Iguazu or other destinations in Brazil available- please contact us for more details.**