http://www.pinkwire.co.uk/article.php?section_id=4&category_id=8&article_id=387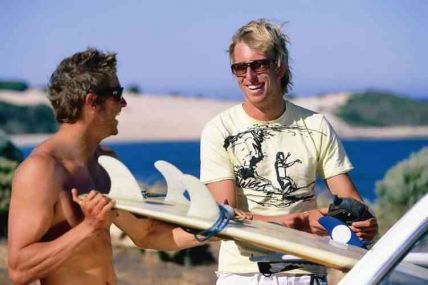 Newly-launched website Gay Surfers is attracting a steady stream of users worldwide.
The free forum-based site was set up by French-born webmaster and keen surfer 'Thomas' in February as a way of helping gay and lesbian surfers, lifesavers and the like from around the world communicate with each other and share news and information. Registration is free, and only requires a valid email address.
"I always found it hard to meet other gay surfers.
I searched the web but never found any websites for gay surfers. I have finally met a few other gay surfers during different surf trips. Almost all of them would hide their sexuality," Thomas said.
"I believe there is a surf culture beyond the macho young man, and there are things that we want to share with other gay surfers beyond dating. I'm talking about sharing common interests with the people we want to surf with."
The website already has 250 members, although it's early days and Thomas said he was still working on new sections that were yet to be launched. But by its very nature, much of the website's content needs to be user-generated. There are detailed descriptions of 10 surf spots listed in NSW alone, but Thomas is keen for more recommendations.
"I will publish new articles and add surf spots on a regular basis but I can't find all the information by myself, so I am counting on users to add new stuff on the site and make it stay alive. You can register your local surf spot by sending photos, videos and descriptions to my email."
Info: Visit www.gaysurfers.net or email info@gaysurfers.net
Source: Sydney Star Observer