By Jesse Daley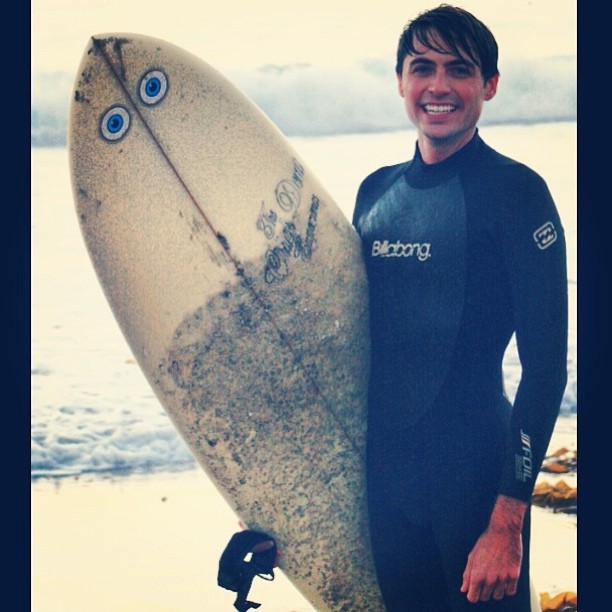 Growing up in Massachusetts, I was terrible at sports. I mean I was AWFUL. As hard as I tried, I just didn't excel on a sports team. I could never hit the ball during Little League, and I never once scored a goal while on the soccer team! I felt that I was "alone" – that I just did not fit into these organized sports! Plus, having a twin sister who did excel in sports (and was on these same sports teams as I), added salt to my wounds of embarrassment! When I reached high school, I stayed away from sports and involved myself in other artistic activities such as film making and editing movies. Yet being an active guy and loving the outdoors, I still yearned to find a sport that I connected well with and could enjoy.
I found that sport when I moved to California for college: surfing! I absolutely fell in love with it. I felt as though I finally "fit in" somewhere! Admittedly, it took me quite a while to get the hang of it all, but standing up on the board was not the part that I loved the most. It was the experience of connecting personally with nature, the ocean, and with other surfers that gave me the desire to be in the water practically every single day. In fact, I became so involved in surfing that I began an internship with the iconic "Surfer Magazine" where I worked with the photo department and wrote small articles for the website. I still work with them from time to time today!
Throughout my years in college and at "Surfer Magazine," I also interned at "Free Surf" magazine in Hawaii, which was another incredible experience. As a bonus, I was able to meet some of the most talented surfers in the world.
Amazing as all of it was, there was one thing that I consistently noticed about the industry: a lack of diversity. Specifically, I noticed a lack of diversity regarding the sexual orientation of men and women working in the industry. It appeared that all of these guys and girls were straight! And that just didn't make sense to me. I'd been studying human sexuality in college and was learning all about sexual orientation. There are of course many people who are not straight! But where were they? Not working in the surf industry? I kept thinking: there's got to be someone in this community who doesn't fit the "perfect image" of a macho blonde surfer dude getting with the hot surfer chick.
At this point, it was a simple observation more than anything else, and I began to accept that the surf industry just might not be very open to talking about the sexual orientation of all these pro surfers. I mean, it's no one's business anyway whom you like, right? But then I got to thinking: what if some of these pro surfers who were gay or bisexual did not want to "come out" because they could be afraid of how it would affect their careers? This made me somewhat concerned, especially for the youth, who make up a huge percentage of the industry. I'd imagine that it's hard enough to have a successful career being in the spotlight of the surf industry as it is, let alone having to feel like you couldn't "be yourself" without damaging a career – if in fact any of them were "not straight."
I filed these thoughts away and continued to observe the surf industry, and after I graduated college, I (and my beat-up old surfboard) moved up to Hollywood to pursue a career in entertainment. And man, what a difference when it comes to diversity! The entertainment biz has historically been quite eccentric and filled with diversity. One of the many things that I think is great about it is that people are overall more accepting of each other's individuality. All different types of people are in this business and it truly is awesome.
At first, Hollywood and the entertainment industry seemed like a world away from the surf industry. But what I've come to learn is that the surf industry and Hollywood are really not all that different. You've got celebrities and beautiful men and women who are in the spotlight. There are award shows; there are interviews, lots of press, etc. There's pressure to keep up a particular image. These are all very stressful things to deal with, and in order to keep your sanity you must have a sense of community. That sense of community is apparent in Hollywood. It's not much of a concern about a person's sexual orientation. People of all sexual orientations (and ethnicities and other differences) seem to co-exist happily. It's great! And it's time for the surf industry to adapt this type of true "community" too – where everyone is accepted.
As a member of the surf community and a huge supporter of "Gay Surfers," I believe that it is imperative to continue to promote diversity and awareness in the surf industry. It is an incredible industry, but its image needs a bit of a make-over. (We call that a little "nip and tuck" here in Hollywood!) It's common knowledge that surfers come from all walks of life. The stereotypical "surfer" is typically portrayed in advertisements as a blonde, shaggy haired dude who is super "masculine", or the hot girl who is sunbathing endlessly in the Caribbean. This isn't to say this image is inaccurate, but it is only showing a portion of the members who make up the surf community. There are also many surfers who look very different from that image and don't fit that profile. It would be great to see some more honesty in the portrayal of these men and women in advertisements, for example.
The industry is hugely based on an image that is presented to the public by sponsors and surf-clothing companies. For example, in order to fit the image of a surfer, in order to "play the role," we must "look" like a surfer. We are constantly told that we must wear the latest surf-fashions and talk with a particular lingo, brah. Now, as much as I love Rainbow sandals and board shorts more than anything, (I think I'm the only guy in Hollywood who wears them every single day), I say that we mix it up a bit! The key, in my opinion, is to expand the image that the surf industry paints to the world. It's time to show people everywhere that surfers come from all backgrounds, all ethnicities, and all sexual orientations.
In order for that image of the surf industry to become a reality, for the industry as a whole to promote more diversity and to adapt a truly "carefree" way of life, we need to expand the image of what a typical surfer is. One of the most influential ways for this to happen is to continue supporting and encouraging surfers to embrace their individuality and create a safe environment in the surf industry where men and women can be who they want to be. Currently, (as detailed in the "OUT in the line-up" film), there are many pro-surfers who are (and were) just too afraid to come out because of fear of endangering their careers.
Let's get rid of that fear by helping to educate people on diversity, sexual orientation, and spreading acceptance. Pro surfers should never have to be fearful of damaging their reputation or losing a sponsor simply because they are gay. Rather, it'd be great to see some of the big sponsors promoting more diversity into the industry: an ad in a magazine that features two women perhaps? Or two men?
Every other sports industry in the world has experienced high profile sports figures who have come out, especially recently with football player Michael Sam announcing that he is gay. These men and women are generally met with more positive rather than negative reactions from the public. Diversity has even become a global conversation because of the Olympics in Russia, long a bastion of homophobia. The surf industry is comprised of young people who are just coming into adulthood and finding out who they are and whom they like. And it's important that they know that their peers and the surf industry will support them regardless of their sexual orientation.
It's time to turn the "carefree, laid back lifestyle" that surfing is known for into authentic freedom, and to be true to the lifestyle of freedom on the waves. Let's show the world that ALL people, all surfers, are equal. It can start with you. Simply standing with the men and women who support the "Gay Surfers" organization will help. Use your voice to promote diversity in the surf industry, (and everywhere for that matter)! And whomever you end up dating, whether it's a guy or a girl that you take out for that perfect "surf-date," live it up! We only get one chance to ride the waves. And in the water, as in life, we are all equal.
* Jesse Daley is an actor and writer living and working in Hollywood, CA. He worked in the surf industry during his time in college, and continues to stay involved with surfing today. He believes that everyone is equal and that everyone should follow their dreams, in and out of the water!