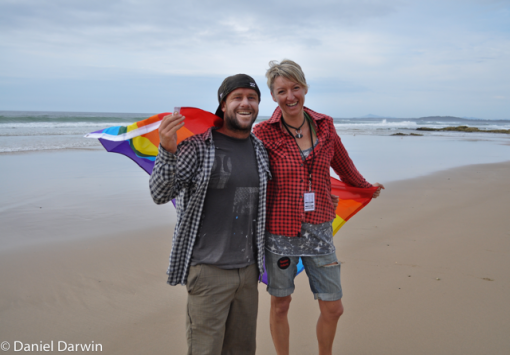 Surf's up for totally rad queers and homophobia's for wipeouts at Australia's first surf-centric GLBT festival.
CoastOut, a concept started by Coffs Harbour resident Todd Buttery and supported by the local council, aims to entice gays and lesbians from around the country to a three-day festival (October 29-31) of sun, sand and swimming in a safe and inclusive environment.
Buttery developed the idea after a local paper encouraged residents to come up with a signature event to put Coffs on the map. It just so happened that two local councillors, Denise Knight and Kerry Hines, had been thinking along the same lines.
"I prepared for council the concept of CoastOut as the three-night, two-day beach festival as it is now — and the rest, as they say, is history," Buttery told Sydney Star Observer.
"From what I can gather in my research, there hasn't been a gay and lesbian surf contest or beach carnival like this before.
"I am working with a couple of gorgeous lesbian surfers up here on the event and they tell me there hasn't been.
"I also contacted the disbanded Bent Boards in Victoria and they also said there hasn't been a queer-friendly surf contest in Australia before.
"As this is a beach festival, we're also inviting anyone interested in swimming to take part in the first Gay and Lesbian Ocean Swim. There will also be a Beach Run and sprints."
Aside from the sport there will be the usual gamut of entertainers, music and dancing although details are yet to be confirmed.
Buttery is now looking for sponsors and supporters to help get the festival running.
info: To keep up to date, join the CoastOut Facebook group. For more information or to register your interest in becoming a sponsor, email info@coastout.com.au.