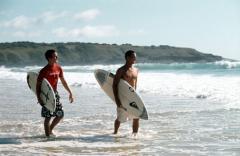 THE gamble to stage Australia's first gay and lesbian beach festival in Coffs Harbour, and the world's first gay and lesbian surf comp, seems to have paid off with crowds of up to 1000 people at some events over the weekend.
Festival organiser Todd Buttery said he was overwhelmed with the response from locals and visitors.
"We estimate around 400 of the people who attended CoastOut came from outside the Coffs area," Mr Buttery said.
"We had people from Perth and Darwin, and big contingents of men and women from Melbourne, Sydney, the Gold Coast and Brisbane. Many of them had never been to Coffs Harbour before and I think they really did get to like all that this area offers. I know many have said they will definitely be back for a longer holiday."
Among the highlights of the CoastOut weekend were Friday night's Cocktail Party hosted by Bob Downe, which attracted around 300 people to the Pacific Bay Resort.
Saturday's Fair Day at the Park Beach Reserve enjoyed great weather and pulled a big crowd of around 1000 people aged from toddlers to 80. The Tea Dance which followed saw hundreds of people dancing under the stars.
A highlight was a sensational performance by one of the Sydney's most lauded drag queens, Dallas Delafroce, who grew up at Lowanna and Bundagen.
Mr Buttery said the world's first gay and lesbian surf contest yesterday morning attracted a field of 12 men and women.
"For its first year, the event exceeded expectations. What was even better was the atmosphere and energy levels. There were no incidents of any kind reported to police because everyone was just in a great, relaxed mood," he said.
"Considering we only had a short six-month lead-up time and a very small crew, I think what we achieved was fantastic. We couldn't have done it without great volunteers or our local and national sponsors."
Mr Buttery said while he had been inundated with requests to stage another CoastOut next year he would wait to consult with the festival committee.
"It has been a mammoth task and I think we all need a bit of time to wind down and recover before committing to another CoastOut."