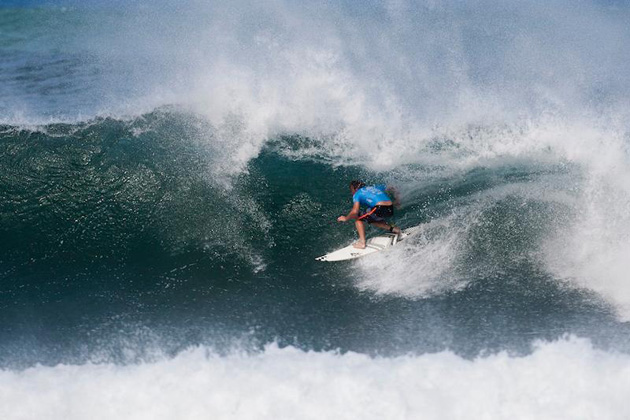 HALEIWA, Hawaii (November 23, 2011) – West Australia's Taj Burrow, a virtual veteran of pro surfing at 33 years of age, has claimed his first Reef Hawaiian Pro title in Hawaii to pocket $25,000 and take an early lead on the Vans Triple Crown of Surfing ratings. Burrow, who has been competing in Hawaii for 15 years, left the field in his wake today, finding a form all his own in the pumping overhead surf. Coming into the final, he claimed that this was his year to shoot for the Vans Triple Crown. He kept his word. Runner-up was East Coast Australian Adam Melling; third was Adriano De Souza (Brazil); and fourth was Nat Young (Santa Cruz, CA.). The Reef Hawaiian Pro is the first jewel in the prestigious $830,000 Vans Triple Crown presented by Rock Star Energy Drink.
Burrow surfed through four rounds today, gaining momentum in each. While aerials were at the front of most surfer's minds, Burrow got creative with every heat, strategically building scores with a mixed plate of form-bending tube rides and lip-belting close-out snaps. He eclipsed his challengers in the final, posting a two-wave total of 16.90 out of 20 (9.37 and 7.53). Melling (12.6 – 6.43, 6.17) and De Souza (12.5 – 7.5, 5) battled it out for second. Nat Young, who had tapped into the best rhythm of the day up until the final, was left high and dry with a two-wave total of only 6.10 (3.73, 2.37).
"I had a good run, it feels good scoring in the 9-point range and it's hard to do," said Taj, world #3. "I just really wanted to win an event here. I am really happy.
"It's funny I have never really gotten a good shot (at the Vans Triple Crown). I was thinking, maybe I should really have a go at one of these things so I actually have it right in the front of my mind.
"I love being in Hawaii. I was saying to a few of my friends it is so good to come to Hawaii and sit and make a base for six weeks. We are getting on a plane every other weekend normally, it's draining. Coming to Hawaii you just get in a good routine, you unpack your bags and you can kind of relax. We train and eat good food and just the whole routine of it all I feel much better then having to skip town every two weeks."
Melling, 26, was the quiet achiever through the rounds, chipping away with rock-solid performances and error-free, text-book surfing. A podium finish was a new high for him in Hawaii, and $12,500 wasn't bad either.
"I am feeling pretty good you know, always wanted to do well and get on the podium here in Hawaii because the waves are so testing," said Melling. "You can get any kind of conditions. You can get one foot or 12-foot closeouts. I needed to podium this year, I need the points so bad. I have been on the borderline for a while now, so hopefully this can push me up and I can get a couple more results.
"I have some good big boards that have been sitting in the garage for a while. I'm definitely looking forward to Sunset. I hope we get some swell because anything can happen out there. I have lost heats needing a 0.2 and counting a one. So it gets pretty hectic at times but I am looking forward to it."
De Souza, world #5, has had a stellar season on the elite ASP World Tour and, like Taj, is hoping for a strong Hawaiian season. At 24 years of age, De Souza is undisputedly a member of the youth movement that is driving a fast road to the top of the pro surfing world.
"I am so happy right now with the third, it has always been my dream to get to the finals here in Hawaii," said De Souza. "I have been watching the last 10 years, all of the finalists, and I have seen them with all their trophies and leis. So I always been dreaming to be one day here. I am really proud of myself. It was an amazing week. Actually the flat waves at the start helped me a lot. I needed the rest. I am really pumped for Sunset. It is going to be big waves so it is going to be a big motivation."
Young, the youngest of the finalists at age 20, had been on fire in the earlier rounds. He posted the highest heat score of the entire event in the quarters – 17.77, popping two huge reverse 360 aerials on one wave for a 9.77 – the highest single wave of the event. He surfed through more rounds to reach the final than the others and looked to be peaking at the same time. But his cat and mouse game with the waves in the final was fruitless and frustrating.
"Yeah I was super frustrated in the final," said Young. "Everything that could go wrong went wrong for me. I mean, it's great to make the final and I'm so stoked about that. It's all good and I will go into the next event with a little more confidence.
"I feel confident out at Sunset. The waves where I live are like big rights and that is kind of the same. I have done good there the past few years and I am excited."
On his double air 9.77 that has earned him a shot at the 250,000 Hawaiian Miles Air award: "If you get a long enough wave you can do two airs, it's just hard to do one right at the beginning and follow it up with another. I was happy to get that. The (second air) was kind of a sketchy landing because I landed it so far out on the flats. I didn't really think I was going to land it, so that was nice."
Prior to the final, local favorite John John Florence, 19, floated on air and threaded through barrels to reach the semi finals, but hit a wall at Burrow and Young. Regardless, he was ecstatic to compete in front of a strong home crowd and hopes to build momentum through the remaining two events.
"I'm happy," said Florence. "I would have loved to make the final but I'm stoked to make the semi's. All the young guys, Nat (Young), Kolohe (Andino), Evan (Geiselman), Granger (Larsen), everyone's just kind of killing it, doing airs, getting everything together. It's great, everyone's down here, I'm stoked. I feel so at home. Sunset's next, it's gonna be big, it should be fun!"
The Vans Triple Crown of Surfing now moves north to Sunset Beach for the Vans World Cup of Surfing (Nov. 25-Dec. 6). The Surfline.com forecast for the coming week promises exactly the kind of hefty, challenging surf that the venue is famous for. Sunset has a reputation for separating the men from the boys and is where a bid for the Vans Triple Crown is usually cemented or crushed.
Happy Thanksgiving!
FINALS
Taj Burrow (AUS) 16.90pts ; Adam Melling (AUS) 12.12.60pts ; Adriano De Souza (BRA) 12.50 pts ; Nat Young (USA) 6.10 pts
SEMIFINALS
Heat 1: Taj Burrow (AUS) 14.84pts ; Nat Young (USA) 12.70pts ; John John Florence (HAW) 11.50pts ; Kekoa Bacalso (HAW) 10.67pts
Heat 2: Adriano De Souza (BRA) 13.54pts ; Adam Melling (AUS) 13.16pts ; Michel Bourez (PYF) 12.30pts ; Roy Powers (HAW) 4.57pts
QUATERFINALS
Heat 1: Taj Burrow (AUS) 16.10pts ; Kekoa Bacalso (HAW) 15.60pts ; Evan Geiselman (USA) 15.00pts ; Kolohe Andino (HAW) 6.90pts
Heat 2: Nat Young (USA) 17.77pts ; John John Florence (HAW) 14.27pts ; Kieren Perrow (AUS) 5.50pts ; Glen Hall (IRL) 5.20pts
Heat 3: Michel Bourez (PYF) 13.50pts ; Adriano De Souza (BRA) 12.30pts ; Tanner Gudauskas (USA) 12.20 pts ; Jesse Mendes (BRA) 9.17pts
Heat 4: Roy Powers (HAW) 15.00pts ; Adam Melling (AUS) 9.90pts ; Brett Simpson (USA) 7.33pts ; Granger Larsen (HAW) 6.83pts
Round of 32
Heat 1: Evan Geiselman (USA)11.33pts ; Kieren Perrow (AUS)10.73pts ; Hodei Collazo (EUK) 6.84pts ; Maxime Huscenot (FRA) 2.90pts
Heat 2: Kolohe Andino (HAW) 11.84pts ; Nat Young (USA) 9.70pts ; Adrien Toyon (REU)9.27pts ; Ezekiel Lau (HAW) 9.13pts
Heat 3: Glenn Hall (IRL) 15.43pts ; Kekoa Bacalso (HAW) 14.37pts ; Sebastien Zietz (HAW) 10.34pts ; Leonardo Neves (BRA)10.00pts
Heat 4: John John Florence (HAW) 16.27pts ; Taj Burrow (AUS) 15.26pts ; Thiago Camarao 7.77pts (BRA) ; Daniel Ross (AUS) 7.70pts
Heat 5: Adriano De Souza (BRA) 12.67pts ; Brett Simpson (USA) 12.34pts ; Dusty Payne (HAW) 9.60pts ; Adrian Buchan (AUS) 9.30pts
Heat 6: Tanner Gudauskas (USA) 11.19pts ; Adam Melling (AUS) 10.73pts ; Dion Atkinson (AUS) 8.83pts ; Adam Robertson (AUS) 8.50pts
Heat 7: Roy Powers (HAW) 9.94pts ; Michel Bourez (PYF) 9.50pts ; Jadson Andre (BRA) 8.57pts ; Marc Lacomare (FRA) 5.83pts
Heat 8: Granger Larsen (HAW) 14.60pts ; Jesse Mendes (BRA) 12.60pts ; Nathaniel Curran (USA) 10.84pts ; Aritz Aramburu (EUK) 7.93pts
CLASH of the LEGENDS
Heat 2 : Ross Williams (HAW) 14.50pts ; Shane Dorian (HAW) 14.44 pts ; Rob Machado (USA) 10.83pts ; Kalani Robb (HAW) 8.27pts
Originally published on 24th November, 2011 by ASP – Association of Surfing Professionals