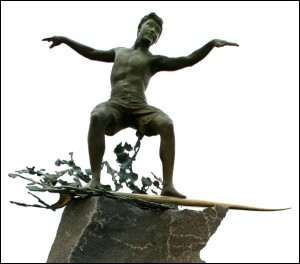 ENCINITAS – The controversial Cardiff surfing sculpture is a misunderstood piece that is meant to show a skilled surfer performing a difficult maneuver, the sculptor who created the piece said Tuesday.
Some surfers say the statue misrepresents their sport, and that any decent surfer would never strike the pose sculptor Matthew Antichevich portrays in his sculpture.
Even as bloggers continue to flood the Internet with criticism, the 55-year-old artist said the cost of bronze kept him from fully elaborating his vision for "The Magic Carpet Ride" sculpture.
"I'm just kinda sad people don't understand what the surfer is doing," he said.
His original proposal was to position a female surfer on a breaking wave.
All of that bronze would have doubled the sculpture's cost, though, and his clients – the Cardiff Botanical Society – chose to substitute the wave with a slab of granite, he said.
Models of the sculpture show a surfer carving across the crest of a wave, looking for a place to land.
"If I was able to do the wave, people would not have questioned what the move is," Antichevich said. "That's the missing link."
A boyish-looking surfer poses on his board, arms outstretched, hands and fingers pointed like those of a ballet dancer.
Critics say the surfer looks unnatural and effeminate; Antichevich disagrees.
Antichevich said he learned to surf in Cardiff and to sculpt in Florence, Italy, where he drew inspiration from the ancients.
With those and other credentials, Antichevich won a $92,000 commission to create the life-sized surfing sculpture now displayed at Chesterfield Drive and South Coast Highway 101. The city paid an additional $30,000 to install the piece.
The Cardiff Botanical Society unveiled the sculpture Sunday, but criticism of the work began days before, when a cell phone photograph of the statue appeared on surfing and community Internet sites.
What the sculptor says he sees as misunderstandings, and outright displeasure with the sculpture, scream from the electronic pages of Internet blogs.
Blogger JP St. Pierre – a surfer, surfboard builder and Encinitas resident – has created blog sites focusing on surfing and Encinitas politics.
Both of them have seen heavy traffic since before the unveiling, when he posted a photograph a motorist shot one morning when the wind blew off a tarp that covered the piece.
"We've had a field day with the comments," St. Pierre said. "Some are entertaining; some are ugly and mean-spirited."
St. Pierre said he thinks the statue is "dorky," but somehow is a fitting representation of what surfing has become: corporate and gentrified, where unskilled riders on plastic boards from China help themselves to the best waves.
"When Sadaam (Hussein) took over Iraq, he put up statues of himself saying he's in charge," St. Pierre said. "Now the kooks are in charge of surf culture. In a way, the statue's genius."
Antichevich said he didn't expect the piece to be so misunderstood.
Some of his inspiration, he said, came from the ancient sculptors he studied at the Academy of Art in Florence, Italy, home of Michelangelo's statue of David.
Creative energy also came from a surfing sculpture in Huntington Beach, and from nearly 30 years worth of surfing magazines that Antichevich says he keeps in near-mint condition at his Hemet home.
Antichevich said he builds his own surfboards and also works at a foundry and teaches sculpture and ceramics at Mount San Jacinto College in Southwest Riverside County.
He said his favorite place to surf is immediately west of the sculpture installation. His first experience in the ocean was as a boy at Moonlight Beach.
During talks with his clients, Antichevich said he proposed creating a representation of Rob Machado, a professional surfer and Cardiff native.
"We never focused on having a super-athlete on a surfboard in top physical condition cresting a wave," said Michael Clark of the Cardiff Botanical Society.
The artist and his clients also debated whether the surfer should be a female or whether the surfer should be shown riding a longboard. Antichevich said he wanted to sculpt a female surfer and that such a piece would be the first of its kind.
"We wanted to address the everyday guy on a surfboard," Clark said. "We also wanted not a complacent or docile or pensive surfer standing on the beach but something close to an action shot, something with a sense of passion to it."
Scott Bass, a Cardiff resident and senior online editor for Surfer Magazine, said he doesn't see that passion.
"It's a bummer it's this kid who looks like he's falling," Bass said.
Danny Salzhandler, a sculptor and president of the 101 Artists Colony who served on the botanical society's sculpture committee, had a different take.
"What I get out of it is a young surfer in the process of learning the craft," he said. "I think he did a really great job with all the detail he put into it. It's just a shame it didn't get better received by the people it was made to represent."
Antichevich said he understands that public art is controversial but he never expected such a negative reaction.
"I didn't think it'd be like this," he said. "I didn't think that everyone would not understand the move. I didn't think it would be this bad."
– Contact staff writer Adam Kaye at (760) 901-4074 or akaye@nctimes.com.
Copyright 2010 North County Times – Californian. All rights reserved. This material may not be published, broadcast, rewritten or redistributed.