Article by StabMag
From the moment sweet Keala Kennelly rolled into the parking lot at the Grove in Anaheim it was clear she wasn't there to fuck around. Arm in arm with her girlfriend, they were surrounded by an intimidating, yet intriguing entourage of women. They cut an obvious contrast to the trendy, surfy crowd at the 2016 Big Wave Awards.
They blitzed their way through check-in. Flashbulbs burst when they hit the red carpet. They then commandeered a small corner of a small bar in a small VIP room and waited for the show to begin.
Last night was all about the ladies, Ms Kennelly, making huge steps and backing it up with confidence.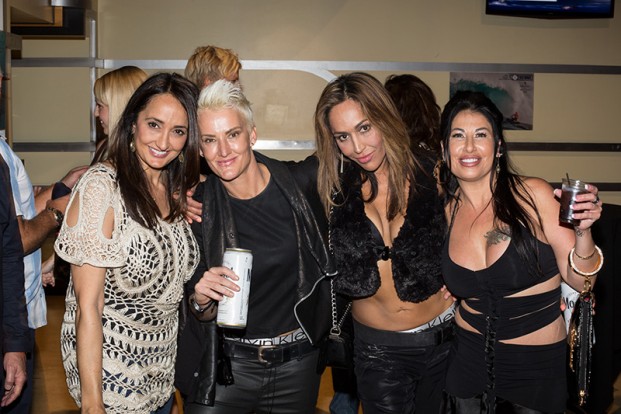 Sometimes the more things change the more they stay the same, and Keala, Shane Dorian and Greg Long came away the big winners—which if you've been paying attention the last 10 years should sound pretty familiar. They've all given their fair share of acceptance speeches over the years.
Greg is the articulate lecturer. Shane is usually brief and speaks from the heart. Keala, well, lets just say has always enjoyed her time on the mic and this year she absolutely reveled in it. Wrapped in black leather, she was far and away the most colorful character at the show…and had the most to say. Winning Best Barrel honors thanks to her dark cavern at Teahupoo, in doing so Keala is the first woman to win an "open gender" category.
There's good reason Greg Long attributes some of his time to motivational speaking, when he opens his lips, everyone listens.
"This is for all those people that told me I couldn't do it…that a woman couldn't do it," she said backstage, reiterating what she'd just told the standing-room-only crowd.
It's not a stretch to say that Keala's done more to advance women's performances in big-wave surfing than anyone else. She pioneered charging Chopes and paddling Jaws and Oahu's Outer Reefs. She deserves the recognition and the platform that comes with it. She probably should have won the Women's Best Overall Performance Award, which ended up going to Andrea Moller.
But before things could get too warm and fuzzy, onto the stage stepped the legendary Greg Noll.
"They told me to behave myself," he said before launching into a lengthy joke about eating pussy and choking on a hairball. It was a much-needed yin to Keala's yang. The webcast booth had to be freaking out.
"So guys, now you know what you have to do," surmised Da Bull, who may or may not have been making a subtle nod to Keala's camp.
Greg "Da Bull" Noll and Niccolo Porcella, two mad men from differing generations.
Either way, the house lost their shit. Hilarity ensured.
After the awards had wrapped Foo Fighter's side project, Chevy Metal, struck up the tunes and party raged late into the Orange County night.
Over the years the Big Wave Awards has become increasingly more commodified and hence more watered down. The first year the awards were held Flea sparked up a joint in the audience while sitting next to Jay Moriarity and Greg Noll. Classic! Then there were a couple years where fights broke out. Again, classic! And there was that one year that Christian Fletcher called German Sebastian Steudtner a Nazi while announcing his award for Biggest Wave ("And the winner is…the German who doesn't paddle.") And while the Big Wave Awards and big-wave surfing as a whole has become a large, commercial marketing vehicle, thanks to salts like Keala Kennelly and Greg Noll we can still let it all hang out every once in awhile.
Shane-O's a household name in the Big Wave Awards, and the cat's going nowhere soon. With two nominations for Ride of the Year, he was bound to come home with some cheddar.
Results:
Billabong Ride of the Year: Shane Dorian

Videographer: Dan Norkunas
Paddle Award: Aaron Gold

Photographer: Brent Broza
TAG Heuer XXL Biggest Wave Award: Yuri Soledade

Photographer: Jimmie Hepp
Pure Scot Barrel of the Year Award: Keala Kennelly

Photographer: Tim McKenna
TAG Heuer Wipeout of the Year Award: Niccolo Porcella

Videographer: Tim Pruvost
Surfline Men's Overall Performance Award: Shane Dorian
Women's Best Overall Performance Award: Andrea Moller
2015/2016
WSL BWT Champion: Greg Long
Article published by StabMag