Comedy-of-errors documentary, 10 years in the making, splashes onto Sydney screen this Friday.
Three Australian men – who, when they were boys, took on the challenge of surfing the 7 seas of the world – despite their average abilities – present the real, warts-and-all story of their 2 year journey.  With the best intentions of preventing youth suicide, it's a miracle three Aussie mates survived this international surfing odyssey gone wrong.
Cost – by donation.  Further details below.
Who:   3mates7seas is narrated by Christiaan Van Vuuren (of Bondi Hipster, and Fully Sick Rapper social media fame) and is the debut feature documentary of award-winning Director Loosie Craig.  All 3 mates – Ben 'Goose' Robinson, Shaun 'Howie Wolf' Howard and Danny 'Prendo' Prendergast – will attend and will be available for pre-release interviews. Donations from the night (and 50% of profits from DVD sales) go to the Black Dog Institute.
What:   3mates7seas Documentary Launch
Where:  Chauvel Cinema, Oxford Street, Paddington Town Hall, Sydney
When:  20th September, 2013 from 6.30pm
Why:  To launch the film, to raise awareness of youth suicide statistics and causes, and to empower young people everywhere to at least reach their dreams – because you never know where it will take you.
The trailer can be viewed at www.3mates7seas.com  and
http://www.youtube.com/watch?v=RtQoEatbX7w
Cost: FREE – donations accepted at the door.
All monies raised on the door and 50% of all DVD profits will go towards www.blackdoginstitute.org.au  helping thousands of people annually suffering from mental illness and depression.
RSVP   ben@3mates7seas.com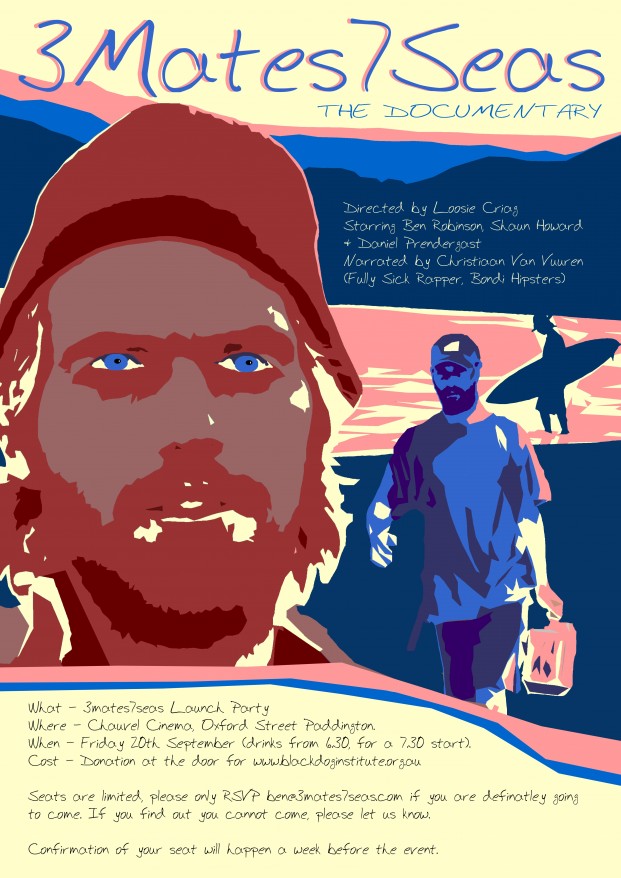 Long Summary:  Fresh-faced, good looking and verbose, Ben Robinson had always dreamed of immersing himself in other cultures and meeting people from all walks of life – he tells us so in a monologue one sunny afternoon in a cow paddock near his home in rural western Sydney.
Two years later, a hairy, crazed, angry Ben Robinson addresses the camera from a cliff top in Indonesia – "You meet all kinds of people in the Indonesian surf…and I hate every one of them."
What leads to that ultimate transformation is the story of 3mates7seas. The footage, shot by the characters on their real life journey, was relegated to a shelf as depression and life took over. Packaged now with animation and humorous hindsight, their story is brought to an audience at a cracking pace, and with a world map to keep track.
Ben was convinced he was capable of anything (motivated by self-help books) so he figured he would simply inspire the next generation out of the clutches of a youth suicide epidemic that he'd heard about when studying teaching. Impulsively, he registered Surfers Against Youth Suicide (SAYS) and set out to recruit an army of helpers from 'FIFTY of his closest friends'.  In the end, TWO boys raised their hands.
SAYS became Ben, Danny and Howie. They were a mixed bag who conceived, with youthful grandiosity, that they would surf the 7 seas of the world and use their journey to inspire younger versions of themselves to reach for their dreams. (NB. Their surfing skills ranged from average to below average.)
Together these three modern day musketeers came up with a 5 point plan for success and spruiked it to thousands of Australian high school students on their 'Catching the Wave of Your Dreams School Speaking Tour'.  They surfed around the country as they went, and the students in rural and regional areas totally bought it.
Look forward to you joining us at the Launch this Friday night – and spreading the Invitation around.