Originally Published by pinkisthenewblog.com
---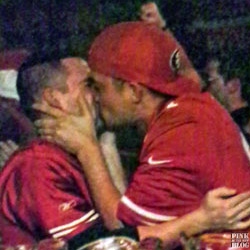 Remember earlier this month when we learned that cable sports network ESPN aired a celebratory same-sex kiss between a champion professional bowler and his husband? Well, today we learn that Sports Illustrated, THE most popular sports magazine, has also ventured into the realm of the celebration of gay kissing. In the new issue of SI, a photo is featured that shows a group of San Francisco 49ers fans celebrating the teams NFC championship win … and in the photo, two gay fans are seen sharing a sweet kiss. While this may sound like no big deal to some, it should be noted that sports media has a history of mocking gay love … so this celebration is a huge step in the right direction 😀 Click below to see this really cute photo.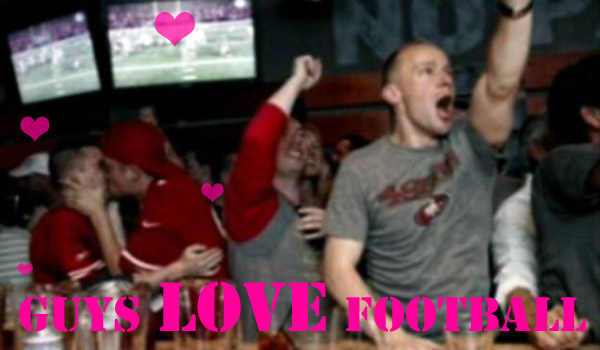 The current issue of Sports Illustrated, the one previewing the Super Bowl, has something I never thought I would see in a mainstream sports magazine — two male fans kissing. Not the peck on the cheek you might see from a European soccer player or a drunk LSU fan, but two fans wearing San Francisco 49ers gear in a passionate lip-lock celebrating the team winning the NFC Championship. The photo by Deanne Fitzmaurice was taken at Hi Tops, a San Francisco gay sports bar, and accompanies an essay by Bay Area resident and SI writer Chris Ballard on the diversity of the 49er fan base:

"We'll crowd the railing at Hi Tops, the city's first official gay sports bar, where patrons sport supertight T-shirts, drink Big Unit cocktails and roar 'Kill him! Kill him!' whenever Aldon Smith gets near the opposing QB …

If the Niners win it all … some of us — a number of whom might be gay, or vegan, or gay and vegan — might even ride on top of a cable car. The essay and photo are on Page 48 of the magazine. It looks like Hi Tops has a pretty hot and happening scene, and this Sunday I imagine it will be crazy there.
Sigh … this is SO GREAT! Even tho I could give two hoots about sports in general and football in particular, I know that there are LOTS of gay sports fans out there and their happiness is just as valid as any heterosexual fans' happiness is. We see images of straight couples kissing all the time … in every form of media. For far too long, gays have been forced to hide or when they choose not to hide, they've been omitted completely. It's really significant for a major magazine like Sports Illustrated to feature something as simple as a same-sex kiss because it speaks loudly to the wider SI audience regarding gay acceptance. A photo here and there won't change things overnight, but it's a start … and it's a step in the right direction. Very well done, Sports Illustrated😀