Gaysurfers.net launched in February this year. In just 6 months we managed to gather more than 2150 members on the site!
Please click on the image below to download the Media Release:
https://www.gaysurfers.net/wp-content/newsletter/onlinemediarelease/GaySurfers-PressRelease-Oct2010.pdf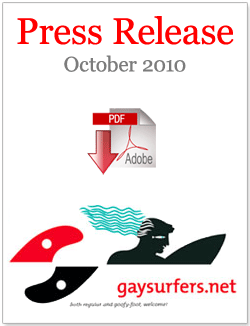 GaySurfers connects queer surfing culture
Gay, especially gay men, have traditionally not held much of a presence in the surfing world – closeted, largely due to a tilt towards homophobia within the sport. Enter gaysurfers.net, a rapidly growing new social site, with members from 76 countries worldwide, aiming to connect other that share the same passion, face similar issues and provide more solidarity among gay surfers worldwide.
About time!