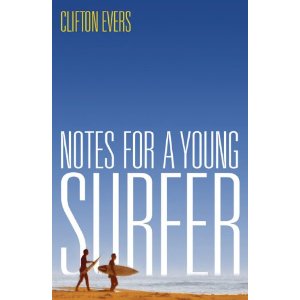 Notes for A Young Surfer
By Clifton Evers
Melbourne University Press
Book Review
By David Wakefield
Notes for A Young Surfer by Clifton Evers is a bold book journeying into sensitive areas that few writers in surfing have dared to go. Using controversial examples such as Maroubra's Bra Boys, the racially sparked Cronulla riots, along with Evers own personal experience growing up in what could be considered typical Aussie surf culture, serious discussion on surfing, mateship and manhood is explored. Delving head-long into issues such as bullying, grommet abuse, violence, racism, sexism, homophobia, love, relationships and more, these sometimes controversial moments in the book are dealt with in a refreshingly open, honest and constructive way. Through what feels like intelligent and rational discussion, Evers not only condemns certain anti-social actions that are embedded in surf culture, but also provides the reader with alternative ways of thinking and acting.
What is a real man? Where do men learn to be men? What is real masculinity? For me, I can't recall anyone ever sitting me down to explain these mysterious ideals, or equipping me with the skills and knowledge to challenge socially constructed stereotypes of what a 'real man' should be. In this book, Evers does exactly that. Primarily a discussion on manhood, mateship and surfing, Evers uses anecdotes to describe situations, while drawing on a broad range of references from surf journalists and writers from around the globe, to delve into exactly what it is to be a man. 'To often as blokes we are expected to work out manhood by ourselves. Manhood is not natural but learned, just like surfing, and we all know how long it takes to learn to surf. You never finish learning to surf, just like you never finish learning to be a bloke.' By often relating his discussion on manhood back to surfing, he paints a clear picture that, like surfing, manhood needs to be learnt and practised.
The section entitled 'Queer Waves', in which homosexuality and surfing is explored is interesting because it's written from a straight guys perspective. Using references such as ex pro surfer Matt Branson and personal anecdotes during which Evers encounters gay men and friends who are gay, the difficult reality that gay surfers experience is acknowledged. This section felt very teenage-friendly and rightly so. I liked how rational the logic was against the labelling and stereotyping of gays, 'Try adding up how much time you actually have sex; it doesn't take up enough of your life to be the measure used to define you.' I also liked the way the section finished with a positive action – 'If you see someone bullying someone else because of their sexuality, don't let them get away with it; there's strength in numbers.'
The title Notes for a Young Surfer implies a specific age range for the book, however, surfers of all ages (especially male surfers) would find reading this book, if not educational, then certainly personally challenging in parts.
By the end of the book, I had a stronger sense of where I personally see myself in regards to manhood, as well as a broader understanding of what it is to be a man. This book is a social challenge to all ages, including those old dogs of the sea, which impose much of the unhealthy macho stereotyping young people adopt. Are our stories of manhood healthy, inclusive and respectful of all people? Do we unfairly impose our own perceptions of what manhood is on those around us? I can't help but think that if all surfers were to read and take on board some of the ideas presented in Notes for a Young Surfer, surfing as a culture would be a much healthier and safer place for all people who love to surf.
Well worth a read!