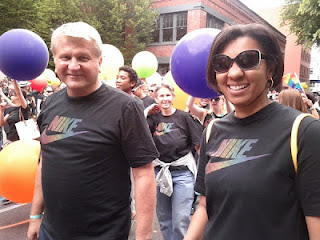 The Washington Blade looks at last weekend's Nike LGBT Sport Summit in Portland, where Team DC president Les Johnson represented the Federation of Gay Games, and where other Washingtonians also participated:
A transgender former George Washington University basketball player was among the nearly 30 people who took part in an LGBT sports summit at Nike's world headquarters in Beaverton, Ore., from June 14-17.
Kye Allums, who came out as trans in a 2010 interview with the LGBT sports website Outsports.com, joined Team DC President Les Johnson and National Center for Lesbian Rights policy counsel Ashland Johnson, who also lives in D.C., at the confab. Campus Pride, ESPN, Nike and the National Collegiate Athletic Association were among the 20 organizations that sent representatives to the summit.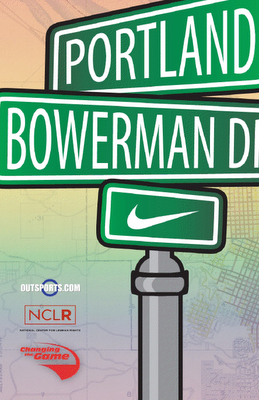 During the three-day gathering, participants drafted four broad goals on which they will work over the next four years to end harassment and discrimination against LGBT athletes and coaches. These include collaborations with major professional sports leagues to make them more LGBT inclusive, increased visibility of out collegiate athletes and coaches and the implementation of LGBT-inclusive policies in at least five adult and youth recreational leagues. The fourth objective is to have at least two million young people hear what summit organizers describe as an inclusive definition of "athletic champion."
[…]
"We're tired of just waiting around and progress being really slow so we got together," said Johnson, who represented the Federation of Gay Games at the summit. "We're trying to do something bold and get Nike behind us. And we've got some fresh ideas."
Several summit participants also marched with the Nike contingent in the Portland Pride Parade that coincided with the end of the gathering.
"It's the Nike LGBT Sports Summit, but it really is a collaboration between Nike and a bunch of us who want to get this done," stressed Zeigler, referring to the sporting apparel's support of the gathering. "Being yourself and maximizing your potential—these are all important pieces of Nike's brand. What we're doing is matching Nike's brand."
Read in full HERE.