I'm a gay surfer who's doing a kickstarter campaign for a new webseries.
It's not all about surfing but some of it definitely is. Take a look, and if it's something you think you can get behind, I'd really appreciate if you'd share the story on your website.
I'm on short time, the fundraiser ends tomorrow evening! Hopefully you're out catching waves instead of hunched over a computer like me.
but if not, I really can use some help.
thanks!! all the best, Katrina
https://www.kickstarter.com/projects/katrinadelmar/delmarvelous
(If you'd be so kind as to put those thoughts into ACTION you'll have my lifelong gratitude and loyalty, along with some pretty sweet rewards!!)
If you're on the fence about it because you're just not sure if it aligns with your social justice values just know you'll be helping a WORKING CLASS LESBIAN ARTIST.
And if you're not in a position to give I TOTALLY GET IT. I've been too broke to give too often. Please share the link with your well-heeled, generous, and influential friends!
To everyone else, I'm just grateful that you haven't asked me to "take me off your mailing list."
yet. haha
24 HOURS TO GO! Happy to accept pledges of 1$ and up.
This webseries is going to be really fun to watch, I promise.*
enjoy your day, all my best, -Katrina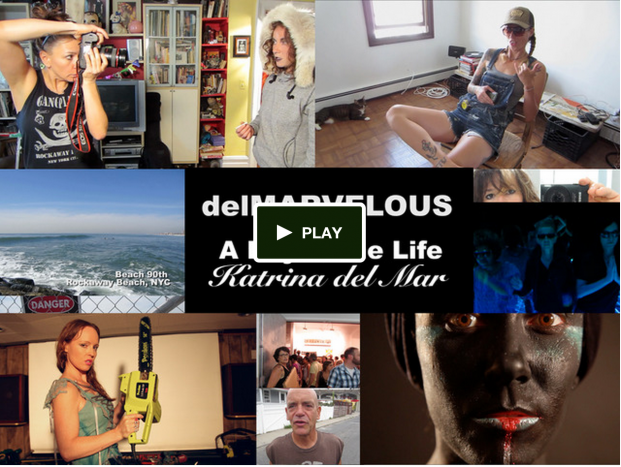 FOR IMMEDIATE RELEASE
Award-winning filmmaker, photographer, and downtown artist Katrina del Mar has started production for her new webseries, a docudrama she calls: delMARVELOUS: A Day in the Life, Katrina del Mar.
delMARVELOUS focuses del Mar's sharp eye on everything from art and artists talking about their process and ideas, sexy women, surfing, stupid dance moves, insane ideas, rants, and occasionally, in the tradition of Martin Scorsese, del Mar's grandmother makes an appearance.
del Mar has been making experimental films that poet and downtown legend Eileen Myles call "visual poems from a speedy person"  Her trilogy of girl gang movies— buddy movies for the leather and beach set—have played film festivals and art venues in over a dozen countries. Her work is dark, but you'll find a sense of both danger and humor in her pinup-style portraits of strong, beautiful, sexy women and men. Her photographs documenting NYC's downtown and underground life have been in Portugal, Provincetown, Berlin, New York City, and hung in the Contemporary Art Museum in Bordeaux, France.
While she refers to herself as a lesbian gigolo—something we hope will to get a glimpse as delMARVELOUS progresses, we'll have to watch and see—the press has referred to her as a "wild woman" and the "lesbian Russ Meyer." The Huffington Post describes her as a talented and "intimidatingly badass".
Filming for Season One is already well under way, and editing has begun—here's a peek at the trailer—and there's a kickstarter campaign to raise the money to produce the full thirty episodes of this artist's "artless, non-narrative, non-linear, kinda-surreal, experimental, documentary-style series."
*I'm planning to drop a few rough cut episodes next week, keep your eyes peeled!