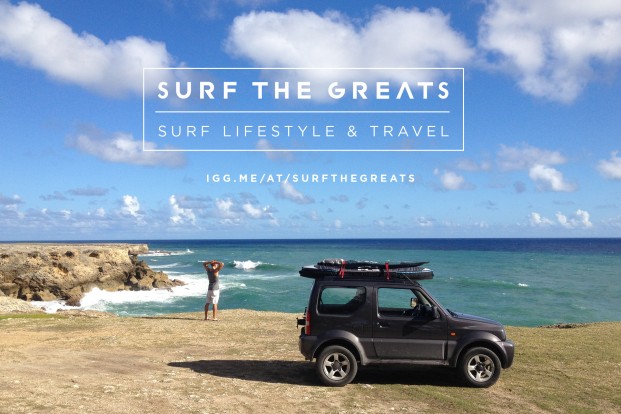 Growing up surfing in Brazil and finding out that I was gay as a teenager presented some challenges for me. During many years of my life I had to put surfing aside to navigate the rough waters of my sexuality. I moved to California when I was 20 years old, and surfed for many years without disclosing it to anyone in the water. After moving to Toronto for my partner's job, I had things sorted but was sure that my surfing days were over.
I discovered I could surf on the Great Lakes around the same time 'Out in the Line Up' came out. Not only that, but I found a very dedicated, welcoming and supportive community of surfers on the Great Lakes. Knowing that there were other gay surfers out there, I felt I could be whom I was in the line up for the first time.
On my second surf session in fresh water I met my soon-to-be business partner Marcello Gortana—a very accepting South-African expat who had also just discovered the secret of lake surfing. Through endless chatting in and out of the water, we identified the opportunity to further build and nurture the surfing community on the Great Lakes.
Last year, we took a trip to Costa Rica and got our surf instructor certifications from the International Surfing Association. In addition, we went through a challenging surf rescue course with the country's leading lifeguard, and returned to Canada with these unique credentials and all the knowledge required to start our surf school. That's when Surf the Greats was born.
A year into our business venture and we have exposed numerous people to Great Lake surfing, and have contributed to the growth of the sport and our community through sponsoring athletes, social events, beach clean ups and fundraising initiatives.
This summer, we are taking our business to the next level by introducing International Surf Safaris to places such as Costa Rica, Barbados, Brazil, and South Africa. Because our audience in North America isn't afraid of cold water, we are also working on future trips to Iceland, New Zealand, Canada and other parts of Scandinavia.
Our goal is to bring like-minded individuals together—regardless of gender, age, sexual orientation, and surfing abilities—to learn from each other and share the stoke in a safe, supportive and welcoming environment.
We have recently launched an Indiegogo campaign to raise funds to launch this next stage of our business, and are here to ask for your help to make this a reality. We have selected many amazing perks ranging from our own apparel line to spots in our future trips to appeal to every surfer or surf enthusiast out there. Please check out our Indiegogo video below and check out our page to see how you can help. Any small contribution makes a difference, and we appreciate if you could share this with your friends and family.
We look forward to taking you on the trip of your life some day.
Aloha from the Great Lakes,
Antonio.
STG Indiegogo from Surf the Greats on Vimeo.
Links:
Indiegogo: http://igg.me/at/surfthegreats
Facebook: facebook.com/surfthegreats
Twitter: twitter.com/surfthegreats
Instagram: instagram.com/surfthegreats
Website: surfthegreats.org
E-mail: aloha@surfthegreats.org