Originally Published on warhol.org
---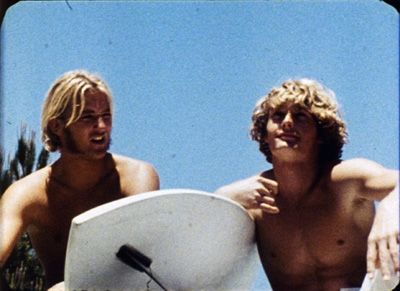 Andy Warhol is widely regarded as the most important artist of the second half of the 20th century, and he brought the vision of a successful artist to his filmmaking activities. He produced more than 4,000 reels of film between 1963 and 1971, when the works were withdrawn from circulation. It wasn't until the early 1980s, a project began to preserve and re-release the films of Andy Warhol, with support from The Andy Warhol Foundation for the Visual Arts, Inc. In 1997, The Andy Warhol Museum received the copyrights to this material as a gift from The Andy Warhol Foundation. Of great interest even in his lifetime, the films have attracted overwhelming public and scholarly attention since they have become newly available. Their wide-ranging influence can be seen in the work of contemporary artists, as well as numerous exhibitions, and publications.
San Diego Surf was filmed in La Jolla, California, about 100 miles down the coast from Los Angeles, in May, 1968. It was filmed in color on 16mm with two cameras, manned by Andy Warhol and Paul Morrissey, and featured Superstars Viva, Taylor Mead, Louis Waldon, Joe Dallesandro, Tom Hompertz, Ingrid Superstar, and Eric Emerson, plus Nawana Davis and others. Its loose narrative concerns an unhappily married couple (Taylor Mead and Viva) with a baby who rent their beach house to a group of surfers. After it was shot, it was only partially edited and never released. In 1995-96, the Andy Warhol Foundation commissioned Paul Morrissey, under the supervision of Foundation curator Dara Meyers-Kingsley, to complete the editing, based on existing notes and the rough cut.
One of the last films in which Warhol had direct involvement, San Diego Surf was the first time Warhol had made a movie in California since the early Tarzan and Jane Regained, Sort of…in 1963. The month after San Diego Surf filming was completed, Warhol was shot by Valerie Solanas, which virtually ended his work behind the movie camera. The film is being released by The Andy Warhol Museum, who holds all the copyrights to this film which has never before been publically shown.
The film will be shown publically at The Museum of Modern Art from January 23 – 28, 2013.
San Diego Surf, 1968/1996
16mm film, color, sound, 90 minutes.
With Viva, Taylor Mead, Joe Dallesandro, Louis Waldon, Ingrid Superstar, Eric Emerson, Tom Hompertz, Nawana Davis, and others.
Read more at warhol.org: http://www.warhol.org/sandiegosurf/#ixzz2KRYSMvat