Board shorts, kangaroos, beer and bro's in December. It doesn't get much better than that.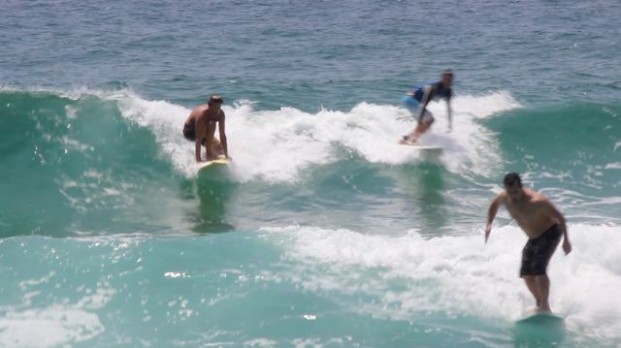 I had the chance to go spend two weeks with Thomas and a few members of GaySurfers.net in Australia recently and had an incredible time. Here's a few highlights which will hopefully inspire some of you to make a similar trip.
Thomas lives overlooking Bronte Beach, a beautiful cove just south of Sydney with a consistent surf break from almost any swell. It's defined by rocky headlands on either side, a steep beach break near shore, serious rip currents that define the outer break and flags put up by the surf lifesavers that indicate exactly where you can surf. Not that being pulled from the surf by an Aussie lifesaver would be an unpleasant thing, but it was a bit overwhelming to a surfer trained at San Onofre where there are miles and miles of beach. and you can always find an uncrowded wave. But I had some fun, did some longer distance swims and an amazing morning run along the coast to Bondi Beach three kilometers north.
Then it got even better. We left Sydney and drove north along the coast, camping for three nights in National Parks – all within walking distance of surf beaches. This was the Australia of legendary pictures, dreams, and cheesy Nicole Kidman movies. Miles of deserted beaches with warm, clear water and waves. Campgrounds filled with possums and kangaroos, campfires under a million stars (although Thomas never did manage to point out the Southern Cross constellation to me) and waking to the noisy argument of kookaburras taking place about 30cm outside the tent.
Surfing every morning and afternoon, driving through the countryside during the day, and enjoying a campground dinner and a few beers each evening. I'd highly recommend it to anyone and would be happy to share details of the campgrounds and beaches we discovered.
The trip ended in Byron Bay where we met up with David and surfed three different beaches, each with totally different breaks and experiences. The Pass, a point break that goes right and can be ridden so far you have to get out and walk back to the line-up. Tallows, a huge golden stretch of sand and beach break, and Kings Beach one of the most beautiful beaches you'll ever see – totally secluded after a short walk through the rain forest. Our second time surfing at Kings Beach, Jesse from San Diego had joined us and we were the only surfers in the water. It was like having a private surf beach, particularly for David who caught almost every wave and surfed for hours, and hours. And hours.
Laying in the shade of tropical trees, cold beer in hand, board shorts drying from the branches above (you can work out your own details) it was one of the most relaxing surf days ever.
Two weeks ended too quickly. Just before it was time to go back to the States a client called and booked me for a video shoot in Vail Colorado. I literally flew from Brisbane Australia to LAX, and immediately connected to Denver – arriving in shorts, t-shirt and flip flops to 6" of fresh snow. Talk about culture shock.
But the wonderful thing about surfing is you can lean back, close your eyes and feel the rhythms of the ocean, the energy of a swell heading towards the shore and the serenity in your soul from having such a great experience. Happy New Year. May your surf dreams for 2013 all come true.