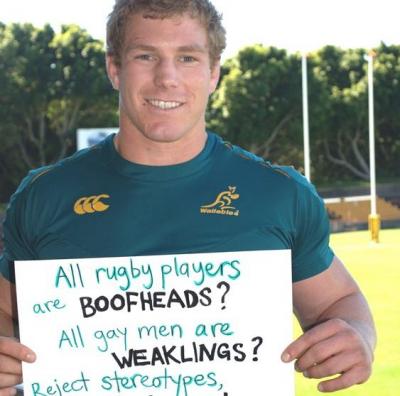 The heads of the five largest sporting codes in Australia are set to make a historic commitment tomorrow towards wiping out homophobia in sport as they agree to implement anti-homophobia and inclusion policies by the end of August of this year.
The CEOs of the national Australian Football League, Australia Rugby Union, National Rugby League, and the Football Federation of Australia will make the pledge at a press conference tomorrow alongside the executive general manager of Cricket Australia.
They will also be joined by high profile Australian sports people including Nick Farr-Jones, Greg Inglis, Matthew Johns, Phil Davis, Mike Pyke, Sasa Ognenovski, Sara Walsh, Nathan Lyon and Alex Blackwell.
The pledge to achieve those goals by August is because Australia will be holding the world cup of gay rugby teams the Bingham Cup that month
Bingham Cup 2014 Organizing Committee president Andrew Purchas called the event a world first.
'The commitment later this week by every professional sport in Australia to eliminate homophobia marks a turning point in the long-term efforts by gay, lesbian and bi-sexual people to be treated with respect in sport,' Purchas said.
'It's the first time in the world that all the major, professional sports in a country have committed to eliminating homophobia. They will also commit to making sport inclusive and safe. We hope this historic event will attract the attention of sporting organizations around the world and motivate others to make similar commitments.'
Brumbies and Wallabies openside flanker David Pocock, a long time heterosexual sporting ally of the LGBTI community in Australia, said it was a 'travesty' that many LGBTI people were still made to feel unwelcome when it came to participating in sport.
'I hate the idea of people missing out on sport because of the fear of being discriminated against,' Pocock said.
'If you look through the history of sports, I think sports are at their very best when they are challenging society to be more inclusive. That's when we really see the value of sport, when we see people regardless of their race, sexual orientation or anything else.
'I can't say that I have ever played with someone who is gay and for me that is pretty sad, because statistically I have. What that means is that people on my teams haven't felt safe, being who they really are.
'I think it is so important that we are not telling people that they have to come out and express their true sexuality, but we have to do more to make it a welcoming environment so that people feel safe to come out, and it's not a big deal and when an athlete comes out as gay it's not a huge headline.
Pocock is the 2014 Bingham Cup's ambassador.
The Bingham Cup is named after Mark Bingham, the American gay rugby player who died trying to regain control of United Airlines Flight 93 during the 911 attacks in 2001.
– See more at: http://www.gaystarnews.com/article/all-major-australian-sporting-codes-commit-wiping-out-homophobia-world-first080414#sthash.3cewQiZR.dpuf