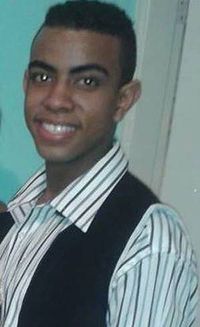 Did disseminate news that came out this week and that shocked our community in São Paulo, and later in the whole country.
Kaique Augusto, a 16 years old, was brutally murdered with cruelty for allegedly neo-nazistas/skinheads groups.
The police registered the case as suicide and government officials refused to pursue the case.
Kaique was thrown from a bridge after his face disfigured by kicks and punches. His teeth were all pulled out of the mouth, and the fingers were broken. The coroner said he caught long before he died.
The news came out in the mainstream media in Brazil.
We organized a protest last day 01.17.2014, the streets of downtown Sao Paulo, where about 1,000 people between friends, people connected with the LGBT movement, and other organizations.
We are now awaiting the progress of the case. In Brazil homophobia is not a crime. Our governments refuse to sign the PLC – 122 law criminalizing any kind of attack on homosexuals and transgender people.
Remember friends , this is the country that in 6 months will host one of the biggest sporting events in the world: the 2014 FIFA Cup….
http://www.towleroad.com/2014/01/family-suspects-gay-bashing-in-brutal-death-of-teen-in-sao-paulo-brazil.html
Below are some links of the news published in major sites and TV in the country (The text is in Portuguese The google translate is a great translator.)
http://g1.globo.com/jornal-nacional/noticia/2014/01/jovem-e-achado-morto-com-sinais-de-tortura-e-familia-denuncia-homofobia.html
http://noticias.r7.com/sao-paulo/morte-de-jovem-encontrado-desfigurado-apos-festa-em-sp-intriga-familia-16012014
http://www.cartacapital.com.br/sociedade/de-quantos-mortos-precisa-o-brasil-para-reagir-contra-a-homofobia-865.html
http://www1.folha.uol.com.br/cotidiano/2014/01/1398366-adolescente-gay-e-achado-desfigurado-apos-se-perder-em-festa-em-sp.shtml
And below is the link to the facebook community:
https://www.facebook.com/events/393391437474269/394861917327221/?notif_t=like
I leave the link to my facebook if they want to get in touch:
https://www.facebook.com/nando.chambucy
I appreciate everyone's attention, and I apologize for bringing bad news for you. We need support for this case, we are all brothers after all before our creator.