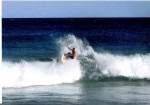 The Hawaiian Islands are a volcanic archipelago made up of eight main islands, several atolls and numerous islets stretching across the North Pacific Ocean from Midway to "The Big Island" of Hawaii. The main islands consist of Hawaii, Maui, Lanai, Oahu, Kahoolawe, Molokai, Kauai, Niihau.
Hawaii is the birthplace of surfing and a place that every surfer must go at least once in there lives. When Capitan James Cook discovered Hawaii, 2,000 years after the first Polynesian visitors, he was amazed by the locals wave riding skills. Go to the North Shore during winter and you'll witness that same wave riding skill being displayed by the locals and traveling pros alike.
The North Shore of Oahu, Maui and Kauai are situated in a perfect location to pick up powerful swells produced by large storms that form along the Bering Straight. And each winter surfers from around the globe flock to these islands to test there skills in the powerful waves that crash on the reefs that surround these islands.
During the summer months, the southern shores of these islands pick up south swells.
---
HAWAII – Donkey Beach Kauai's East side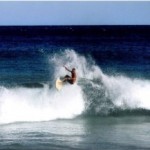 Located on the east coast of the island of Kauai, Donkey's beach is a beautiful beach that you can access by a 10 minute walk through a beautiful path through luxuriant vegetation.
Although the nudity here has been threatened and possibly stopped altogether by wealthy land owners…. They can "Never" stop us from surfing here! (comments posted by Michael Soule)
---
HAWAII – Queen's Surf gay beach, Waikiki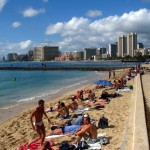 By far the most popular gay beach in Hawaii, and one of the most scenic and well-known in the world, Queen's Surf Beach is a relatively secluded stretch of sand in the heart of Waikiki, but along a section with no direct hotel frontage – this accounts for the fact there's more privacy and fewer families here than to the north or south. The beach here draws a mostly gay-male crowd, although certainly not exclusively so, as plenty of lesbians and straights seeking seclusion tan their hides here, too. Queen's Surf is easy to reach – it's just a short walk along the beachfront south of where Kapaluhu Avenue intersects with Kalakaua Avenue at the beach (not far from Hula's gay bar).
HAWAII – Little Beach Maui South side
Little Beach is the main gay beach on Maui, and perhaps all of the Hawaiian islands. It's also positioned well to pick up surf from the south and west. Combined with a point break there's almost always a nice left to be caught on this idyllic stretch of Hawaiian coastline.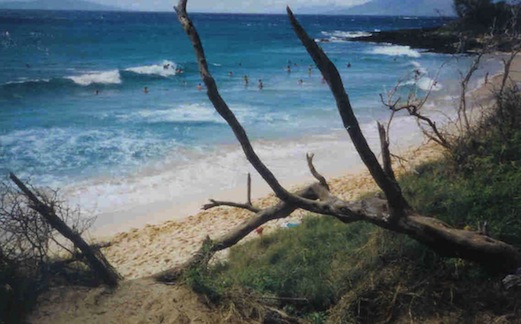 Little Beach is a secluded section of a collapsed volcanic cinder cone. It's accessed by parking at Makena State Beach at the end of the road that starts in Kihei and goes through Wailea and Makena. From the parking lot walk to Big Beach, the main section, then left a few hundred meters and across a path over volcanic rocks. You descend to Little Beach where clothes are optional and worries are forbidden. The far end of the beach is the gay area.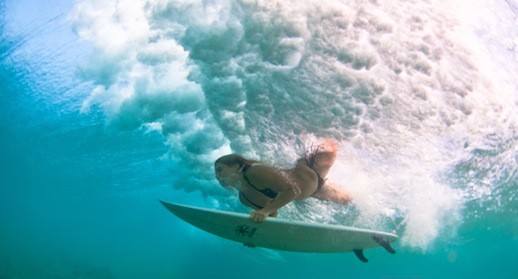 It's a left break and best for shorter boards. Boogie Boarders also enjoy the surf, and body surfers grab fast breaking waves on the inside.
On Sunday there is a regular drum circle that forms about 4pm and lasts until after sunset with tribal music, huge crowds and a wonderfully eclectic mix of straights, gays, hippies, nudists, tourists and locals enjoying the majestic tranquility as the sun glides into the Pacific behind tropical clouds and surfers catch the last rays of the day.