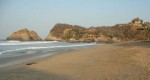 Playa Zipolite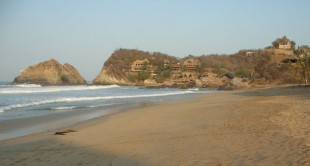 Playa Zipolite is a beach community located in San Pedro Pochutla municipality on the southern coast of Oaxaca state in Mexico. It is located between Huatulco and Puerto Escondido
Zipolite is best known as being one of Mexico's very few nude beaches and for retaining much of the hippie culture that made it notable in the 1960s and 1970s.
Lots of great waves, lots of nude gay surfers, very close to famous Puerto Escondido!
---
K38 Baja
K-38 used to be one of the dusty crown jewels of Northern Baja, attracting a steady stream of California surfers, gay and straight, through the '50s and '60s longboard era due to its consistency, ease-of-access and well-shaped walls and lax enforcement of laws. As development moved south of Rosarito, a condo highrise and health retreat took care of the ease of access part — now, rather than parking on the low cliffs overlooking the break like it used to be, everyone is forced to find parking elsewhere. It's no longer an epicenter, really — though the quality and consistency hasn't gone anywhere. On lined-up south swells, K-38 is a bowly and tapered right point/reefbreak, allowing for numerous schwacks and the occasional tube through the inside; as the swell gets more north, the wave tends too spill wide and mushy — though still plenty fun. Due to an underwater canyon and its south-facing direction, short-period northwest windswells don't make it into K-38 like they do at some of the other beachbreaks in the area.
---
Baja Mexico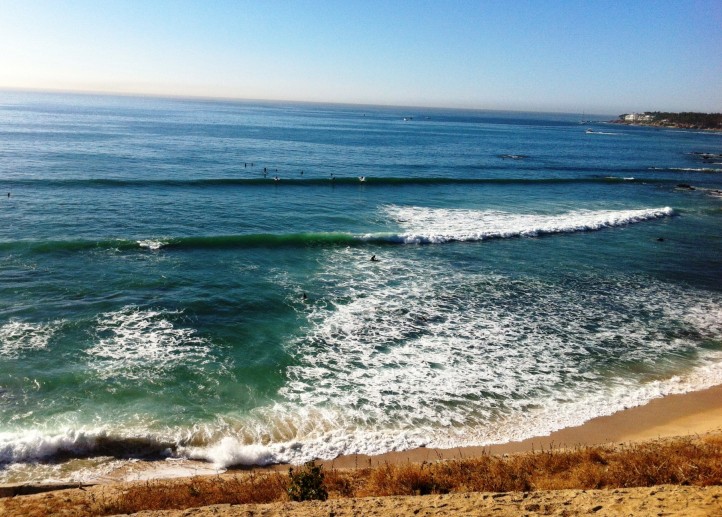 (Notes from Steve) Learned a lot about surfing in Baja on the trip last week. March-April are tweener months on the Pacific Coast: a predominant NW swell battles with a warmer SSW swell and usually wins, resulting in cooler water and air temperatures (60 deg F) and inconsistent conditions. I looked at the Cabo San Lucas weather and determined that a shortie 2.4 west suit would be fine–WRONG! Take a 3.2 full wetsuit, stay warm, and save your knees from a serious rash. It makes sense to bring your own board , if possible, because the surf guides are nice, but the condition of their boards is a little sketchy. We stayed at Rancho Pescadero (45 min north of CSL and about 10 min south of Todo Santos) and had a wonderful time: great location, tasty fresh food, cheap drinks, and incredible service–all at a reasonable price. GLBT friendly by all accounts.
Surfed the first day near the hotel at Los Cerritos, which is known for its big, shapely rights. Surfed an inside break (2-3′ waves) for a while and then the outside break picked up (1-1.5x overhead) and finished strong, catching two big rights, with all my body parts intact but with a few scrapes. I was out of the water by 11AM, as the wind picked up along with a mushy swell. Cerritos is a pretty famous point and gets better as the spring and summer progress.
There is also great action on the East Cape (near San Jose del Cabo), where the SSW-SW swells coming up from the Southern hemisphere are protected from the North Pacific swells, producing good-sized rights with waist- to head-high surf that has consistent shape and warmer water. Not a lot of amenities once you get east of San Jose–basically dirt roads (watch out for the donkeys) and gringo surfers sleeping in tents or their cars. According to my surf guide the East Cape is pumping up through June and July, after which its just too damn hot. By June, the Pacific Coast is settling into a more consistent shape, warmer air and water temps and big, consistent surf.
Popular East Cape points (from west to east): Old Man's, The Rock, Zippers, Zactillos, Shipwreck, La Fortuna, Nine Palms.
Surfed the second day at La Fortuna–nicely shaped 5-6′ rights, steeper than San O but about as fast–got about 6 really nice rides before the wind picked up and we called it a day. Only six surfers were out, so plenty of room and zero drama. Steve
Gay Friendly Businesses in Mexico