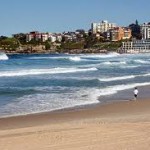 Sydney is Australia' largest city and is home to Australia's largest group of gay surfers, a friendly, socially active lot that meets regularly for group surfs and other surf related activities.
Sydney is the only Australian capital city with beaches less than 10 kilometres from the city centre
Whether you want to learn to surf, test your skills or enjoy Sydney' s massive surf culture you'll be spoilt for choice for beaches in Sydney. There are miles and miles of beautiful rocky coastline and cliffs broken up by white sandy beaches for you to explore .From Palm Beach in the north to Cronulla in the south, all in all ,there are around 40 beautiful beaches along the coastline around Sydney.
For surfers, there aren't many metropolitan areas in the world that can come close to Sydney in terms of the variety and quality of wave options available.
Some people reckon that the best surfing options are definitely up on the Northern Beaches( north of the harbour), but the southern and eastern beaches crew may have something to say about that with plenty of choices as well. There is no way around it ,due to the Sydney's huge surfing culture, you'll find the waves at the better breaks packed on a good day, and there are a few beaches were you should be wary of the locals. But having said that you can also find yourself out with just a few others some days, which is amazing in a city of Sydney's size.
The first ever gay surfers group surf in Australia happened at Bondi Beach, on Saturday January 15th 2011!