Nick Vallejo is a swimmer, surfer and lifeguard who struggled reconciling his religion with being gay.
by 
Nick Vallejo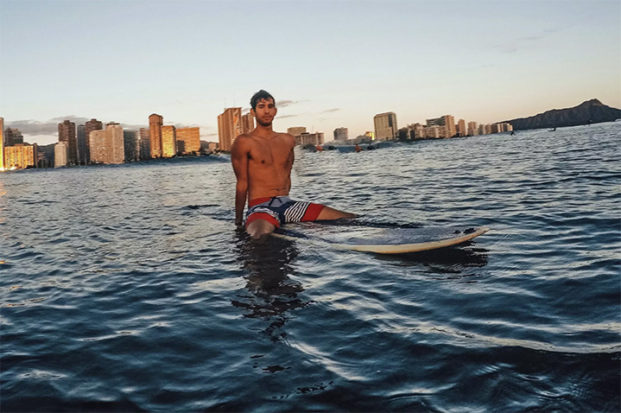 Nick Vallejo
Photo by Connor Trimble
North shore of Oahu in Hawaii is where I seek solace. Before any surf session, I take a moment to harmonize with my life.
Dipping my toes into the white sand laced with seashells and sea glass, while gazing at the breaking booms of blue and white waves, fills me with nostalgic chills to the point where I can almost feel my pulse sync with the sets of waves.
On my paddle out to the surf, I always tell myself to think of five things I am thankful for in life before riding a wave. Each stroke I take in the water, I'll inhale a heavy breath of warm, salty air with the Hawaiian sun beating on my back creating the perfect combination of tropical bliss.
Surfing is also an outlet I have used to help come to terms with my sexuality and how I identify with myself as gay. When I realized this side of myself, it initially scared me, but catching waves and exerting my energy towards the sport I love helped move myself in acceptance.
Relative to the surfing sport, I also swim. I have swum competitively since my freshman year of high school at Rio Mesa High School in Oxnard, California. As my high school career progressed, I continuously got faster. I was the top swimmer in my school and in my county at the time.
I was getting recognized by the local newspaper and people knew who I was and it felt great. I felt as if I was on top of the world. I broke school records in the 100-meter freestyle and relay records with my best friends in the 200-medley relay, 200-free relay and 400-free relay. As great as all the attention was, deep inside I felt empty, incomplete and disgusted. I was still struggling with my sexuality and my beliefs of who I was and who I was becoming.
I come from a religious Christian background. I would attend Sunday mass and youth groups all the way up until my high school years. It wasn't until about my junior year of high school where I started having feelings for guys. Feelings that I felt were bad and thought weren't natural because of my religious background.
I hid this part of me thinking that it was just some type of phase or puberty getting the best of me. I would pray and ask for guidance and ask God to help me. I thought that if I devoted myself fully to God that things would work out for me. I got the ichthus (Jesus fish) tattooed on my right arm to prove that I devoted myself and was going to continue to live "pure."
When I turned 18, I started lying to my parents about where I was going when I would "hang out" with friends. I would end up driving to Los Angeles and going to gay nightclubs. I needed this outlet to live a double life to feel sane. Sometimes I would stay up all night and then head straight to morning practice.
I spent two more years of swimming at my local community college, Ventura College. I feel that these two years helped really shape who I am today. Coach Larry Baratte was the most inspirational and motivating person I have ever met. He helped shape me into not only a better swimmer but a better person. His life advice mixed with his knowledge of the sport really opened me up to my full potential and made me see further that I could before both swim-wise and school-wise.
As I continued to swim and progress with my teammates, I was still living my double life. At this point in my life as a freshman in college, I started dating other men secretly. I would only tell my cousin Natalie and my best friend Courtney the real details of my life while everyone else was left in the dark.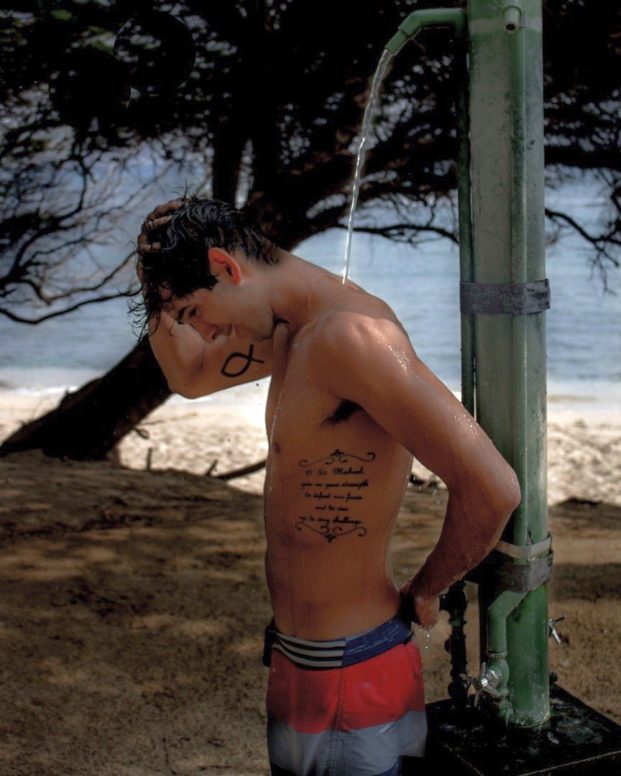 As I was getting ready to transfer to a university and applying to schools, a close friend and teammate decided to go to University of Hawaii at Manoa. I considered the school and immediately knew that's where I wanted to transfer to. I thought swimming with the team out there and being able to surf at the same time was such a perfect fit.
When I transferred and started swimming with the team I started to get tremendously depressed. I was still in the closet pretending to be straight and acting straight and just not being myself still. I started searching the internet for answers.
I started looking up the terms "gay" and "homosexuality" and came across a lot of information. I started educating myself. I had such a difficult time finding answers. I started watching videos on Christianity and their different views of gay people. Some of the information frightened me because of all the hate towards LGBT people. I started reading coming out stories and the benefits of coming out and the risks of coming out. I read stories of people getting kicked out of their houses, parents abandoning them, and suicide. I started to wrestle with what I felt was a huge turning point in my life: If I came out would I be accepted?
I started branching out more and made new friends outside athletics. I rushed for a fraternity, made conversations with people in the cafeteria trying to relate to people and build up a new network of friends so I could have more people to reach out to when I did come out.
I stopped swimming at the university because I felt a piece of me dying. I felt as if I didn't belong in the swimming pool anymore. I started to drink more and party a lot more. I would still go to the swim house and party with my friends but it didn't bring me happiness. I was trying my best to be happy again and feel like I belonged somewhere.
I then started turning to Youtube. I watched videos of people coming out to their families and started my process of coming out. I felt that this was the only way to be happy and authentic with reality. The only piece of advice that popped in my head that helped me come out was from my Ventura college coach. He would always say, "Give of yourself and receive 10 times in return."
On National Coming Out Day in October 2015, I posted on Facebook a brief paragraph about coming out. I received support from loving families and my own. I broke down crying in my room with relief. I thought that after coming out on Facebook everything would be better, but for me it got worse.
I couldn't sleep and I felt like I had fevers almost every night. I would only spend time with a couple of my friends and I would try to avoid other friends because I felt ashamed of myself. I didn't have any other gay friends or anyone to talk about how I was feeling so I felt isolated and started having dark thoughts. I started hating myself and criticizing myself on how I looked and did not love myself. It was horrible. I was afraid to talk to my parents so I would only text bland messages to them, such as "college is great" or a "classes are good."
I would spend my nights on top of some of the school buildings at night and cry. I started to question my religion and my faith and my reality. I asked myself why would God do this to me? Why am I this way? I turned against my own religion. I turned against everything I believed in. I lost a part of me.
It was the darkest time of my life. I had one friend, Alec, who started to show me the better things in life. He stood by my side through all my turmoil. Even though he's straight we related on so many levels as far as interest such as music, food, and how we view life. I tell him he's basically the straight version of me all the time.
I ended up taking a semester off school and going back home to my roots. I told my parents that I wasn't happy and I needed a break off school. I spent the semester back home to surf and work. I worked as an ocean lifeguard for the Los Angeles County Fire Dept., so I spent the majority of my time doing just that.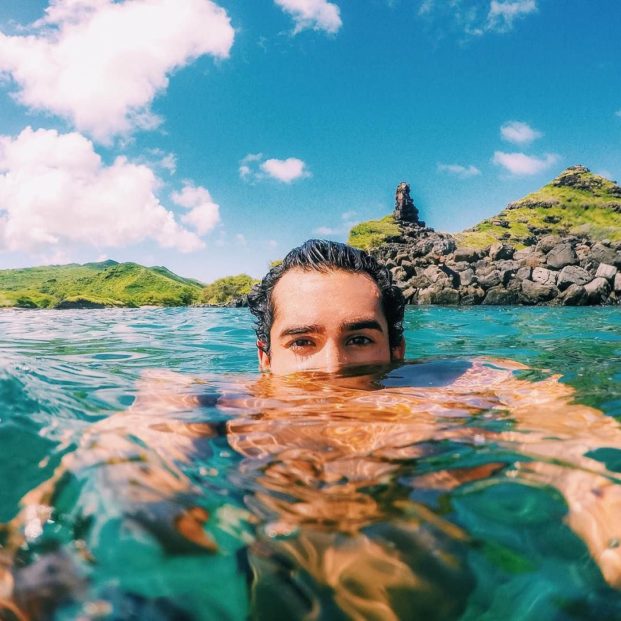 I started viewing life in a different way. I started finding myself again and started to live my life the way I wanted instead of living in fear and abiding by social norms. I spent most of my time by myself or with my close friends and family. I went to Coachella with my friends and started doing things I was always scared of doing or just felt like I didn't have enough time for and started to network with other Youtubers and get the idea of starting my own channel. I started to re-create life and view it the way I wanted to view it, viewing it as simply beautiful.
I came out to my family in 2015 and they support and love me unconditionally despite their religious faith. Friendships I once thought would have been broken have actually grown stronger as well. I know in the back of my head that not everyone has the same type of support and love that my family provides. It makes me feel uncomfortable because I know that there are other people out there in far worse positions in life than myself.
I felt the urge to make a video and start a Youtube channel as a safe zone where people can watch my life while giving advice or just being a friend and know that there's life beyond the closet and relate to others. I felt that this was one of the ways of "giving back and receiving ten times in return" as Coach Baratte would always say.
Presently, I am pursuing my college degree as a pre-med student majoring in psychology and human development. Although I'm not swimming anymore for the University, I still find time to swim, surf, hike, hit the gym and practice my photography and video skills.
I will always use surfing as the most positive outlet for myself. Feeling the surge of water vibrating and propelling my board into an accelerated point to where for a moment, feels as if I'm weightless and enter a state of cognitive euphoria that no other experience in this world can replicate. I'm beyond thankful to be able to continue to live life in a place where I can truly be myself, happily surfing and learning what life has to offer.
Nick Vallejo, 22, is continuing his education at University of Hawaii at Manoa where he is majoring in human development and psychology. In the summer, he is a Los Angeles County lifeguard. He can be reached:
Instagram: Nickvallejo
Twitter: Nickdvallejo
Email: nickdvallejo@gmail.com
Story editor: Jim Buzinski
Originally published by Outsports